Large Family Freezer Meals: Easy Baked Spaghetti Recipe
Spaghetti is such a cost-effective meal for a large family like ours. I can adjust the amount of ground beef I use to match what I have available. I can use ground turkey instead. I can use canned spaghetti sauce, a combination of canned sauce and tomato sauce, canned whole tomatoes I whiz in the blender, or a combination of any of these.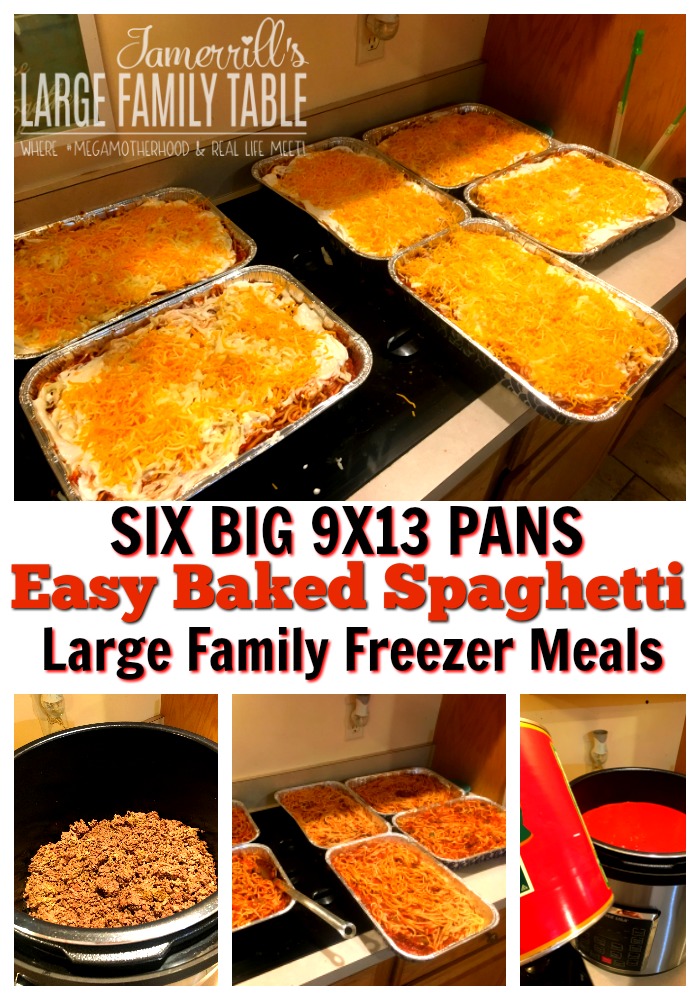 Baking spaghetti takes this delicious meal to a whole new level. It's less messy for the little kids to eat. No losing noodles off the fork. This baked spaghetti recipe tends to hold together a little bit better than traditional spaghetti. It's also a one-pan meal and if you use disposable pans like me, there are no pots to wash. Amen.
You might be a bit surprised by how I top these pans of baked spaghetti so read on to find out!
Easy Baked Spaghetti Recipe
Print Large Family Freezer Meals: Easy Baked Spaghetti
---
Description
Easier than traditional spaghetti and no pots to wash if you use disposable pans! I got 6 – 13 x 9 pans of spaghetti from this recipe.
---
Ingredients
4 lbs cooked spaghetti noodles
2 cups sour cream (Per pan)
3-4 cups cheese (Per pan)
---
Instructions
Stir cooked noodles into sauce.
Put spaghetti into 13 x 9 pans.
Spoon sour cream over top of spaghetti.
Top with shredded cheese.
(You can also mix 2 eggs with ricotta cheese to top these with. I was out of ricotta and using sour cream in place of it is a little trick of mine. Use whatever you have or whatever is most cost-effective.)
Freeze and bake according to my directions below.
---
Notes
FREEZER MEAL STORAGE DIRECTIONS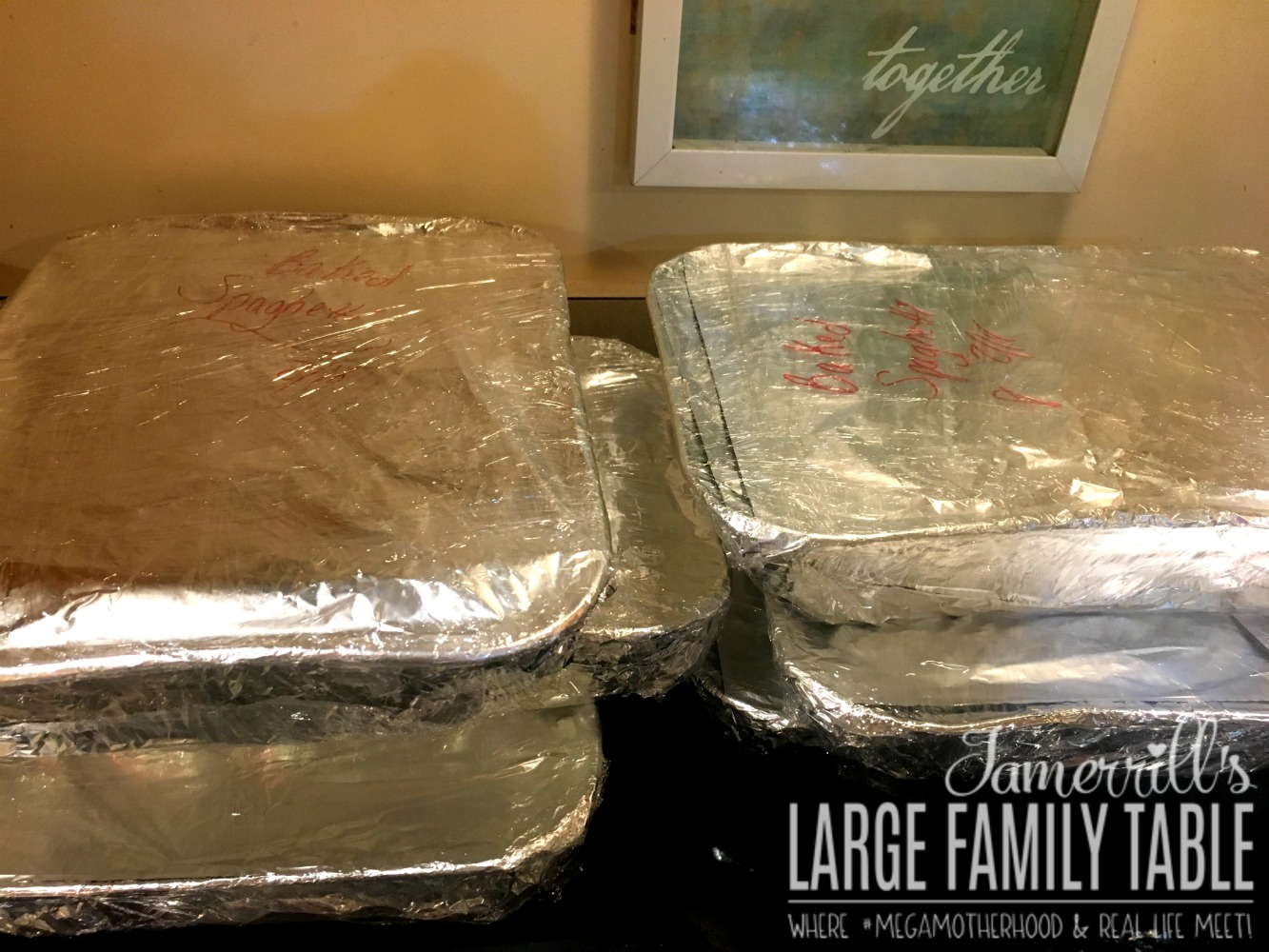 Allow your meals to cool completely before placing in the freezer.

Wrap each 9×13 pan with two layers of foil.

Label the top of each pan with recipe name and date.

Wrap each 9×13 pan with a layer of plastic wrap.

Set each pan to freeze in the freezer. Do not stack the pans on top of one another until each pan is individually frozen.
FREEZER COOKING DIRECTIONS
Set the desired pans of Easy Baked Spaghetti out in the refrigerator the evening before you'd like to serve them.

Preheat your oven to 375 (oven times may vary).

Remove plastic wrap and one layer of foil.

Place in preheated oven for 1 hour or until heated through.
This Easy Baked Spaghetti is apart of my 30 Large Family Meals in 10 Hours vlog from my latest large family freezer cooking day. Let me know how this recipe works out for you!