Mini Meatloaves | Large Family Freezer Meal Recipes
These healthy and hearty mini meatloaves are a quick and easy freezer meal that works well for many situations. If you want to add something a little different to your family's mid-day homeschool lunch menu try these mini meatloaves!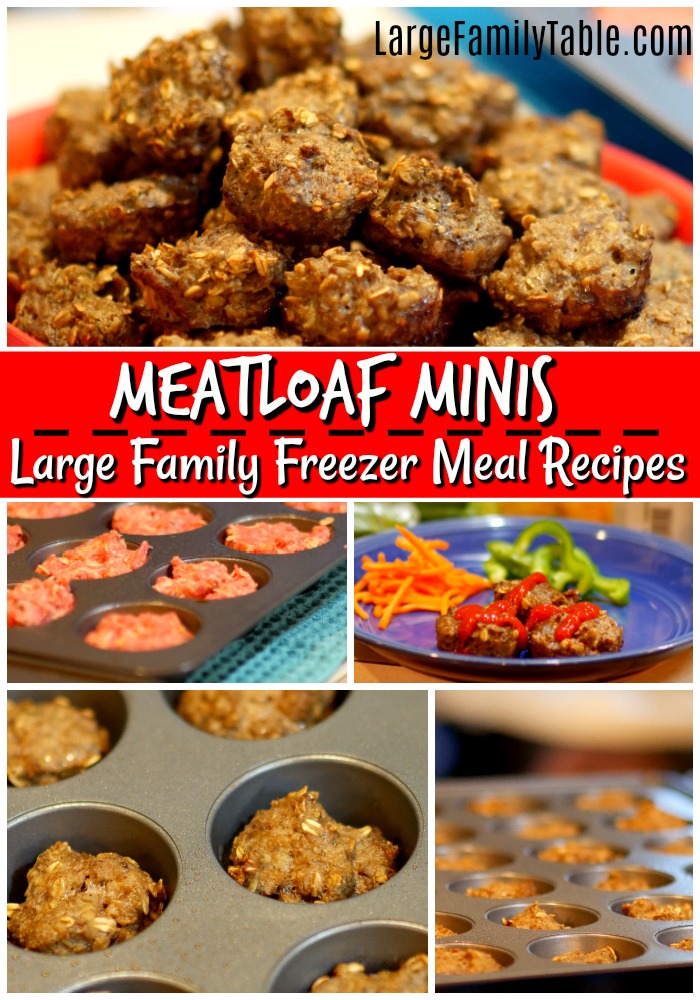 We've even had these mini meatloaves for our large family dinners. On my last large family freezer meal prep day, I made over 120 of these cuties and served them for dinner that night. The younger kiddos ages 3, 5, and 7 had two meatloaf minis each. I also served everyone with a cup of cottage cheese and carrot sticks. The two middle kids ages 9 and 11 each had three mini meatloaves, plus same side items. Our teen boys and my 6 foot 6 burly husband had about 5 each plus sides. I believe momma here had about four.
Mini Meatloaf Meals
That was 31 miniature meatloaves to be the main protein for our large family dinner. This means for our family of 10 can get 4 hearty meals from this mini meatloaves freezer meal recipe. If you have all younger children or a smaller family you can get 6 to 8 meals from this large family recipe. These are good up to 3-months in the freezer. It would be so nice to have a big stack of mini meatloaves in your freezer for when you need them!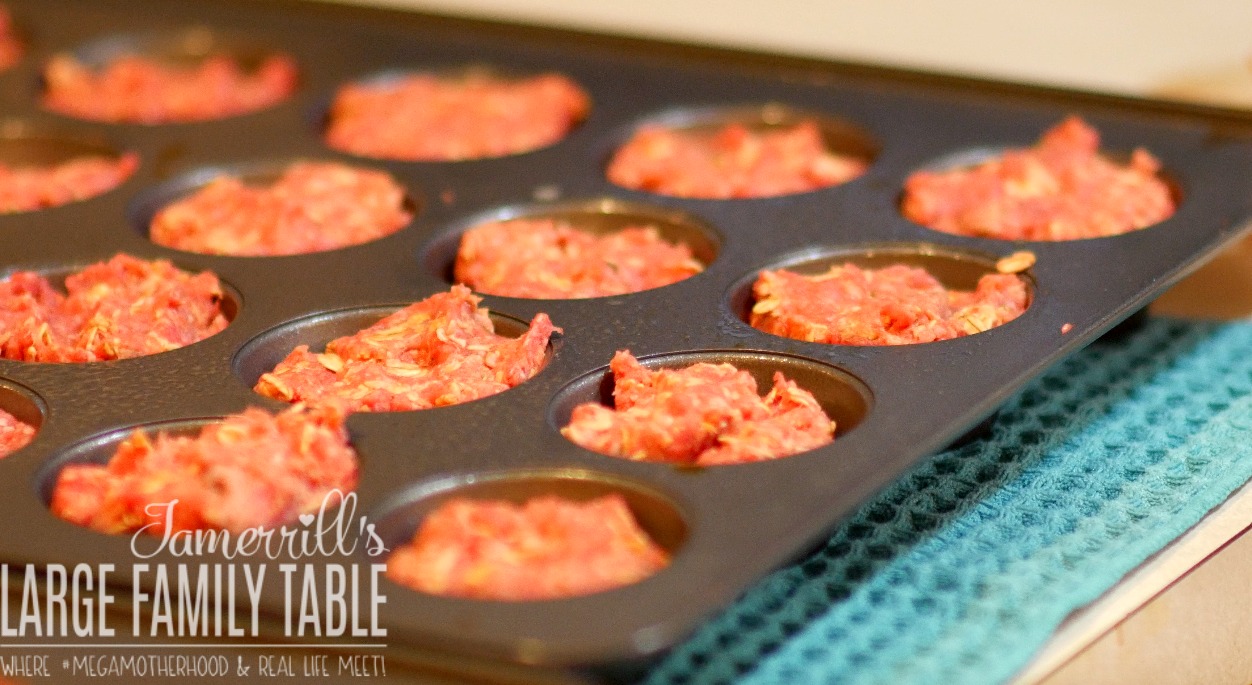 On this freezer cooking day, I was able to make 48 mini meatloaves at a time because of my new and oh so lovely 24-cup baking pans. Here's my Amazon affiliate link for these two 24-cup metal baking pans that I just added to my freezer meals supplies stash.
I suggest buying the leanest ground beef your budget can afford for making miniature meatloaves. This go round I used 93% ultra-lean ground beef and had no grease issues.
Mini Meatloaves Freezer Meal Recipe
Print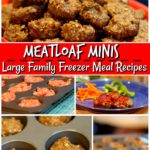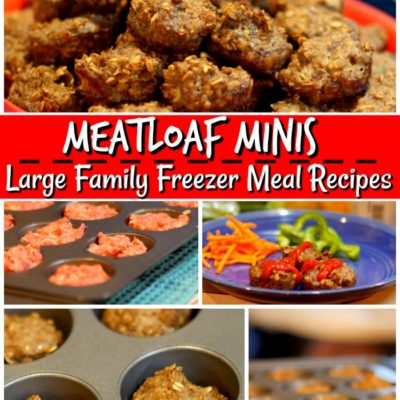 Mini Meatloaves | Large Family Freezer Meal Recipes
---
Description
My family loves this fun spin on hearty meatloaf. This recipe makes 120 muffin tin meatloaves which freeze wonderfully. That means my family of ten gets about 4 meals from this mini meatloaf recipe. Serve with a cup of applesauce or cottage cheese, also fresh garden pepper slices or carrot sticks!
---
Ingredients
18 lbs lean ground beef
18 eggs
2 tbsp Ground mustard
2 tbsp Garlic powder
2 tbsp Onion powder
12 cups old-fashioned oatmeal
5 tbsp Worcestershire sauce
3 tbsp Minced garlic
Special Note: you can also stuff various extra veggies into your mini meatloaves. Think shredded carrots, diced mushrooms, colored peppers, and more!
---
Instructions
Mix all above ingredients in big mixing bowl. Here's my Amazon affiliate link for my favorite 30 qt mixing bowl that is perfect for mixing up large batches!
Preheat oven to 375
Spray muffin tins with non-stick cooking spray
Fill each muffin tin most of the way with meatloaf mixture (for fattier meat percentages you'll only want to fill 3/4 of the way, leaving room for potential grease)
Bake 375 for up to 30 minutes
---
Notes
FREEZER MEAL DIRECTIONS
Once the meatloaf minis have safely cooled place up to 12 in a flat Ziploc style gallon freezer bag.
Freeze up to 3-months.
When you'd like meatloaf minis for a family lunch or dinner just set the desired amount out into your refrigerator the night before or morning of the day you'll need them.
Warm them in your microwave for 1 to 2 minutes. Cooking time will depend on how many you're heating up at one time and microwave temps.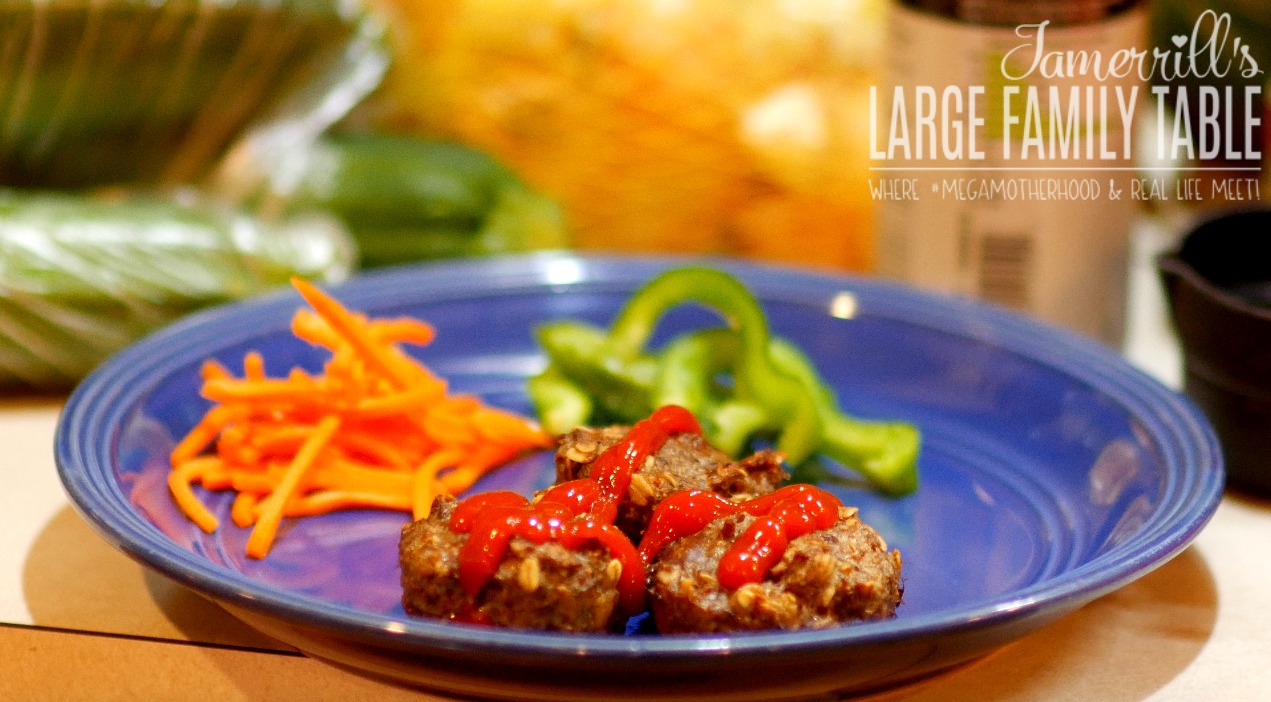 Large Family Freezer Meals
There is a huge collection of large family freezer meals here on Large Family Table. Here are just a few to get you started!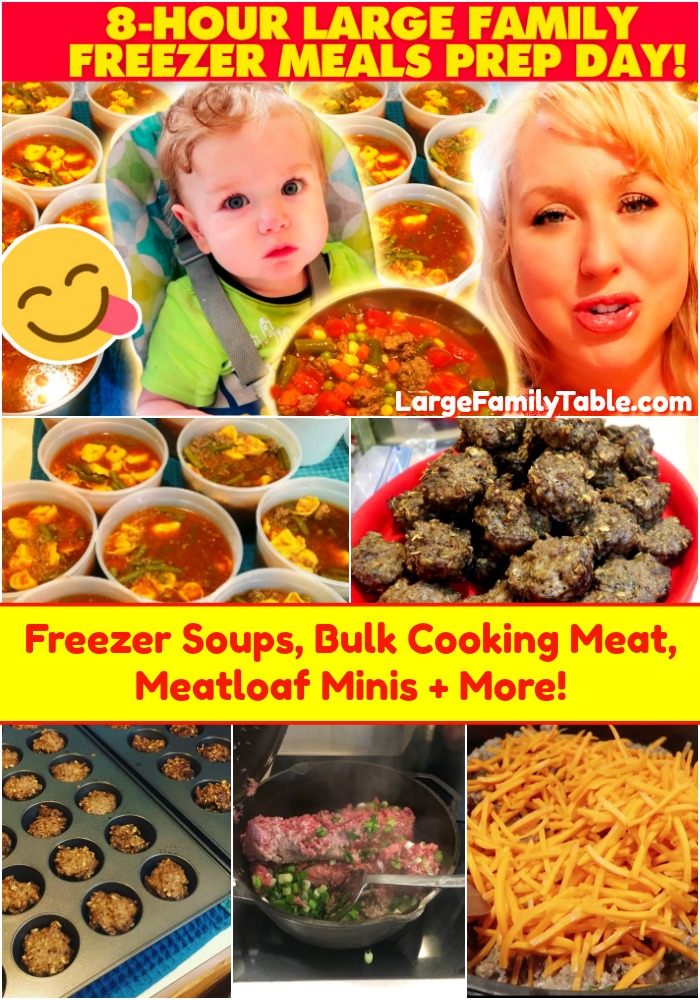 This mini meatloaves freezer meal recipe was featured in my recent 8-hour large family freezer cooking day! Click here to see the full day and watch the freezer cooking vlog, too!
Let me know if your family loves this mini meatloaves recipe!!