Make an easy meal that your kids will love by following this Pepperoni Pizza Muffins recipe. They are easy to make, great to have when you are on the go, and tasty to everyone who loves a savory pepperoni pizza meal.
I have never met a person who did not like pizza meals and muffins of any kind. One of our favorite foods at the house is pepperoni pizza. There is something so delicious about the blend of sauce, cheese, and pepperoni meat. While we do like to get pizza, I do not want to order out every night, so I found an alternative that my large family absolutely loves. These Pepperoni Pizza Muffins are better than I expected. They are cheesy, savory, and saucy. The ingredients used are fresh and make these muffins taste way better than takeout.
**Use special promo code HELLO20 to take 20% off your first order in the shop including the SUPER MEGA ULTIMATE Large Family Freezer Meals Bundle here!**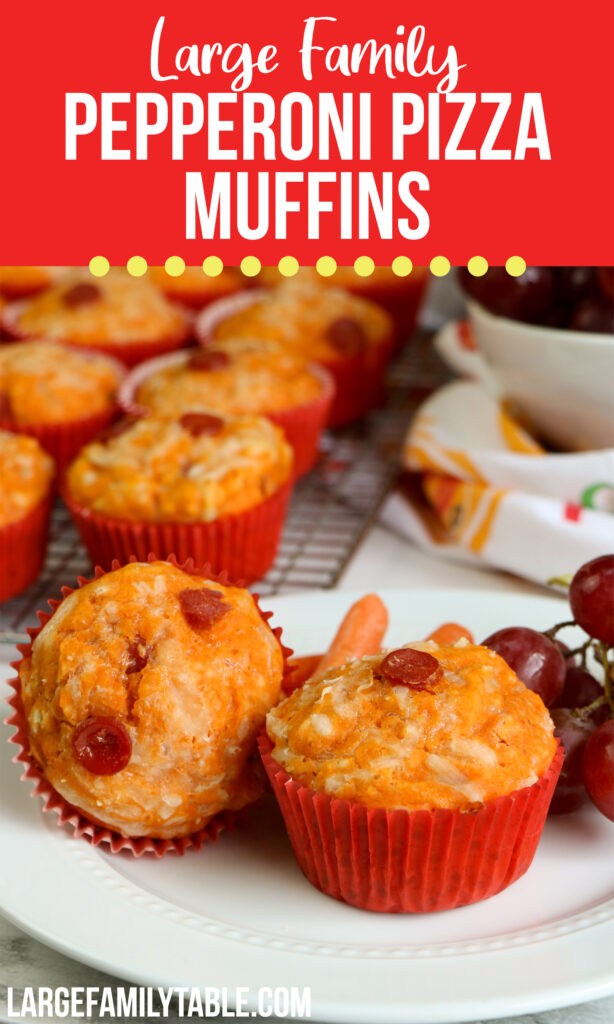 Pepperoni Pizza Muffins
There is so much to love about this Pepperoni Pizza Muffins recipe. One of the things I love most about the recipe is how easy it is to make the muffins. Prep time is less than 10 minutes. You can make these muffins in an hour, so they are perfect to have for a quick dinner that your large will look forward to having.
Ingredients Needed to Make the Pepperoni Pizza Muffins
Make sure you have the following ingredients to prepare these delicious Pepperoni Pizza Muffins at home:
Baking Mix. Make homemade baking mix or use Bisquick to create these fresh muffins. It makes the process of making these treats even easier.
Pizza Sauce. Choose your favorite pizza sauce to use with your muffins. There are lots of great options, so check out which options your grocery store offers.
Shredded Cheese. You will need shredded cheese for these Pepperoni Pizza Muffins. While mozzarella and parmesan are excellent choices, you can also get a four cheese pizza blend mix to use when making these muffins.
Pepperoni Slices. You cannot have pepperoni pizza without the pepperoni slices. While I typically use slices, you can use pepperoni chunks or crumbles if you want.
If you have these simple ingredients, you will get to make these Pepperoni Pizza Muffins for the kids in under 60 minutes.
How to Store the Pepperoni Pizza Muffins
After cooking the Pepperoni Pizza Muffins, you can serve them straight from the oven, but they will be hot! If you are not eating them immediately or have some leftover, place them in a row inside a food storage container and put a lid on them before putting them in your fridge. The muffins will stay fresh for up to five days in the refrigerator, meaning you can heat them right from the microwave when you are in the mood to have one of them.
How to Freeze the Pepperoni Pizza Muffins
Keep your Pepperoni Pizza Muffins fresh for longer by putting them in the freezer. You can freeze them in a food storage bag or container, but simply make sure whatever you decide to use is fully sealed. You can store these muffins for at least two months. If you have multiple Pepperoni Pizza Muffins, I would suggest separating them with parchment paper to keep them from sticking to one another, especially when frozen.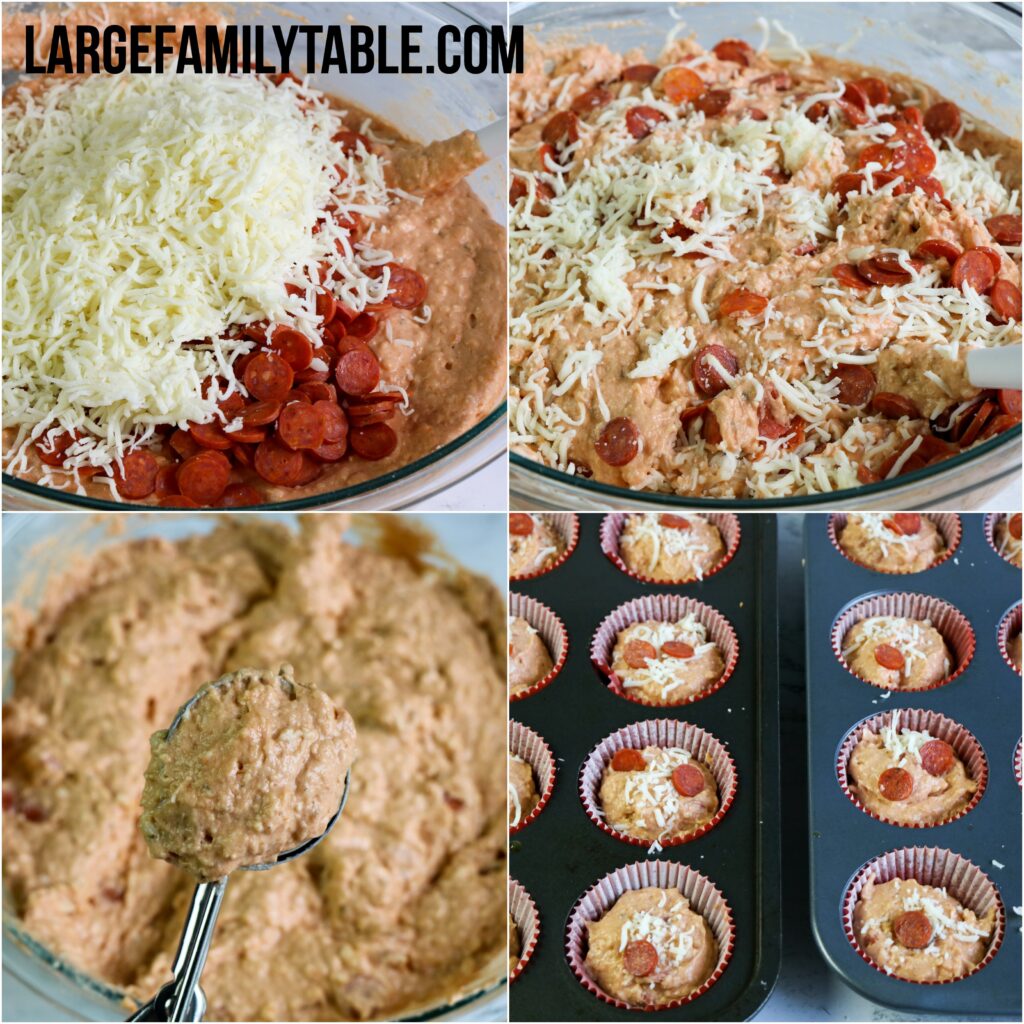 Do you have more baking recipes?
If you love these Pepperoni Pizza Muffins, you'll love the other baking recipes in my shop! Baking is so fun and is a great way to save money on groceries. Buying prepackaged bread, rolls, muffins, baking mixes, and sweet treats can get expensive fast. Baking ahead and freezing it in the freezer means it's ready for you when you need it and you can make it when you have the time. Try my Frugal from Scratch Baking Recipes and Staples Book One for lots of money-saving recipes like Depression Era Chocolate Cake plus three other sweet treats, four delicious versions of bread recipes, plus baking staples like cake mixes, baking mix, baking powder, and more. My Frugal From scratch Baking Book Two expands into ten new recipes. Grab them both in the DOUBLE BUNDLE!! Frugal From Scratch Baking Recipes & Baking Staples to save even more!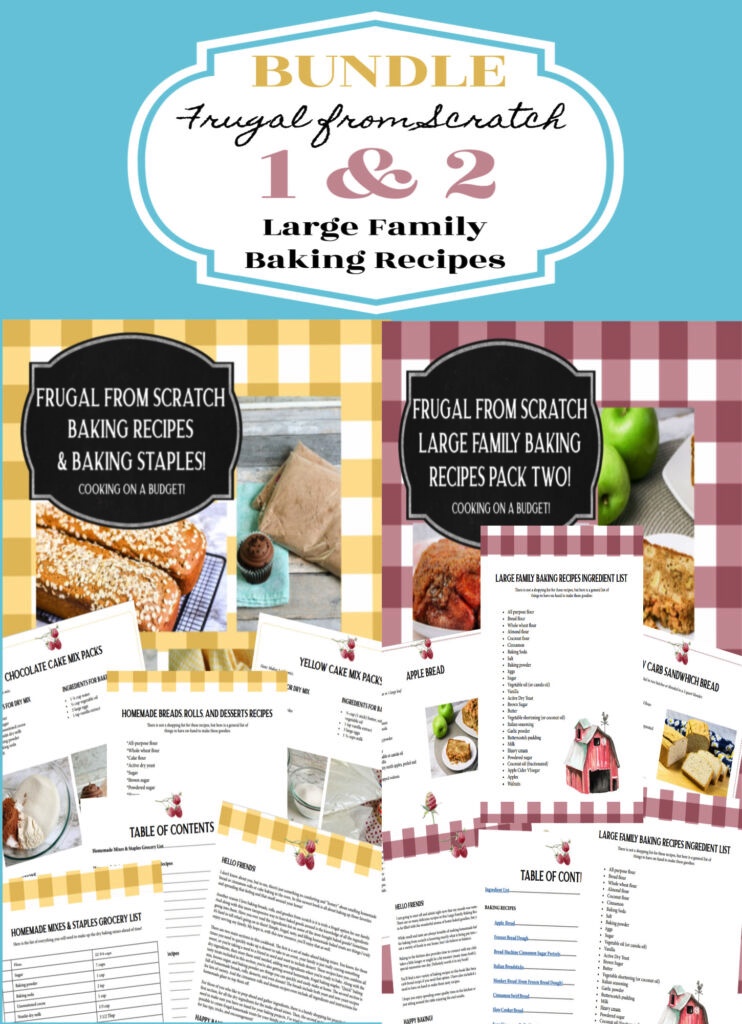 Here are more pizza and muffin recipes your family will enjoy!
Pepperoni Pizza Muffins
Print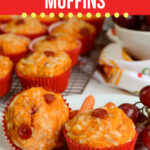 Pepperoni Pizza Muffins | Lunch Ideas for a Big Family
Author:

Prep Time:

12 Minutes

Cook Time:

18 Minutes

Total Time:

30 minutes

Category:

Dinner/Lunch

Method:

Oven
---
Description
Make an easy meal that your kids will love by following this Pepperoni Pizza Muffins recipe. They are easy to make, great to have when you are on the go, and tasty to everyone who loves a savory pepperoni pizza meal.
---
Ingredients
6 cups

homemade baking mix

(or use storebought baking mix)

2 ½ cups pizza sauce

1 ½ cups water

2 cups shredded mozzarella cheese

1 (5 ounce) pack mini pepperoni
---
Instructions
Preheat oven to 350 degrees. Prepare two muffin tins with cupcake liners. Spritz  the liners lightly with nonstick cooking spray.

In a large bowl, mix the ingredients until combined.

Using a large cookie scoop, fill the muffin cups to about three-fourths full.

Bake for 17 to 20 minutes.  

Transfer muffin tins to a wire rack and cool for 5 minutes before removing muffins from the baking pan. 

Serve with additional warm pizza sauce if desired.
Keywords: Pepperoni Pizza Muffins
These muffins will make a great lunch and freeze well. My kids really enjoy when I make these and I'm sure yours will too.
FREE Emergency Pantry Planning Pack!
Don't forget to sign up for the emergency pantry planning pack for free to help you plan your pantry meals! The free Emergency Pantry Planning Pack will help you plan your needed pantry items! Printable pages include pantry inventory, grocery lists, meal planners, list of pantry staple items, and more.