Serve a satisfying lunch to your loved ones with this recipe for Big Family Sheet Pan Reubens. The sliced corned beef and cheese taste perfect together on fresh rye bread.
What Is a Reuben Sandwich?
A traditional Reuben consists of corned beef, Swiss cheese, dressing, and sauerkraut combined on bread and toasted for the perfect crunch. It is slightly salty, slightly sweet, and great for when you want something different than the usual ham and cheese hot pocket or sandwich.
****Use special promo code HELLO20 to take 20% off the entire MEGA DEAL get-it-all Bundle including the best-selling Large Family Freezer Meal Packs 1-12 + so much more!!****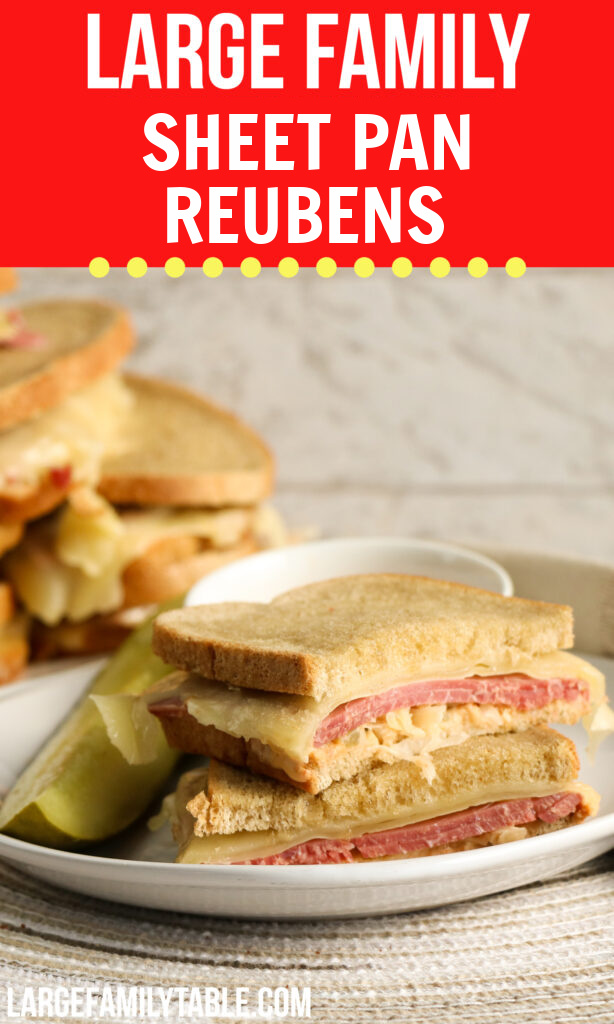 Ingredients Needed to Make the Big Family Sheet Pan Reubens
When you want to make Big Family Sheet Pan Reubens, be sure to have the right ingredients, other than a sheet pan of course, including:
Rye Bread. Use any brand and style of rye bread that you like eating.
Corned Beef. Slice the corned beef into thin pieces before adding it to your bread.
Swiss Cheese. You will need 24 slices of cheese to complete this recipe.
Thousand Island Dressing. The thousand island dressing enhances the flavor of the sandwich.
Sauerkraut. Drain the sauerkraut before adding it to your sandwich with the other ingredients.
Lastly, you will need some pickle relish and melted butter. Once you have your ingredients, you can easily prepare these sandwiches in minutes.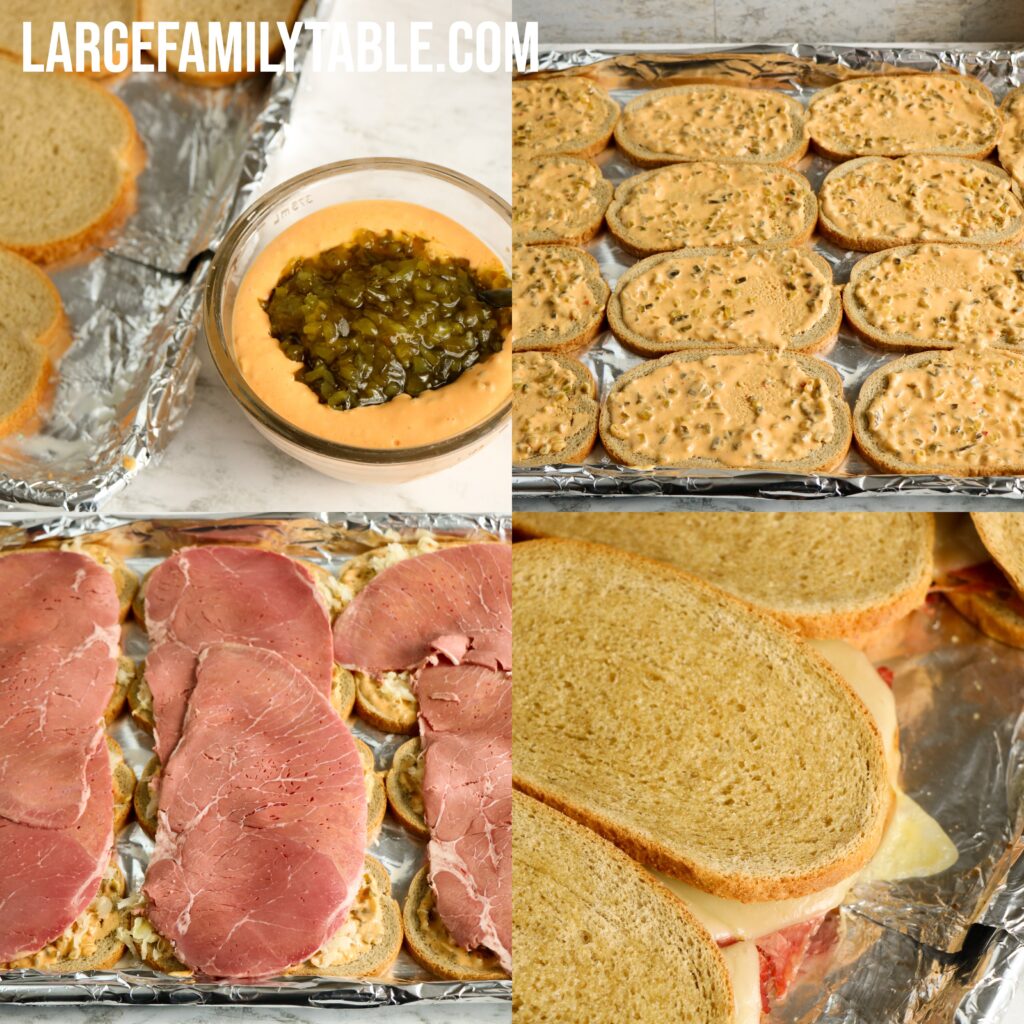 What to Serve With the Sheet Pan Reubens
The Big Family Sheet Pan Reubens will taste good with assorted side dishes. You can serve these sandwiches for lunch or dinner with a side of fresh, sliced pickles, homemade coleslaw, and homemade potato chips. Some people like to serve these sandwiches with a side of warm cheesy hash brown potatoes. If you serve the sandwiches with homemade soup, consider dipping them into the soup because it goes great with the meat and cheese from the Reubens. Some of the other sides you can make to eat with these sandwiches include marinated cucumber salad, garlic smashed red potatoes and instant pot macaroni and cheese.
Thousand Island Dressing Substitutes
If you do not have thousand island dressing, you can quickly prepare a homemade version of the dressing. Combine equal parts of ketchup and mayo together, mixing well until the combination turns a light pinkish orange color.
You can leave it as is to make it taste like Russian dressing or add a bit of relish to it to turn it into a replica of store-bought thousand island dressing. It will taste just as good as some of the leading brands and will pair perfectly with your Big Family Sheet Pan Reubens.
How to Save Your Leftovers
If you have any leftovers, be sure to wrap the sandwiches in deli paper or aluminum foil. You will need to keep the sandwiches in the fridge to keep them fresh. Save any extra dressing in a small food storage container with an airtight lid instead of spreading it over the remaining sandwiches.
When you would like to have one of these sandwiches for hearty lunch or easy dinner, consider reheating this meal in your oven for several minutes to bring the toasted rye bread back to the way it was when you first prepared the sandwiches. If you put the sandwich in the microwave, the bread may end up tasting a bit too soft.
Here are more large family lunch and dinner ideas!
Check out all of my large family lunch ideas including easy snacks and filling sides.
Sheet Pan Reubens are such a great way to feed your large family lunch OR dinner! If you enjoy the simplicity of sheet pan meals, then be sure to check out my Easy and Simple Large Family Sheet Pan Dinners Pack One, my Easy and Simple Sheet Pan Breakfasts Pack Two, and my Easy and Simple Sheet Pan Lunches Pack Three. You can also grab them all in this amazing bundle of ALL THREE Sheet Pan Packs. 
Big Family Sheet Pan Reubens
Print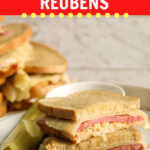 Big Family Sheet Pan Reubens | Large Family Lunch or Dinner Ideas!
Author:

Prep Time:

20 Minutes

Cook Time:

20 Minutes

Total Time:

40 minutes

Yield:

12 Sandwiches

Category:

Dinner/Lunch

Method:

Oven
---
Description
Serve a satisfying lunch to your loved ones with this recipe for Big Family Sheet Pan Reubens. The sliced corned beef and cheese taste perfect together on fresh rye bread.
---
Ingredients
2 (16 ounce) packages rye bread

1 ½ to 2 pounds thinly sliced corned beef

24 slices swiss cheese

1 cup thousand island salad dressing

½ cup sweet pickle relish

1 (16 ounce) jar sauerkraut, well drained

½ cup butter, melted

 
---
Instructions
Preheat the oven to 350 degrees. Prepare a large, rimmed baking sheet with parchment paper spritzed with nonstick cooking spray.

Place half of the bread in an even layer across the baking sheet.

Mix together the salad dressing and relish. Spread about 2 tablespoons on each slice of bread. Top with about 2 tablespoons sauerkraut.

On top of the sauerkraut, place slices of corned beef and swiss cheese. Put another slice of bread on each sandwich.

Brush the tops of the sandwiches with melted butter.

Bake in the oven for 15 to 20 minutes or until the cheese has melted and the bread has toasted. 

Cut the sandwiches apart (if needed) and serve with any remaining dressing.
Keywords: Big Family Sheet Pan Reubens
These delicious Reubens are easy to make for a fast lunch or tasty dinner. They are also a great meal to make with kids as an easy learn-to-cook-project. Give them a try and enjoy!
FREE Emergency Pantry Planning Pack!
Don't forget to sign up for the emergency pantry planning pack for free to help you plan your pantry meals! The free Emergency Pantry Planning Pack will help you plan your needed pantry items! Printable pages include pantry inventory, grocery lists, meal planners, list of pantry staple items, and more.