Elephants are such a fun theme to use when cooking with kids. You can make elephant pancakes or elephant biscuits depending on what you have on hand.
You might start your day with a hearty breakfast like our Grits and Sausage Casserole or our LOW CARB Large Family Ham and Gruyere Crustless Quiche. Other times you want to try something fun. That's where these Elephant Biscuits come in handy. Your children will enjoy making these fun biscuits for breakfast, especially if your freezer breakfast meal stash is getting low.
**Use special promo code HELLO20 to take 20% off your first order in the shop including the SUPER MEGA ULTIMATE Large Family Freezer Meals Bundle here!**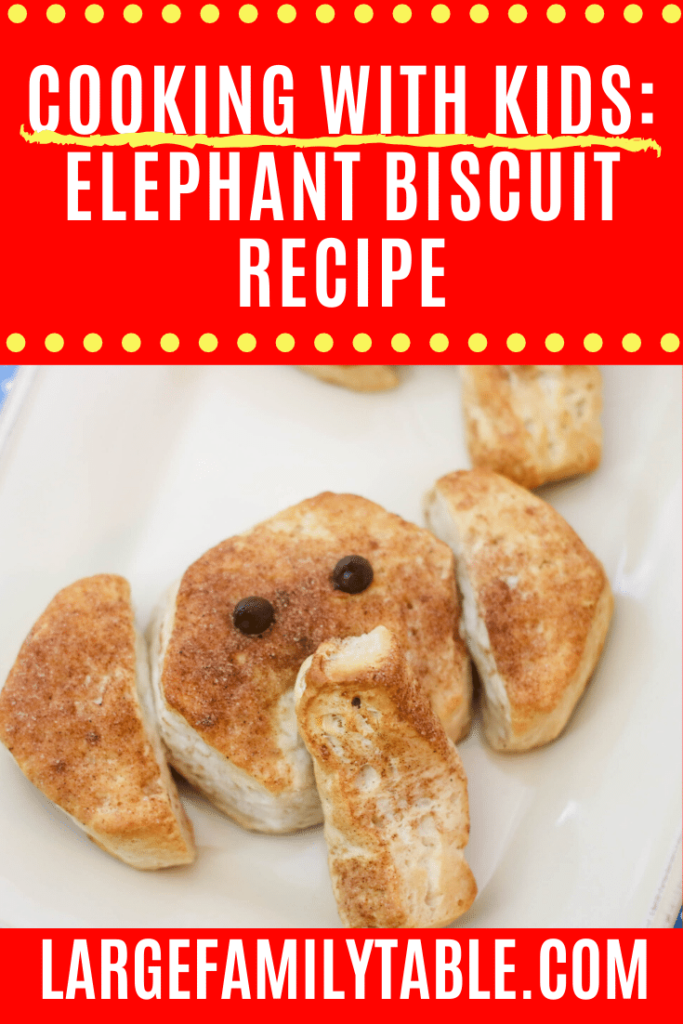 Pop open your can of biscuits. Alternately, you could unthaw some of your homemade freezer friendly biscuits to use in this recipe. Might as well use them if you already have them, right? You will need 2 biscuits per elephant. So if each child gets one then multiply the number of children by 2 to get the total number of biscuits you need.
Leave one biscuit intact. Cut the other biscuit into 3 equal pieces. Press one piece to each side of the intact biscuit as an ear. Using a toothpick, attach the third piece to the front as a trunk. Twist slightly to make it more trunk like.
Mix cinnamon and sugar together then sprinkle evenly over the biscuits. Use 2 chocolate chip morsels to make the eyes. Place in preheated 350 degree oven for 12 to 16 minutes or until golden brown. Serve immediately.
Here are more kid-friendly recipes that you will enjoy with your kids.
I also compiled 30+ treats for kids that are fun and creative. Some are holiday-themed, but many can be used now.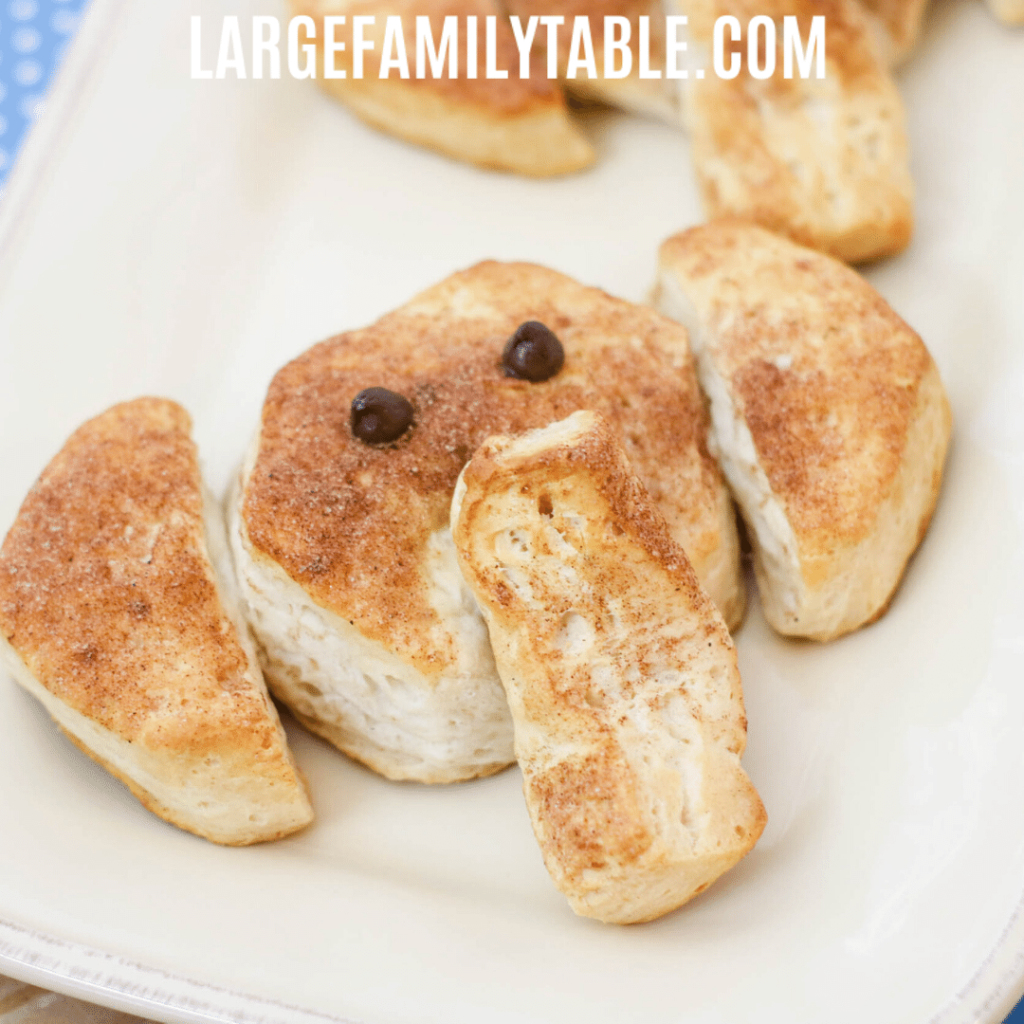 Cooking with Kids: Elephant Biscuits Recipe
Print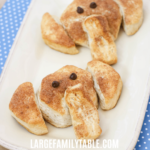 Cooking with Kids: Elephant Biscuits Recipe
Author:

Prep Time:

25 Minutes

Cook Time:

15 Minutes

Total Time:

40 minutes

Yield:

16 Elephant Biscuits

Category:

Breakfast

Method:

Oven
---
Description
Try this fun biscuit recipe with your children for an enjoyable and delicious breakfast!
---
Ingredients
4 (16.3 ounce) cans southern buttermilk homestyle biscuits
1/2 cup sugar
4 TBSP cinnamon
32 chocolate chip morsels or raisins
---
Instructions
Preheat oven to 350 degrees.
For each elephant, you will need 2 biscuits. Leave one biscuit intact. For the other biscuit, cut into 3 equal pieces. 
Press the outer pieces of the cut biscuit against the biscuit that was left intact, with one on each side to be the ears.
 Use a toothpick to attach the remaining strip of the cut biscuit to the intact biscuit as the elephant trunk. Give the trunk a slight twist.
Mix together the cinnamon and the sugar. Sprinkle evenly over the biscuits.
 Place 2 chocolate chips on the intact biscuit as the eyes.
Bake for 12 to 16 minutes or until golden brown.
Remove toothpicks prior to serving.
---
Keywords: Elephant Biscuits Recipe
This would make a fun breakfast or even lunch item. It's a great way to bring food into learning when you're reading about elephants or simply want a fun activity. Each child could certainly do their own elephant before cooking. You get to be a fun mom while they learn practical life skills. #momwin
Watch me make homemade freezer biscuits!
Want more freezer friendly meals to win you fun mom points?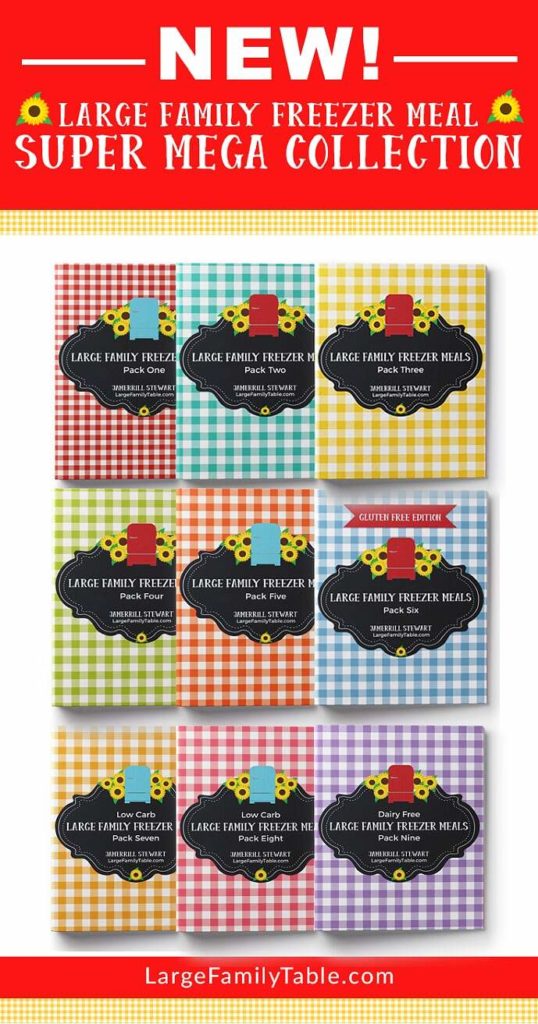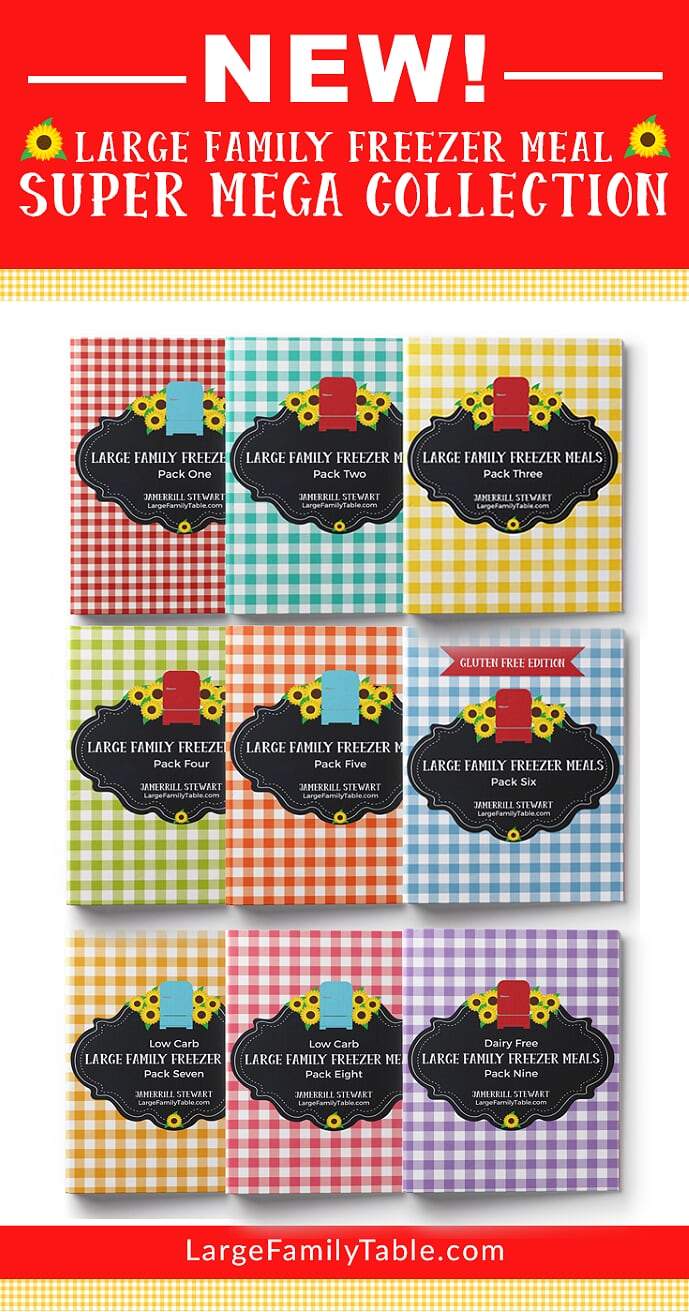 You need this huge large family freezer meals collection because you have a lot of people to feed every. single. day. They always seem to want breakfast, lunch, and dinner (don't forget the snacks!) and they always look to you for all this food.