Is your family studying elephants? Got an elephant loving person in your house? Are you looking for something fun to cook with your little people? If the answer to any of the above is yes, then this elephant pancakes recipe is for you. It's not as easy as sheet pan pancakes but it's a fun mom moment not an efficient mom moment. Make some oven bacon to go with it so you can feel efficient too.
**Use special promo code HELLO20 to take 20% off your first order in the shop including the SUPER MEGA ULTIMATE Large Family Freezer Meals Bundle here!**
Elephant Pancakes Recipe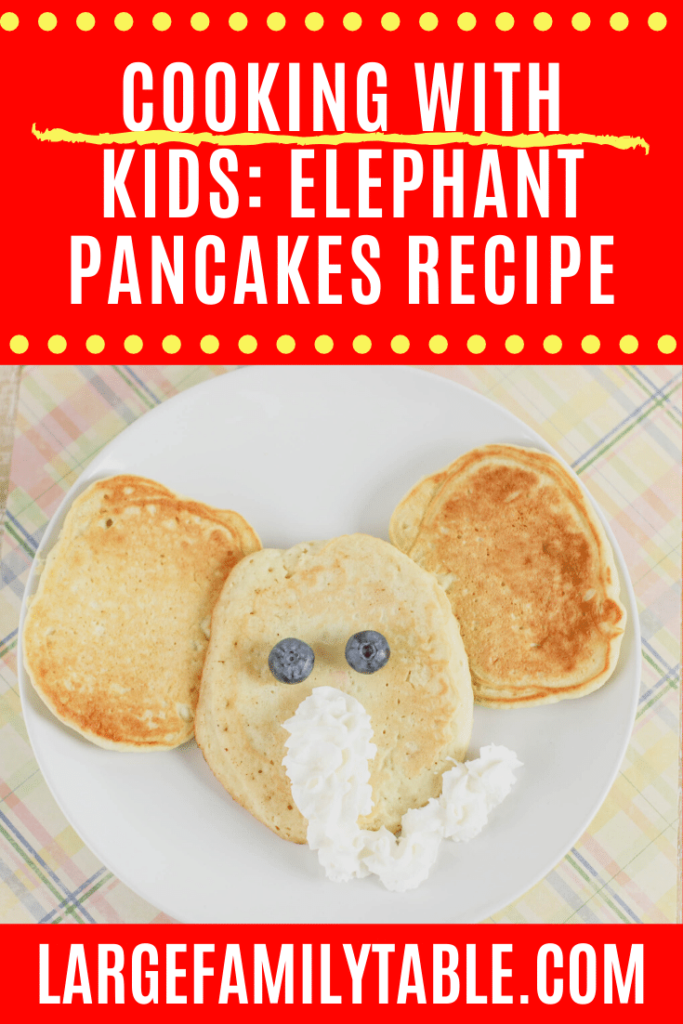 Do your kids love to help you in the kitchen? Make breakfast extra fun by helping them create Elephant Pancakes! You will use a basic pancake recipe and add some fun details to make it look super cute! You can make this healthier by decorating with berries or make it a special treat with chocolate chips and whipped cream!
You will need 2 mixing bowls for these pancakes. Use a bigger one for combining the dry ingredients. In a separate one, whisk together the wet ingredients. Make a well in the middle of the dry ingredients to pour the wet ingredients. Mix all the ingredients together until well combined. Allow the batter to rest for 5 minutes.
Let's Cook!
While the batter is resting, heat your griddle to 300 degrees. Spray griddle with non stick spray or melt additional butter on griddle. To make the elephant head, pour 1 cup batter onto the griddle. To make the ears, pour 2/3 cup batter onto griddle then spread into a rectangle. Cook until the bubbles start to pop on the pancake. Flip and cook for an additional 2-3 minutes.,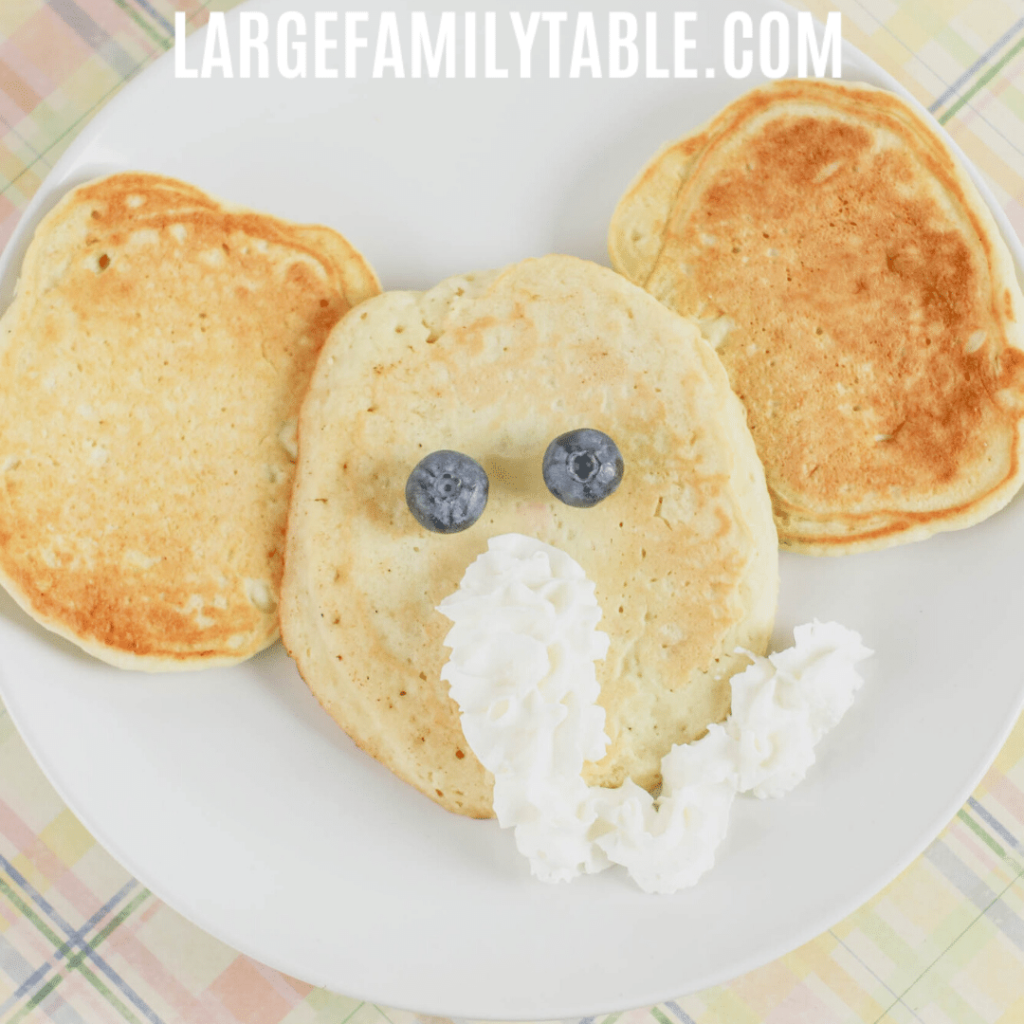 Let's make the elephant! After all, it's not elephant pancakes if there is no elephant. Place one ear pancake on each side of the plate. Place a head pancake on top. Plop a blueberry on each side of the head for the eyes. When ready to eat, use whipped cream to make a trunk. Serve immediately.
Where can I find more large family breakfast recipes?
Breakfast doesn't have to be complicated to be filling and healthy. I know it may seem easier to buy pre-made breakfast items, but you can save lots of time and money just by making breakfast ahead of time with my Breakfast Freezer Meals Pack, it's number 10 in my Large Family Freezer Meals Series. It includes 10 amazing breakfast recipes with directions to help you make 25 breakfast meals to put in your freezer!If your freezer is already full or you just don't have the freezer space, then try my Easy and Simple Large Family Sheet Pan Breakfasts which includes 10 delicious and easy breakfast meals to make your large family. Save time and money!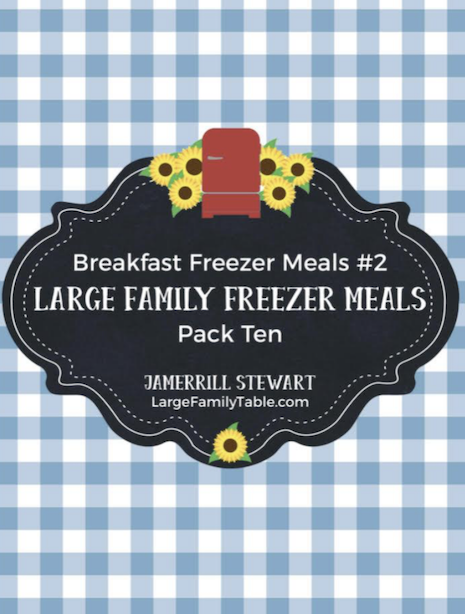 Need more kid-friendly breakfast ideas?
Elephant Pancakes
Print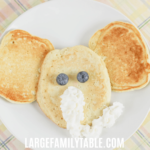 Cooking with Kids: Elephant Pancakes Recipe
Author:

Prep Time:

10 mins

Cook Time:

10 mins

Total Time:

20 minutes

Category:

Pancakes

Method:

Griddle

Cuisine:

Breakfast
---
Ingredients
For pancakes:
2 cups flour
3 TBSP sugar
1/2 tsp salt
1 TBSP baking powder
2 eggs, beaten
1 tsp vanilla
1 3/4 cups milk
1/4 cup (1/2 stick) butter, melted but cooled slightly
For elephant:
whipped topping
chocolate chips, blueberries, or raisins (2 for each elephant)
---
Instructions
 In medium bowl, whisk together dry ingredients: flour, sugar, salt, baking soda 
 In a separate bowl whisk together eggs,milk, and vanilla. Slowly add the butter last.
Create a well in the middle of the dry ingredients. Pour wet ingredients into the well then stir the batter until well combined. There may be small lumps. Allow batter to rest 5 minutes.
 Heat griddle to 300 degrees. Spray with non stick cooking spray or melt additional butter on griddle.
For the elephant, pour 1 cup batter on griddle for the head.  For the ears, use 2/3 cup batter and spread into a rectangle on the griddle. 
Cook until the bubbles begin to break on the pancake. At that point, flip pancake and cook for another 2 to 3 minutes.
To decorate, place 2 ear pancakes on both sides of a plate. Place the circle head pancake on in the middle of the plate overlapping the ears.
Place 2 blueberries as the elephant's eyes. When ready to eat, use the whipped cream to make a trunk.
Serve immediately.
Your little people are sure to squeal with delight when they see these at breakfast. If you don't have time to make all the pancakes in one morning, split them up. Cook all the heads one morning then do the ears on a different morning. Heat them up then add the whipped cream trunk. You could even have a different child help you for each step. Do what works for your family and enjoy your fun mom points. #momwin
FREE Emergency Pantry Planning Pack!
Don't forget to sign up for the emergency pantry planning pack for free to help you plan your pantry meals! The free Emergency Pantry Planning Pack will help you plan your needed pantry items! Printable pages include pantry inventory, grocery lists, meal planners, list of pantry staple items, and more.