It's time for yet another meal plan! This week in our meal plan series, we have Large Family Weekly Meal Plan #16, all ready for you below. Each week I serve up a fresh meal plan with seven nights of dinners. PLUS, because I *only know mega & lots,* each large family meal plan will guide you through making a little extra to help fill your freezer, yay! You'll also want to grab all my other weekly meal plans, too!
This week's Large Family Weekly Meal Plan #16 includes Chicken and Green Bean Stir Fry, Instant Pot Navy Beans and Ham, Beef and Cheddar Cauliflower Bake, Chicken Fajita Quesadillas, and many more delicious recipes. Plus a few snack and breakfast ideas, too!
If you are a large family you may find you'll get 7 dinners, plus some extra meals prepped ahead. If you are heading up a smaller family you will have plenty of leftovers for lunches and lots of extra to build your freezer stash. Don't forget to sign up for the FREE Large Family Weekly Meal Plan #16 Grocery List printable set HERE!
Free Large Family Grocery List
Each week I give you a free complete grocery list to go with each unique budget large family meal plan. Just sign up here for the Large Family Weekly Meal Plan #16+ Grocery List! You'll receive a detailed grocery list to guide you through buying everything on this week's large family meal plan, plus bonus meal planning pages – yay!
If you plan ahead, you can do some big batch cooking to add some meals to your freezer for later. Serve up these delicious recipes at your own Large Family Table. Check out this post if you would like to know my Must Have Large Family Freezer Meal Supplies.
More Large Family Meal Plans
Large Family Meal Plan Week 16
This Chicken and Green Bean Stir Fry is an awesome way to keep everyone in the family happy. Green Beans are a family favorite. Serve with brown rice on the side.
Navy Beans & Ham is a hearty dinner that will leave your bellies full and happy. Serve with homemade dinner rolls.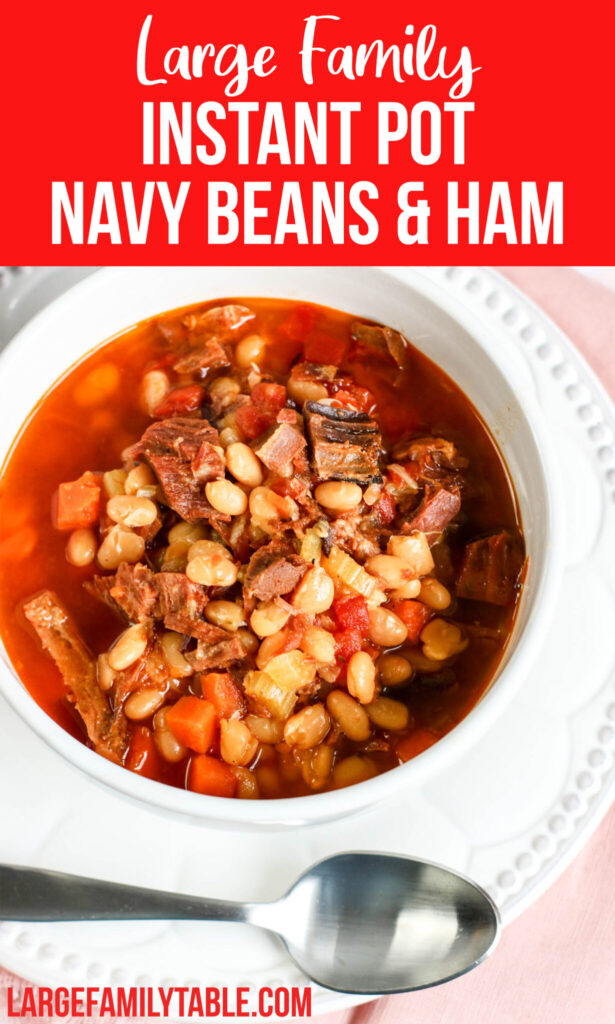 Jamerrill's Large Family Stir Fry Fried Rice is full of vegetables and protein from the chicken and eggs. It is a family favorite and scrumptious.
Try a unique and healthy twist on a traditional spaghetti dish with the Buffalo Chicken Spaghetti Squash Casserole. It is slightly spicy, loaded with chicken, and just as filling as classic spaghetti with fewer calories and carbs. Making your own spaghetti squash spaghetti is easy!
This is a great freezer meal and this recipe makes two 13×9 pans. Depending on your family size you can make both for dinner or have extra to stock your freezer. Serve with a large salad on the side.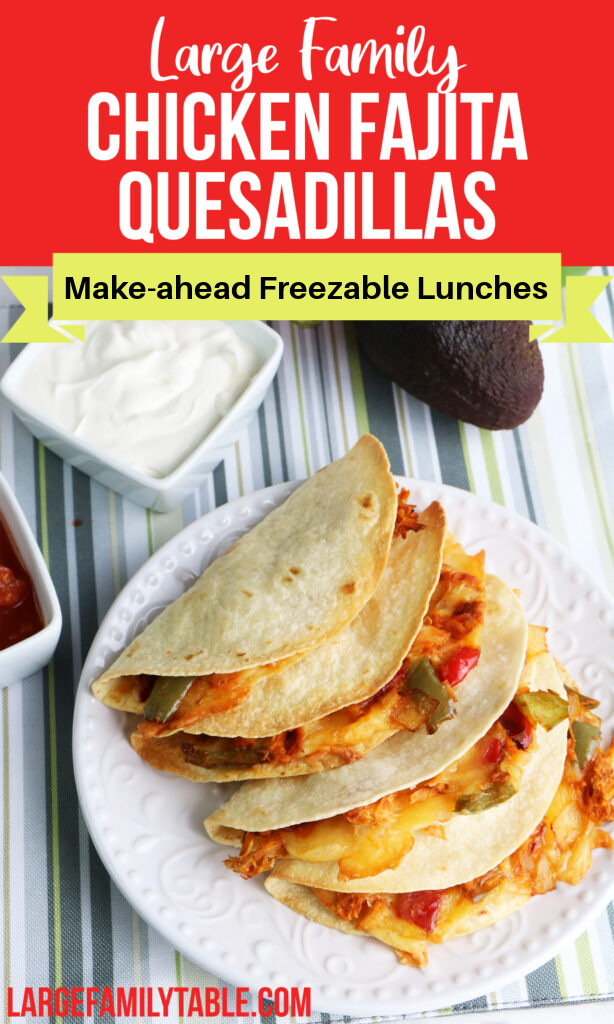 Quesadillas can be stuffed with your favorite vegetables and ingredients making this a colorful, flavorful meal full of all the nutrition you can pack in these tortillas. Serve with all of your favorite quesadilla dipping sauces like sour cream, pico de Gallo and guacamole.
This dinner is very frugal and so delicious and filling. Your family will love this dish. Serve with some fruit on the side.
Bonus Breakfast Recipe Idea: Loaded Breakfast Biscuits
Bonus Snack Recipe Idea: Ham and Cheese Hot Pockets
Large Family Meal Planning
Making a meal plan is a great way to make sure you're eating at home and with only a small amount of extra effort, you can also add food to your freezer to make later meals more convenient. For more meal planning ideas, check out Large Family Meal Planning.
FREE Grocery List Planning Pack For Large Family Weekly Meal Plan #16!
SIGN UP NOW to receive the free grocery list and planning pack for week fifteen that goes with this meal plan! You'll have everything you'll need to shop delivered right to your inbox including a detailed grocery list, meal planning pages, and more!
Be sure to also check out the Large Family Freezer Meal Bundles to ALWAYS have tons of meals in the freezer ready to go! Use special promo code HELLO20 to take 20% off the entire Large Family Freezer Meal Plan 1-9 Bundle! Happy planning!