Here to help you feed your family, I have the next meal plan ready for you! This week in our meal plan series, we have Large Family Meal Plan Week 20 + FREE Grocery List Printables. Each week I serve up a fresh meal plan with seven nights of dinners. PLUS, because I *only know mega & lots,* each large family meal plan will guide you through making a little extra to help fill your freezer, yay! You'll also want to grab all my other big family weekly meal plans, too!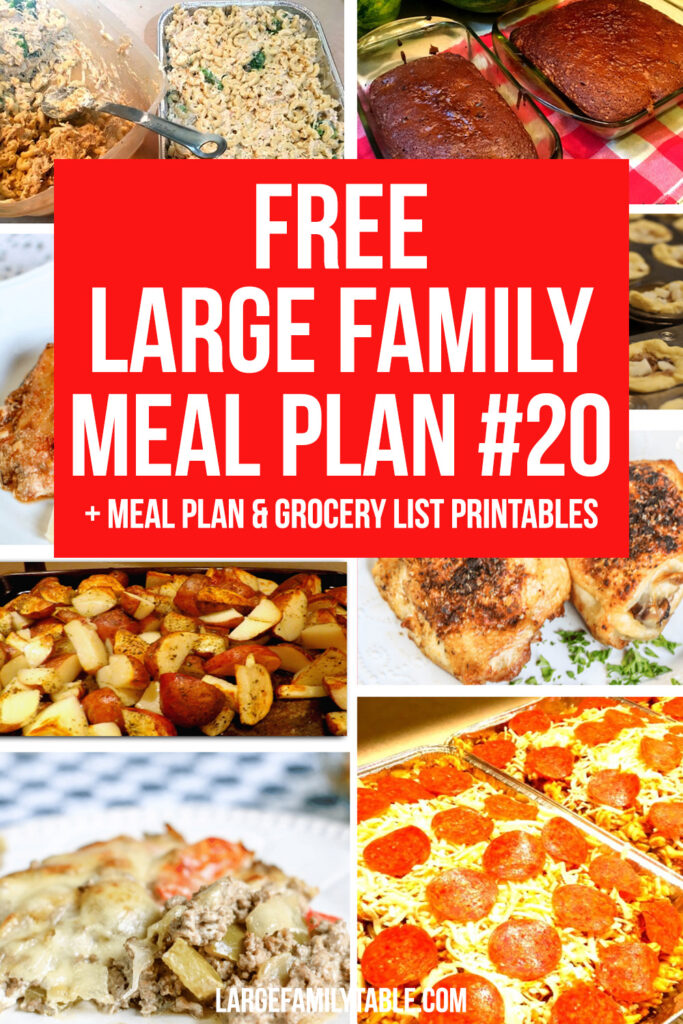 This week's Large Family Meal Plan Week 20 includes Fried Chicken, Eggplant Lasagna, Pizza Casserole Oven Bake, Salamon Cakes, Air Frier Chicken, and many more tasty meals. Plus a few snack and breakfast ideas, too!
If you are a large family you may find you'll get 7 dinners, plus some extra meals prepped ahead. If you are heading up a smaller family you will have plenty of leftovers for lunches and lots of extra to build your freezer stash. Don't forget to sign up for the FREE Large Family Meal Plan Week 20 Grocery List printable set HERE!
FREE Large Family Meal Plan Week 20 Grocery List
Each week I give you a FREE MEAL PLAN & COMPLETE GROCERY LIST to go with each unique budget large family meal plan. Just SIGN UP HERE FOR THE LARGE FAMILY MEAL PLAN WEEK 20+ GROCERY LIST! You'll receive a detailed grocery list to guide you through buying everything on this week's large family meal plan, plus bonus meal planning pages – yay!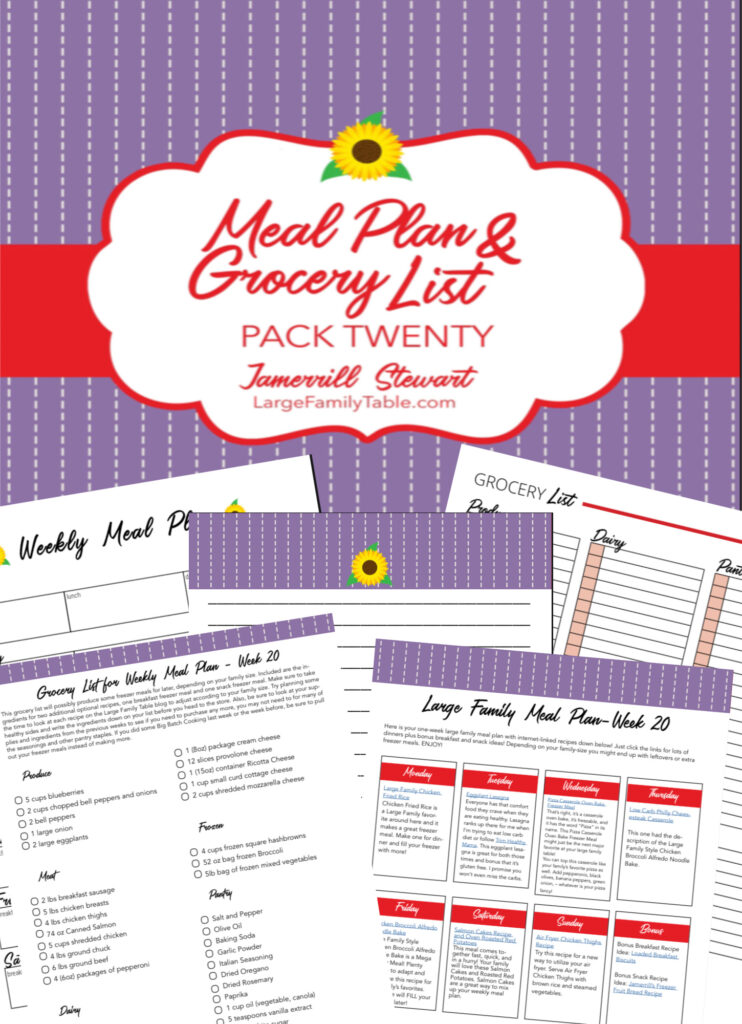 If you plan ahead, you can do some big batch cooking to add some meals to your freezer for later. Serve up these delicious recipes at your own Large Family Table. Check out this post if you would like to know my Must Have Large Family Freezer Meal Supplies.
More Large Family Meal Plans
Large Family Meal Plan Week 20
Chicken Fried Rice is a Large Family favorite around here and it makes a great freezer meal. Make one for dinner and fill your freezer with more!
Everyone has that comfort food they crave when they are eating healthy. Lasagna ranks up there for me when I'm trying to eat low carb diet or follow Trim Healthy Mama. This eggplant lasagna is great for both those times and bonus that it's gluten free. I promise you won't even miss the carbs.
That's right, it's a casserole oven bake, it's freezable, and it has the word "Pizza" in its name. This Pizza Casserole Oven Bake Freezer Meal might just be the next major favorite at your large family table!
You can top this casserole like your family's favorite pizza as well. Add pepperonis, black olives, banana peppers, green onion, – whatever is your pizza fancy!
This Low Carb Philly Cheesesteak Casserole is just as easy to make and freeze as it is tasty. This recipe is filled with vegetables and is customizable to make it as packed full of healthy foods as you'd like! Your family will be asking for seconds.
Large Family Style Chicken Broccoli Alfredo Noodle Bake is a Mega Freezer Meal! Plenty of room to adapt and customize this recipe for your family's favorites. This recipe will FILL your freezer for later!
This meal comes together fast, quick, and in a hurry! Your family will love these Salmon Cakes and Roasted Red Potatoes. Salmon Cakes are a great way to mix up your weekly meal plan.
Try this recipe for a new way to utilize your air fryer. Serve Air Fryer Chicken Thighs with brown rice and steamed vegetables.
Bonus Breakfast Recipe Idea: Loaded Breakfast Biscuits
Bonus Snack Recipe Idea: Jamerrill's Freezer Fruit Bread Recipe
Large Family Meal Planning
Making a meal plan is a great way to make sure you're eating at home and with only a small amount of extra effort, you can also add food to your freezer to make later meals more convenient. For more meal planning ideas, check out Large Family Meal Planning.
FREE Grocery List Planning Pack For Large Family Meal Plan Week 20!
SIGN UP NOW to receive the free grocery list and planning pack for week 20 that goes with this meal plan! You'll have everything you'll need to shop delivered right to your inbox including a detailed grocery list, meal planning pages, and more!