There are days when you not only need to put dinner in the slow cooker but you need it to be frugal as well. You want frugal, easy, and tasty. Sometimes us mamas want the moon. Large family beef & potato slow cooker dinner meets all those requirements. I think I hear angels singing. Yes and amen.
*Use special promo code HELLO20 to take 20% off your first order in the shop including the SUPER MEGA ULTIMATE Large Family Freezer Meals Bundle here!*
Large Family Beef & Potato Slow Cooker Dinner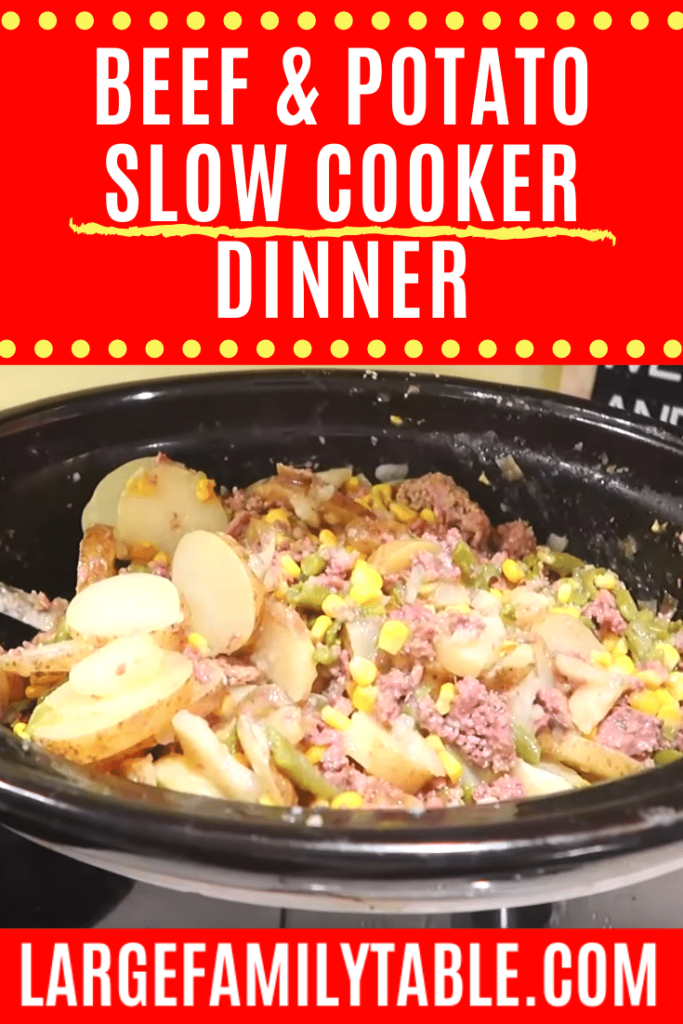 Beef and Potatoes is a staple, comfort meal! Preparing it in the slow cooker is super easy and involves only a few steps, but is full of savory flavor!! I like to add corn and green beans to the beef and potatoes in the slow cooker to make it a balanced meal, but you could always choose to serve this dinner with another yummy side dish like Sheet Pan Roasted Broccoli.
Ingredients needed for Beef and Potato Slow Cooker Dinner
This is a super simple recipe that only requires ground beef, chopped potatoes, and big cans of green beans, corn, and cream of mushroom soup!
How do I make Beef and Potato Slow Cooker Dinner?
Whenever you use ground beef in a slow cooker meal, you have to brown it first. Drain it and add it your slow cooker. You really don't want all that grease in your food. Blech! If you can batch cook several pounds of it then freeze it into 3 lb freezer bags. Then when you need it for a recipe, it's already precooked.
Spray your slow cooker liner with non stick cooking spray. I say this in every recipe because it really does make clean up easier. At the end of a long day, no one wants to spend an exorbitant amount of time scrubbing their slow cooker. Seriously, who has time for that?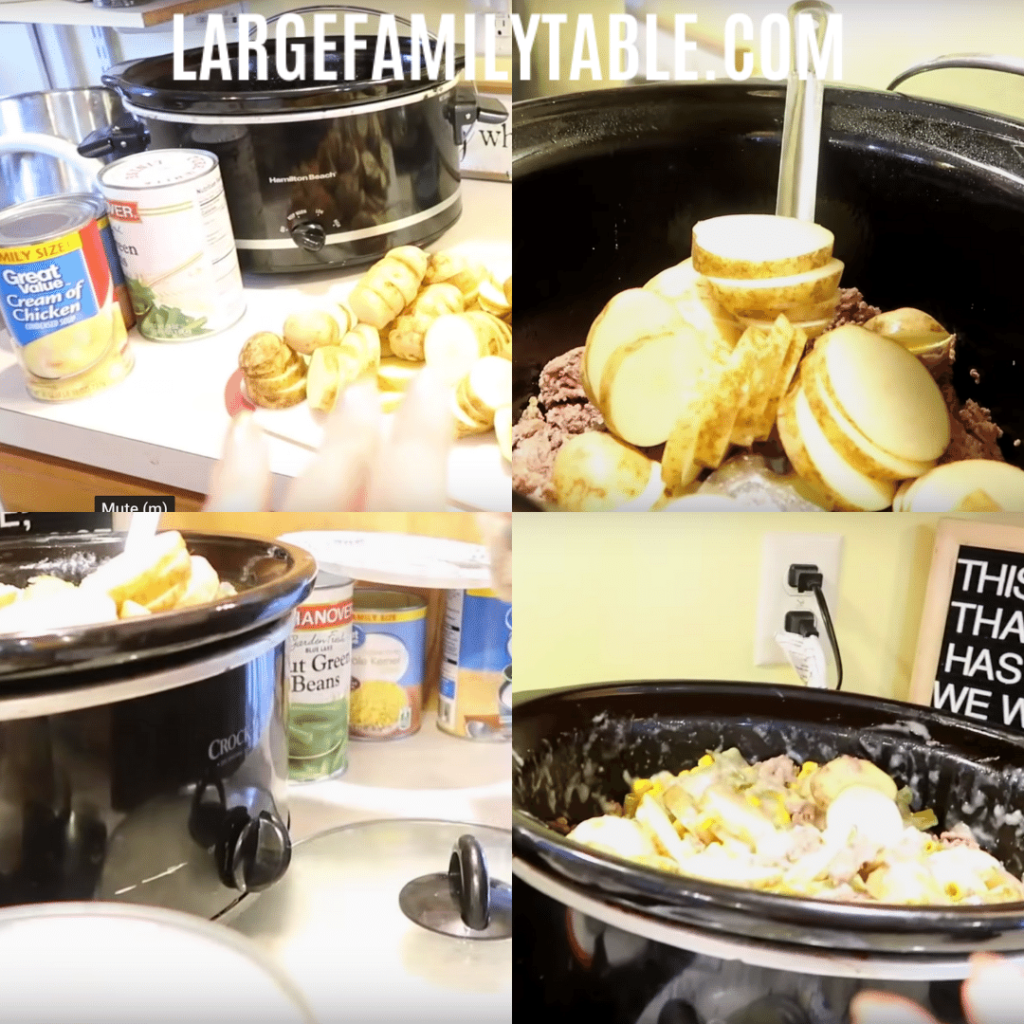 Add your potatoes, drained corn and green beans plus your cream of mushroom soup. You really could use any cream soup in this that you have in your cabinet. Don't have any on hand. Check out my slow cooker chicken pot pie recipe for directions on how to make your own cream of chicken soup. There are days when I use the convenience card of using canned soup and days when I can make my own. No guilt or judgment. It's all about balance.
Put your lid on your slow cooker. Cook on low for 6 to 8 hours or on high for 4 to 6 hours. When ready, open lid, mix together, then serve immediately.
Do you have more slow cooker recipes?
Did you enjoy Beef & Potatoes Slow Cooker Meal? Most of slow cooker meals are dump-and-go recipes that you spend ten minutes preparing and a few hours later dinners ready. Yay for convenience! You'll find lots more easy slow cooker meals in my Large Family Slow Cooker Dinners and Meal Plans Vol 1, 2, 3 Bundle. It includes 60 meals and 12 weeks of meal plans!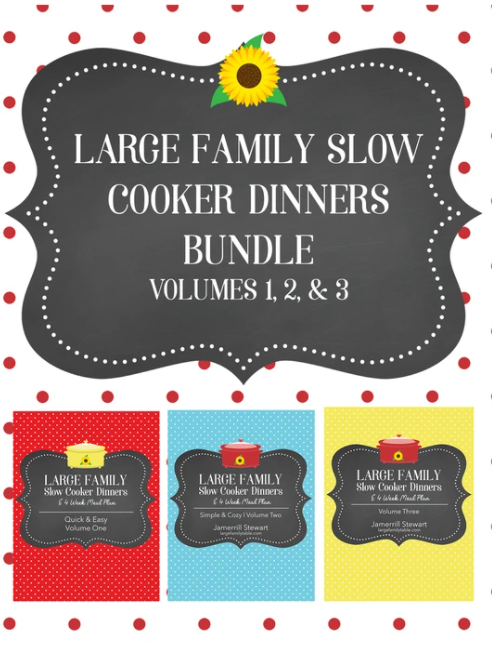 Here are more beef slow cooker meals you will enjoy!
Large Family Beef & Potato Slow Cooker Dinner
Print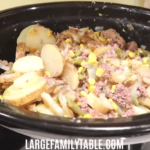 LARGE FAMILY BEEF & POTATO SLOW COOKER DINNER
Author:

Prep Time:

10 mins

Cook Time:

8 hours

Total Time:

8 hours 10 minutes

Yield:

12 servings

Category:

Beef

Method:

Slow Cooker

Cuisine:

Dinner
---
Description
This hearty slow cooker meal is all you need to serve to your family to keep them full and happy.
---
Ingredients
3 lbs precooked ground beef
3 lbs washed and chopped potatoes
1-38 oz can of green beans, drained
1-29 oz can of corn, drained
1-26 oz can of cream of mushroom soup
---
Instructions
Dump all ingredients in the slow cooker.
 Cook on high for 4 to 6 hours or low for 6 to 8 hours.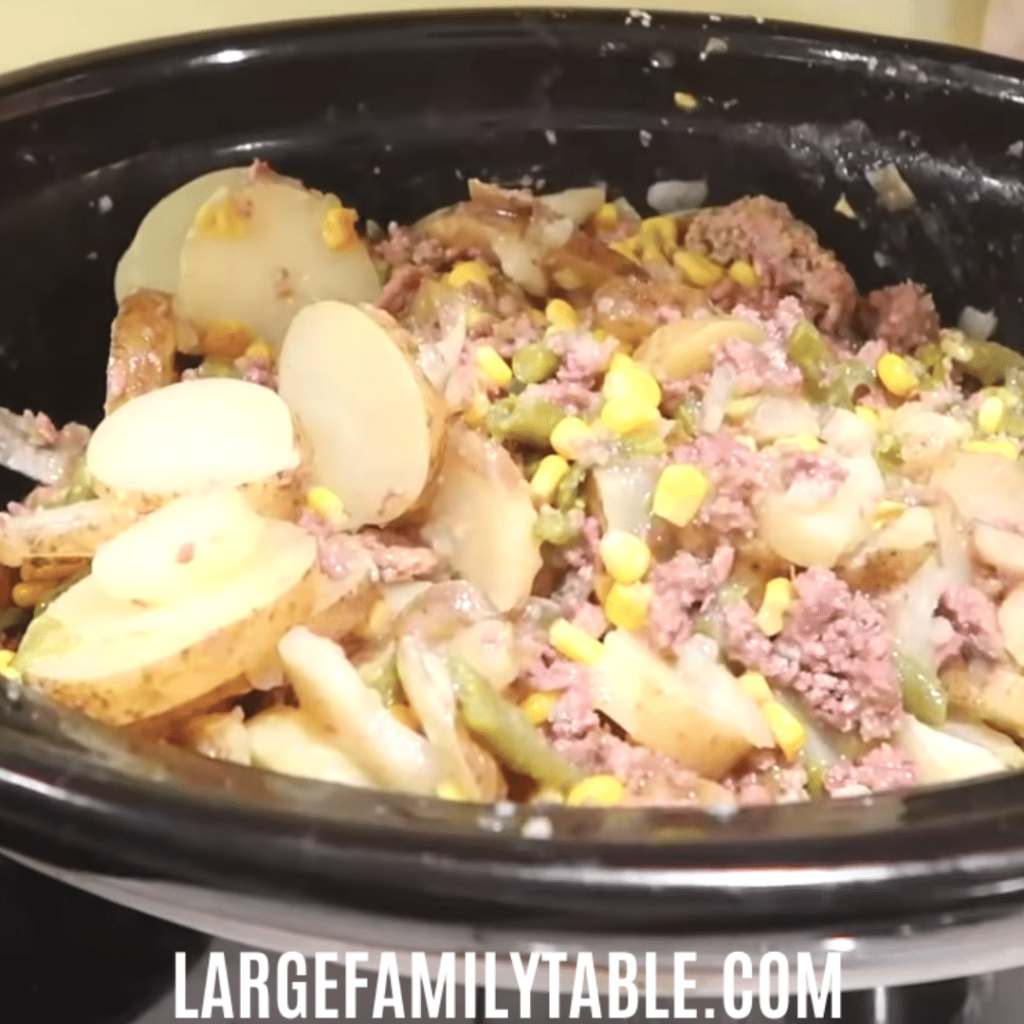 Large family beef & potato slow cooker dinner is perfect on it's own. You could cook up some freezer biscuits or cornbread if you so desired. There are vegetables in the meal so that is covered. Sit down and eat knowing that you have prepared your people a hearty and nutritious meal.
FREE Emergency Pantry Planning Pack!
Don't forget to sign up for the emergency pantry planning pack for free to help you plan your pantry meals! The free Emergency Pantry Planning Pack will help you plan your needed pantry items! Printable pages include pantry inventory, grocery lists, meal planners, list of pantry staple items, and more.