When I make this Philly cheese steak recipe, I use whatever type of beef roast I can get. I used bottom round roast in this recipe because it's what Aldi had on the day I was shopping. My pregnant self was not going anywhere near Wal-mart that day, so I am making use of what I could get. I had right around 4 1/2 lbs of beef to use in this recipe, so adjust your ingredients based on the amount of beef you have.
Slow Cooker Philly Cheese Steak Recipe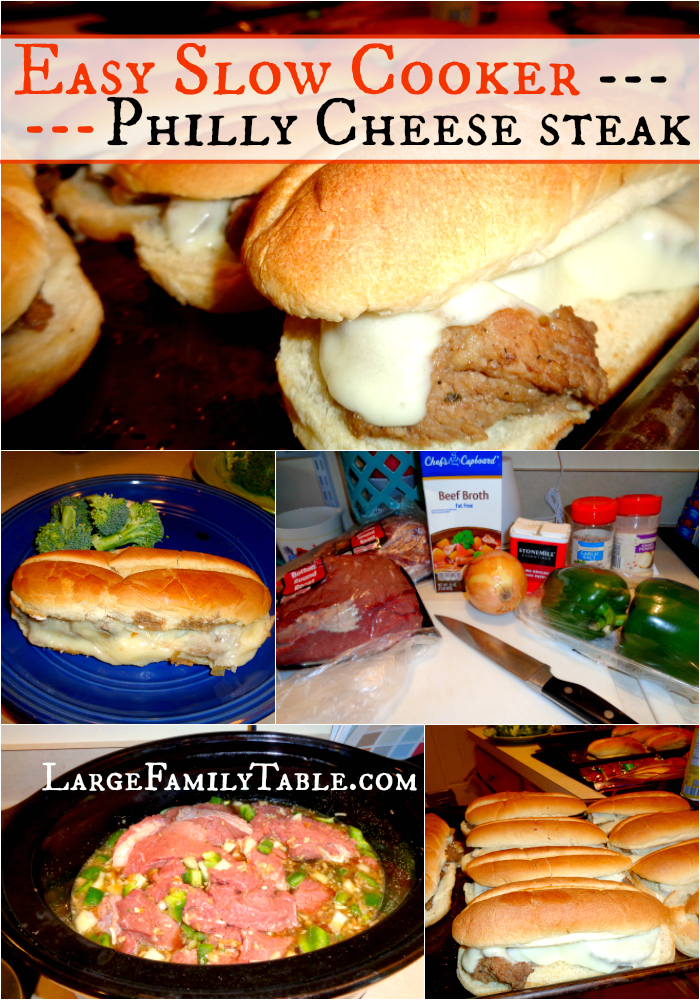 One thing I do right before serving this recipe is to put the hoagie buns into the oven with the meat and cheese on them, so they get all melty and toasted and yummy.
Now, this meal might seem like a pricier meal than I usually make; but if you consider that I am feeding nine people, along with me being very pregnant, then an entire meal of Philly cheese steaks for around $17 doesn't seem quite so expensive.
Large Family Recipes
Print Slow Cooker Philly Cheese Steak Sandwiches
---
Ingredients
4-5 lbs beef (roast, steak, whatever you have)
2 green peppers, chopped
1 large onion, chopped
4 cups beef broth
2 envelopes onion soup mix
1 TBSP onion powder
1 TBSP garlic salt
black pepper to taste
Provolone cheese slices (or whatever cheese you have on hand)
hoagie or deli rolls
---
Instructions
Chop green peppers and onion and place in slow cooker.
Add spices, soup mix, and beef broth to slow cooker.
Cut meat into chunks and add to slow cooker.
Stir everything around and get it all mixed up well.
Cook for 3-4 hours on high. (Frozen chunks of meat may will need a longer cooking time depending on your slow cooker.)
Remove meat and slice thinner if needed.
On each hoagie roll, place some of the meat and top with 2 slices of Provolone cheese.
Place stuffed rolls on a baking pan and toast at 400* for about 3-4 minutes.
Serve with sides of your choice!
---
Nutrition
Serving Size:

15

Calories:

343

Sugar:

1

Sodium:

1437

Fat:

14

Saturated Fat:

6

Unsaturated Fat:

7

Trans Fat:

0

Carbohydrates:

7

Protein:

44

Cholesterol:

118
I served my cheese steak sandwiches with fresh broccoli and dip, but this is delicious with any sides you like.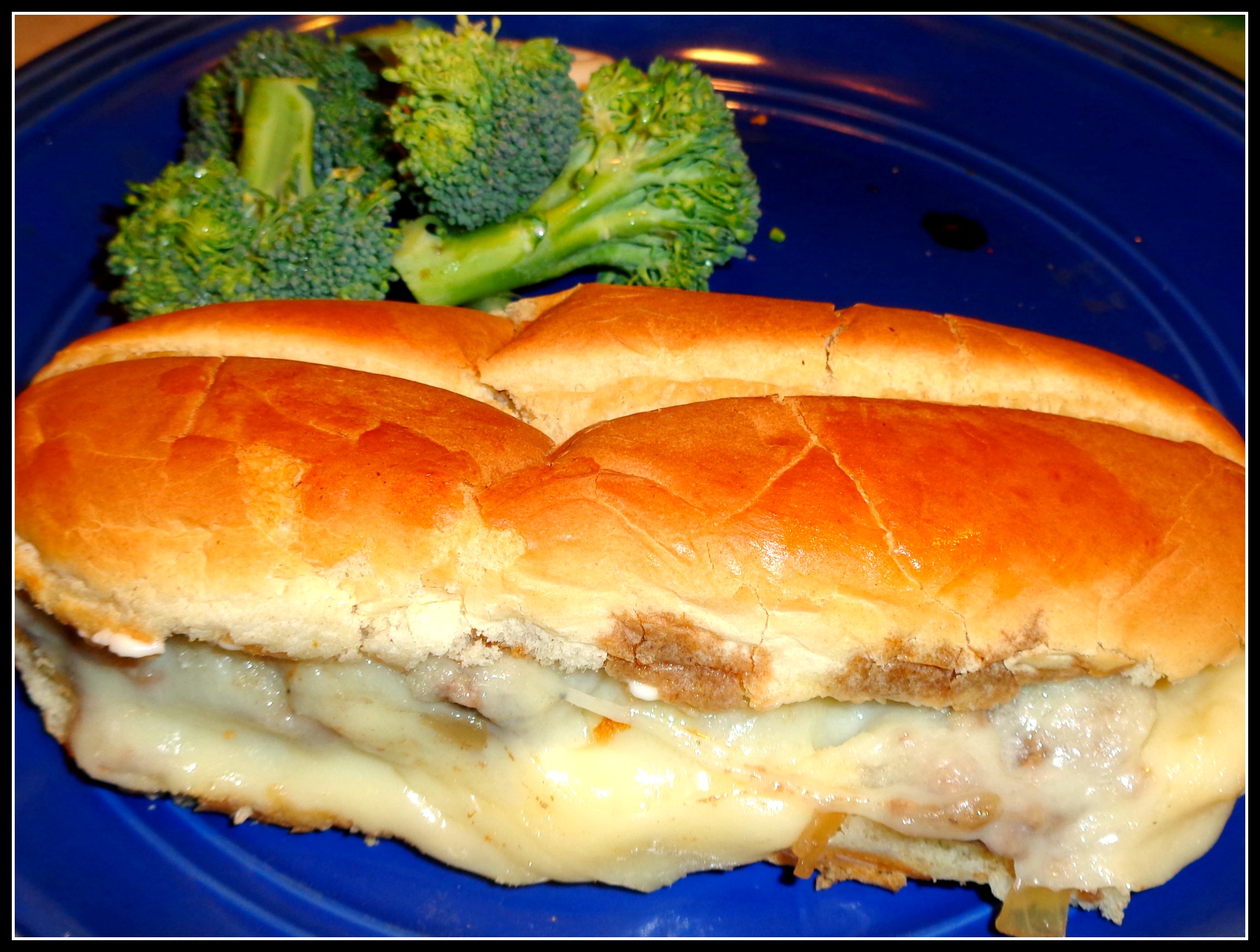 And don't let what you think Philly cheese steak should look like hold you back from trying this wonderful recipe – I don't have a meat slicer to get the fine strips of meat like you see at restaurants. But I don't let that stop me; I just go at it with my kitchen knife and call it good enough!
One more tip – if you have kids that won't eat the cheese steak sandwiches, you can make them a simple grilled cheese sandwich while you are melting the cheese on your Phillies. Just place the cheese on the hoagie buns and put them in the oven right alongside your cheese steaks, and there you go! Easy-peasy grilled cheese sandwiches.
Homemade Philly Cheese Steak in the Slow Cooker Recipe
Click here to watch the full Homemade Philly Cheese Steak in the Slow Cooker Recipe vlog.
SOMETHING NEW!
And if you made it all the way to the bottom of this blog post I have something special for you! I haven't shared or promoted this yet, but I've been working the last several days on setting up the Large Family Table Shop here on the blog (Thank you, Travis, for having the past week off on Spring Break! Hello, help with the kiddos ;). I'm still adding goodies to the shop and hope to have it complete by the end of this week. You should still be able to head over and check it out here. I have several helpful freebies like my Family Meal Planner Collection, The Beautiful Household Management Binder, the Caffeinated Daily Planner, and more over there for free at the moment. Also, the few paid products I have loaded are heavily marked down. Check it out!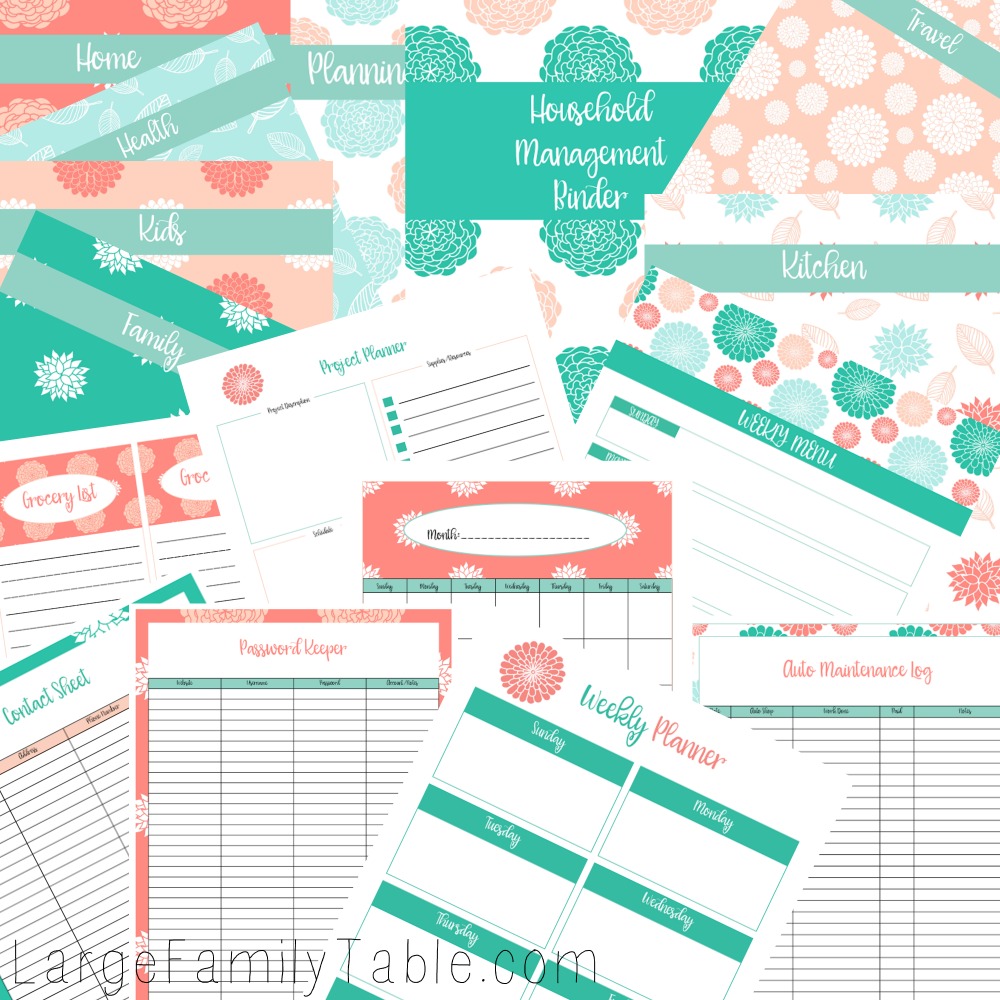 Get your currently free copy of The Beautiful Household Management Binder here!
I hope you love this recipe. Be sure to comment below and tell me if you try them!