When you are trying to cook for your family, you may be craving something a little different. Pork Chop and Hashbrowns Casserole is amazing in so many ways! Your family can get a really good meal out of this! Serve it with our Cranberry Apple Salad or our Marinated Cucumber salad for a rounded meal. Let's get started with making this.
****Use special promo code HELLO20 to take 20% off the entire MEGA DEAL get-it-all Bundle including the best-selling Large Family Freezer Meal Packs 1-12 + so much more!!****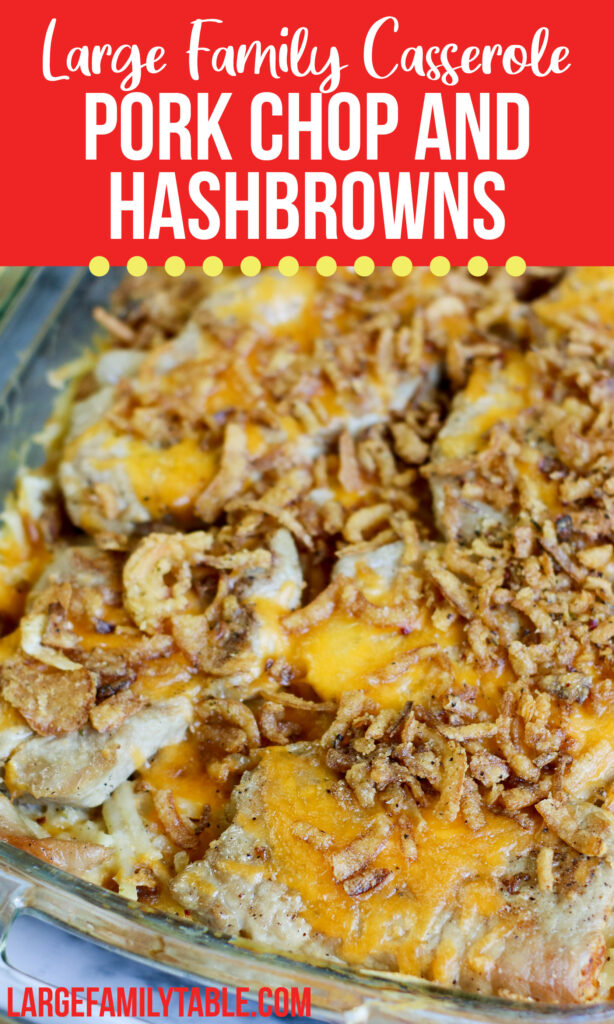 Pork Chop and Hashbrowns Casserole
I think I love this meal the most because it's so different than a traditional casserole. If you have pork chops that you need to use up, this recipe is for you! I often get tired of making the same pork chop recipes over and over again, but this one is different.
How to Cook Pork Chops Without Drying Them Out
The last thing you want to do, whenever you're making pork chops is to dry them out. Trust me, you do not want to bite into a dry pork chop, that means it's going to be that much harder to bite into. With these pork chops, you can simply make and enjoy and I show you how to do it! The dressing and seasoning is everything with this recipe.
What Makes a Casserole a Casserole?
If you're making a casserole, you may be wondering what classifies a casserole as a casserole. An easy way to explain casserole is that everything can be put in the same dish. You can add meat and a vegetable to the casserole dish. Hashbrowns are also a really popular item to put in a casserole dish.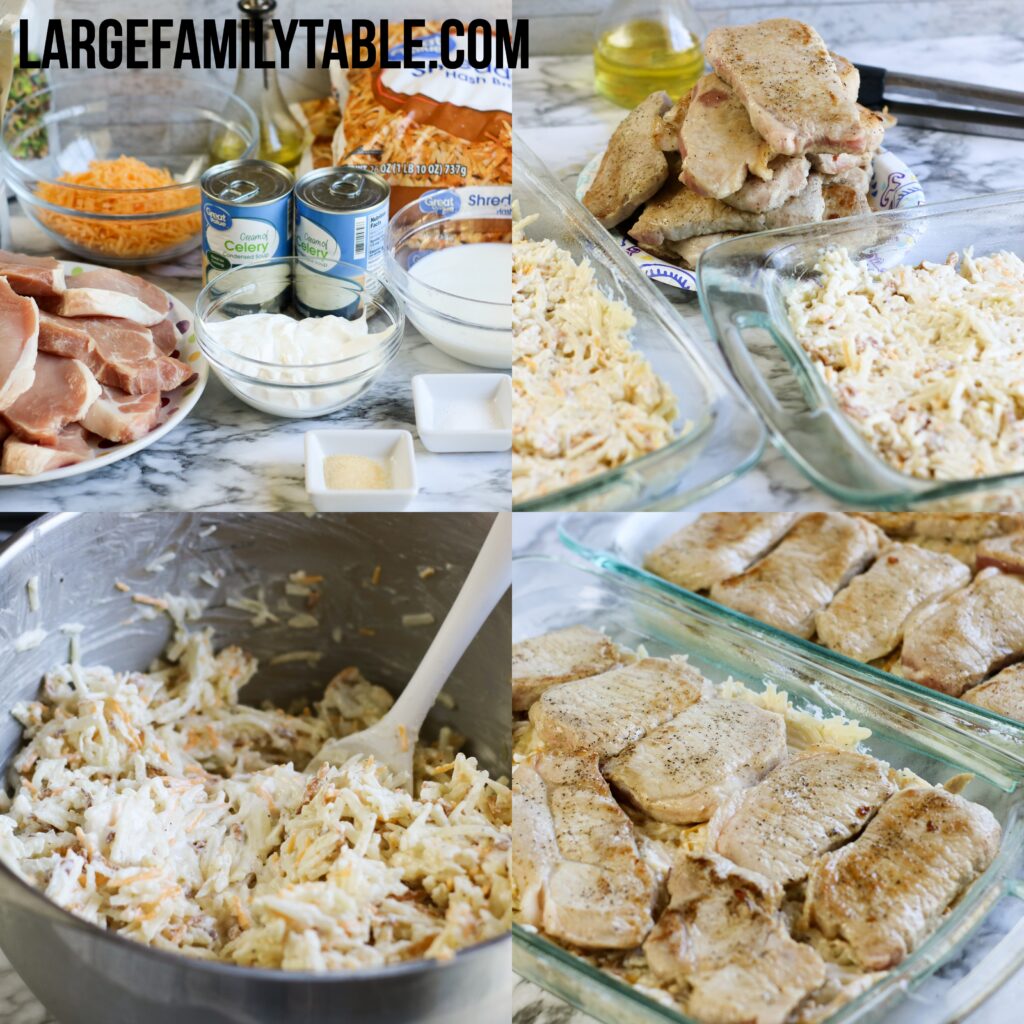 Why Do Casseroles Become Popular?
You may be wondering when casseroles became popular. Well, casseroles started to become a big hit during the Great Depression. When you're putting a casserole together, you have the carbs and the veggies, which really help to stretch a meal. When there is a hardship, a lot of people choose to make casseroles because it's just so filling.
Ingredients for Pork Chops and Hashbrowns Casserole
If you're going to make this dish, you may be wondering what type of ingredients go into this post. Of course, keep in mind that the entire ingredient list is in the recipe card. However, I wanted to touch base with some of my favorite ingredients in this post.
Pork Chops – In order to get really yummy pork chops, I like to use bone-in! You can usually buy these in family packs on sale.
Hashbrowns – You can buy a package of frozen hashbrowns or you can use potatoes and shred them yourself. The hashbrowns really make this dish delicious.
Olive Oil – I really enjoy making my casseroles with olive oil. It gives such a rich taste.
Just make sure you follow the recipe so that you can enjoy all the benefits of this delicious meal.
Here are more casseroles your family will enjoy!
I hope you enjoy this Pork Chop and Hashbrowns Casserole as much as we do! It is sure to feed your large family. What is your favorite part of it?
Pork Chop and Hash Brown Casserole
Print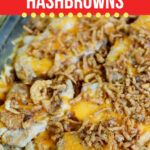 Pork Chop and Hashbrowns Casserole | Large Family Casseroles
Author:

Prep Time:

30 minutes

Cook Time:

30 Minutes

Total Time:

1 hour

Yield:

2 9×13 Casserole Dishes

Category:

Dinner

Method:

Oven
---
Description
When you are craving meat and veggies for your family, this Pork Chop and Hashbrowns Casserole is where it's at. 
---
Ingredients
16 bone-in pork loin chops

2 tablespoons olive oil

2 (10-3/4 ounce) cans condensed cream of celery soup

1 ⅓ cup milk

1 cup sour cream

1 teaspoon salt

½ teaspoon pepper

½ teaspoon garlic powder

2 (26 ounce) packages frozen shredded hash brown potatoes

2 cups finely shredded cheddar cheese, divided

2 (3.5 ounces) packages french-fried onions, divided
---
Instructions
Preheat the oven to 350 degrees. Spray two 9×13 casserole dishes with nonstick cooking spray.

Season pork chops with salt and pepper. Heat a large skillet over medium-high heat. Add the oil. Brown the pork chops on both sides.

Meanwhile, in a large bowl, stir together the soup, milk, sour cream, salt, pepper, and garlic powder. Add the hash browns, 1 ½ cup cheese, and half of the fried onions. Divide in half and spread in the bottom of the casserole dishes. Place the pork chops on top.

Cover the casserole dishes with aluminum foil and bake for 30 minutes. 

Uncover the dishes and sprinkle with the remaining cheese and onions. Return to the oven and bake uncovered for an additional 5 to 10 minutes or until the meat is cooked through and meat juices run clear.
Keywords: Pork Chop and Hashbrowns Casserole
This casserole is super versatile. It can be a breakfast or dinner. You can make it ahead and freeze it or make it fresh. So many ways to use this meal.
FREE Emergency Pantry Planning Pack!
Don't forget to sign up for the emergency pantry planning pack for free to help you plan your pantry meals! The free Emergency Pantry Planning Pack will help you plan your needed pantry items! Printable pages include pantry inventory, grocery lists, meal planners, list of pantry staple items, and more.