I have been craving something extra special while also trying to eat a little more low carb. Introducing Low Carb Pizza Casserole. This casserole is like any other dish you've ever made because it's low carb but tastes just like pizza. Plus, the whole family likes it, which is a huge win in my book. If you want a healthier twist on pizza, then go ahead and give this dish a try!
*Use special promo code HELLO20 to take 20% off your first order in the shop including the SUPER MEGA ULTIMATE Large Family Freezer Meals Bundle here!**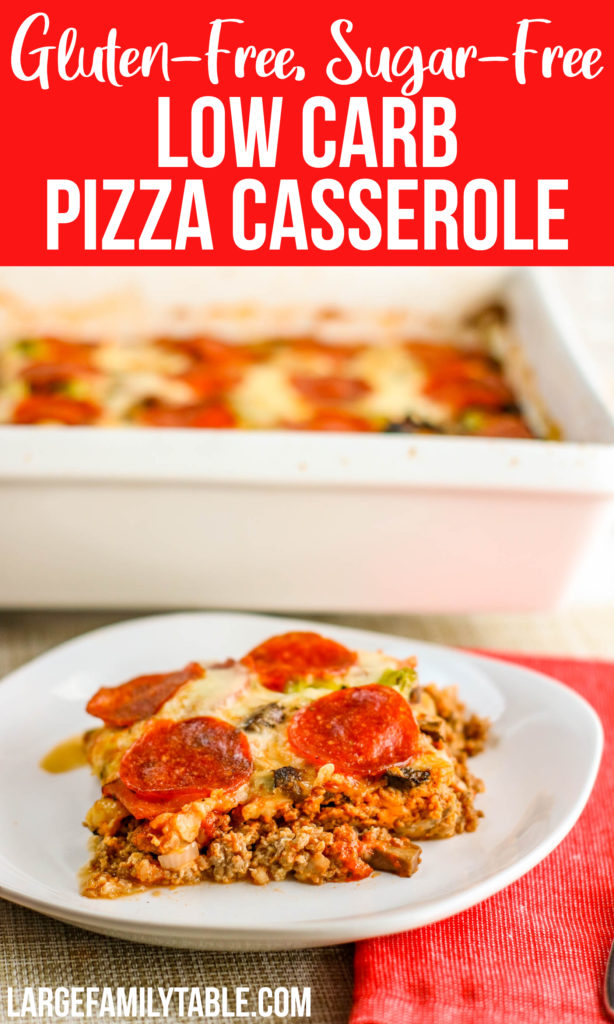 Low Carb Pizza Casserole
I have tried a lot of low carb casseroles in my life. Some have been huge family favorites and some have not been. When it comes to pizza, you don't want to mess that up. I feel as though this Low Carb Pizza Casserole is also a really good alternative if you want to save money! I love that this recipe is a Trim Healthy Mama – S, so even mom can have her pizza and not feel guilty about it. This recipe is also gluten-free and sugar-free!
Ingredients for Low Carb Pizza Casserole
When you're making a new dish, there is nothing more important than the ingredients. When it comes to ingredients, you want them to be affordable and to be able to feed a crowd.
Ground chuck & ground sausage – Two of my favorite proteins to cook with is ground chuck and ground sausage. I buy in bulk, so it's nice to get it out of the freezer, unthaw it, and then from there make this pizza casserole.
Onion & garlic – Another two of my favorite ingredients for this low carb pizza casserole is onion and garlic. Once you add this to the casserole, you'll feel like you're eating pizza!
Cream cheese – If I was to say there was a secret ingredient in this recipe, it would be cream cheese. This ingredient really helps to make the casserole delicious!
Heavy cream – When you're trying to go light on the carbs, usually fat is substituted. In this recipe, you'll love the heavy cream in the casserole, it really helps to bring everything together.
While this isn't the complete list of ingredients, it's a good start. You can find ALL of the ingredients in the recipe card and you can find the instructions.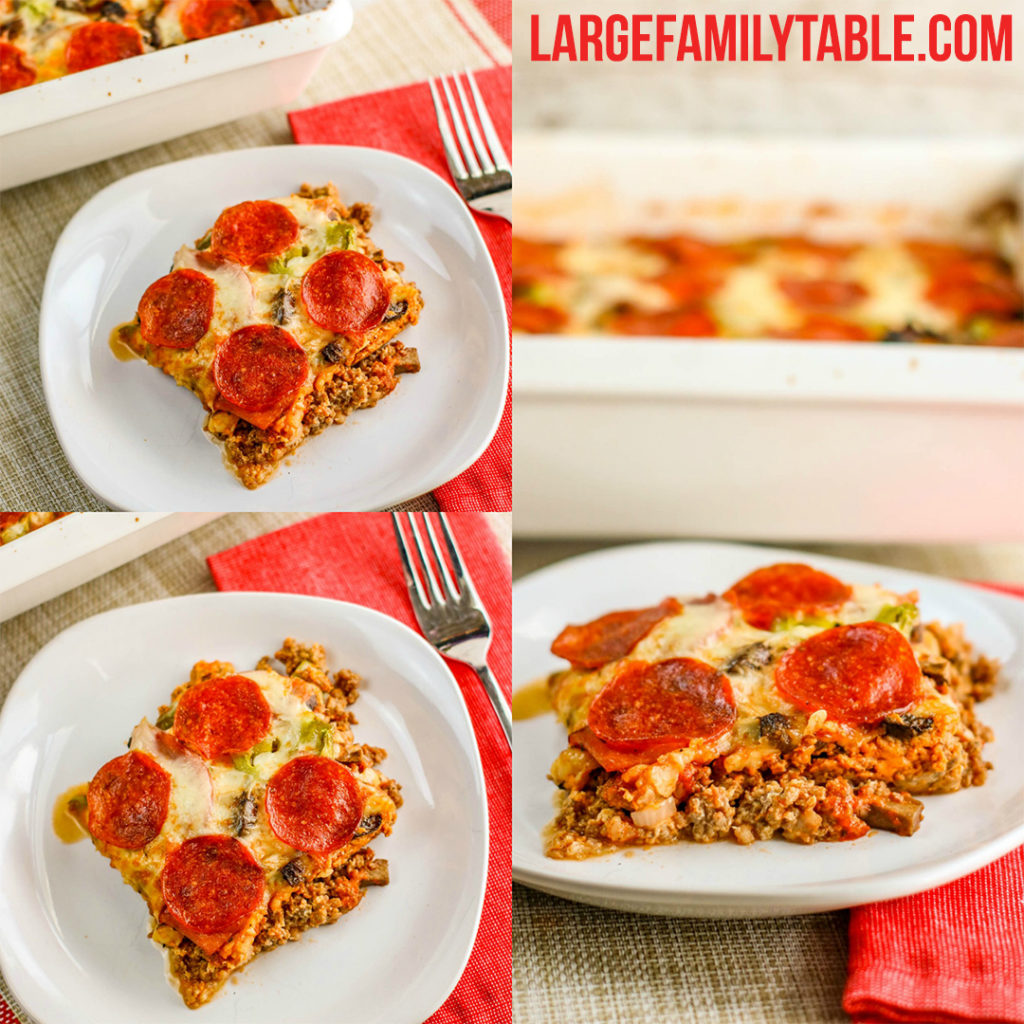 How Many Carbs Are in a Crustless Pizza?
Since this is a Low Carb Pizza Casserole, there are a lot fewer carbs than a traditional pizza would have. You're looking at very few carbs because most of this recipe is protein and fat! If you're looking for a recipe with fewer carbs, this one is it!
Can I Just Eat Pizza Toppings?
One reason I made this recipe is because who wants to order a pizza and just eat the toppings? While this works 1-2 times, sometimes you want the full taste of a pizza. This recipe is going to satisfy all of your pizza cravings!
The next time you're looking for a recipe to feed your large family table, give this Low Carb Pizza Casserole a try. It's truly delicious and such an easy recipe to make.
Need more Low Carb Meal Ideas?
You won't want to miss these amazing Large Family Low Carb Meals to Feed a Crowd (Budget Friendly, too!). This post has over 65 low carb meal ideas including low carb recipes made with beef, chicken, soup, slow cooker recipes, and low carb instant pot recipes. You also might enjoy the LOW CARB Large Family Freezer Meals Pack 7 and LOW CARB Large Family Freezer Meals Pack 8 to FILL YOUR FREEZER with amazing low carb freezer meals!!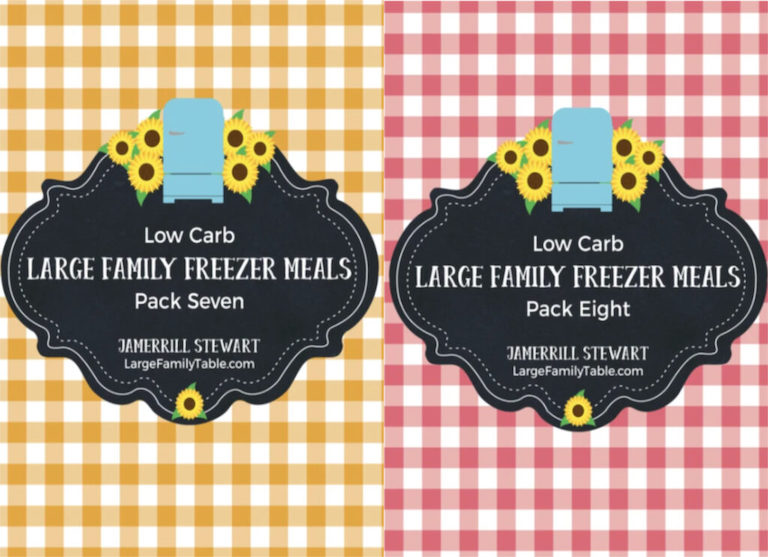 Here are more ways to try pizza that your family will enjoy!
Low Carb Pizza Casserole
Print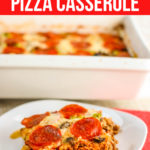 Low Carb Pizza Casserole | THM-S, Gluten Free, Sugar Free
Author:

Prep Time:

15 Minutes

Cook Time:

45 minutes

Total Time:

1 hour

Category:

Dinner

Method:

Oven
---
Description
You no longer have to eat a carby pizza if you don't want to, this Low Carb Pizza Casserole hits the spot! 
---
Ingredients
1 pound ground chuck

1 pound ground sausage

½ onion, chopped

3 cloves garlic, minced

4 ounces cream cheese, softened

4 eggs

1 cup heavy cream

1 (14 ounce) jar sugar-free pizza sauce

½ green pepper, diced

1 (8 ounce) package mushrooms, diced

½ cup sliced pepperoni

½ cup canadian bacon, diced
---
Instructions
Preheat oven to 350 degrees. Prepare a 9×13 casserole dish with nonstick cooking spray.

In a large skillet over medium-high heat, brown ground chuck, ground sausage, and onion until the meats are browned and crumbled. Drain well. Mix with garlic and place in an even layer in the bottom of the casserole dish.

Whisk together cream cheese, eggs, and heavy cream. Pour mixture over meat layer.

Add pizza sauce over the layer of meats and eggs.

Over the pizza sauce, add the vegetables and canadian bacon. Top with cheese and pepperoni.

Bake for 45 minutes or until the center is set and the cheese is melted.
---
Notes
THM-S, Gluten Free, Sugar Free
Keywords: Low Carb Pizza Casserole
I don't know about your large family, but mine is always excited to have pizza in any form. This Low Carb Pizza Casserole will be one you rotate in often!
FREE Emergency Pantry Planning Pack!
Don't forget to sign up for the emergency pantry planning pack for free to help you plan your pantry meals! The free Emergency Pantry Planning Pack will help you plan your needed pantry items! Printable pages include pantry inventory, grocery lists, meal planners, list of pantry staple items, and more.