Large Family Easy Lasagna Freezer Meal Recipe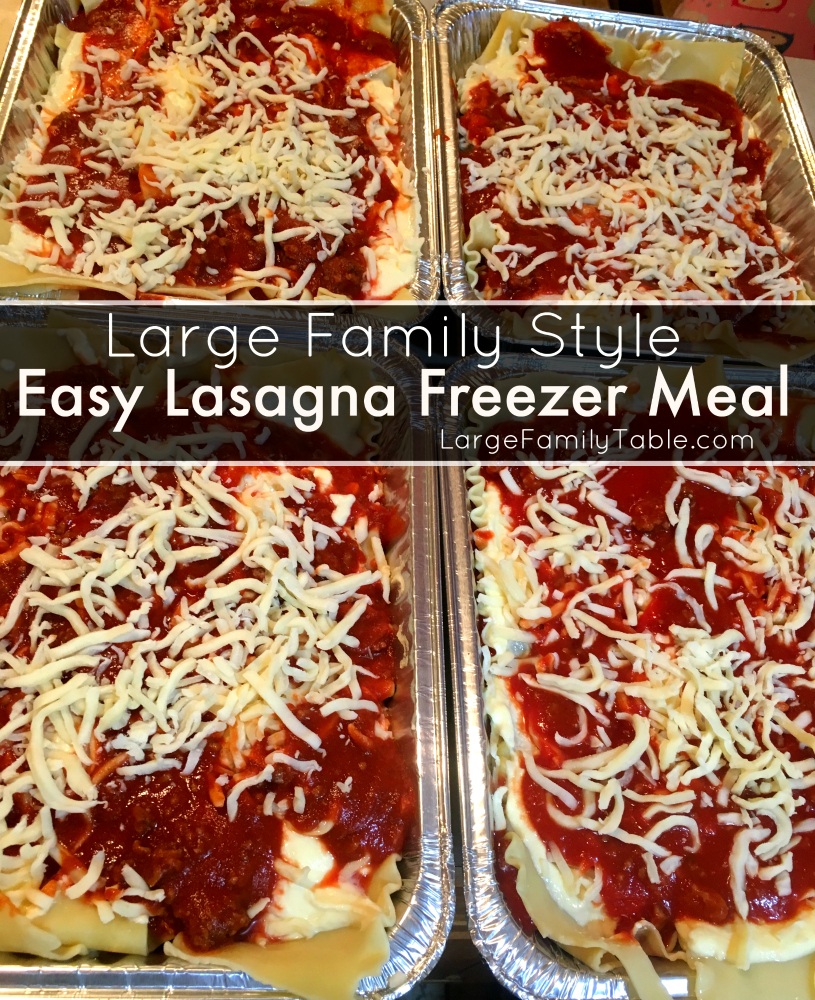 In my recent large family freezer cooking day two, I prepared five easy lasagna freezer meals. Just slide one or two pans into the oven and serve with salad, buttered green beans, and bread. One 9×13 pan will feed my family of nine of various ages and stages for one dinner if a few easy sides are added. When I want leftovers, or we're feeding more people I bake two pans.
Easy Homemade Lasagna Tips
Homemade lasagna is an easy and frugal meal. You can cut back the amount of ground beef you use in the recipe, and it will still be divine. You can also substitute cottage cheese for ricotta cheese if needed. You also do not necessarily need to precook your noodles. Most times your dry noodles will cook well if they are covered with plenty of sauce while your lasagna bakes. I did precook my noodles ahead this go round because I was already doing so much cooking. Do what works for you!
Items I Use for Oven Freezer Meals
My affiliate links are used below. Here's my full disclosure policy.
Homemade Meat Sauce
Homemade Cheese Sauce
4-32 oz Ricotta Cheese Tubs
12 eggs
2 cups Mozzarella Cheese
Lasagna Freezer Meal Recipe
This Lasagna Freezer Meal Recipe yields 4-5 9×13 pans. I also had enough meat sauce and cheese sauce left to make 4 pans of my Baked Ziti Freezer Meal. You can always throw extra meat sauce in a gallon freezer bag to have sauce quickly available for additional meals or make an extra pan or two of lasagna if desired.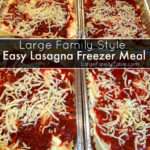 Lasagna Freezer Meal Recipe ~ Large Family Style
---
Description
Enjoy this lasagna freezer meal recipe that easily feeds a large family!
---
Ingredients
HOMEMADE MEAT SAUCE
210 oz of Hunts Tomato Sauce (these are the 105 oz cans I use)
4 oz of Garlic Powder
4 oz of Ground Oregano
5 lbs of Cooked Ground Beef
HOMEMADE CHEESE SAUCE
4-32 oz Ricotta Cheese Tubs
12 eggs
2 cups Mozzarella Cheese
ALSO NEEDED
2-16 oz boxes of Lasagna Noodles
15 cups of shredded cheese
---
Instructions
For the Homemade Meat Sauce
Precook and drain 5 lbs of ground beef.
Combine 5 lbs of ground beef with two large 105 oz cans of plain tomato sauce in a large stock pot.
Add in 4 oz of garlic powder and 4 oz of ground oregano.
Stir well.
For Homemade Cheese Sauce
In large mixing bowl combined 4-32 oz tubs of Ricotta Cheese, 12 eggs, and 2 cups of mozzarella cheese.
Mix well with hand mixer.
Noodles
Cook noodles according to directions on package.
After draining noodles rinse with cool water to prevent further cooking.
CONSTRUCTING YOUR LASAGNA FREEZER MEALS
Set out 5 9×13 baking pans.
Add enough homemade meat sauce to each pan to cover bottom on pan.
Layer cooked lasagna noodles over sauce in each pan.
Add layer of homemade cheese sauce to cover first layer of noodles in each pan.
If available sprinkle layer with an additional 1 cups of shredded cheese (will still come out wonderful without the additional cheese if you don't have on hand).
Continue to repeat layers of meat sauce, noodles, and cheese sauce until you are near the top of your pan.
Add final topping of meat sauce and 1 final cup of cheese.
---
Notes
FREEZER MEAL DIRECTIONS
Allow your meals to cool completely before placing in the freezer.
Wrap each 9×13 pan with two layers of foil.
Label the top of each pan with recipe name and date.
Wrap each 9×13 pan with a layer of plastic wrap.
Set each pan to freeze in the freezer. Do not stack the pans on top of one another until each pan is individually frozen.
THAWED COOKING DIRECTIONS
Set the desired pans of lasagna out in the refrigerator the evening before you'd like to serve them.
Preheat your oven to 375 (oven times may very).
Remove plastic wrap and one layer of foil.
Place in preheated oven for 1 hour or until bubbly and hot. Remove layer of foil and allow to cook for 10 additional minutes.
Allow your hot lasagnas to slightly cool on counter for 5-10 minutes before serving.
FROZEN COOKING DIRECTIONS
If cooking your lasagna from completely frozen (this happens in real life :), remove plastic wrap and one layer of foil and place frozen lasagna in preheated oven at 400 (oven temps may very). Cook for up to 2 to 2 1/2 hours or until hot and bubbly. Remove foil and cook uncovered an additional 10 minutes as needed.
---
Nutrition
Serving Size:

48

Calories:

350

Sugar:

6

Sodium:

315

Fat:

21

Saturated Fat:

12

Unsaturated Fat:

8

Trans Fat:

0

Carbohydrates:

17

Protein:

24

Cholesterol:

122
Let me know how this freezer meal recipe works out for you. I'd love to hear what you're making!
Family Meal Planner Collection | Weekly, Bi-Weekly, & Monthly Meal Planners + More!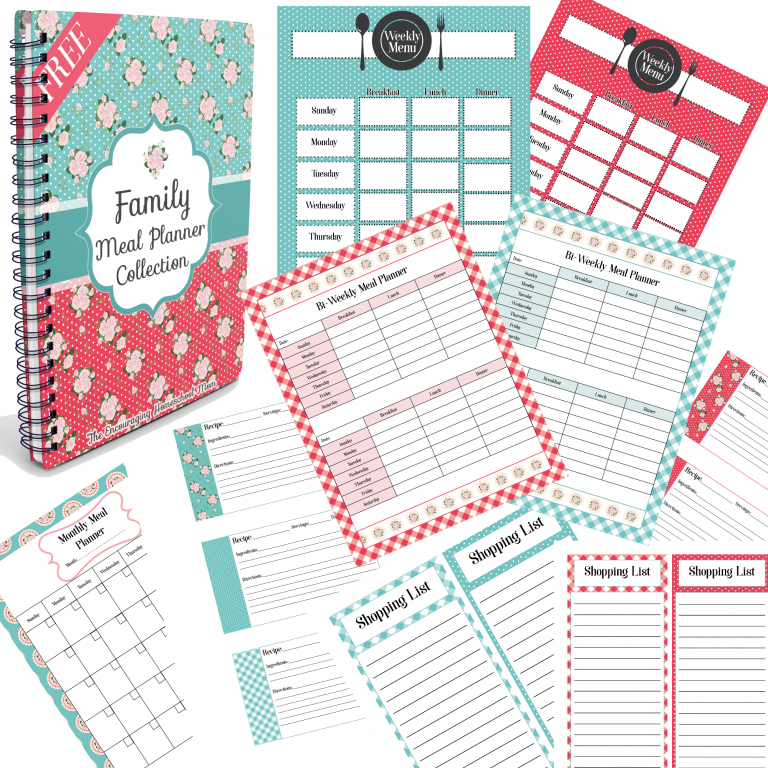 Help meal time go smoothly at your house with the free family meal planner collection!
Enjoy this set of beautiful weekly, bi-weekly, and monthly meal planners. Also included are bonus grocery shopping lists and helpful recipe cards.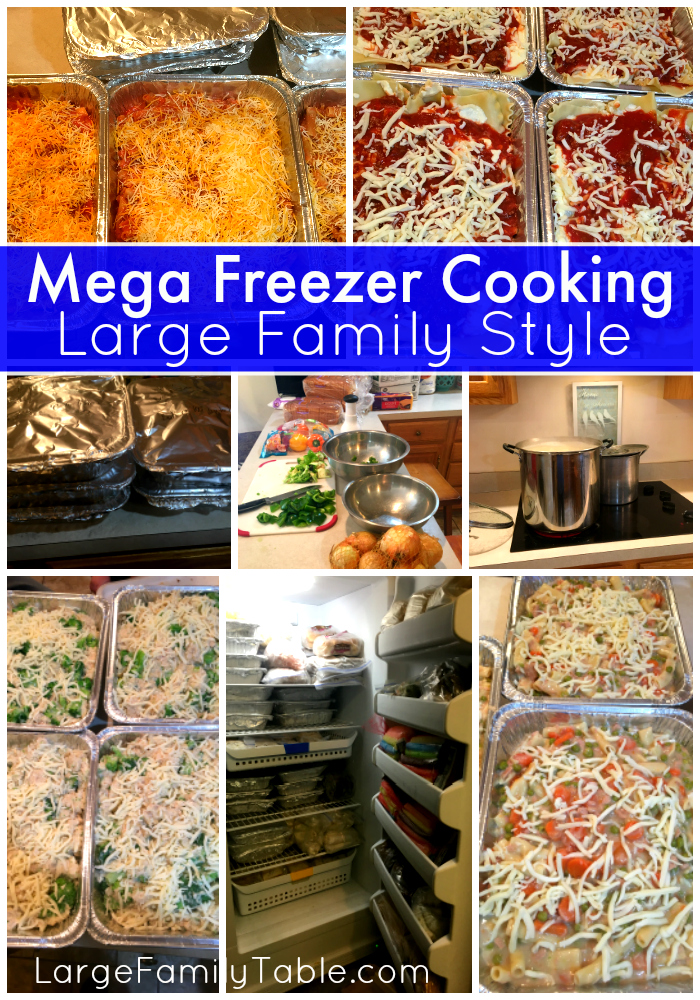 Don't miss Mega Freezer Cooking – Large Family Style!