Tuna Noodle Casserole | Large Family Recipes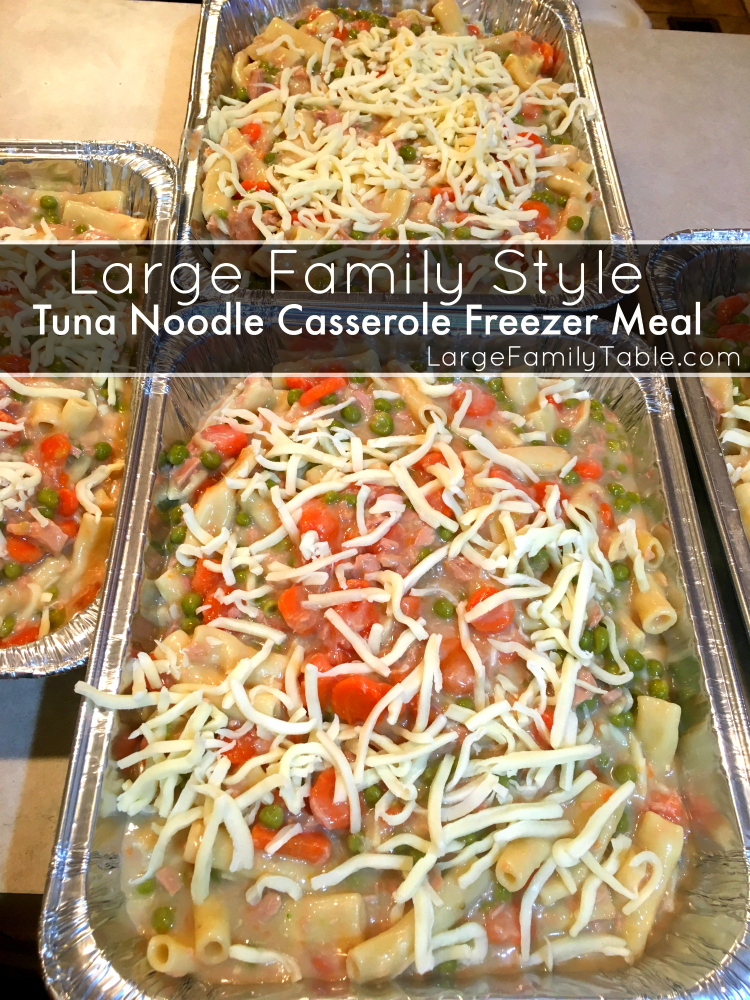 I've made different variations of Tuna Noodle Casserole over the years. In fact, if my memory is holding up, Tuna Noodle Casserole is one of the first oven bake recipes I attempted to tackle once I realized I needed to get a clue in the kitchen (not a huge clue mind you, but enough to feed these people).
You can't go wrong with this oven meal. Use whatever noodles you have on hand. I make a quick tuna cream sauce below. If you don't want to fool with that you can use cream of mushroom soup. I've talked to mommas who top their Tuna Noodle with potato chips, corn flakes, or bread crumb topping. Some use cheddar to top it off. This recipe also makes for a quick and easy freezer meal. It was super simple for me to make many Tuna Noodles during my recent Mega Freezer Cooking days during my 3rd trimester of pregnancy. If you give this recipe a try be sure to share and use the #LargeFamilyTable hashtag so we can see your bakes!
Items I Use for Oven Freezer Meals
My affiliate links are used below. Here's my full disclosure policy.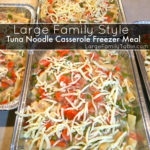 TUNA NOODLE CASSEROLE FREEZER MEAL | Large Family Recipes
---
Description
Classic, simple, and easy homemade Tuna Noodle Casserole – perfect for now or as freezer meals for later.
---
Ingredients
HOMEMADE TUNA SAUCE
2 1/2 cups of Tuna "Juice" (The drained liquid from cans of tuna. I drained 80 oz of Tuna for this recipe. )
7 cups of chicken broth
(Optional) 4 cups of water (I like to stretch things. As I mentioned in this video I wanted to make a full pot.)
3 cups of butter
2 cups of flour
1-5 oz can of Tuna Meat
TUNA NOODLE CASSEROLE FREEZER MEAL
80 oz of Tuna
Homemade Cream of Tuna Recipe or 4 Family Size Cans of Condensed Cream of Mushroom Soup
4 – 16 oz boxes of Ziti Noodles
5 cans of sliced carrots
5 cans of peas
4 cups of preferred shredded cheese (Cheddar, Mozzarella, Colby blend, or cheese of your choice)
---
Instructions
HOMEMADE TUNA SAUCE DIRECTIONS
Melt 3 cups of butter over medium heat in sauce pan, stirring constantly.
Quickly add in 2 1/2 cups of Tuna "Juice" and 7 cups of chicken broth, then 2 cup flour
Stir constantly for 3-5 minutes
Stir in one 5 oz can of Tuna Meat
*At this point in my freezer cooking video I added in 4 cups of water to stretch my Cream of Tuna further. You can go for this step or omit it. I wanted my Cream of Tuna a little thinner so I could stretch it for as many casseroles as possible. *
At the end of the 3-5 minutes, you'll have a Cream of Tuna that's perfect for Tuna Noodle Casserole!
TUNA NOODLE CASSEROLE FREEZER MEAL DIRECTIONS
NOODLES
Cook noodles according to directions on package.
After draining noodles rinse with cool water to prevent further cooking.
CONSTRUCTING TUNA NOODLE FREEZER MEALS
Set out 4 to 5 9×13 baking pans.
In large stock pot or huge mixing bowl gently stir together homemade Cream of Tuna sauce, remaining 75 oz of drained tuna, 5 cans of drained sliced carrots, 5 cans of drained peas, and 4 lbs of drained cooked noodles. Fill each 9×13 baking pan approximately 3/4 full of Tuna Noodle mixture. Top each 9×13 pan with one cup of shredded cheese of your choice or additional topping.
---
Notes
FREEZER MEAL DIRECTIONS
Allow your meals to cool completely before placing in the freezer.
Wrap each 9×13 pan with two layers of foil.
Label the top of each pan with recipe name and date.
Wrap each 9×13 pan with a layer of plastic wrap.
Set each pan to freeze in the freezer. Do not stack the pans on top of one another until each pan is individually frozen.
THAWED COOKING DIRECTIONS
Set the desired pans of Tuna Noodle out in the refrigerator the evening before you'd like to serve.
Preheat your oven to 375 (oven times may vary).
Remove plastic wrap and one layer of foil.
Place Tuna Noodle in preheated oven for 1 hour or until bubbly and hot. Remove last layer of foil and allow to cook for 10 additional minutes.
Allow your hot Tuna Noodle to slightly cool on counter for 5-10 minutes before serving.
FROZEN COOKING DIRECTIONS
If cooking your Tuna Noodle from completely frozen (this happens in real life :), remove plastic wrap and one layer of foil and place frozen Tuna Noodle in preheated oven at 400 (oven temps may vary). Cook for up to 2 to 2 1/2 hours or until hot and bubbly. Remove last layer of foil and cook uncovered an additional 10 minutes as needed.
---
Nutrition
Serving Size:

48

Calories:

398

Sugar:

3

Sodium:

243

Fat:

17

Saturated Fat:

10

Unsaturated Fat:

6

Trans Fat:

0

Carbohydrates:

38

Protein:

22

Cholesterol:

63
Let me know how this freezer meal recipe works out for you. I'd love to hear what you're making!
Family Meal Planner Collection | Weekly, Bi-Weekly, & Monthly Meal Planners + More!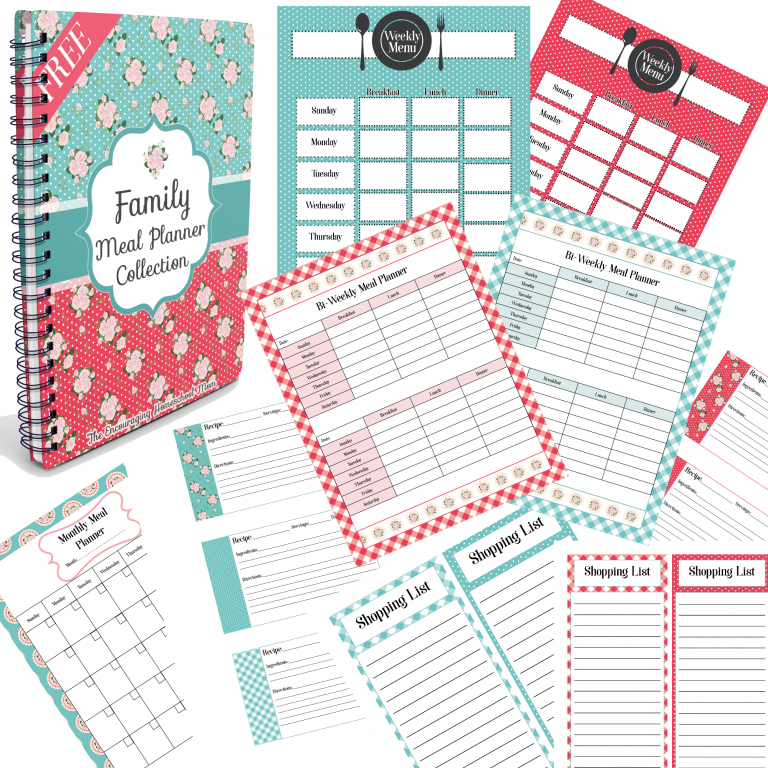 Help meal time go smoothly at your house with the free family meal planner collection!
Enjoy this set of beautiful weekly, bi-weekly, and monthly meal planners. Also included are bonus grocery shopping lists and helpful recipe cards.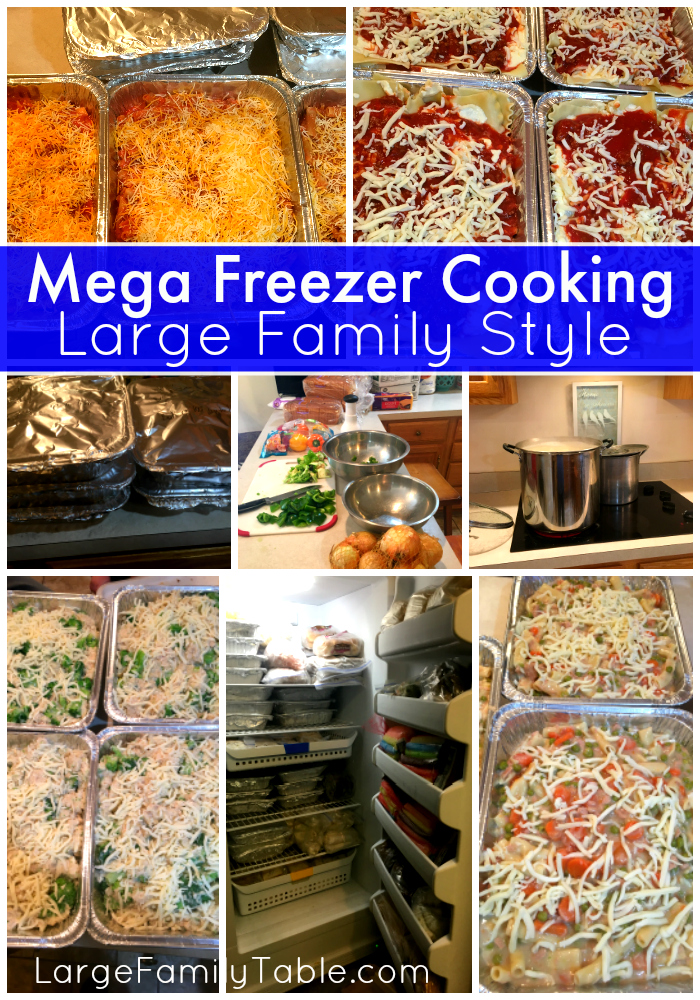 Don't miss Mega Freezer Cooking – Large Family Style!