Sweet and sour pork is a favorite take out meal for loads of people. I love the convenience and the aroma of large family sweet and sour pork in the slow cooker. The bonus of this recipe is that you can cook it that day, marinade it overnight, or make it a freezer meal. The choice is yours.
**Use special promo code HELLO20 to take 20% off your first order in the shop including the SUPER MEGA ULTIMATE Large Family Freezer Meals Bundle here!**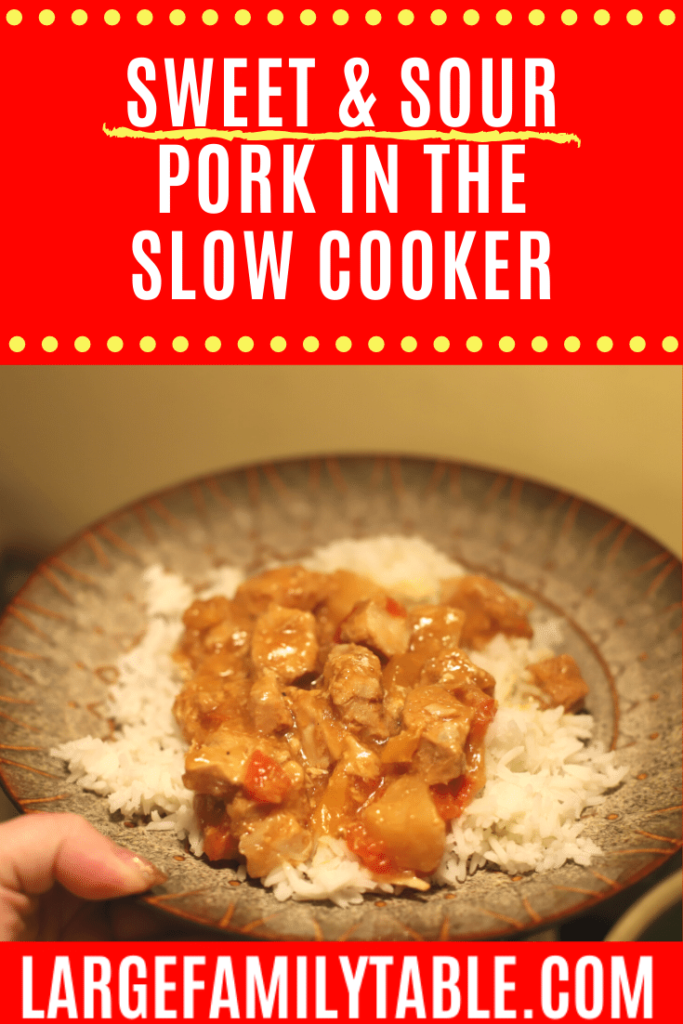 I bought a large 8 lb pork roast at Costco and cut it in half for this recipe. I cut the 4 lb half for this recipe into chunks before adding all the other ingredients. Do you have to cut it into chunks? No, you sure don't. You can throw it in there whole and shred it later. I was in a cut into chunks mood that day.
Add all of the other ingredients except the cornstarch in with the pork chunks. Turn it on low for 6 to 8 hours or on high for 4 to 6. You may be wondering how I decide whether to cook on low or high. Depends on how long it is to dinner. Yep, that's it. If I'm turning on the slow cooker in the morning then it's on low. If I get the slow cooker started at 2 in the afternoon which is always in the realm of possibilities then high gets the nod. I bet you thought I had a better system. Nope, it's the simple things in life that make me the most productive.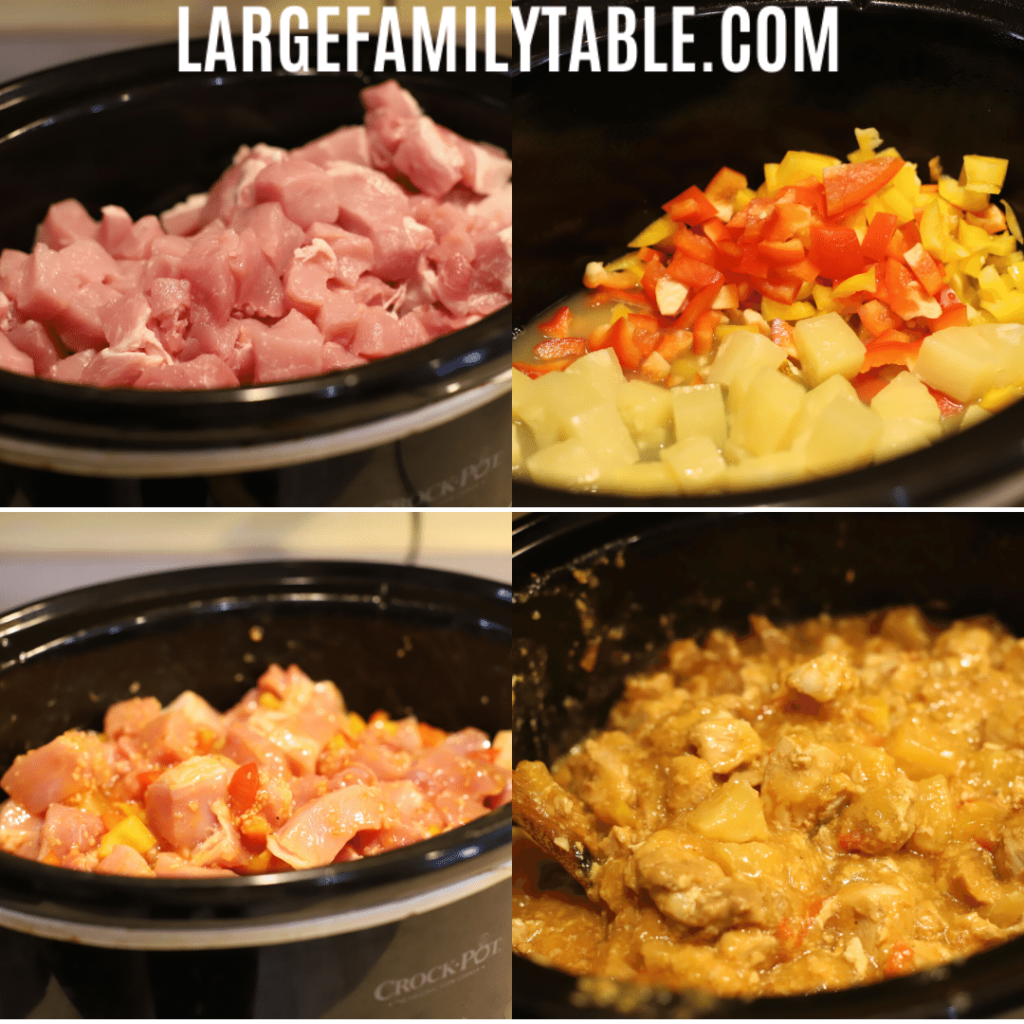 About 30 minutes before serving, add the cornstarch. You can't just plop the cornstarch into the slow cooker or you will have a lumpy mess. In fact, you could skip this step altogether and serve a perfectly fine meal. It is more appealing in my opinion with the cornstarch. Scoop out some hot broth from the slow cooker and whisk the cornstarch into the hot liquid until all the lumps have disappeared. Add back to the slow cooker and stir to combine. Put lid back on for 30 minutes.
Print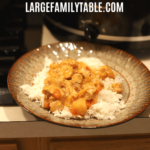 LARGE FAMILY SWEET AND SOUR PORK IN THE SLOW COOKER
Author:

Prep Time:

10 mins

Cook Time:

8 hours

Total Time:

8 hours 10 minutes

Category:

Pork

Method:

Slow Cooker

Cuisine:

Dinner
---
Description
Serve this yummy sweet and sour pork in the slow cooker over hot rice, yum! You can make your rice in the slow cooker as well.
---
Ingredients
4 lb pork roast cut into chunks
1 bottle (12 ounce) sweet and sour sauce
1 can (20 ounce) can of pineapple chunks
2 cut up colored peppers ( I used red and yellow)
1 sliced onion ( I was out and used minced onion from my spice cabinet)
1 Tbsp ground ginger
2 TBSP cornstarch whisked in 30 mins before serving
---
Instructions
Dump all ingredients except cornstarch together and cook on high for 4 hours or on low for 6 to 8.
Add cornstarch during last 30 minutes.
Serve over rice.
---
Keywords: sweet and sour, pork, dinner, slow cooker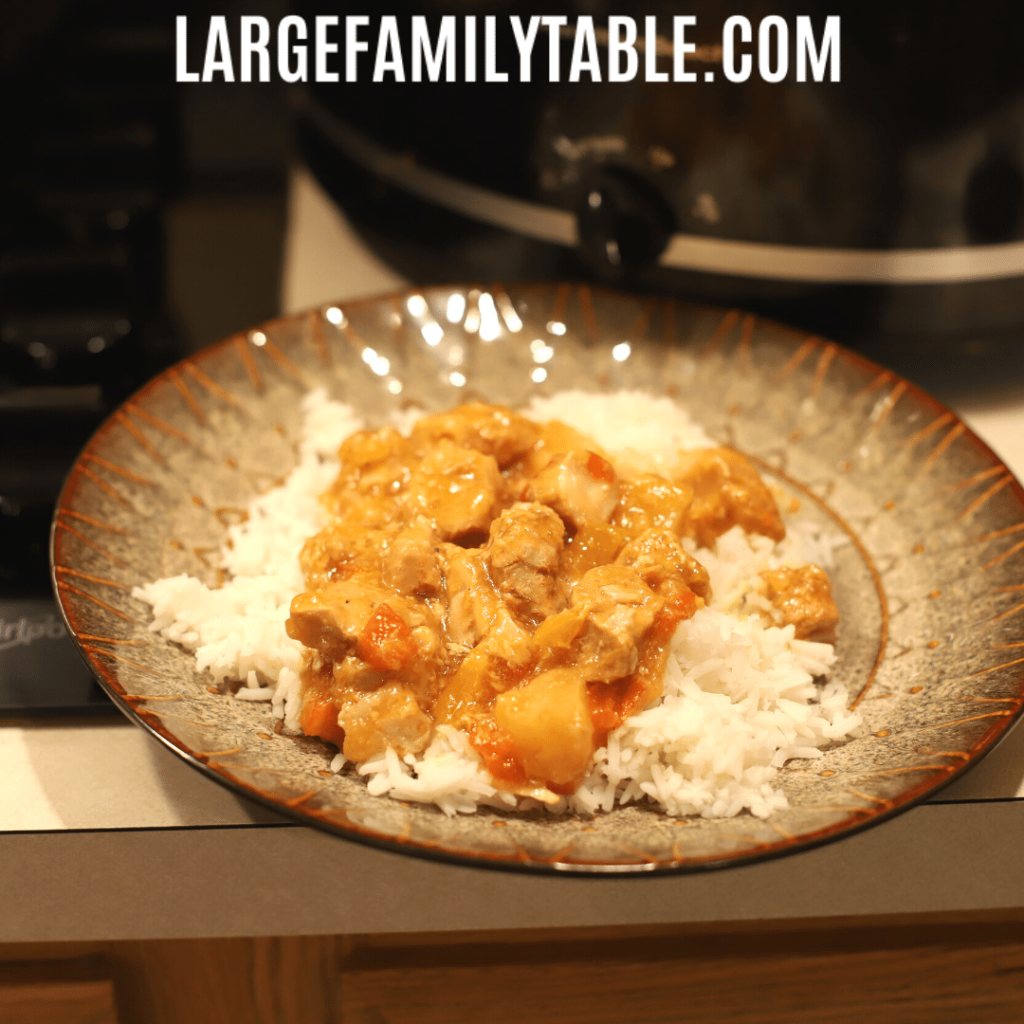 Voila! Large family sweet and sour pork in the slow cooker! Make rice in a different slow cooker or in your Instant Pot. I mix the rice with the leftover meat all in one bag and scoop out leftovers for other meals or throw it in the freezer for another day.
Freezer directions : Mix all ingredients into freezer bag except cornstarch or rice. Unthaw 24 hours before cooking for slow cooker or place frozen in Instant Pot.
5-Day Freezer Cooking Challenge with Jamerrill!
FREE Freezer Cooking Quick Start Guide 17-page PDF with grocery list, recipes, full freezer cooking plan, cheat sheets, More!
I WILL HELP YOU fill your freezer with 10+ freezer meals including breakfast, lunches, & dinners!
Any family size or dietary needs can easily accommodate and follow along!