Philly Cheese Steak Large Family Instant Pot Freezer Meal | Keto, Low Carb, THM S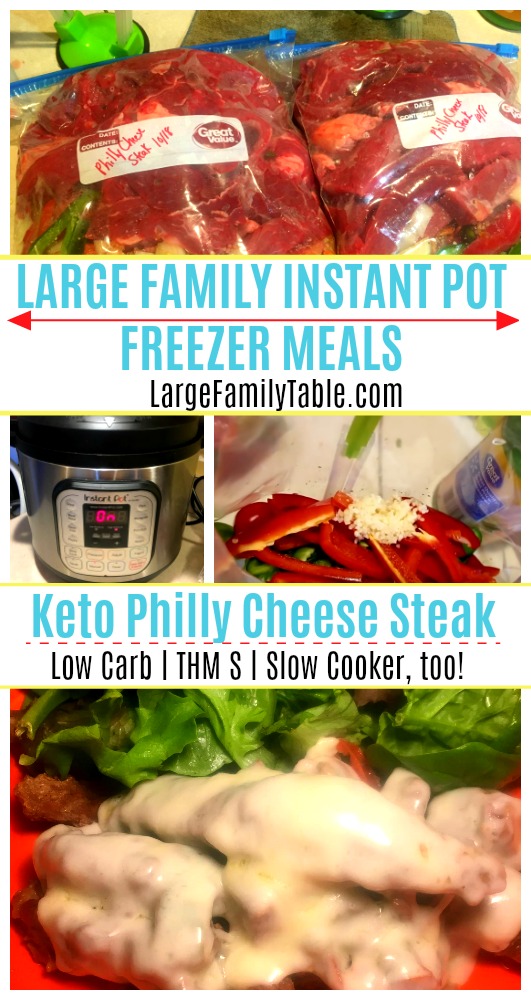 My kids love Philly Cheese Steaks at our house. I pulled our Philly Cheese Steak Instant Pot freezer meal from the freezer the other day and made it for a well loved large family dinner. You can serve this Philly Cheese Steak on hoagie buns. I served it to our kids sans buns along with green salad.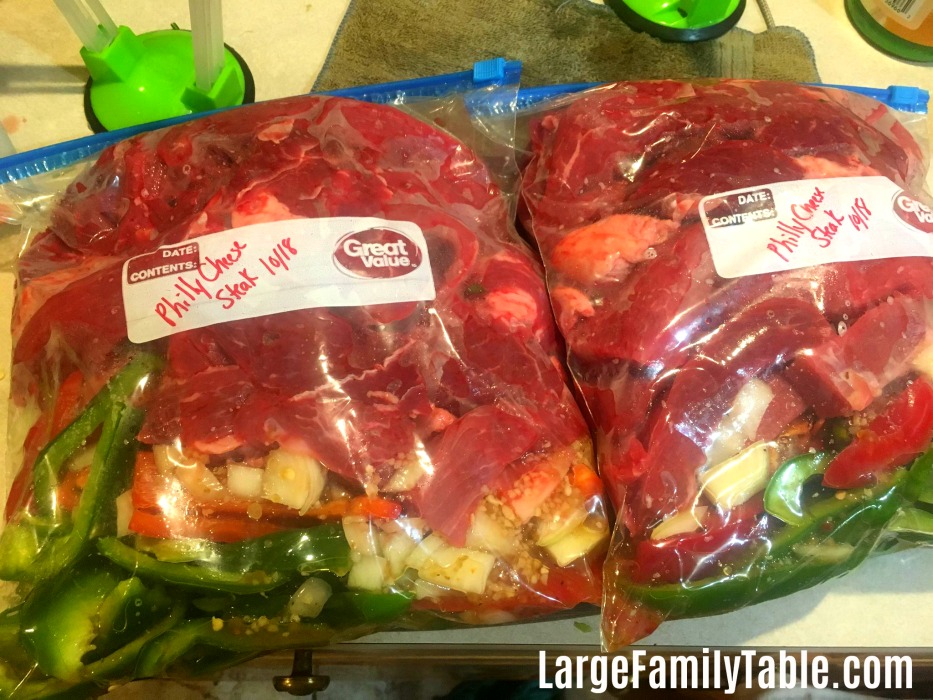 I made two one-gallon bags of this large family freezer meal recipe during my last freezer cooking day where I made 50 Large Family Instant Pot Recipes. All the family freezer meals I made were Keto, Low Carb, and Trim Healthy Mama S-Meals if you find those helpful.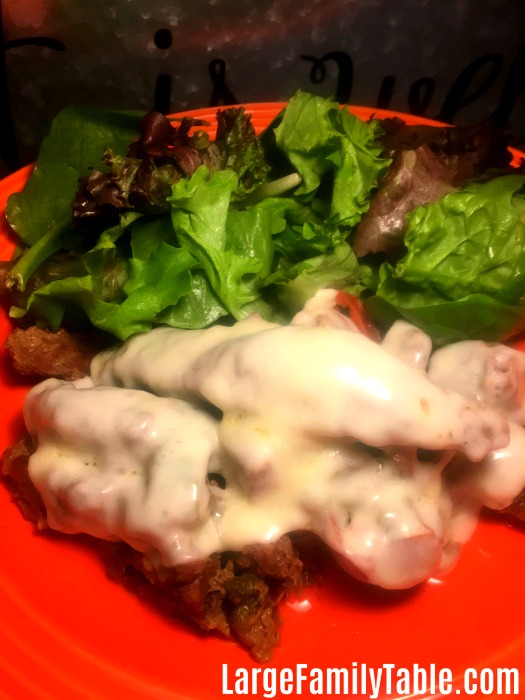 Print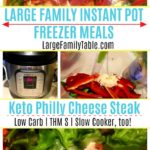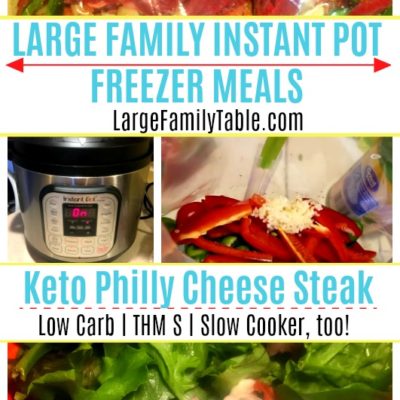 Philly Cheese Steak Large Family Instant Pot Freezer Meal | Keto, Low Carb, THM S
---
Ingredients
Total ingredients for two large family freezer meals:
6 lbs steak slices (Cut your own London Broil or Top Round Roast. Look for discount steak deals.)

2 green peppers

2 red peppers

2 cups Italian dressing

1 diced onion

2 Tbs minced garlic

24 slices of provolone cheese (set aside for serving day)

Hoagie rolls (for family members who eat bread)

Divide all ingredients into two separate one-gallon freezer bags (minus cheese and hoagie rolls)
Place the following into one gallon freezer bag:
3 lbs steak slices

1 chopped green bell pepper

2 chopped red bell pepper

1 cups Italian dressing

1/1 diced onion

1 Tbs minced garlic

12 slices of provolone cheese (set aside for serving day)

Hoagie rolls (for family members who eat bread)
---
Instructions
INSTANT POT COOKING DIRECTIONS:
Run cold water over the outside of your frozen gallon freezer bag to gently defrost the frozen food from the bag (enough to dump it out and release the food from the side of the frozen bag). Place freezer meal in Instant Pot. Place lid on pressure cooker and seal the valve. Cook on manual high pressure for 30 minutes. Let pressure naturally release for 5-7 minutes, then quick release the remaining pressure if you like.

*Note the internal temp of your large family Philly Cheese Steak Dinner. If the internal temp is not reached place back in IP for 10 minutes and check again. Because of the variables with pressure cooking, it's not always a perfect science and sometimes needs additional adjustments. The USDA recommendations a minimum internal temperature of 16o degrees for beef.
SLOW COOKER COOKING DIRECTIONS:
For the slow cooker just set out your Philly Cheese Steak Dinner the night before to defrost in the refrigerator.
The next day pull your Philly Cheese Steak Dinner out of the freezer bag. Place it in your slow cooker and cook for up to 4 hours on high and 7-8 hours on low (slow cooker times may vary so always check the internal temperature to complete doneness).
When serving your family Philly Cheese Steak you can melt provolone on top of the meat right before serving. Place meat on toasted hoagie rolls for family eating bread or eat alongside a heap of greens for a Low Carb, Keto, or THM S meal. 
Instant Pot Freezer Meals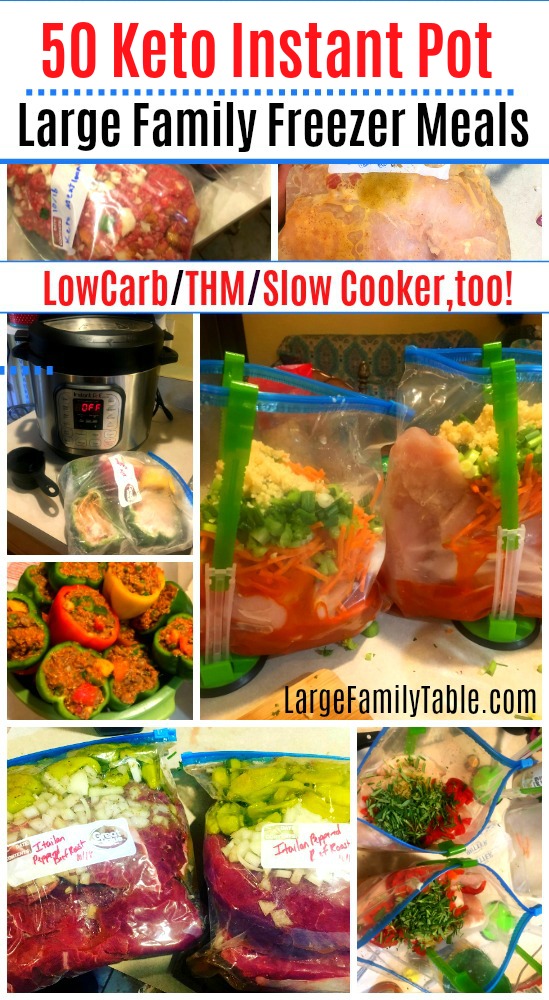 If you love this easy Keto Philly Cheese Steak Instant Pot Freezer Meal Recipe you are sure to love these 50 Large Family Keto Instant Pot Freezer Meal Recipes here!
FREE LARGE FAMILY FOOD COLLECTION!

Don't miss the *super mega* 🙂 Large Family Food Collection includes everything you need to plan, organize, and feed your family well! The entire collection includes:
Free Mega Freezer Meals Planning Pack (8+ Pages!)

Free 10 Large Family Table Recipes eBook

Free Family Favorite Recipes Binder Creation Kit

Free Family Meal Planner Collection (with weekly, bi-weekly, and monthly planning pages, grocery lists, and more!)

Sweet "Mommy & Me" Baking Printables

NEW Free Happy Family Holiday Meal & Household Planner Set (Including Thanksgiving, Christmas, New Years, and Easter) – over 30 pages!!!
Click here to get the Free Large Family Food Collection!