Your friendly large family mama here again with once a month freezer meals. There is nothing better than spending an afternoon filling up my freezer with delicious and healthy meals for my people to eat. Let me be completely honest in admitting that if I didn't have freezer meals on some days, my crew would starve. Just keeping it real in case you think I have it all together.
DON'T MISS for a limited time you can get my brand new large family freezer meal packs 7, 8, 9, and the entire freezer cooking bundle here for 60% OFF for just a few more days! The brand new bundle includes all 9 large family freezer meal packs. Even if you don't have a large family, many of my freezer meal packs have a special BONUS "single recipe edition." which means instead of ending up with 25+ freezer meals, you could just make 10 or 12 like a normal person 🙂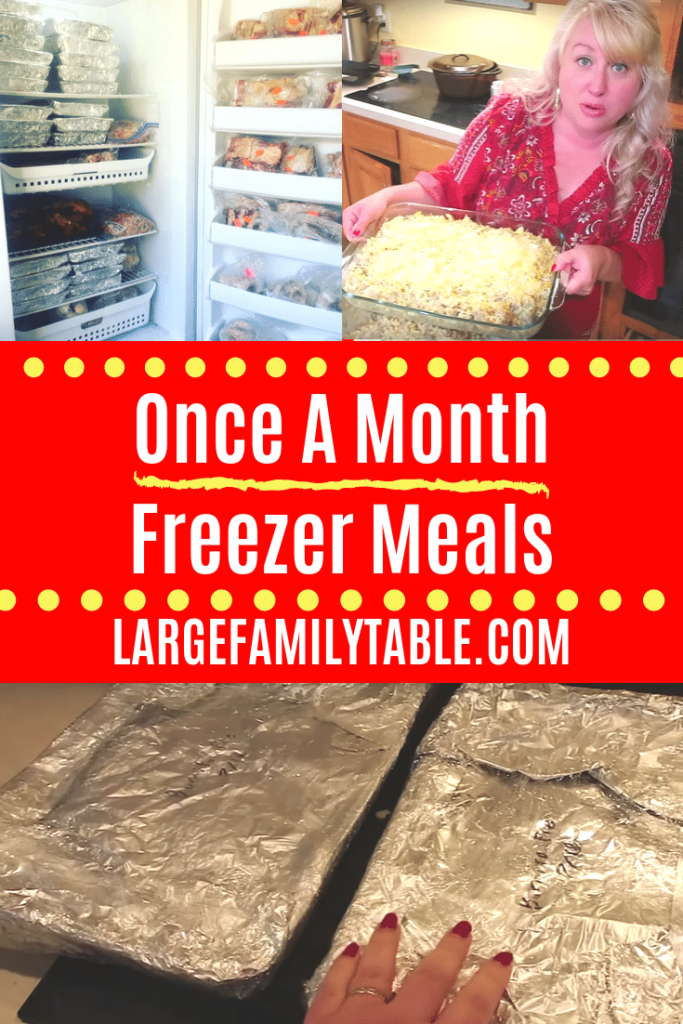 How much is once a month food?
Once a month cooking is an investment. You will save money though because there is no reason not to eat at home. You use most of your grocery budget in one outing leaving only a portion for the essentials you run out of like milk, fresh produce, etc that you will need to replenish on a weekly basis. For a great visual, check out some of my hauls over on Youtube.
How long do homemade freezer meals last?
The general guideline for freezer meals is 3 to 6 months. Even my once a month freezer meals get eaten in no more than 4 months. You risk freezer burn longer than 6 months and longer than a year is just crazy talk. My suggestion is to rotate your freezer meals so the oldest meals get eaten first, have a meal plan and inventory list so you know what's left. If you absolutely can't eat them before 6 months, bring a meal to a needy family or a new mom. You'll be a hero!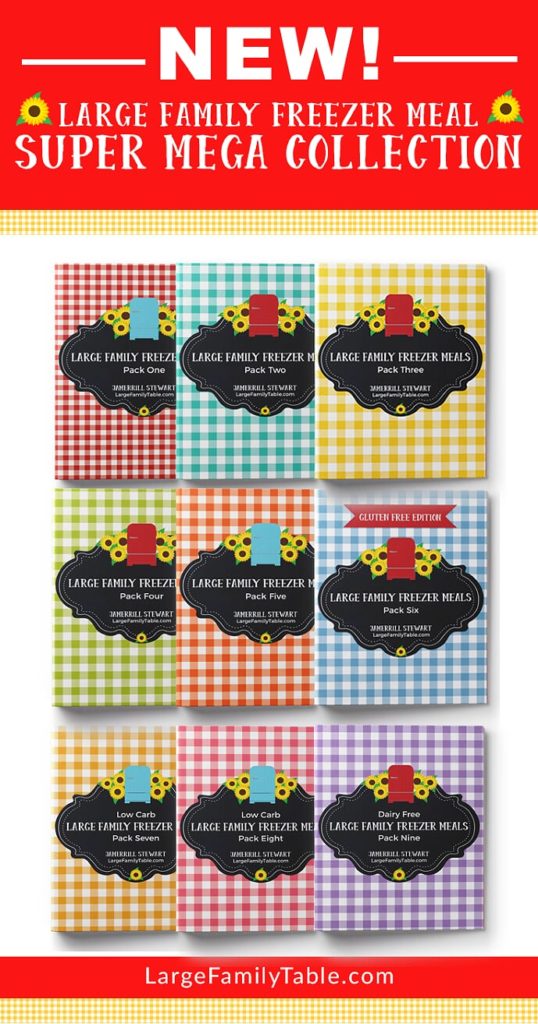 How do you pack meals for the freezer?
This question always comes up when talking about freezer cooking. I've done this enough that I have a foolproof method that will all but guarantee freshness. Always let cooked food cool completely before wrapping or putting in the freezer. Once you master the Jamerrill way of wrapping, all your worries will be over.
wrap entire pan completely with aluminum foil
Write any directions for reheating on this layer using a Sharpie
Wrap completely again with aluminum foil
Take out plastic wrap
Wrap pan with plastic wrap completely over the aluminum foil
Wrap again with plastic wrap
Yes, it seems like overkill. I assure you, it is not. Using this method will keep your freezer meals fresh and ready for reheating or cooking with no freezer burn in sight.
What cooked meals freeze well?
My Large Family Freezer Meal Packs have freezer cooking grocery shopping lists, batch cooking guides, prepping, freezing and baking directions. I give you loads of freezer meal recipes plus instructions on how to break them down if you don't have a gazillion people to feed like I do. Gluten free, dairy free, low carb? All no problem. We have freezer meal packs for those too!
20 Healthy Freezer Meals (Instant Pot, Slow Cooker, Oven Meals too)
50 Large Family Gluten Free Freezer Meals
75+ Large Family Casseroles That Freeze Well
🥗20+ DUMP AND GO FREEZER MEALS for a MONTH! Healthy Crockpot, Easy Casseroles, LOW CARB!
❤️ONCE A MONTH FREEZER MEALS | Dump & Go Crock Pot Meals, Healthy Casseroles, Easy Recipes!
20+ FREEZER MEALS START TO FINISH | Big Batch Freezer Cooking!