DON'T MISS for a limited time you can get my brand new large family freezer meal packs 7, 8, 9, and the entire freezer cooking bundle here! The brand new bundle includes all 9 large family freezer meal packs. Even if you don't have a large family, many of my freezer meal packs have a special BONUS "single recipe edition." which means instead of ending up with 25+ freezer meals, you could just make 10 or 12 like a normal person 🙂
Note from Jamerrill: I have something very special for you today, friend! My good friend Monica is sharing with us about her Dairy-Free Freezer Cooking experience! I hope you enjoy Monica's tips on how it works for her.
A week ago, my son, who is in his first year away from home at college and in his first-ever apartment alone called me at 8:30 pm slightly distraught. He explained he had not had time to meal plan the weekend before and was very hungry and exhausted and just wanted food. Of course, he lives two hours away from me so there was not much I could do. You see, my son and I are both lactose intolerant and cannot have any dairy products. So he meal plans because otherwise, it is too hard to find food to eat that will not make him sick.
It was at that moment that I thought of all the dairy-free leftovers I had in my fridge and it occurred to me that I could have been making dairy-free freezer meals for him and sending them home with him on the weekends he visits. He likes to cook and usually it's not a problem to meal plan for the week, but what about those times when his school schedule gets too heavy? He needs a backup plan. A few days later he texted he needed to come home the next Sunday and Monday and my plan was born- I would bulk cook some dairy-free freezer meals for him!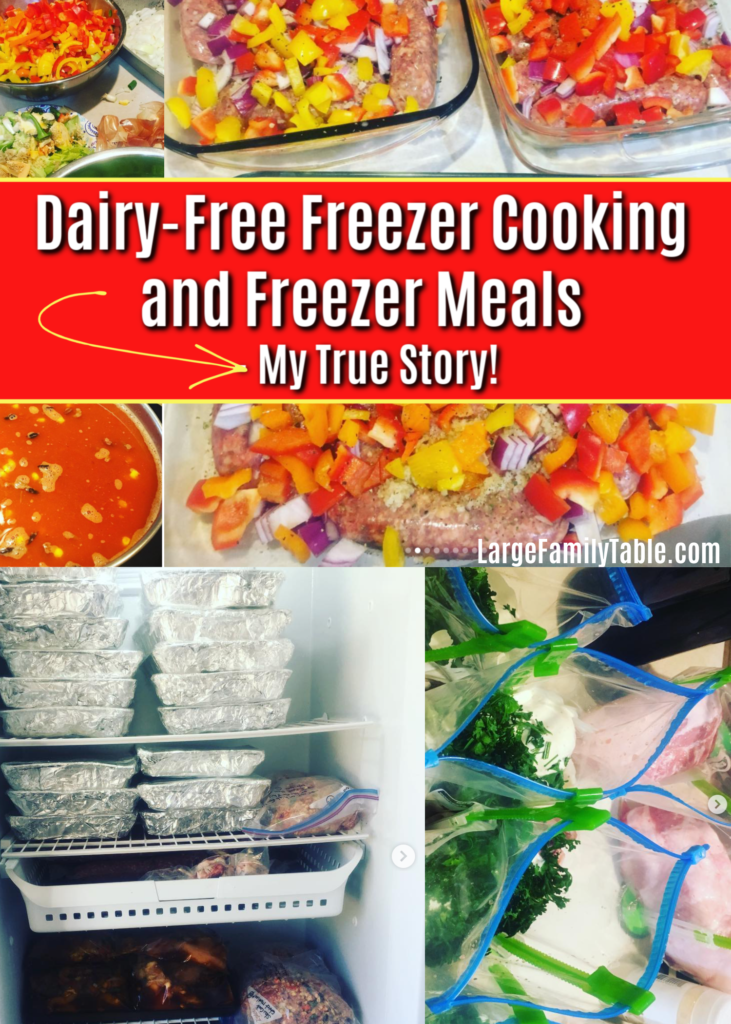 That following Monday morning I got busy making seven dairy-free freezer meals and getting them freezer ready for him. I was able to make enough for my family and pull out two meals from each recipe for him and box them up. When he returned from his errands that afternoon he was pleasantly surprised to receive almost seven freezer meals and a few snacks for his freezer and I was a happy mama knowing he would not need to call me hungry for at least a week or more!
Now, I'm sure some of you Mama's who've been freezer and bulk cooking for years have already realized you can share meals with your college-age children, but this was something I had not thought of before. So after I made those meals I realized I needed to find more freezer meals to make and send with him. Of course, I have regular dairy-free meals that I make, but I wanted meals that were easy to bulk prep and would hold up well in the freezer.
So when Jamerrill messaged me later that week that her brand new Large Family Freezer Meals Pack 7,8 and 9! and that pack 9 is exclusively dairy-free, I was excited! It was just in time for me to make for my son and have ready for his next trip home. It was also perfect for me to throw in the freezer for my own family since fall is such a busy time for us. (Does that happen to you in the fall, too?)
This is so exciting because while there are meals that contain dairy in some of these packs, many of them contain dairy-free recipes. In other recipes, I know I can leave out the dairy or substitute it for other products like coconut milk, rice milk or other items depending on what I am replacing.
I highly recommend grabbing the Mega Large Family Meal Packs 1-9 Bundle now! And if you already have it be sure to grab Large Family Freezer Meals Packs 7, 8, and 9 on sale now! Happy dairy-free freezer cooking!