Make Large Family Creamy Meatballs in the Slow Cooker when you have a busy day and let the slow cooker do the work. These juicy meatballs taste great when served with noodles or mashed potatoes.
Creamy Meatballs in the Slow Cooker
Ditch the traditional meatballs and prepare this recipe for Large Family Creamy Meatballs in the Slow Cooker. The recipe consists of flavorful ingredients, such as ground beef and Worcestershire sauce, to create savory meatballs with a creamy touch. They taste great on their own. However, you can serve them with noodles, mashed potatoes, or even brown rice. Some people like to eat them with baked macaroni and cheese!
****Use special promo code HELLO20 to take 20% off the entire MEGA DEAL get-it-all Bundle including the best-selling Large Family Freezer Meal Packs 1-12 + so much more!!****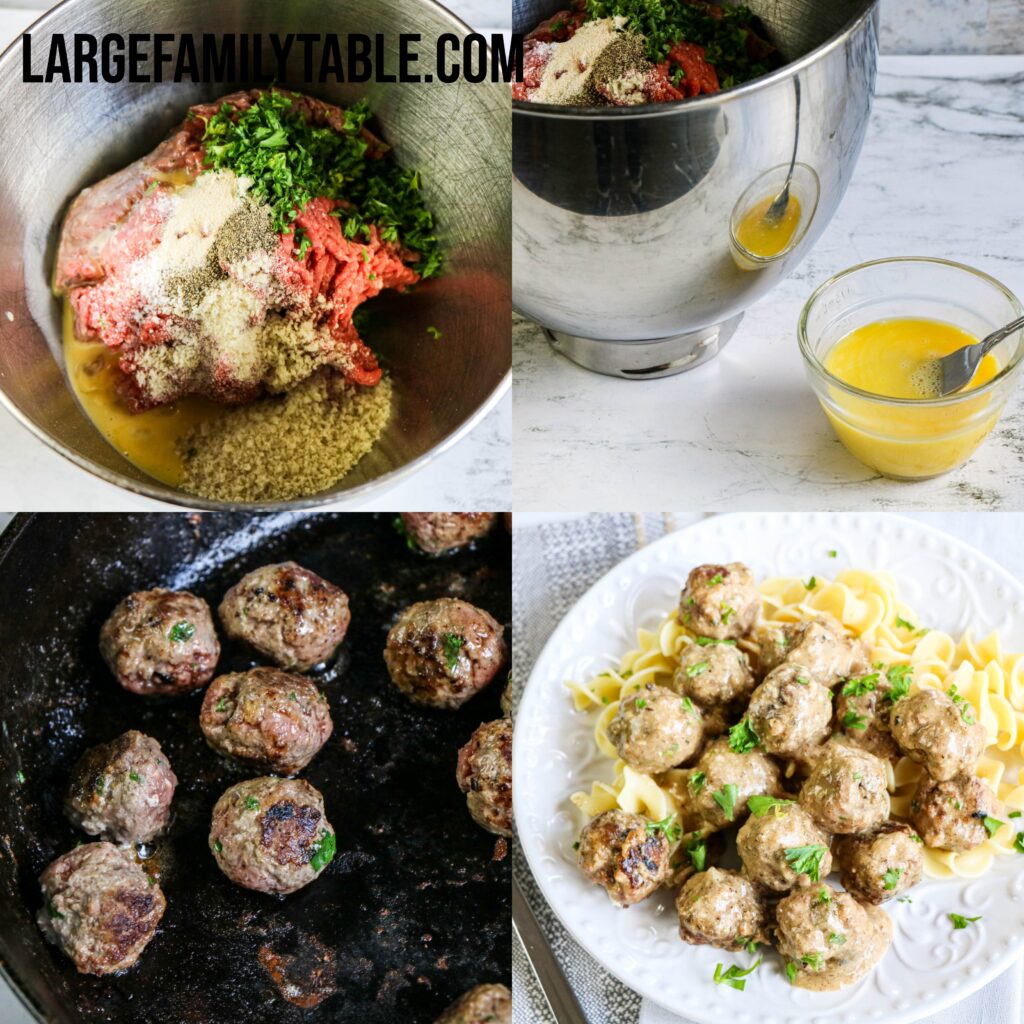 Must-Have Ingredients to Make the Creamy Meatballs
If you're going to make these Creamy Meatballs in the Slow Cooker, you're going to need these ingredients:
Lean Ground Beef. Make sure you have at least four pounds of beef to use for the meatballs.
Worcestershire Sauce. Add more flavor to your meat using this incredible sauce.
Plain Breadcrumbs. Improve the consistency of your meatballs using plain breadcrumbs
Ground Allspice. You can enhance the taste of your meatballs using this spice, but it's optional.
Onion Powder. Bring more flavor to your meatballs using fresh onion powder.
Beef Broth. Create the creamy sauce for the meatballs using beef broth as the base.
The other ingredients needed to complete this recipe include salt, black pepper, olive oil, unsalted butter, sour cream, and all-purpose flour.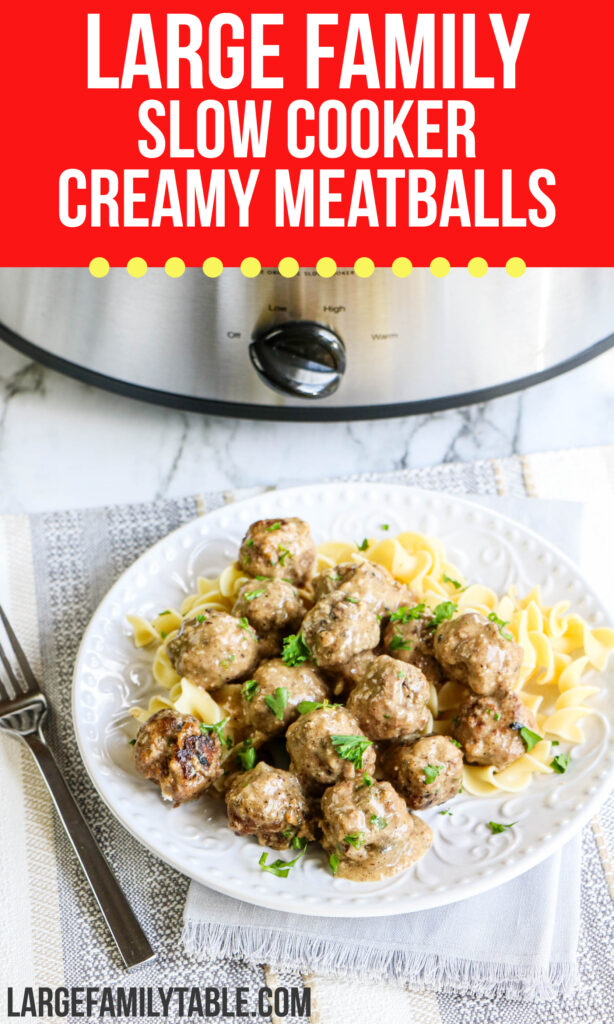 Can I substitute the meat?
You know I'm a fan of using what I find on sale to save money. If you bought ground turkey, chicken or pork feel free to substitute what you find or what you need for any dietary restrictions to make this delicious recipe.
How long will everything need to cook in the slow cooker?
You can have this meal ready in about two hours if you set it to the high setting on your slow cooker. If you prefer to cook the meal low and slow, set the slow cooker to low and let the meal cook for four hours.
What should I serve with the meatballs?
The Creamy Meatballs in the Slow Cooker taste great with homemade mashed potatoes. The recipe I just linked shows you how to make mashed potatoes and freeze them for later in case you want to make a big batch for later. You might even want to drizzle some of the creamy sauce over your mashed potatoes to make them taste better. If you don't like mashed potatoes, serve these tasty meatballs with buttered egg noodles, brown rice, cauliflower rice, or some of your favorite vegetables, such as sheet pan broccoli, corn, and steamed carrots.
How do I store the meatballs?
When you have leftovers, you can easily pour the contents of your slow cooker into a large food storage container. Be sure to put a lid on the container and place it in the fridge, where you'll need to keep your Creamy Meatballs fresh. You can keep them refrigerated for up to four days, reheating them in the microwave, on the stovetop, or back in the slow cooker when you want to eat them.
Do you have more slow cooker recipes?
Slow cooker meals are so easy. Most of them are dump-and-go recipes that you spend ten minutes preparing and a few hours later dinners ready. Yay for convenience! You'll find lots more easy slow cooker meals in my Large Family Slow Cooker Dinners and Meal Plans Vol 1, 2, 3 Bundle. It includes 60 meals and 12 weeks of meal plans!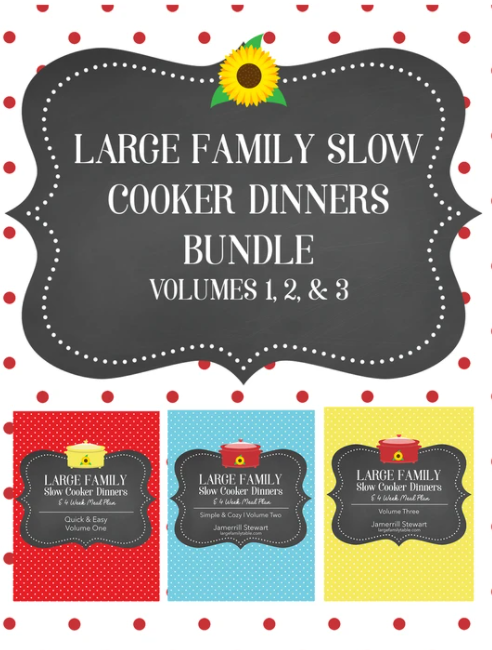 Here are more large family meals to try!
Large Family Creamy Meatballs in the Slow Cooker
Print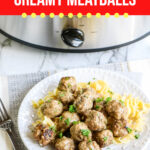 Large Family Creamy Meatballs in the Slow Cooker
Author:

Prep Time:

30 minutes

Cook Time:

4 hours

Total Time:

4 hours 30 minutes

Yield:

18 Servings

Category:

Dinner

Method:

stove top/ slow cooker
---
Description
Make Large Family Creamy Meatballs in the Slow Cooker when you're craving comfort food. These juicy meatballs taste great when served with noodles or mashed potatoes.
---
Ingredients
4 pounds lean ground beef

2 tablespoon Worcestershire sauce

1 cup plain breadcrumbs

4 large eggs, lightly beaten

3 teaspoons ground allspice, optional (I did not use it.)

2 teaspoon onion powder

Salt and black pepper, to taste

4 tablespoons olive oil, divided

6 tablespoons unsalted butter

6 tablespoons all-purpose flour

2 cup beef broth

1/2 cup sour cream
---
Instructions
In a large mixing bowl, combine the ground beef, worcestershire sauce, breadcrumbs, eggs, allspice (if using,) onion powder, salt, and pepper. Mix until just combined.

Using a 1 tablespoon cookie scoop, portion the meat mixture and roll into a ball.

Heat a skillet over medium-high heat until hot. Add 1 tablespoon olive oil and then part of the meatballs, browning on all sides. It is not necessary to cook the meatballs all the way through. Transfer the meatballs to the slow cooker and continue browning the remaining meatballs in the remaining olive oil until they are all browned.

With all of the meatballs resting in the crock of the slow cooker, add the butter to the skillet to melt. Whisk in the flour, allowing it to cook for about 2 minutes.

Slowly whisk in the beef broth until the gravy is thick.

Remove the skillet from the heat and stir in the sour cream until blended.  Pour the gravy over the meatball in the slow cooker.

Cover and cook on low for 4 hours or high for 2 hours.

Gently toss the meatballs in the gravy. Sprinkle with chopped parsley and serve over egg noodles or mashed potatoes.
Keywords: Large Family Creamy Meatballs in the Slow Cooker
FREE Emergency Pantry Planning Pack!
Don't forget to sign up for the emergency pantry planning pack for free to help you plan your pantry meals! The free Emergency Pantry Planning Pack will help you plan your needed pantry items! Printable pages include pantry inventory, grocery lists, meal planners, list of pantry staple items, and more.