It's no secret that I love feeding my large family Spaghetti in all its forms. This Bake Millionaire Spaghetti Casserole is a huge favorite for my family. I've even had kids get leftovers for breakfast (ha!). Once you batch cook this Spaghetti Casserole, you'll see why *this recipe* is MILLIONAIRE baked spaghetti!
This easy casserole recipe makes 4 or more 9×13 casserole pans. I say "or more," because last time I made this Baked Millionaire Spaghetti Casserole (as you can see in my new Cheap Meals for Large Families video on YouTube) I ended up with one for dinner and 4 more for the freezer. True, I cooked up a bit more ground beef since I had a 5 lb pack. When I get cooking my recipes continue to expand, as you know!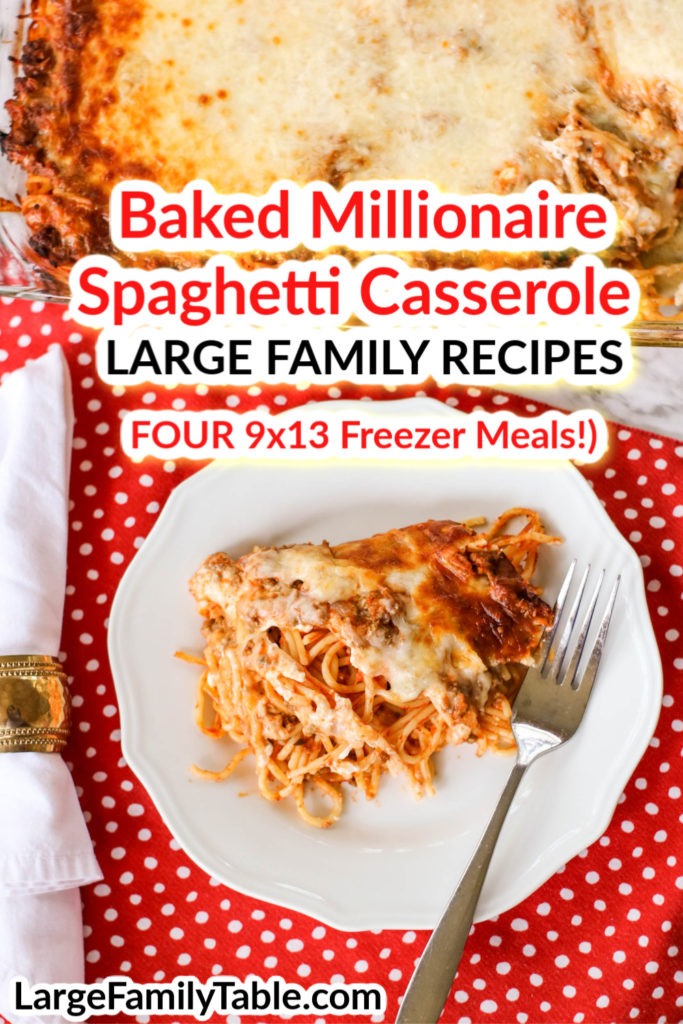 Large Family Spaghetti Recipes
Some folks think that Spaghetti is Spaghetti, but there are so many great Spaghetti varieties and fun twists available. You can make Instant Pot Spaghetti to feed a crowd, and here's cooking up a big batch of homemade Spaghetti Sauce in the electric pressure cooker.
You also might like my huge freezer meal Baked Spaghetti recipe from back when I was doing a lot of postpartum freezer cooking (you can see my 30 Large Family Freezer Meals in 10 Hours here!). Also from those mega freezer cooking days, you might enjoy making Bake Creamy Chicken Spaghetti as well. All of these simple Spaghetti recipes are freezer friendly and make great freezer meals!
For healthy recipes for those following low carb, Trim Healthy Mama, and sugar free recipes here are large family low carb chicken spaghetti recipe made with spaghetti squash. Also, don't miss how to cook spaghetti squash in the Instant Pot!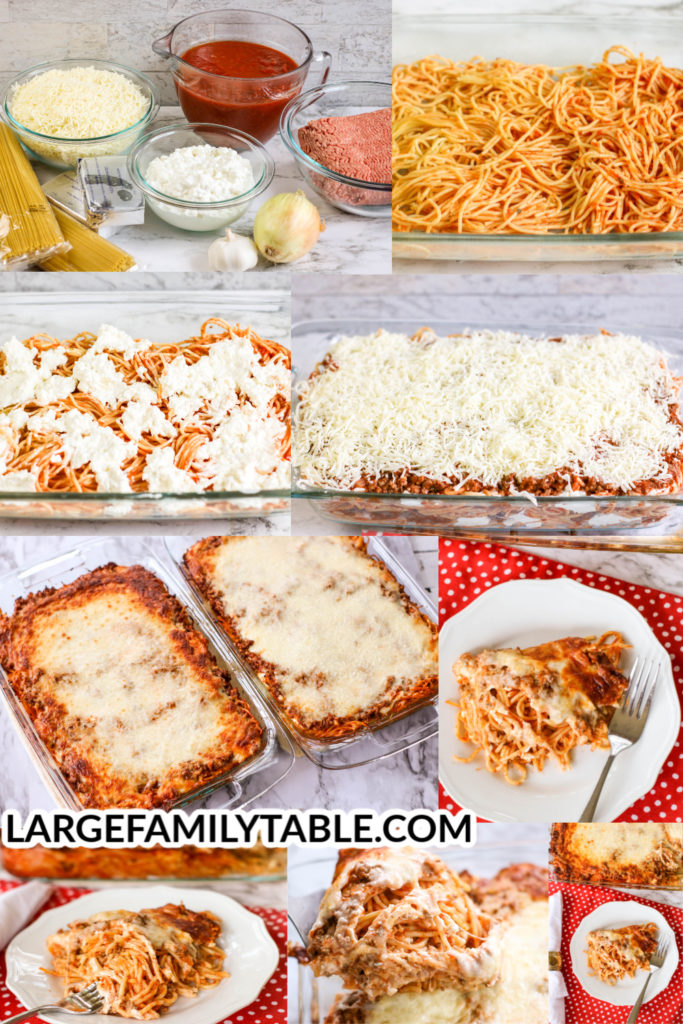 Do you have more casserole recipes?
I have so many more casseroles that you will love in my shop. Check out my Classic Casserole Dinners & Freezer Meals Cookbook One for Now, One for Later! It includes 10 delicious, classic casserole recipes that will make two 9×13 casseroles each–one to eat right away, and one to put in your freezer for a later date. It's an easy and quick way to build a freezer stash.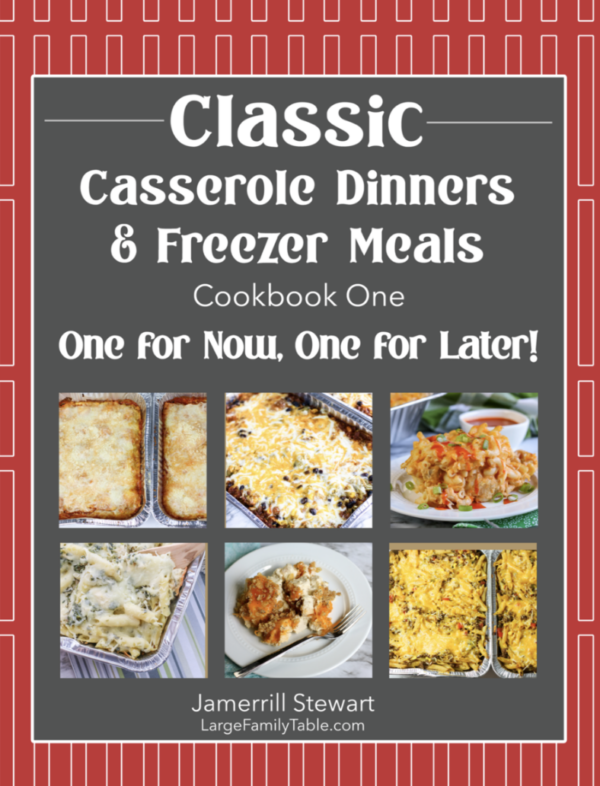 Big Family EASY CASSEROLE RECIPES
Here are several more easy casserole recipes that are perfect for feeding a crowd!
Baked Millionaire Spaghetti Casserole
Print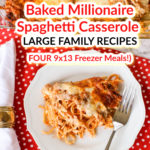 Baked Millionaire Spaghetti Casserole | Large Family Recipes (2 to 4 9×13 Freezer Meals!)
Author:

Prep Time:

20

Cook Time:

45

Total Time:

1 hour 5 minutes

Yield:

48

Category:

Dinner

Method:

Casserole

Cuisine:

Italian
---
Description
Your family will love this baked "millionaire" spaghetti casserole! Follow the recipe directions below to make TWO 9×13 casseroles (bake one for now and one for later). Or choose to walk on the freezer cooking wild side with me and make FOUR or more 9×13 baked millionaire spaghetti casseroles!
---
Ingredients
TWO 9×13 Pans
2 pounds spaghetti

2 pounds ground beef

1 large onion

2 cloves garlic, minced

2 (24 ounce) jars marinara sauce

1 (8 ounce) package cream cheese, softened

1 (24 ounce) container cottage cheese

6 cups shredded mozzarella cheese
FOUR 9×13 Pans
4 pounds spaghetti

4 pounds ground beef

2 large onion

4 cloves garlic, minced

4 (24 ounce) jars marinara sauce

2 (8 ounce) package cream cheese, softened

1 (24 ounce) container cottage cheese

12 cups shredded mozzarella cheese
---
Instructions
Preheat oven to 350 degrees. Prepare two or four 9×13 casserole dishes with nonstick cooking spray.

In a large skillet over medium high heat, brown the ground beef with the onion until the meat is crumbled and no longer pink. Drain well and return to pan. Stir in one jar of marinara sauce with enough water to rinse the jar.

Meanwhile, cook the spaghetti noodles according to package directions. Drain and stir in the remaining jar of marinara sauce.

In a large bowl, beat together the cream cheese, cottage cheese, and 1 cup shredded mozzarella cheese.

In the bottom of the casserole dishes, layer spaghetti, cream cheese mixture, and meatsauce. Repeat at least once.

Top the casserole with remaining cheese.

Cover and bake for 30 minutes. Remove the cover and continue baking for another 15 minutes or until the cheese has melted and the edges bubble. (see alternative step 7 below for freezer meal directions)
---
Notes
FREEZER MEAL DIRECTIONS
To make your extra casseroles into freezer meals still follow the listed steps above 1-6.
For step 7 do not bake your casserole. Instead, wrap each of your extra freezer meal casseroles with two layers of foil (lable and date your meals) followed by two layers of plastic wrap.
Place freezer meal casseroles in the freezer for 3+ months
When you want to serve bake millionaire spaghetti casserole for dinner, just set it out from the freezer into the refrigerator the day before.
On cooking day remove the plastic wrap and one layer of foil. Tent the remaining layer of foil for baking. Bake your casserole at 350 for 30 minutes. Depending on your casserole temperature and level of defrostedness you may have to add additional cooking time to your bake in 15 minute increments. Lastly, remove the tented foil cover and continue baking for 15 minutes or until the cheese is hot and bubbly.
Always bake your cassoroles to at least an internal tempture of 165 degrees.
Keywords: easy casserole recipes
YOU can watch me make 5 pans of Large Family Bake Millionaire Spaghetti Casserole in my new CHEAP MEALS for LARGE FAMILIES video that features 10 Frugal FREEZER MEALS made with 3 EASY Casserole Recipes! I made one for dinner and 4 more for the freezer 🙂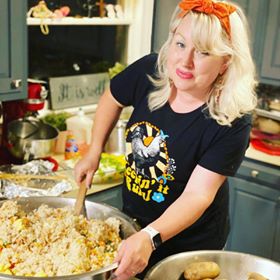 Also, JOIN ME over in the Large Family Table Community for LIVE calls, LIVE cooking, exclusive videos, included paid products and so much more!
FREE Emergency Pantry Planning Pack!
Don't forget to sign up for the emergency pantry planning pack for free to help you plan your pantry meals! The free Emergency Pantry Planning Pack will help you plan your needed pantry items! Printable pages include pantry inventory, grocery lists, meal planners, list of pantry staple items, and more.