Ground beef is often one of the most budget-friendly meats when feeding a large family. Here I will share my best Large Family Ground Beef Dinner Recipes to Feed a Crowd! Most of these are easy and quick meals. I have included everything from big family meals in the instant pot, easy oven dinners to feed a crowd, large family slow cooker meals, and more. Keep reading to find your new family favorite dinners!
****Use special promo code HELLO20 to take 20% off the entire MEGA DEAL get-it-all Bundle including the best-selling Large Family Freezer Meal Packs 1-12 + so much more!!****
Large Family Ground Beef Dinner Recipes to Feed a Crowd!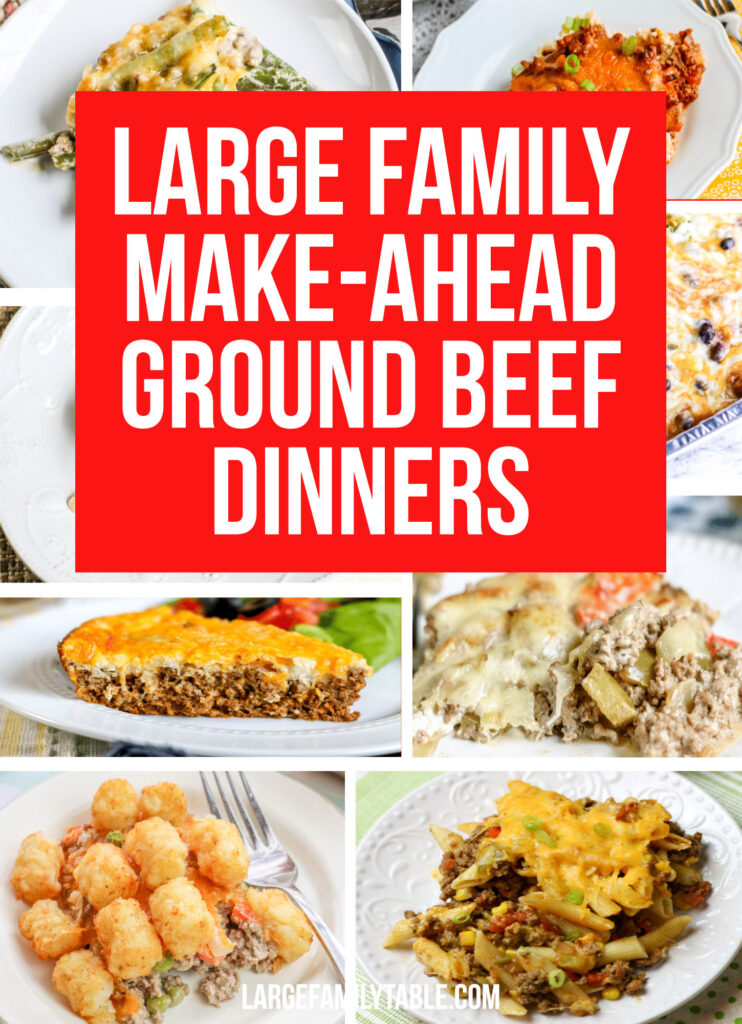 What Can I Make With Lots of Ground Beef?
I frequently say I only know mega and lots and that includes cooking with a bunch of ground beef! You can often find ground beef on sale and use that time to stock up and make your meals even more affordable. In addition to purchasing ground beef at the store, I've even bought an entire pasture raised cow in the past. There are so many delicious recipes that you can make with lots of ground beef that I'm happy to share with you. To start, here are some of my favorite large family ground beef casseroles. (Many of these are big casseroles that freeze well, too. Just check the instructions in my recipes.) You will love these Large Family Ground Beef Dinner Recipes listed below!
Make-ahead Ground Beef Dinners and Casseroles
Low Carb Beef and Cheddar Cauliflower Bake – Believe it or not, casseroles can be low carb and keto-friendly just like this delicious meal.
Large Family Mexican Zucchini Lasagna – A unique twist on a classic dish! This tasty recipe is healthy without sacrificing flavor.
Unstuffed Bell Pepper Casserole – The delicious flavor of stuffed bell peppers in an easy casserole.
Low Carb Bacon Cheeseburger Casserole – This mouthwatering casserole will have the whole family wanting more.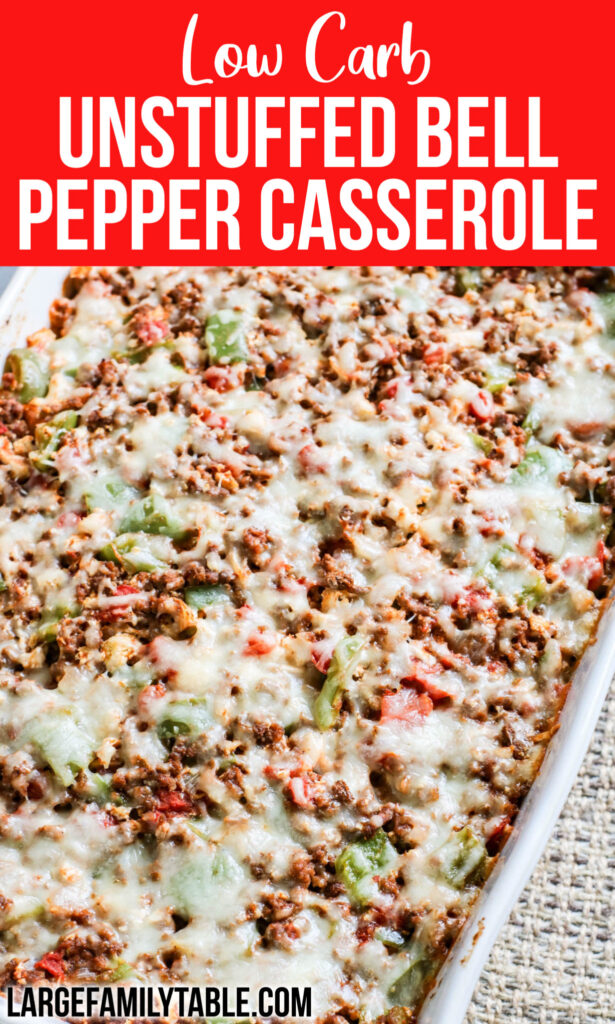 Low Carb Philly Cheese Steak Casserole – Super flavorful low carb casserole recipe.
Beef Stroganoff Freezer Meal Recipe – I have been making some version of this recipe for years. This meal yields enough for dinner tonight and some for the freezer!
Baked Millionaire Spaghetti Casserole – My family enjoys spaghetti in all forms but this is definitely a favorite. I even had a child ask to have leftovers for breakfast once.
Low Carb Five Guys Cheeseburger Casserole – A tasty meal that will make you feel like you are biting into a burger from your favorite fast food restaurant.
Do you have more casserole recipes?
I have so many more casseroles in my shop. Check out my Classic Casserole Dinners & Freezer Meals Cookbook One for Now, One for Later! It includes 10 delicious, classic casserole recipes that will make two 9×13 casseroles each–one to eat right away, and one to put in your freezer for a later date. It's an easy and quick way to build a freezer stash.
What is a Good Meal to Feed a Large Crowd?
Since ground beef is such a frugal meat choice, ground beef dishes make good meals to feed a large crowd. Serving something easy to make and easy to serve is key when feeding a large crowd. We've already discussed casseroles, so let's talk about the Instant Pot and slow cooker. Both are tools I use frequently in my kitchen. Using an Instant Pot and slow cooker keep it manageable when you're making food for a large family gathering as they are usually dump-and-go recipes. Here are some of my favorite Instant Pot and slow cooker recipes to try.
Make-Ahead Ground Beef Dinners in the Instant Pot and Slow Cooker
Beef and Potato Slow Cooker Dinner – This hearty slow cooker meal is all you need to serve to your family to keep them full and happy.
Slow Cooker Shepherd's Pie – Can you say comfort food? Shepherd's Pie is a ground beef family favorite dinner.
Low Carb Taco Soup – The warmth and flavor of tacos in a soup! If you're not eating low carb, add tortilla chips or corn chips as a topping.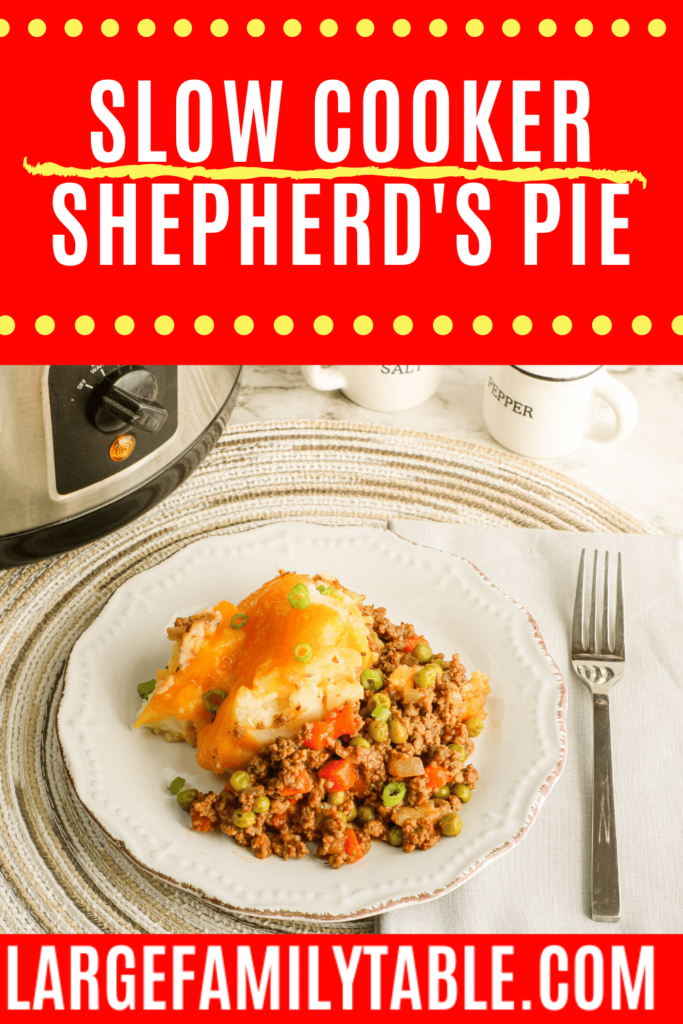 Slow Cooker Sloppy Joes – If your family loves Sloppy Joes, you will love having them in the freezer ready to go for those extra busy days!
Slow Cooker Taco Meat – Did you know you can brown your ground beef right in the slow cooker? Convenient for busy moms!
Large Family Instant Pot Cheesy Burrito Pasta – Combine pasta and burritos to create a unique and flavorful dish to eat with your big family.
Slow Cooker Meatloaf – Set it in the morning and let it slow cook to delicious perfection all day.
Instant Pot Spaghetti – You will love the quick ease of making one-pot spaghetti in the Instant Pot for your family!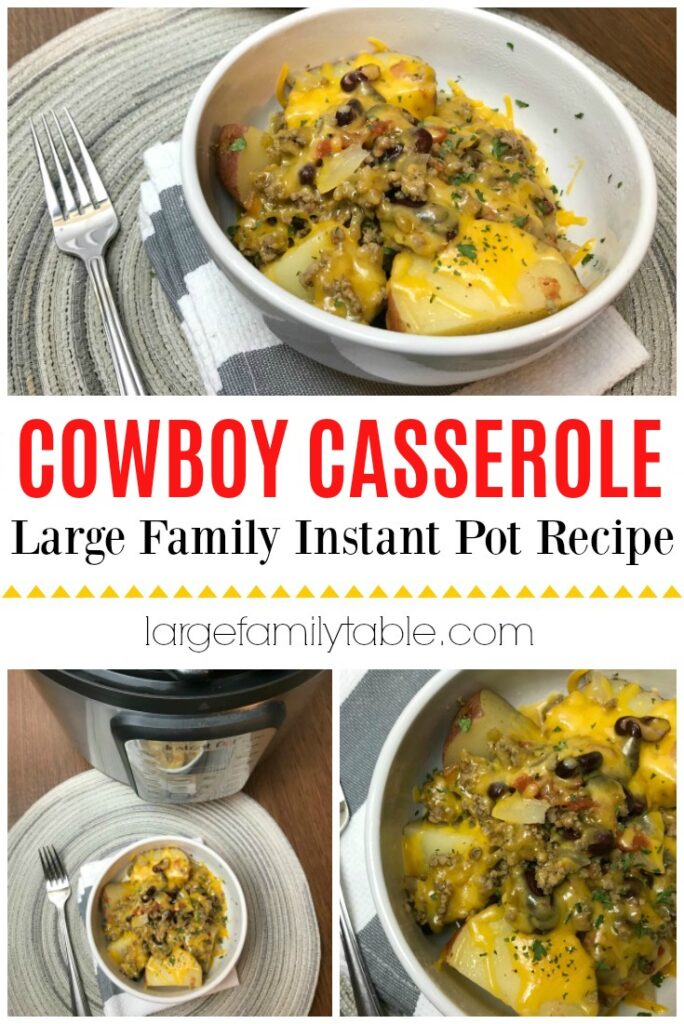 Cowboy Casserole – Large Family Instant Pot Cowboy Casserole is a hearty and easy one pot meal.
Stuffed Peppers – Large Family Style Instant Pot Stuffed Peppers is a great freezer meal recipe.
Low Carb Meatloaf – Use your instant pot to make meatloaf.
Big Batch Spaghetti Sauce – Spaghetti is one of those good old standby's that almost everybody likes and that's super easy to make. I think you'll enjoy this electric pressure cooking big batch spaghetti sauce. I really like having it over spaghetti squash, too!
Large Family Slow Cooker Taco Tater Tot Casserole – Combine tacos and tater tots in this tasty dish and the whole family will be asking for seconds.
Did you enjoy this electric pressure cooker meal? Because I have a ton more recipes in my shop! Check out my Large Family Delightful and Abundant 4-Week Electric Pressure Cooker Meal Plan Pack One, and the Large Family Filling and Wholesome 4-Week Electric Pressure Cooker Pack Two.Or make it easy on your budget and time and grab the DOUBLE BUNDLE that includes both Electric Pressure Cooker Packs packs one and two!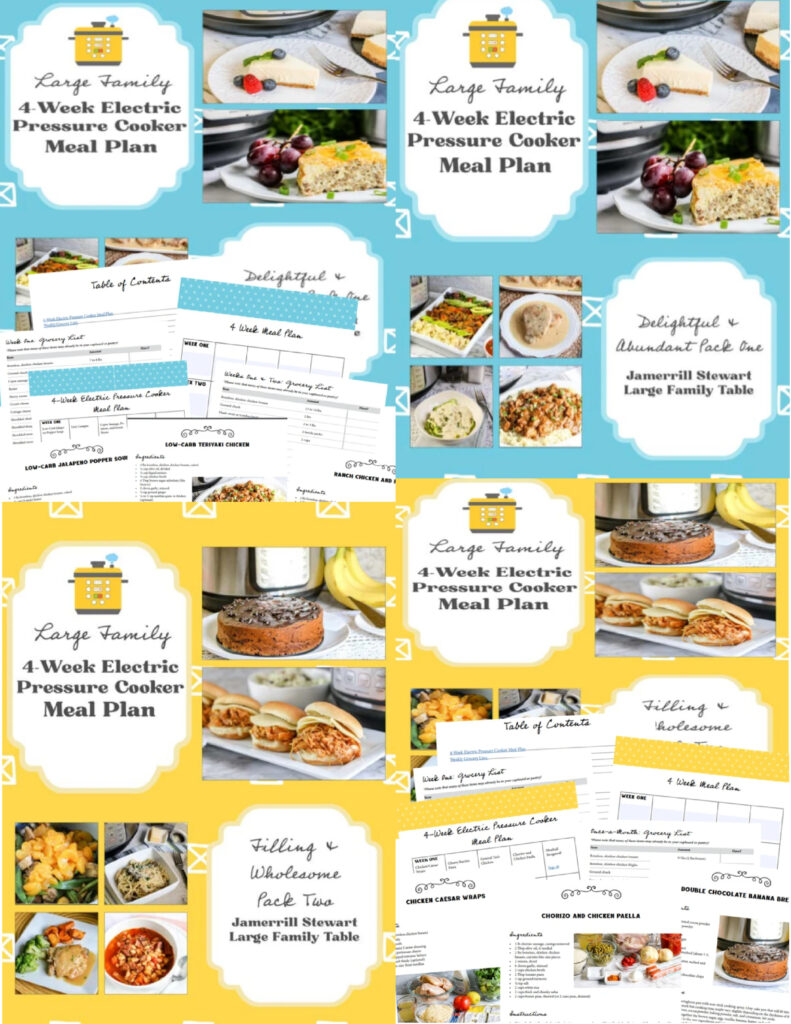 Can I Cook Ground Beef Ahead of Time?
Absolutely! One strategy of mine when I don't have a whole lot of time is to brown a bunch of ground beef for future use. It's helpful for getting dinner on the table easily. I have used a variety of methods to cook ground beef including in the electric pressure cooker, skillet, and oven. I have also cooked ground beef in my slow cooker and even home canned ground beef before. You can freeze cooked ground beef as well so it's handy when you need to throw something together real fast.
If you're making something like Slow Cooker Sloppy Joes, the vegetables and sauce and ground beef can all be prepared and put in a freezer bag in the freezer. Look at each of your individual ingredients to determine what can be done and how far in advance each can be done. If you're serving something like Vegetable Beef Soup or, Low Carb Ground Beef Casserole, the entire meal can be frozen and prepared even months out. Here are some tasty recipes that freeze well and can be made ahead of time.
Make-Ahead Ground Beef Dinners that Freeze Well
Large Family Black Beans and Beef Quesadillas – What's meaty, delicious, and freezes well? These quesadillas are filling and easy to make.
Beefy Green Bean Casserole – All the flavor of your favorite casserole, beefed up!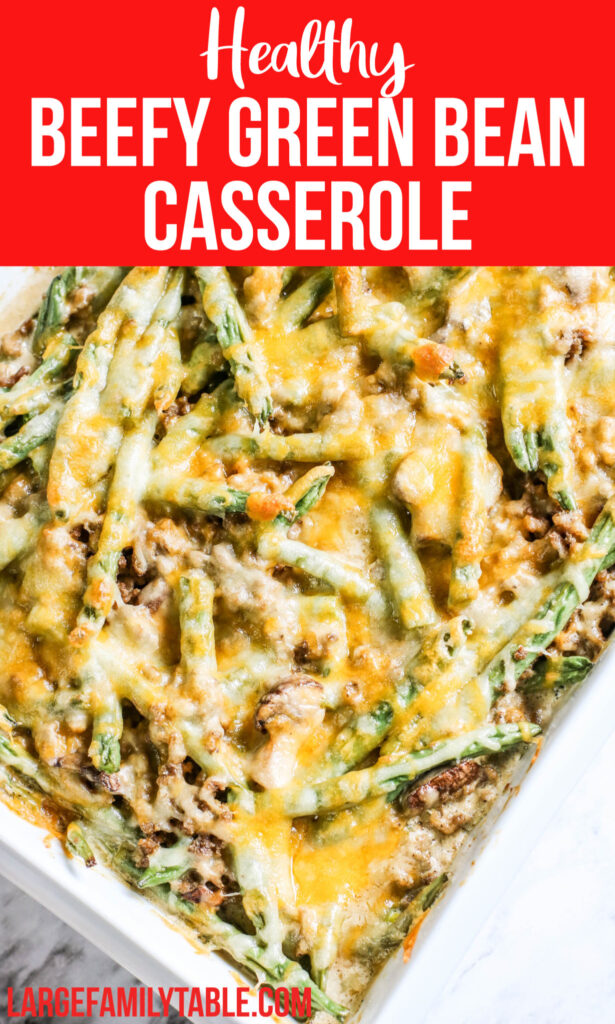 Beef Tater Tot Casserole – This recipe is a family favorite and a crowd-pleaser.
Sloppy Joe Casserole – My favorite thing about this large family meal, other than its great taste and convenience, is that I can eat it with a fork instead of using my hands, so it is not nearly as messy.
Amazing Enchilada Casserole – Amazing Enchilada Casserole is the perfect meal for all those who seek a meal large enough to feed a big family. This casserole doesn't just feed one or two people, it feeds a whole bunch of people.
Low Carb Crustless Taco Pie – Taco Tuesday in an easy low carb casserole.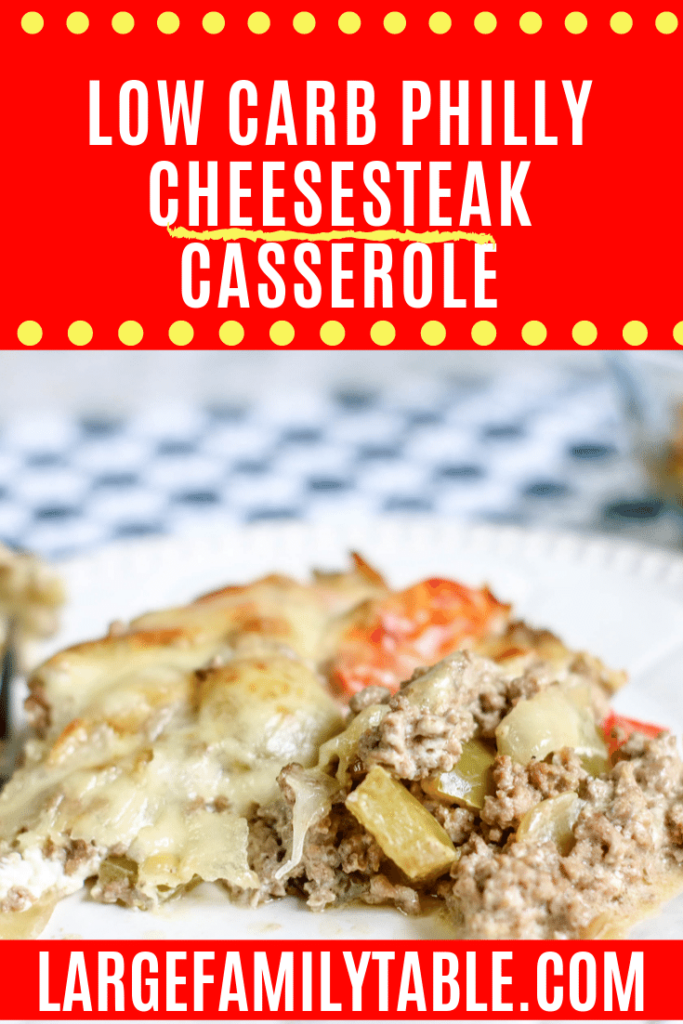 Pizza Casserole – That's right, it's a casserole oven bake, it's freezable, and it has the word "Pizza" in its name. This Pizza Casserole Oven Bake Freezer Meal might just be the next major favorite at your large family table!
Taco Bake Freezer Meal – Taco Tuesday can be a great make-ahead dinner if you make it and freeze it.
Stuffed Shells – These big pans of stuffed shells freeze and later reheat wonderfully. Add a fresh salad, garlic bread, or a cup of fruit for a lovely dinner your family will ask for again and again!
Baked Ziti – Everyone in my family loves Baked Ziti. I love that they love it because it's an easy freezer meal for me to stash panfuls at a time.
Easy Lasagna – Homemade lasagna is an easy and frugal meal. You can cut back the amount of ground beef you use in the recipe, and it will still be divine. You can also substitute cottage cheese for ricotta cheese if needed.
You can find so many more great freezer meals in my Ultimate Super Mega Large Family Freezer Meals 1, 2, 3, 4, 5, 6, 7, 8, 9, 10, 11, 12 Digital Bundle!!! It includes packs 1-12 of my best-selling large family freezer meals. You will have everything you need to make over 250 large family freezer meals (make as little or as much as you want 🙂 ) including 12 batch cooking meal prep guides, 12 pack specific freezer meal grocery shopping lists, freezer meal tips, freezer meal printables including a freezer meal planner and more.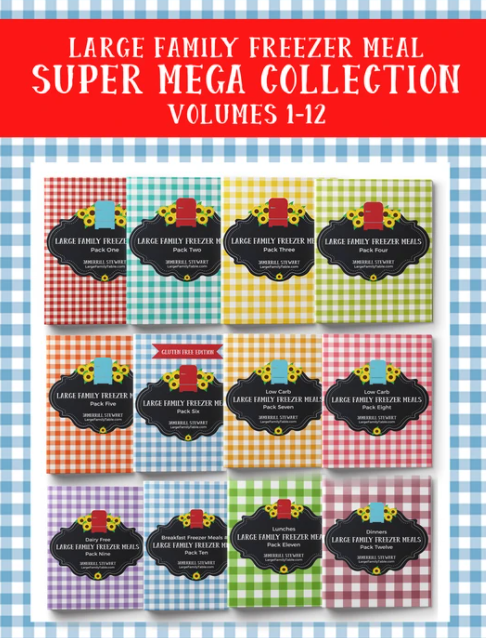 What Should I Make for a Large Family Gathering?
Make ahead ground beef recipes are the perfect thing to make for a large family gathering or potluck. Meal Planning ahead will allow you to utilize sales and stock your freezer with make-ahead delicious meals ready for when you need them. Many of my recipes already include one or two extra meals so they are great to make for large family gatherings. Using simple recipes will save you time and energy that you can use for spending time with your family and friends instead of just cooking.
Large Family Make-Ahead Ground Beef Soups, Side Dishes, and more!
Here are more Large Family Ground Beef Dinner Recipes to Feed a Crowd!
Beef Enchilada Stuffed Zucchini Boats – Frugal and healthy large family recipe.
Low Carb Shepherd's Pie Recipe – If you're one of the many people watching your carb intake these days, you're going to love this Low Carb Shepherd's Pie recipe!
Manicotti – Large family freezer meal that looks fancy but is very simple.
Large Family Weekend Chili – One strategy I have for feeding this growing herd of mine is a "weekend meal". This large stock pot of chili will feed us several delicious meals over a weekend.
Baked Spaghetti – Spaghetti is such a cost-effective meal for a large family.
Skillet Beef Stroganoff – Easy recipe when you're almost out of groceries.
Stove Top Cola Sloppy Joes – These homemade cola sloppy joes on the stovetop are sure to be a crowd pleaser.
Low Carb Hamburger Steaks and Mushroom Gravy – Delicious and frugal meal.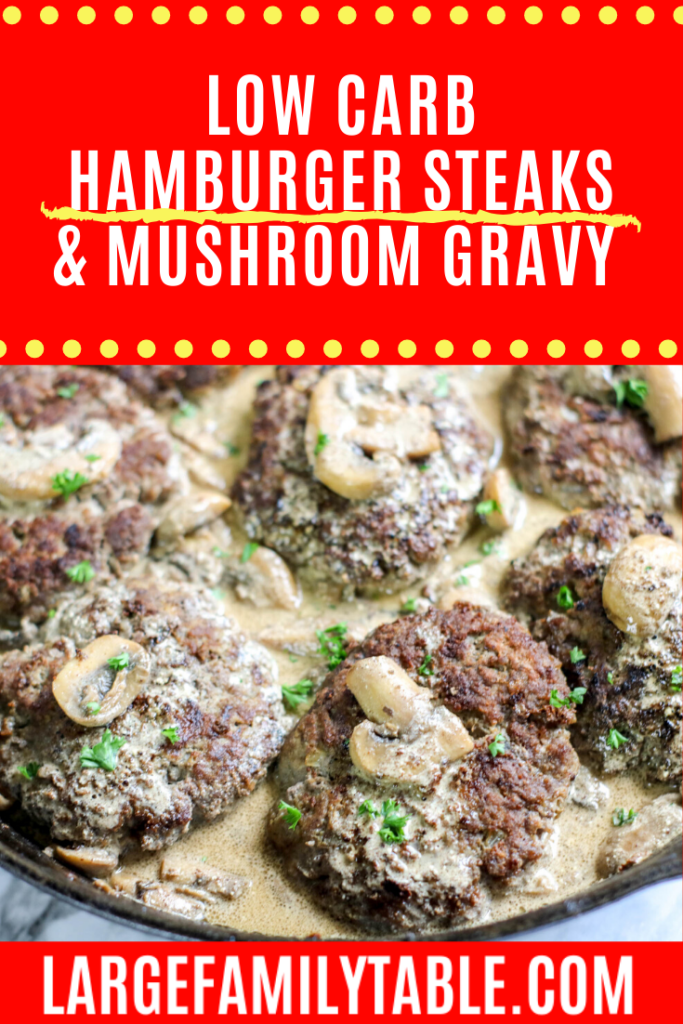 Southwestern Quinoa Side Dish – Easily cooked in your instant pot.
Meatloaf Minis – Kids everywhere love Mini Meatloaves.
BBQ Meatloaf Recipe – A tasty twist on a classic recipe. This is a big batch recipe that will help you feed all your people or stock your freezer.
Hearty Hamburger Patties – How to stock your freezer with homemade hamburger patties.
Hamburger Soup – This soup comes together fairly quickly and it's so super easy to make. You can literally use whatever you have on hand.
Egg Roll in a Bowl – A low-carb version of your favorite take-out side!
HERE are many more large family recipes made with ground beef for you to try!
Haven't gotten enough ground beef recipes yet? Here are some additional ground beef recipes for you to enjoy:
You can get all my recipes in my 2021 SUPER MEGA DEAL!!***Get it all 30+ Products Bundle. It includes everything in my shop through 2021!! You will get so many recipes, make-ahead and freezer meals, lots of sheet pan meals, planning packs to help you organize all your meals (breakfast, lunch, and dinner) and so much more. That's why I call it the super-mega deal!
FREE Emergency Pantry Planning Pack!
Don't forget to sign up for the emergency pantry planning pack for free to help you plan your pantry meals! The free Emergency Pantry Planning Pack will help you plan your needed pantry items! Printable pages include pantry inventory, grocery lists, meal planners, list of pantry staple items, and more.