Shepherd's pie is a family favorite around here. Mama loves it because it's so easy to make. Kiddos like it because it is so delicious! What to do when it's super hot and you don't want to heat up the kitchen to make it? Rev up the slow cooker, of course. Slow cooker shepherd's pie is sure to become your favorite way to make it, too!
**Use special promo code HELLO20 to take 20% off your first order in the shop including the SUPER MEGA ULTIMATE Large Family Freezer Meals Bundle here! Get packs 1, 2, 3, 4, 5, 6, 7, 8 & 9!**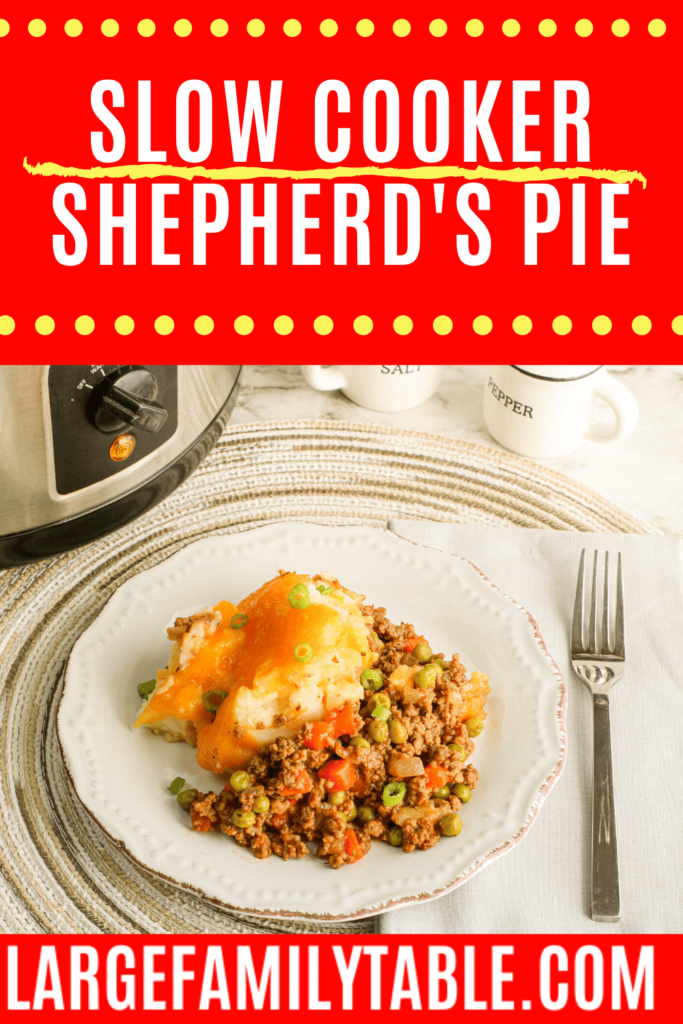 What is the difference between shepherd's pie and cottage pie?
Technically shepherd's pie is traditionally made with lamb while cottage pie is made with ground beef. Here in the States, we make it with beef and call it shepherd's pie regardless. We're rebels like that! Shepherd's pie also contains so many delicious vegetables and it is so easy to make in the slow cooker!
Can you freeze shepherd's pie?
Yes with a capital Y! I freeze it all the time as you can see here. Additionally, if you want to make this recipe freezable just freeze the bottom portion in a freezer bag and use whatever leftover mashed potatoes you have in your fridge or freezer.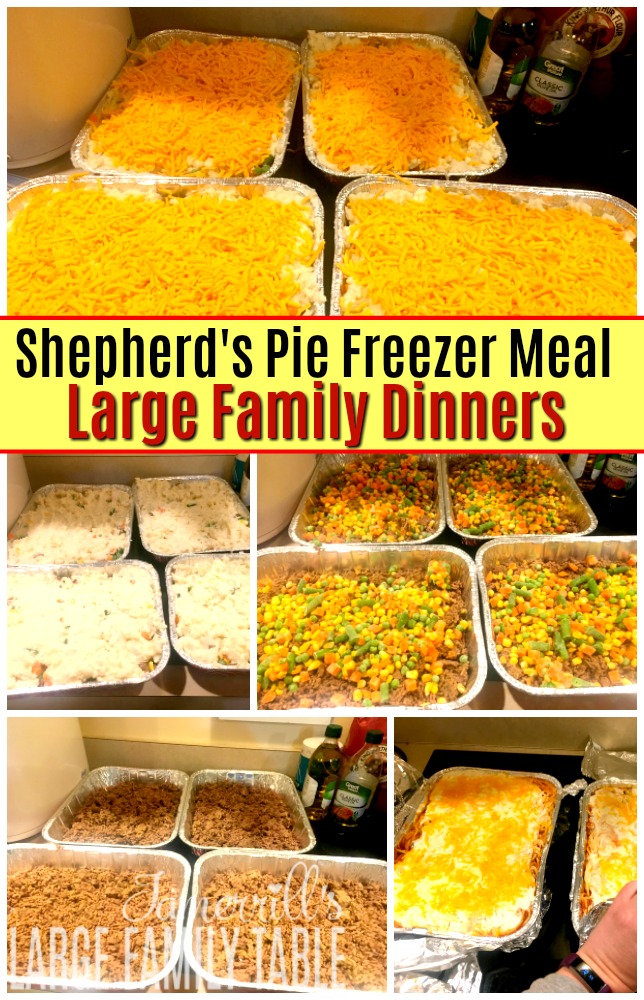 What do you serve with shepherd's pie?
I don't serve anything but the shepherd's pie in my house. It's an all in one meal. You could serve carrot sticks or a salad if you want. Do what works for your family.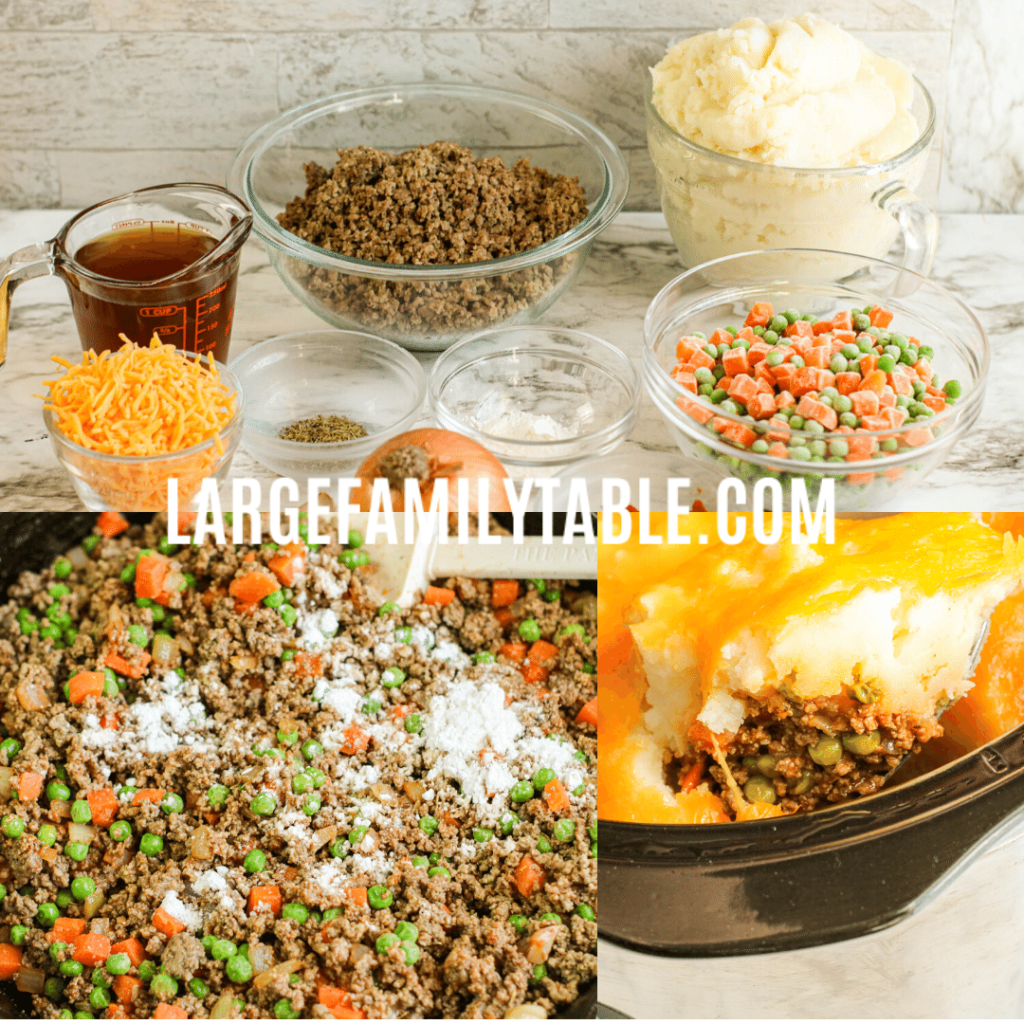 How to prepare Slow Cooker Shepherd's Pie
Gather all your ingredients together. Throw your onions and olive oil in the skillet and cook until softened. If you want to make slow cooker shepherd's pie even easier, use your canned ground beef instead of browning it right now. That's one of the reasons you canned it, right?
After the onions are all soft and translucent, throw everything else in the skillet EXCEPT the mashed potatoes and cheese. Mix it all together really well so the flavors marry and the ingredients are introduced to each other. Don't be shy.
Pour mixture into the bottom of your large 8 qt slow cooker or divide equally into two smaller slow cookers. You know me. I'll try to cram it all into one slow cooker all the way up to the brim. Yes and amen! Cover and cook on low for 6 hours or on high for 3 hours. This all depends on when I get the slow cooker started. Some days I'm on my game right after lunch and some days it's mid afternoon before I remember I have to feed these people again that day.
Remove the slow cooker lid after it's done bubbling and brewing to add the mashed potatoes. You can make this step easier by either making the mashed potatoes in the Instant Pot or grabbing some from the freezer. What? You didn't know you could freeze mashed potatoes? Oh yes, you can!
Make sure the mashed potatoes are in an even layer then top with cheese. Put the lid back on until the. cheese is melted and bubbly. This means it's time to serve dinner to your people and hear the cheers.
This Large Family Slow Cooker Shepherd's Pie Recipe was featured in Large Family Meal Plan #4. You can find more large family meal plans here.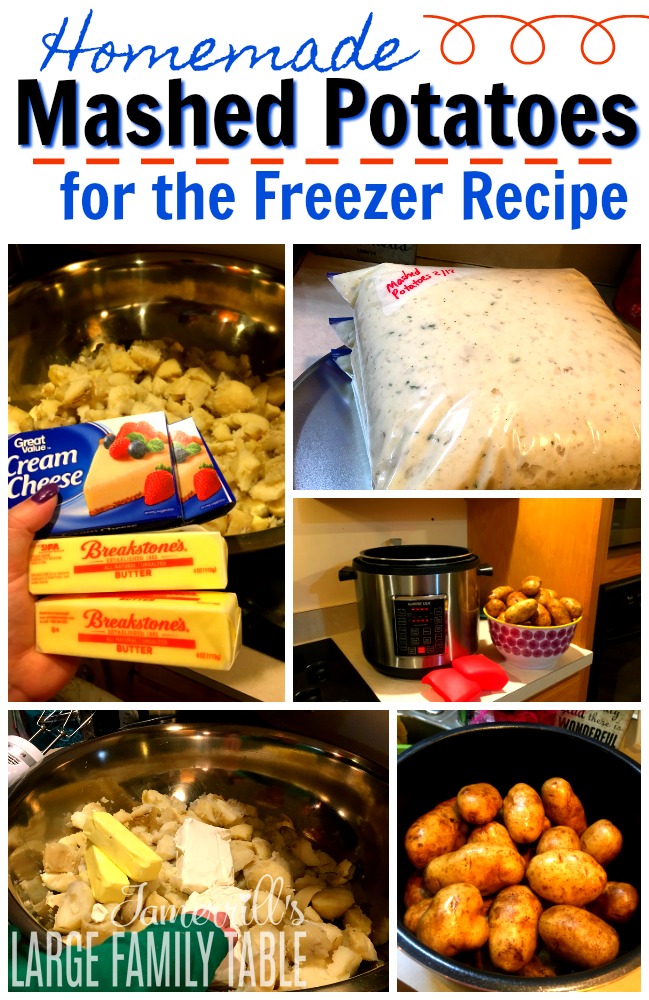 Do you have more slow cooker recipes?
Slow cooker meals like this Slow Cooker Shepherd's Pie are so easy. Most of them are dump-and-go recipes that you spend ten minutes preparing and a few hours later dinners ready. Yay for convenience! You'll find lots more easy slow cooker meals in my Large Family Slow Cooker Dinners and Meal Plans Vol 1, 2, 3 Bundle. It includes 60 meals and 12 weeks of meal plans!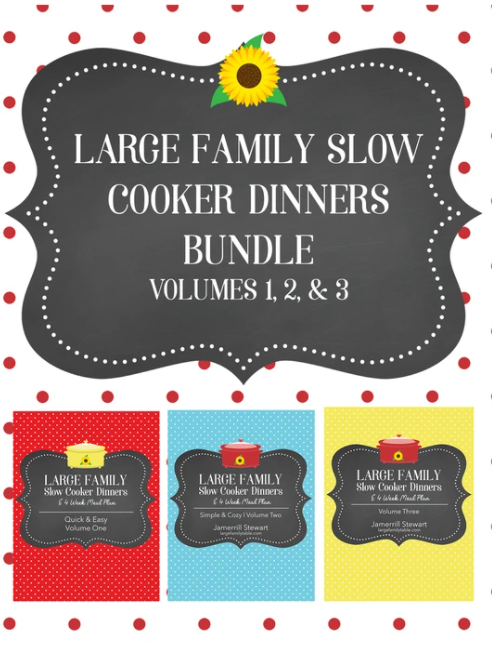 Looking for more Ground Beef Recipes?
Low Carb Ground Beef Casserole
Large Family Easy Sheet Pan Cheeseburger Sliders
LOW CARB UNSTUFFED BELL PEPPER CASSEROLE RECIPE
Large Family Slow Cooker Shepherd's Pie Recipe
Print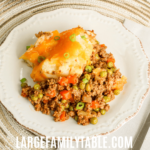 Large Family Slow Cooker Shepherd's Pie Recipe
Author:

Prep Time:

20 min

Cook Time:

3-6 hours

Total Time:

3 1/12 – 6 1/2 hours

Yield:

12

Category:

Dinner

Method:

Slow Cooker

Cuisine:

American
---
Description
Does your family love Shepherd's Pie but you don't want to heat up the kitchen to make it? Grab your slow cooker and get the job done!
---
Ingredients
4 pounds ground chuck, browned and drained

2 tablespoon olive oil

2 onions, diced

2 clove garlic, minced

2 (16 ounce) packages frozen peas and carrots

2 to 4 cups beef broth (depending on how saucy you like your shepherd's pie)

2 teaspoon salt

1 teaspoon black pepper

4 tablespoons tomato paste

2 teaspoons thyme leaves

2 tablespoon cornstarch

8 to 10 cups prepared mashed potatoes

2 cup shredded cheddar cheese.
---
Instructions
Prepare your large 8 qt or 2 smaller slow cooker liners with non-stick cooking spray.

In a large skillet over medium-high heat, add the olive oil and onions. Cook the onions until softened and stir in garlic.

To the onions, add all ingredients EXCEPT the mashed potatoes and cheese. Stir together well. Transfer the mixture to the slow cooker liner and spread evenly.

Cover and cook on high for 3 hours or low for 6 hours.

Remove the slow cooker lid and add the mashed potatoes, spreading into an even layer. Top with cheese and recover the slow cooker until the cheese has melted.

Serve garnished with sliced green onions or alone.
---
Notes
You can freeze the bottom portion sans potatoes and cheese to make this recipe even easier.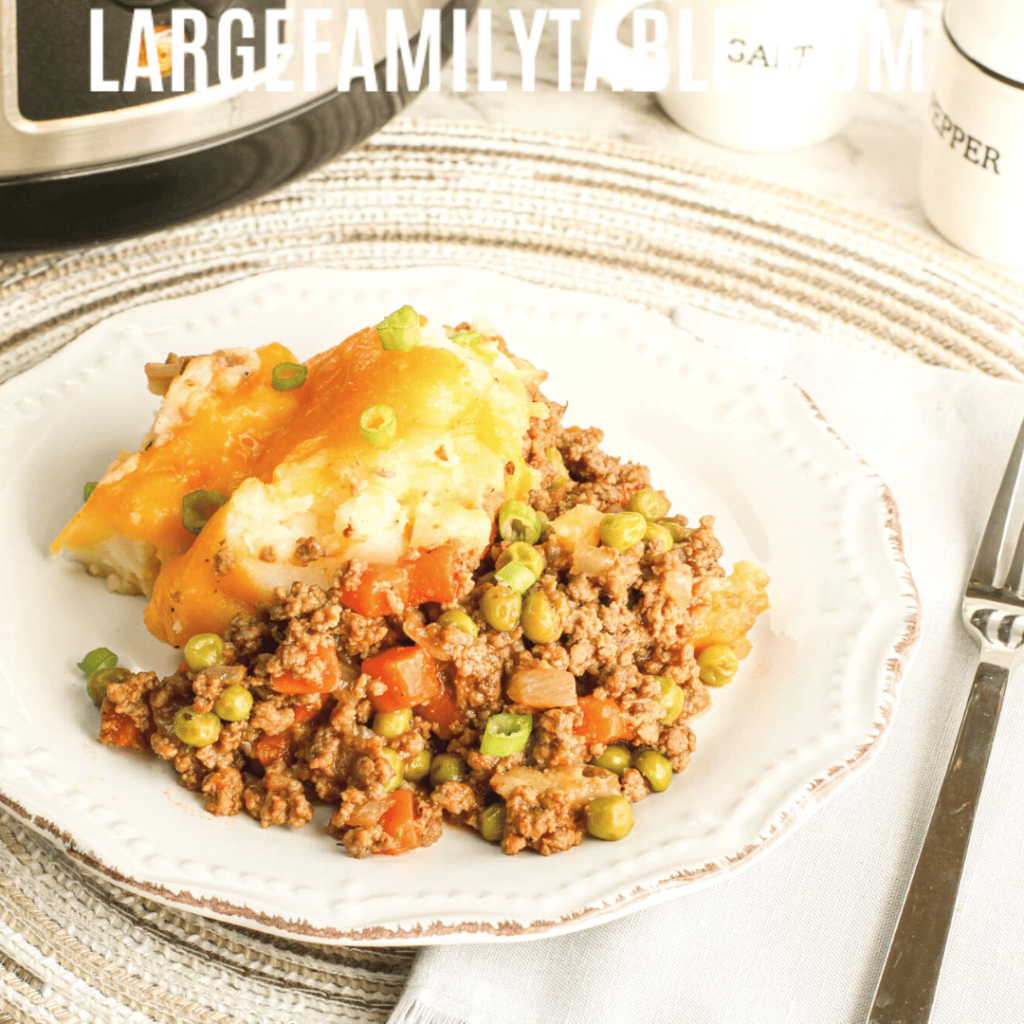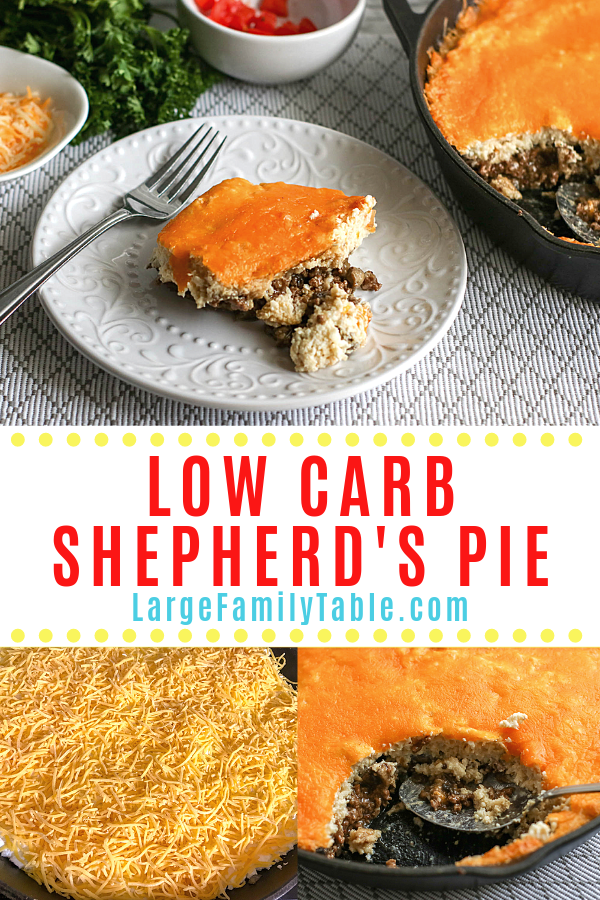 FREE Emergency Pantry Planning Pack!
Don't forget to sign up for the emergency pantry planning pack for free to help you plan your pantry meals! The free Emergency Pantry Planning Pack will help you plan your needed pantry items! Printable pages include pantry inventory, grocery lists, meal planners, list of pantry staple items, and more.