?Get the Best-Selling Large Family Freezer Meals Collection here! Use promo code HELLO20 to take 20% off your first order. 🙂
If you're one of the many people watching your carb intake these days, you're going to love this Low Carb Shepherd's Pie recipe! Out with the starchy carb-heavy mashed potato topping of the typical Shepherd's Pie, and in with a scrumptious low carb cauliflower and cheese topping that is all-but-guaranteed to leave you feeling full and satisfied.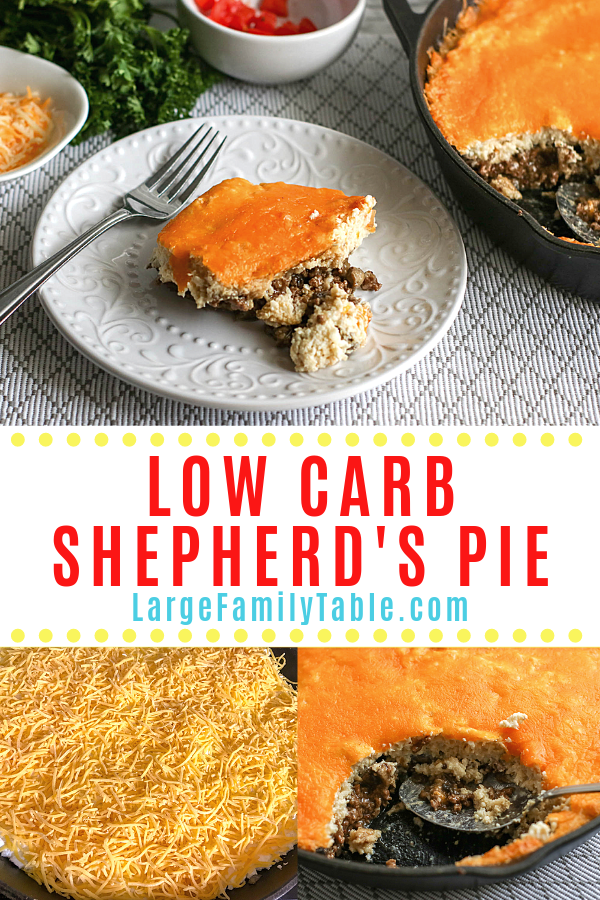 This Low Carb Shepherd's Pie recipe is also, gluten-free, keto-friendly, and is a THM (Trim Healthy Mama) S-meal, for those that like to know that type of thing. 😉
Before anybody asks, yes, I know that in the UK, where this dish originates, Shepherd's Pie recipes call for ground lamb. Here in the US, ground lamb is much less common than the ground beef used in most American versions of this classic dish. (And have I mentioned that we bought a whole pasture-raised cow?!) So ground beef it is! 😀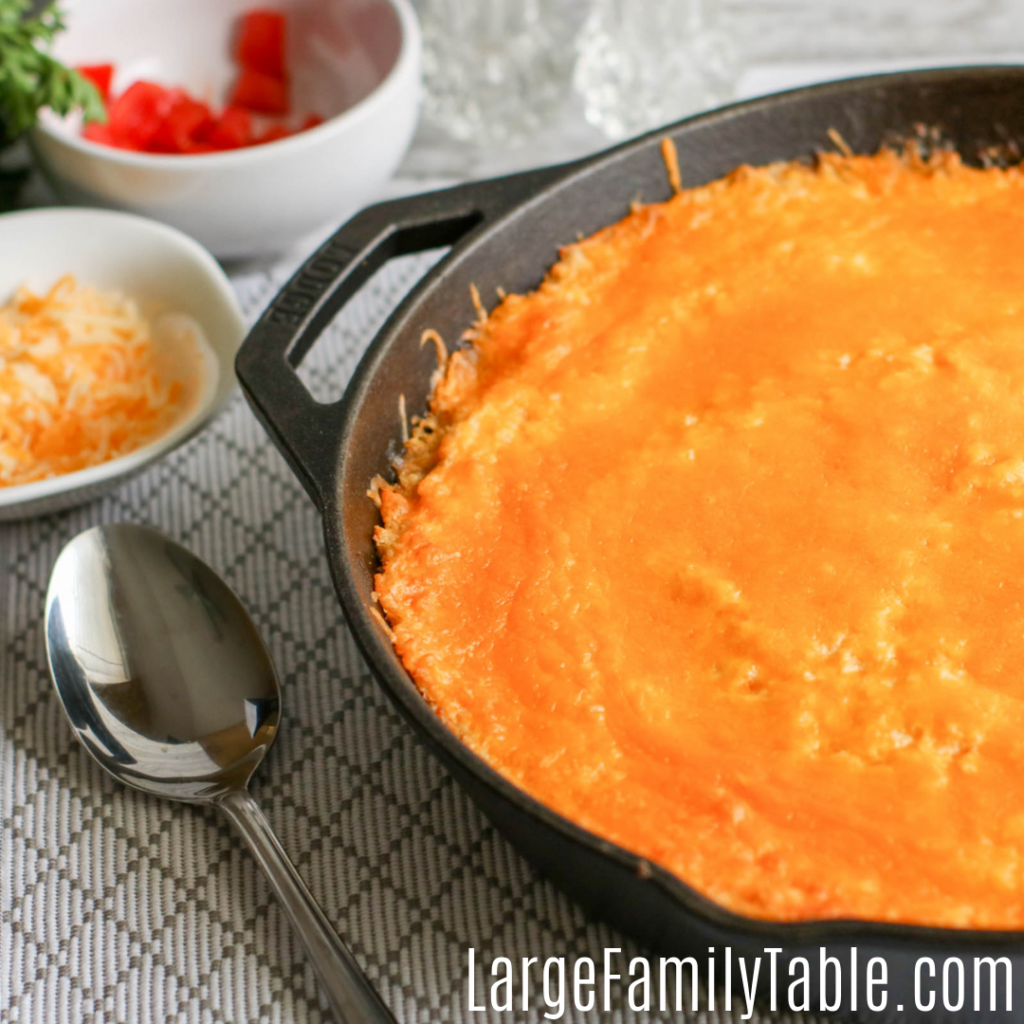 This Low Carb Shepherd's Pie Recipe can be made almost entirely, from stovetop to oven, in a 12″ cast iron skillet. If you don't have one yet, no worries, you can use your favorite pan to cook up the meat mixture and then transfer to a glass baking dish before topping off with the cauliflower mash and finishing up in the oven.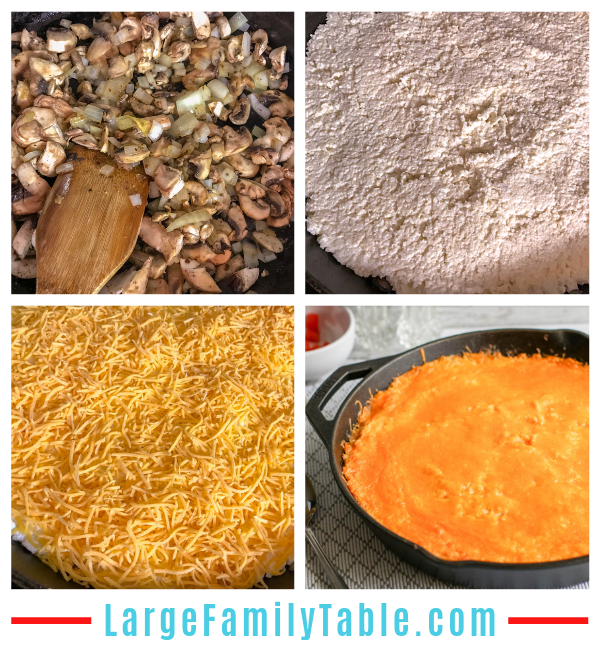 More Low Carb Favorites –
Low Carb Shepherd's Pie Recipe
Print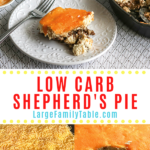 Low Carb Shepherd's Pie Recipe
Author:

Prep Time:

15 minutes

Cook Time:

30 minutes

Total Time:

45 minutes

Yield:

12

Category:

Low Carb

Method:

Baking

Cuisine:

American Dinner
---
Description
Enjoy this low carb variation of Shepherd's Pie made with ground beef and cauliflower in a cast iron skillet!
---
Ingredients
For the meat filling:
1 1/2 pounds ground beef
1 onion, chopped
1 (8 ounce) package mushrooms, sliced
1/4 teaspoon garlic powder
1/2 teaspoon salt
1/4 teaspoon ground thyme
1/4 teaspoon black pepper
1 1/2 cups beef broth
1 teaspoon xanthan gum
For the cauliflower topping:
1 head cauliflower, chopped into small pieces
2 tablespoons butter
1/2 teaspoon garlic powder
4 ounces cream cheese
1/4 cup grated Parmesan cheese
1/2 teaspoon salt
1/4 teaspoon black pepper
1 cup shredded cheddar cheese
---
Instructions
Preheat oven to 350 degrees.
In a large oven-proof skillet, brown the ground beef, crumbling it as it cooks. Drain well, retaining 2 tablespoons of the beef grease in the skillet.
Add onions and mushrooms to the skillet and cook over medium-high heat until tender. Return beef to skillet. Add seasonings and beef. Bring to a simmer. Stir in xanthan gum until it thickens. Remove from heat.
Place cauliflower in a microwave-safe bowl with about 2 tablespoons water. Cover and heat on high for 8-10 minutes, or until cauliflower is soft. Drain.
In large food processor, add cauliflower, butter, garlic powder, cream cheese, Parmesan cheese, salt, and pepper. Pulse until creamy. If the consistency is too thick, add 1/4 cup milk and process until smooth.
Spoon mashed cauliflower over beef mixture. Smooth the top and add cheese.
Bake for 25 to 30 minutes, or until cheese is melted and bubbly.
Keywords: low carb, Keto, Trim Healthy Mama, Shepherd's Pie
Now that you'll making a super yummy low carb shepherd's pie you can click here to get the free large family food collection, too!
The entire collection includes: