Ever get a hankering for something salty like potato chips but don't want all the fat and calories? Or did you make roasted garlic hummus and need something to dip in it? Air Fryer Pita Chips fits the bill for both. They are nice and crispy without oil thanks to your air fryer. Your waistline and your people will love this recipe.
Get the Best-Selling Large Family Freezer Meals Collection here! Use promo code HELLO20 to take 20% off your first order.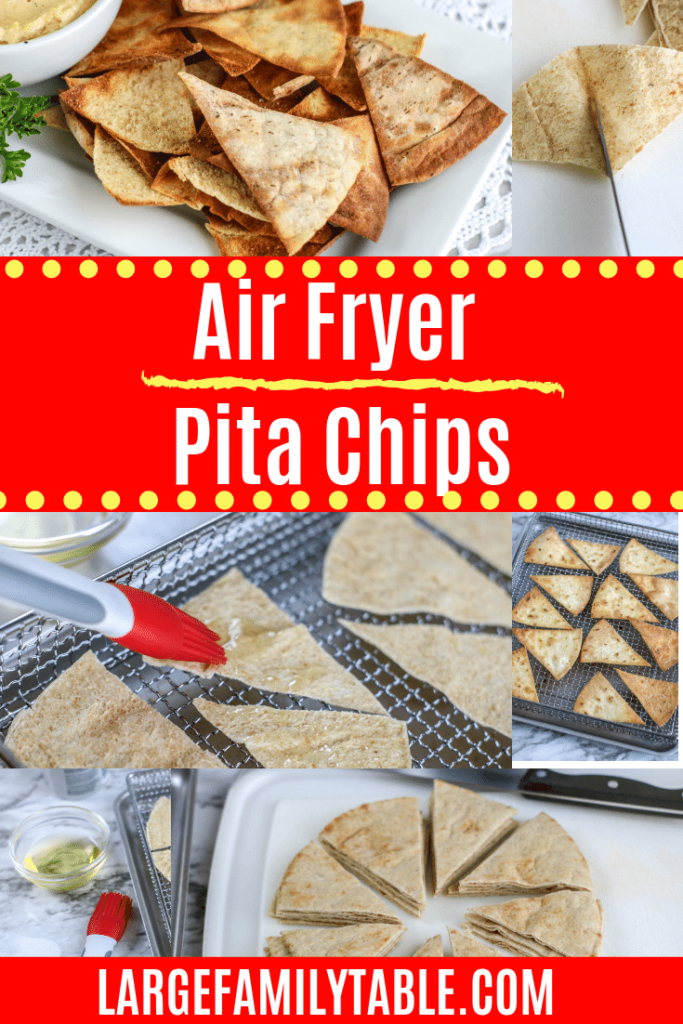 Since you're going to air fry them, check for discount pita bread in the clearance section of your local grocery store. I've been able to score loads of bread for 50 cents or less per loaf. Super cheap air fryer pita chips taste so much better than full price ones. My kids swear by this fact.
Cut your pitas into triangles remembering to cut them in half if they have pockets. Toss the triangles with your choice of oil ( I like avocado personally) and salt or seasoning ( Bragg Organic Sprinkle Herbs & Spices Seasoning will rock your world).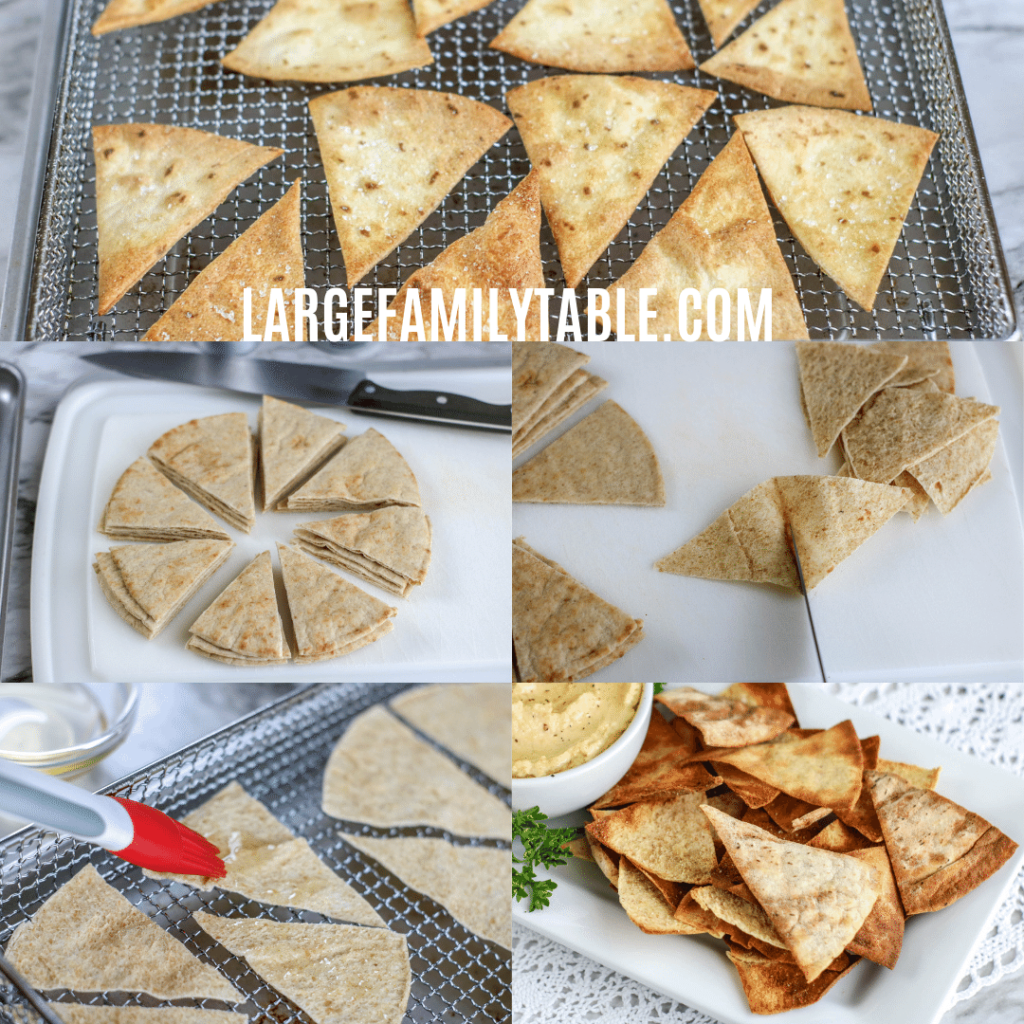 Place a single layer in your air fryer and cook at 350 for 3-4 minutes. Flip and cook another 3-4 minutes or until brown and crispy. Every air fryer is different so adjust the time using the first batch as a test. Keep at it until all the pita triangles are done.
Print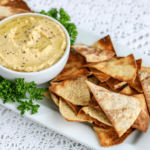 Air Fryer Pita Chips
Author:

Prep Time:

5 mins

Cook Time:

8-9 mins

Total Time:

-28097517.866667 minute

Category:

Snack

Method:

Air Fryer

Cuisine:

American
---
Description
Air fryer pita chips are a crunchy yet tasty snack that is also healthy. When the potato chip urge strikes, make these instead.
---
Ingredients
Pita bread
Olive oil cooking spray or olive oil in a spritzer can
Salt
---
Instructions
Preheat air fryer at 350 degrees.
Cut each round pita into triangles. If pita bread had a pocket, open the pita triangle and cut in half. Place a single layer of pita triangles in the air fryer basket. Spray with cooking spray and sprinkle with salt.
Cook for approximately 4 minutes. Flip and continue cooking for 3 to 4 minutes. Be mindful that each air fryer is different. Watch the first batch carefully and adjust cooking times if needed.
Continue cooking in batches until all pita chips are done.
Keywords: air fryer pita chips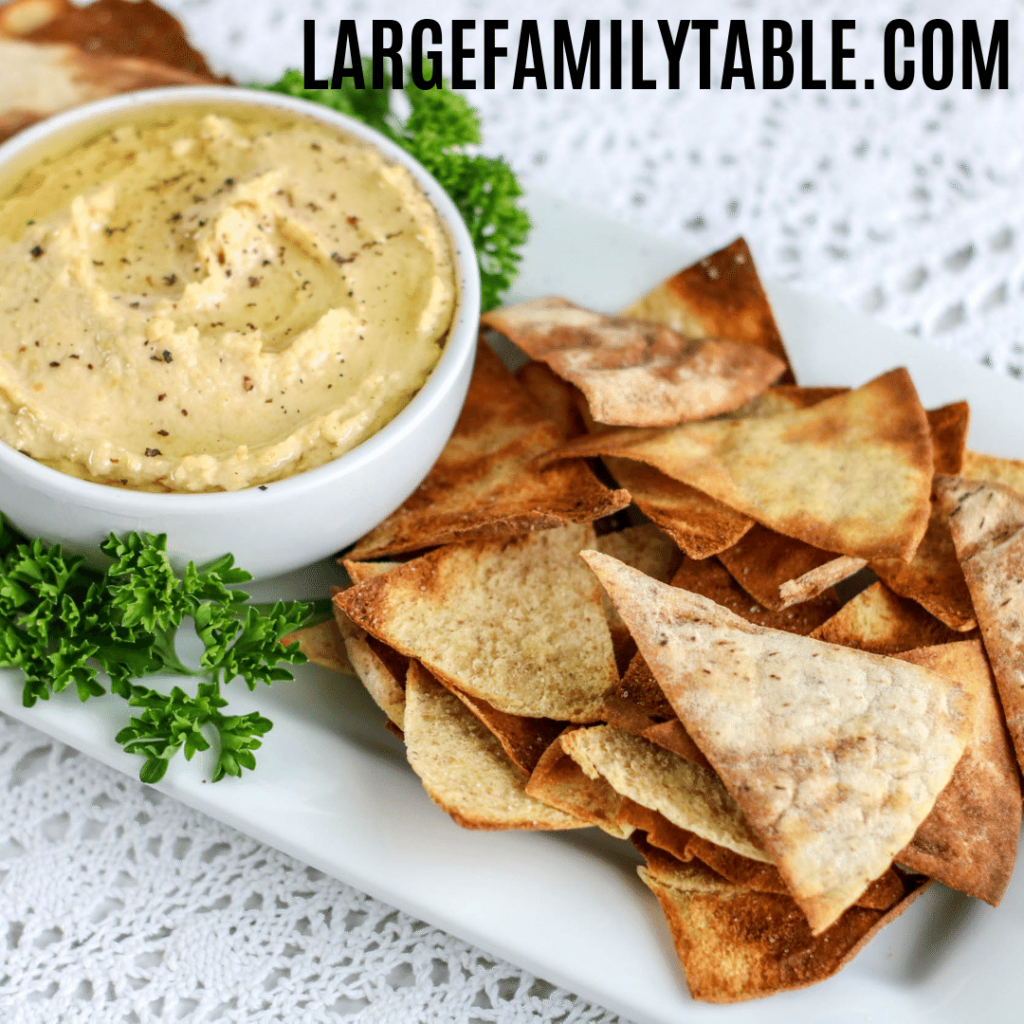 This is a tasty and healthy snack for those times when you need something crunchy and salty but don't want to blow your diet or feed your kids junk. Why waste your money on an overpriced bag of chips when you can whip these up in a flash?
Need some more easy meals inspiration?