Prepare a sweet popcorn treat for the family using minimal ingredients. The Big Family Kool-Aid Popcorn recipe is easy to follow and will leave you with a tasty treat to have at home or on the go.
If you enjoy popcorn and do not mind an added sweetness to it, this Big Family Kool-Aid Popcorn recipe is meant for you. The sweet and tasty treat is the perfect snack to have for yourself and your loved ones, giving them something enjoyable to eat after lunch or dinner. You might even want to get your children involved in helping make some of the sweet popcorn. They may want to prepare different variations of it to have when they want to enjoy a quick, simple, and flavorful snack.
***Use special promo code HELLO20 to take 20% off your first order in the shop including the SUPER MEGA ULTIMATE Large Family Freezer Meals Bundle here!**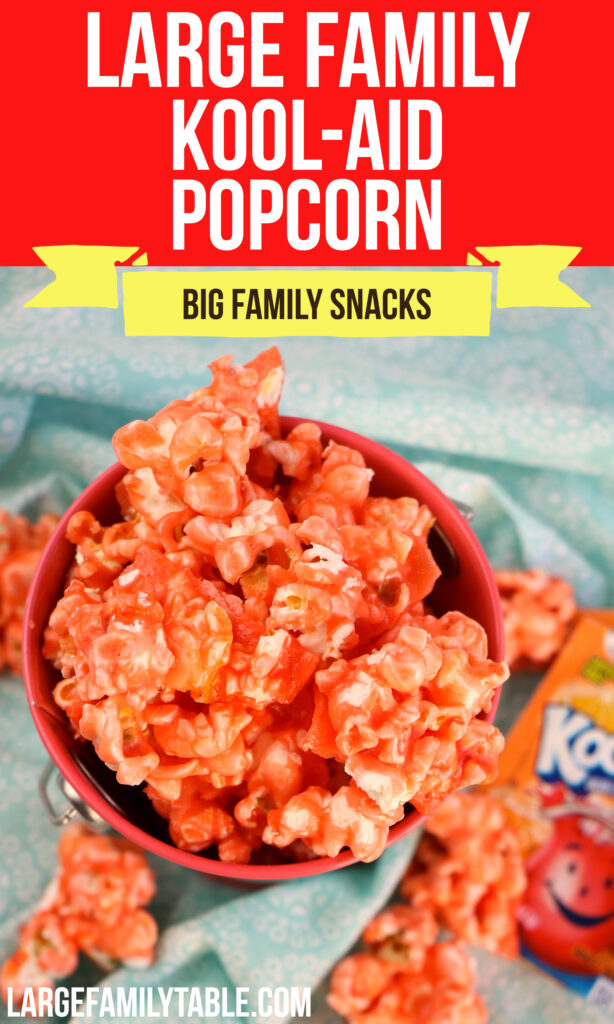 What You Will Need to Make the Big Family Kool-Aid Popcorn
When making the Big Family Kool-Aid Popcorn, there are a few ingredients you should have, such as:
Popped Popcorn. You can pop the popcorn ahead of time the old-fashioned way or in the microwave.
Light Corn Syrup. Adding corn syrup to the popcorn is the best way to get the Kool-Aid packet to stick to it.
Kool-Aid Unsweetened Drink Mix. Pick your favorite flavor of Kool-Aid to use on the popcorn.
Butter. The butter melts over and adds more flavor to the popcorn, giving it the perfect taste.
Additional ingredients needed to prepare the popcorn include salt, sugar, and baking soda. If you want to add more color to the popcorn, you can use food coloring to make it look even better.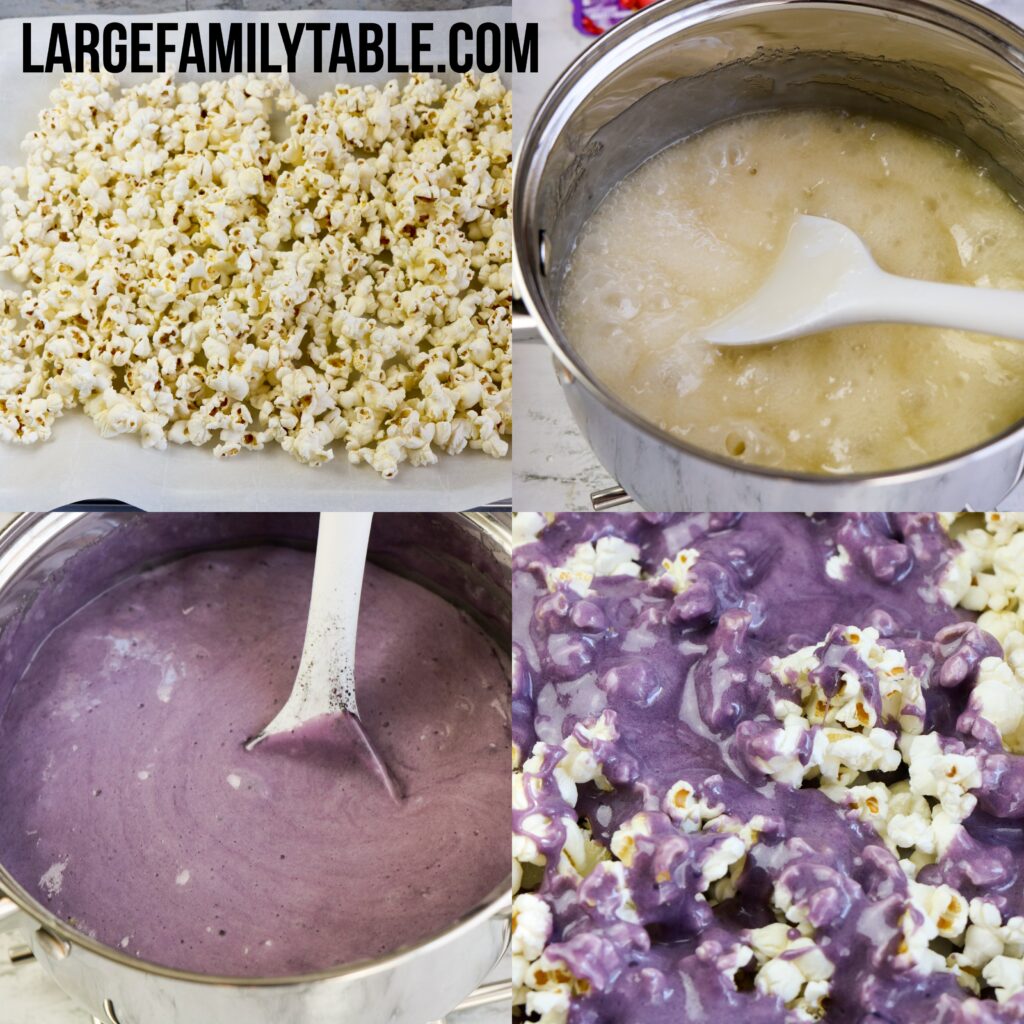 Ways to Store the Big Family Kool-Aid Popcorn
After you make the Big Family Kool-Aid Popcorn, you may have a lot of it and need an excellent way to store it. The best way to keep the popcorn is to put it in a sealed container. You can use an airtight food storage container or food storage bag with a zipper seal.
If you use the food storage bag, remove any extra air after adding your popcorn to it.
You do not need to store the popcorn in the fridge or freezer to keep it fresh.
You can put it in the pantry or leave it on the kitchen table as long as you have it in a suitable container.
You can leave the popcorn the way that it is or create popcorn balls with it. If you create popcorn balls, you can wrap each one in plastic wrap before putting it in the food storage container, making it easier for your family to grab and go when they want some sweet popcorn to eat.
How to Make Different Variations of the Big Family Kool-Aid Popcorn
You can make several variations of this sweet treat by using different Kool-Aid packets. Grape, cherry, and orange are just a few popular flavors, but you can choose any Kool-Aid flavor that you and your loved ones like most.
You might want to separate the popcorn into bowls and use different Kool-Aid packets for each bowl. Adding ingredients to your popcorn is also optional. You might want to toss in some chopped peanuts, mini M&Ms, or other types of candies to add to the flavor of this treat.
Here are more fun snack ideas for your large family.
Here are many more snack ideas and 20+ Make-Ahead Cookies that make great snacks, too.
Do you have more baking recipes to save me money?
Baking is a great way to save money on groceries. Buying prepackaged bread, rolls, muffins, baking mixes, and sweet treats can get expensive fast. Baking ahead and freezing it in the freezer means it's ready for you when you need it and you can make it when you have the time. Try my Frugal from Scratch Baking Recipes and Staples Book One for lots of money-saving recipes like Depression Era Chocolate Cake plus three other sweet treats, four delicious versions of bread recipes, plus baking staples like cake mixes, baking mix, baking powder, and more. My Frugal From scratch Baking Book Two expands into ten new recipes. Grab them both in the DOUBLE BUNDLE!! Frugal From Scratch Baking Recipes & Baking Staples to save even more!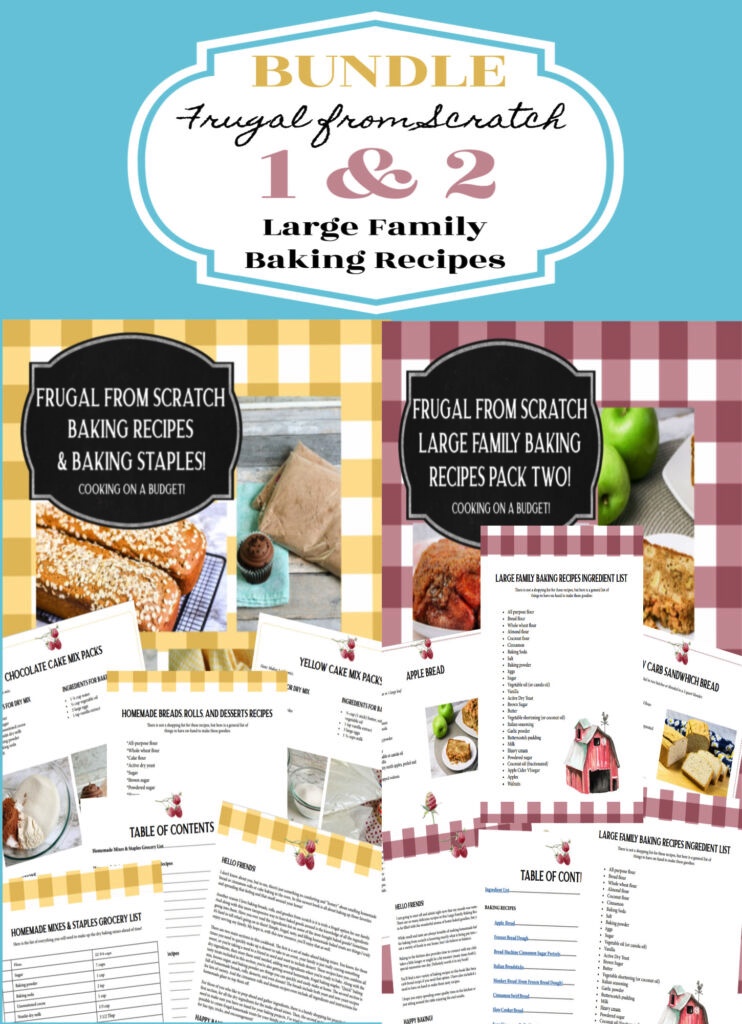 Big Family Kool-Aid Popcorn
Print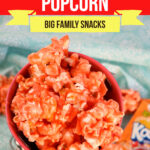 Big Family Kool-Aid Popcorn | Snacks for Large Families
Author:

Prep Time:

20 minutes

Cook Time:

40 Minutes

Total Time:

1 hour

Yield:

12 Cups

Category:

Snack

Method:

Oven
---
Description
Prepare a sweet popcorn treat for the family using minimal ingredients. The Big Family Kool-Aid Popcorn recipe is easy to follow and will leave you with a tasty treat to have at home or on the go.
---
Ingredients
12 cups popped popcorn (about ⅓ cup unpopped kernels)

Salt, if desired

1 cup sugar

½ cup light corn syrup

⅓ cup butter

1 envelope Kool Aid unsweetened drink mix

½ teaspoon baking soda

Food coloring, if desired
---
Instructions
Preheat oven to 225 degrees. Prepare a large, rimmed baking sheet with parchment paper spritzed with non-stick cooking spray.

Spread popped popcorn over the baking sheet and salt, if desired.

In a medium saucepan, combine the sugar, corn syrup, and butter. Cook over medium-high heat for 3 minutes, stirring occasionally. 

Remove from heat and stir in the Kool Aid and baking soda until combined.

Pour over the popcorn and toss the popcorn to coat.

Bake for 40 minutes, stirring every 10 minutes.

Allow to cool completely before breaking into pieces.

Store in an airtight container.
---
Notes
Note: You can use your favorite flavor of Kool Aid. If you do not like the color, you can alter primary colors with additional food coloring.
Keywords: Big Family Kool-Aid Popcorn
This tasty treat is a fun snack for family movie night. Make this ahead of time and enjoy your family evening together.
FREE Emergency Pantry Planning Pack!
Don't forget to sign up for the emergency pantry planning pack for free to help you plan your pantry meals! The free Emergency Pantry Planning Pack will help you plan your needed pantry items! Printable pages include pantry inventory, grocery lists, meal planners, list of pantry staple items, and more.