It's no secret I love having large family freezer meals prepped and ready to go! We have a bunch of fresh fruit and veggie options for snacks. I also like to have make-ahead freezer friendly snack items available as well, like these homemade protein bites!
Large Family Snacks are always a hot topic amongst moms because we love fresh ideas to keep these kids fed and happy. These homemade protein bites are also called energy bites, power bites, protein balls, and energy balls. Whatever you call these snack ideas they are healthy and protein packed.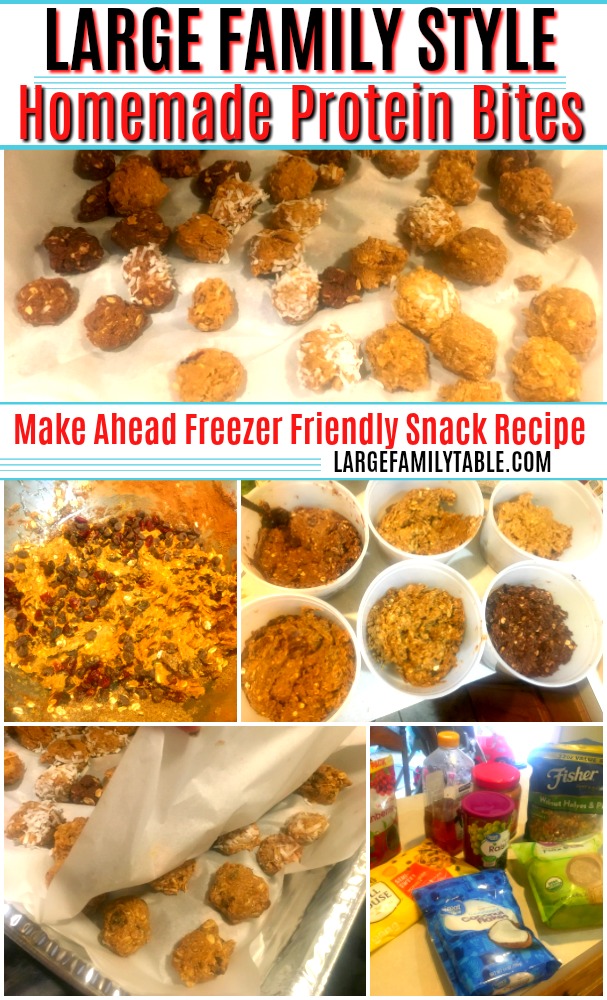 My kids come running with I'm making homemade protein bites because they know making these will be a yummy good time. I made about 12 dozen (yes, 12 dozen!) the other week and the kids were thrilled. These protein balls are freezer friendly, so I can meal prep hundreds of them to have in the freezer for snacks when they're needed. Part of our lunch on our recent trip to Washington DC to see the cherry blossoms was a big pack of these homemade protein bites!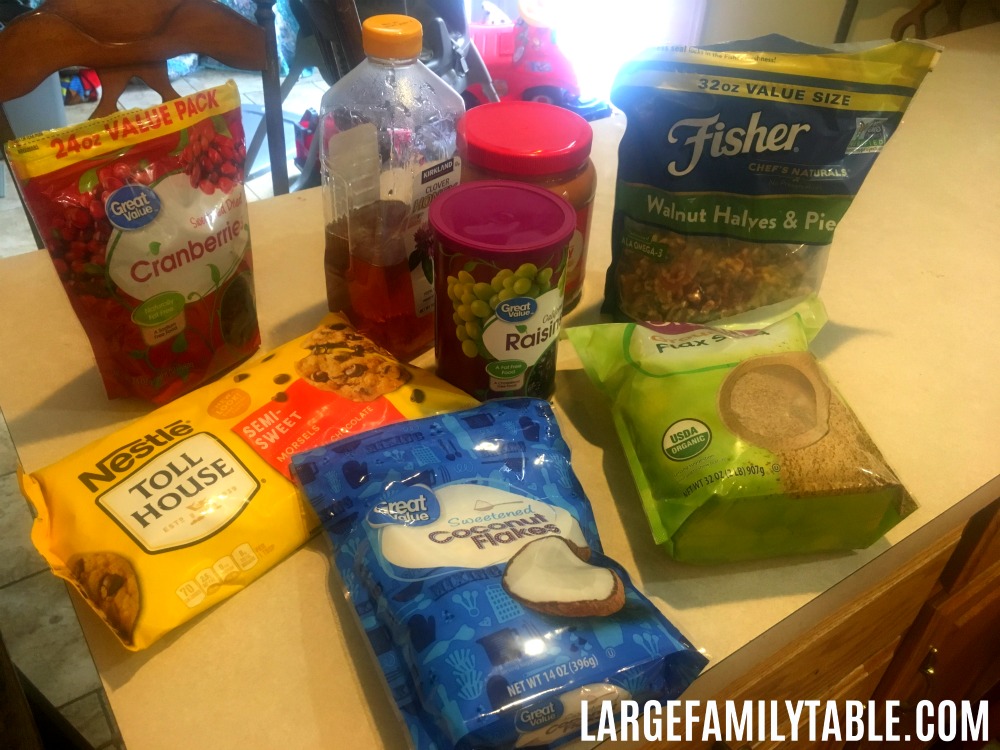 Homemade Protein Bites Recipe
These homemade protein bites are a no-bake recipe. This allows the kids to jump in and "help" momma whip these up fairly quickly. The 4, 6, and 8-year-olds were my special helpers this go round. They loved each mixing up their own special flavors. We made a Coco Chocolate Chip, Coconut Walnut, Cranberry Chocolate Coconut, Raisin Crasin Nut, so many variation ideas!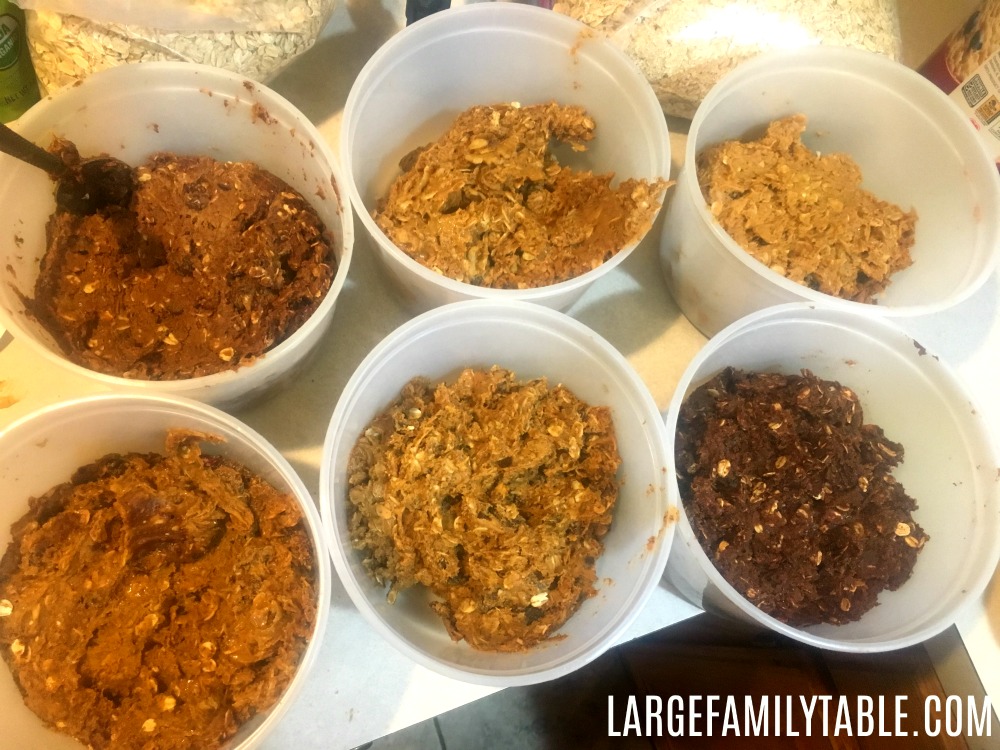 It was very tempting to add chocolate chips to each batch of protein bites. It was also tempting to roll each protein ball in shredded coconut flakes – that's the fun part. We resisted though and made six different flavors as you'll see below.
Freezer Friendly Snacks
After we made six different energy ball variations we stuck each bowl of no-bake ingredients in the refrigerator for about an hour or so. Then we washed our hands well and went to hand rolling our homemade protein bite creations! This is where the kids had a ton of fun. They rolled the energy bites in shredded coconut here and there, too. We lined a large baking pan with parchment paper and did layer upon layer of protein bites.
With four pairs of hands rolling peanut butter balls we didn't worry with keeping all six flavor creations on separate sheets. We had coco chocolate bites beside Cranberry Walnut bites; every protein bite made friends. 🙂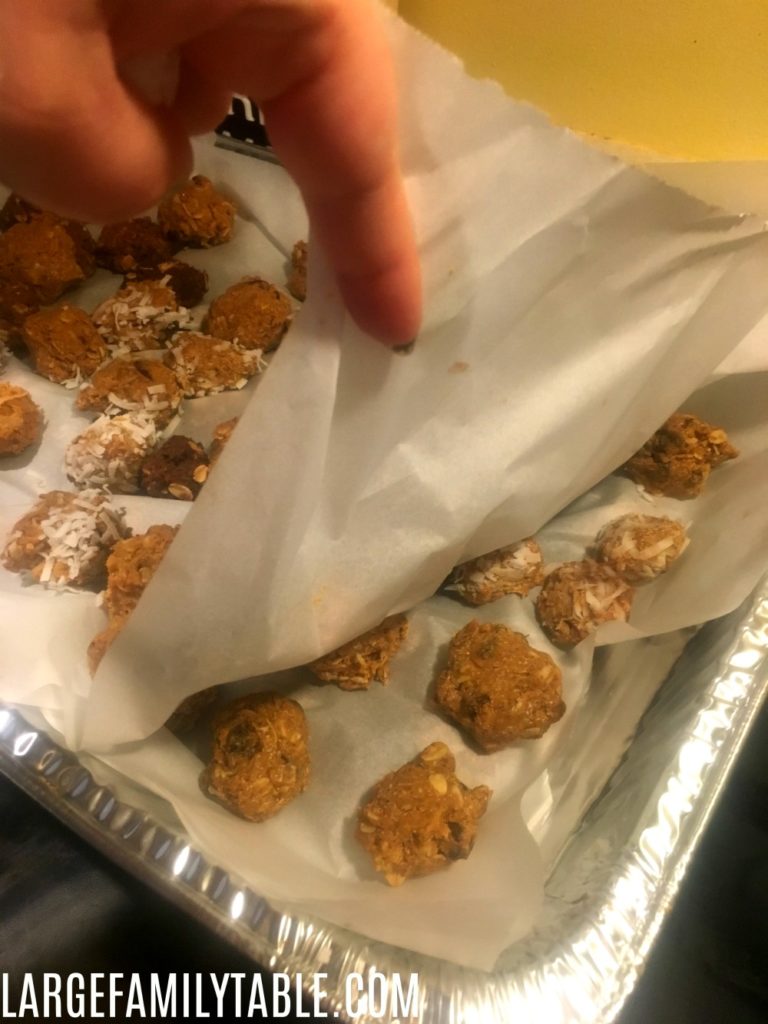 I stuck both pans that were loaded down with layers and layers of protein bites in the freezer to flash freezer for a few hours. It was nearing bedtime so I ended up leaving both pans full in the freezer overnight. The next morning we divided the frozen balls into baggies with about two dozen energy balls per bag.
We keep these frozen bags of protein balls in the freezer until we need them. Like I do with a lot of made ahead frozen food, I just set these frozen protein bites out from the freezer into the refrigerator the night before we need them. The following day we pack them in lunches for homeschool group, field trips, or to have as a fun available snack for the day. With eight kids having protein bites for snacks that means each kiddo has about 3 "bites" each out of a two dozen pack.
Print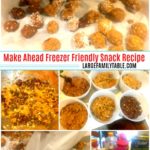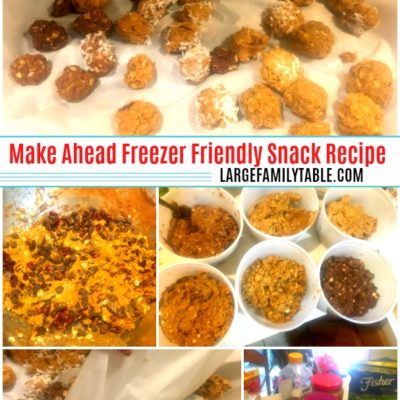 Homemade Protein Bites | Make Ahead Freezer Friendly Snack Recipe
---
Description
Make ahead big batched of no-bake homemade protein bites for healthy family snacks! These energy balls are freezer friendly and easily adaptable.
---
Ingredients
Here are the base recipe ingredients you'll need to add to every batch. This homemade protein bites recipe makes approx. two dozen energy balls. I multiply this recipe by six or 8 plus add in additional recipe ingredients below when I want to make a bunch of twelve dozen or more!
2 cups of Peanut Butter
1 cup of Old Fashioned Oats
1/2 cup of Milled Flax
1/4 cup of Honey
Here are recipe combination ideas. Use the above base ingredients plus add in the following:
For Cocoa Chocolate Bites add in 1/4 cup unsweetened cocoa powder and 1/2 cup of chocolate chips.
For Cranberry Raisin Chocolate Chip Protein Bites add in 1/2 cup dried cranberries, 1/2 cup raisins, 1/2 cup chocolate chips.
For Coconut Walnut Energy Bites add in 1/4 cup shredded coconut flakes, 1/2 cup of walnut pieces.
For Chocolate Chip Raisin add in 1/2 cup chocolate chips and 1/2 cup raisins.
For Cranberry Coconut add in 1 cup dried cranberries and 1/4 cups shredded coconut flakes.
For Coconut Chocolate Chip add in 1 cup chocolate chips and 1/2 cup shredded coconut flakes.
---
Instructions
Mix the various flavors you choose in separate bowls. Chill mixes for 30 minutes to an hour. Roll mixture into small balls. Additionally, roll some protein bites into shredded coconut if you'd like. Flash freeze protein bites in the freezer for at least two hours. Once frozen divided into multiple freezer bags. Label and store up to three months. When you'd like to add homemade protein bites to your snack options just set a frozen bag out into the refrigerator the night before to thaw.
This No-Bake Peanut Butter Bites Recipe was featured in Large Family Meal Plan #2. You can find more large family meal plans here.
❤️ COOK and CLEAN with Me | No-Bake Peanut Butter Bites RECIPE
Here on YouTube you can watch me make these homemade protein bites recipe with six different varieties! You can also watch me clean up my messy kitchen while we're at it!!
ALSO, don't forget to grab the SUPER MEGA Large Family Food Collection here!