For a Mexican-style dinner that is sure to please the family, try these Chicken Fajita Quesadillas. They are full of flavor and fresh ingredients that will keep you coming back for more. Bonus: you can make them ahead and freeze them to save time.
When I crave something different from a traditional dinner consisting of meat with veggies and a different side, or pizza, I like making these Chicken Fajita Quesadillas. They are simple enough to make, and they are a crowd-pleaser. You can make these ahead and freeze them. Then when your children are ready for lunch they can grab them out and pop them in the microwave. Easy-peasy!
*Use special promo code HELLO20 to take 20% off your first order in the shop including the SUPER MEGA ULTIMATE Large Family Freezer Meals Bundle here!**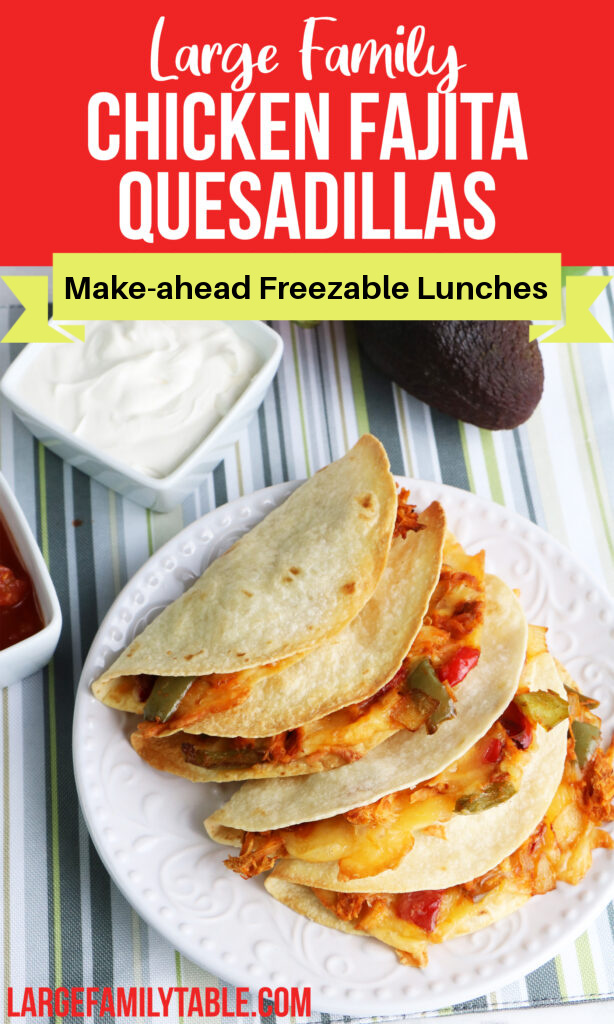 Chicken Fajita Quesadillas
I love the quesadillas because I can easily make them and stuff them with ingredients that are good for us, including freshly seasoned chicken, colorful peppers, and shredded cheese. It is the only time that I can get my children to eat peppers!
If your children continuously complain about eating the same meals for dinner, this recipe for Chicken Fajita Quesadillas is worth trying. It contains ingredients that are a good source of protein and vitamins. You can even add extra vegetables to your Chicken Fajita Quesadillas if you would like to make them even healthier for your children.
Cheese Options For Your Chicken Quesadillas
The cheese options for the Chicken Fajita Quesadillas are endless. I like to use Monterey Jack cheese with sharp cheddar cheese. I think the combination works perfectly. However, you can substitute these options and add as many of your favorite cheeses as you would like.
Some people want to use a blend of Monterey Jack cheese with mozzarella cheese and mild cheddar cheese. Experiment with some of the options and add as much or as little cheese as you want to give your quesadillas the perfect flavor.
Dipping Sauce Ideas For the Chicken Fajita Quesadillas
The Chicken Quesadillas taste great by themselves, but they are also good when dipped in different sauces. I love to have multiple sauces available for us to have at the dinner table because then we each can choose a sauce that we prefer.
Some of the best dipping sauces for these Chicken Fajita Quesadillas include fresh sour cream, salsa, pico de gallo, and guacamole. You might also want to make a melted queso dip to have on the side for these quesadillas if you are a true cheese lover.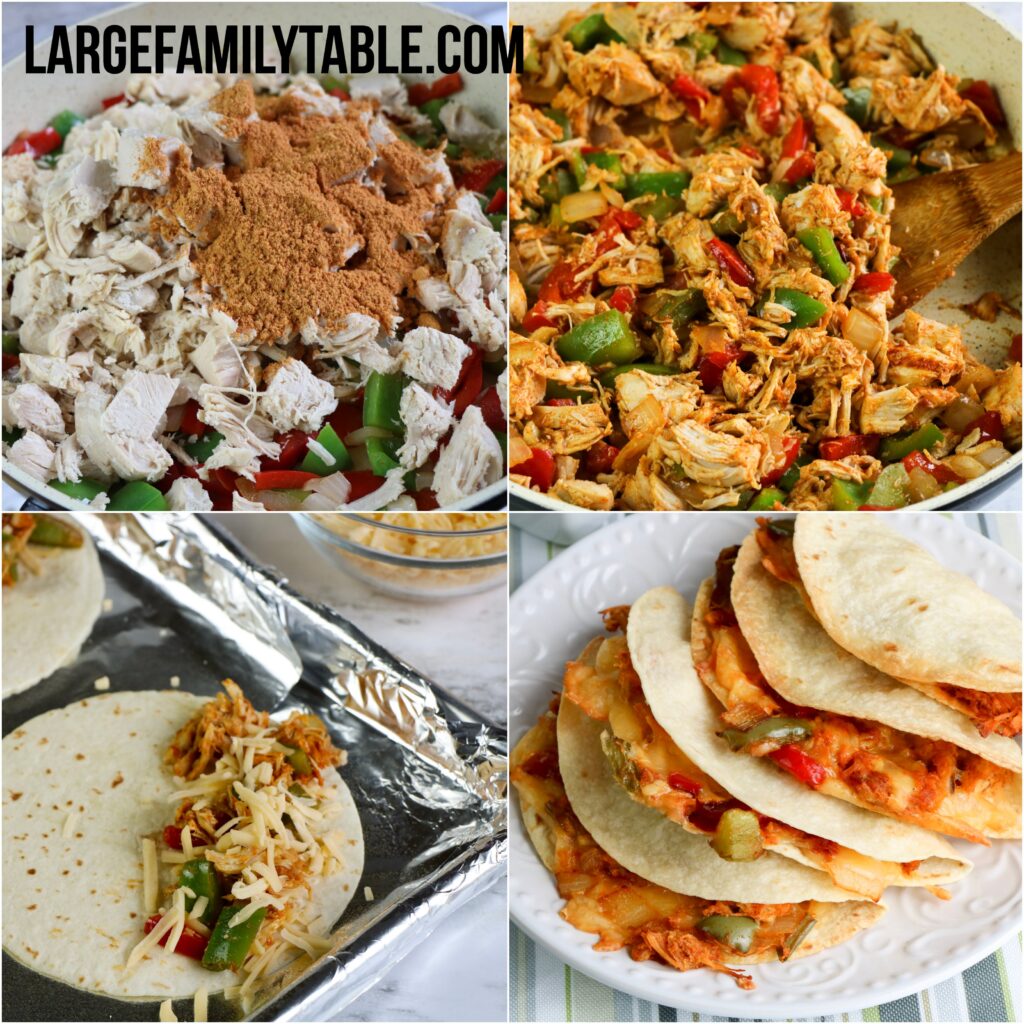 How to Make-ahead and Store the Quesadillas
When storing these quesadillas, make sure to put them in a sealed food container. You should never leave the quesadillas out.
Place your food container in the fridge and keep them fresh for up to five days if you are eating them right away.
Place them in the freezer and heat them as needed for up to two months.
When removing the quesadillas from the refrigerator, set them on a microwave-safe plate, and heat them for less than a minute in the microwave to get them warm again. If they were in the freezer you may need to add a bit more time.
If you want to avoid using the microwave, you can add a bit of butter or cooking oil spray to a frying pan and reheat them on a low heat on your stovetop.
No matter which method of reheating you choose, your Chicken Fajita Quesadillas will taste just as good as they did when you initially made them.
I hope your family enjoys these Chicken Fajita Quesadillas just as much as we do around here. Leave a comment and let me know if you made them for your large family table!
Need more delicious dinner ideas?
If you loved this recipe for Chicken Fajita Quesadillas, you have have to see the other flavorful recipes in my shop!! Be sure to check out my Easy and Simple Large Family Sheet Pan Dinners Pack One, my Easy and Simple Sheet Pan Breakfasts Pack Two, and my Easy and Simple Sheet Pan Lunches Pack Three. You can also grab them all in this amazing bundle of ALL THREE Sheet Pan Packs. 
Here are more Fajita and dinner recipes your family will enjoy!
Chicken Fajita Quesadillas
Print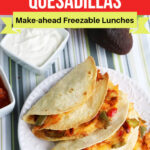 Chicken Fajita Quesadillas | Make-ahead Lunch for Large Families
Author:

Prep Time:

20 minutes

Cook Time:

15 Minutes

Total Time:

35 minutes

Category:

Dinner/Lunch

Method:

Oven
---
Description
For a Mexican-style dinner that is sure to please the family, try these Chicken Fajita Quesadillas. You won't believe the flavor!
---
Ingredients
3 boneless skinless chicken breast, cooked and cubed
¼ cup taco seasoning
1 tablespoon olive oil
2 medium bell peppers, seeded and diced
1 medium red onion, seeded and diced
1 cup water
2 (8.2 ounce) packages fajita size flour tortillas
2 to 3 cups shredded quesadilla cheese
---
Instructions
Preheat the oven to 375 degrees. Prepare a large baking sheet with aluminum foil and spritz with nonstick cooking spray.

In a large (12 inch) skillet over medium heat, heat the olive oil for 1 minute. 

Add bell peppers and onion to the skillet and cook until softened as desired.

Add chicken and taco seasoning to the skillet with water. Cook for 4 to 5 minutes or until the water has evaporated.

Place tortillas on the baking sheet. Sprinkle cheese over ½ of each tortilla. Then, sprinkle with chicken mixture and additional cheese. 

Fold the tortillas over and brush with melted butter.  

Cover the tortillas with another baking sheet.

Bake between the two pans for 15 minutes.  Remove the top pan and continue to bake for 8 minutes.
Keywords: Chicken Fajita Quesadillas
This recipe is perfect for lunch, but I have also used it for dinner. So versatile! I love a meal that covers more than one meal.
FREE Emergency Pantry Planning Pack!
Don't forget to sign up for the emergency pantry planning pack for free to help you plan your pantry meals! The free Emergency Pantry Planning Pack will help you plan your needed pantry items! Printable pages include pantry inventory, grocery lists, meal planners, list of pantry staple items, and more.