This large family mama loves slow cooker recipes. All of my people, big and small, are fans of this crockpot kielbasa and potatoes recipe that is tasty, easy, and frugal. This great recipe makes it a regular in our meal plan rotation for weeknight dinners.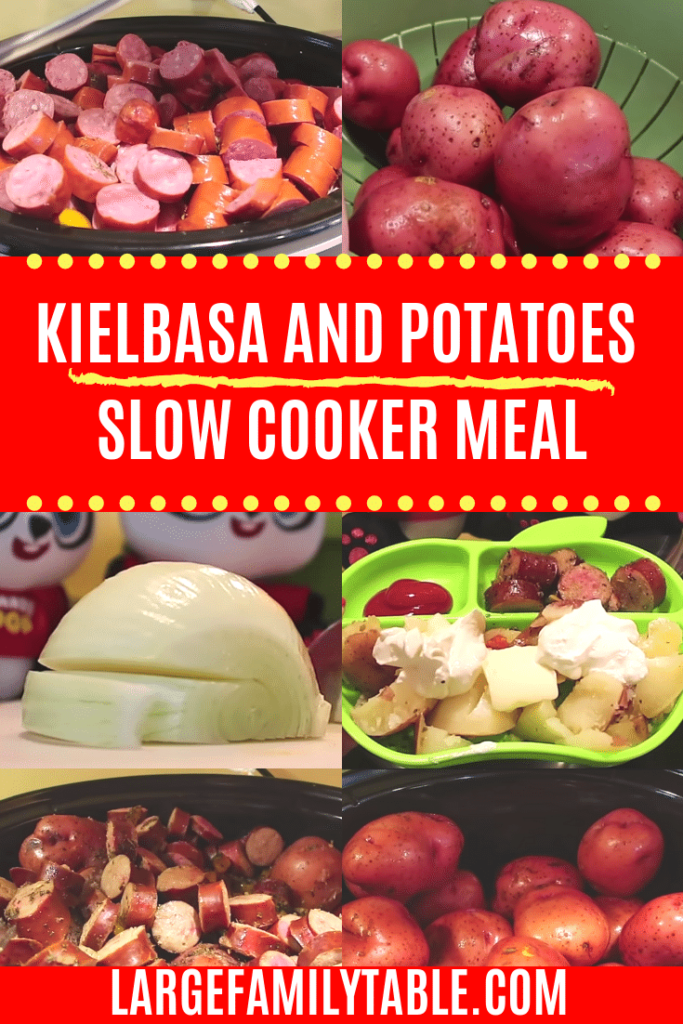 Kielbasa and Potatoes Recipe
It's an easy dinner recipe for those days when you will be out of the house for a long time similar to slow cooker sausage baked ziti. You can throw it together in just a few minutes in the morning and let it cook all day long and it is ready for any busy weeknight.
Any recipe that I can put together in less than 10 minutes is a winner on days when this mama needs to get out the door quickly. Even better are the recipes that don't require any additional steps after cooking. This recipe meets that criteria so it is a keeper that the whole family enjoys.
How to Make Slow Cooker Kielbasa and Potatoes
This kielbasa crockpot recipe is such and easy recipe to make, you don't even need to slice or even pierce the potatoes ahead of time. It only used a handful of ingredients, so it is super fast to put together.
Wash the entire 5 lb bag of potatoes.
Add your oil to the bottom of the crockpot.
Place whole potatoes into the slow cooker.
Chop your onions and peppers.
Slice the kielbasa in 1-inch pieces.
Layer the onion, peppers and kielbasa slices in the slow cooker.
Add your seasonings.
Turn on low and forget about it for the next 8 hours.
What is the difference between kielbasa and sausage?
Kielbasa and sausage are pretty much the same thing. Kielbasa is the polish word for sausage. A kielbasa is a polish sausage. The spices in kielbasa are different than those in a smoked sausage. Kielbasa is meat with ground up spices. The texture is more rough than a smoked sausage.
Kielbasa has a more distinctive taste of garlic, cloves, marjoram and pimentos which gives it an amazing flavor. Smoked sausage has a more smoky flavor with only salt and pepper added. There are no ground spices in a smoked sausage so it has more of a smoother texture to it.
Both of these sausages are already precooked which makes them super easy to just heat up. They can be found in the refrigerated section of your grocery store.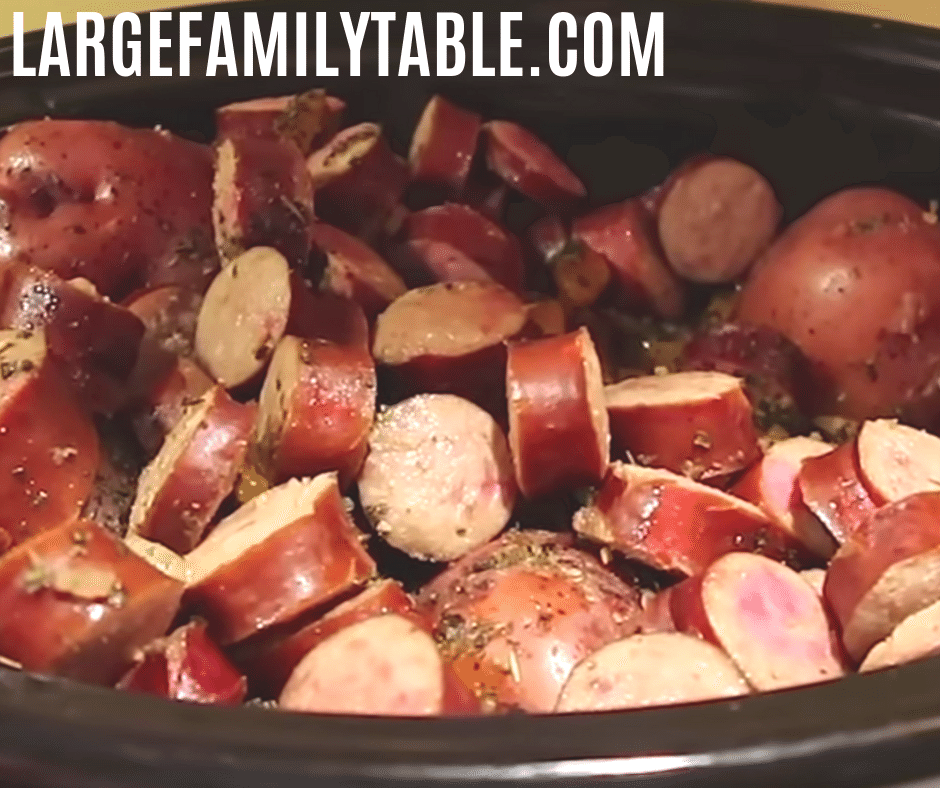 Slow Cooker Kielbasa and Potatoes Recipe Ingredients
This is truly such a simple dish with simple ingredients that you can whip up in just a few minutes. Your entire family will really enjoy this easy kielbasa recipe.
5 lb bag of small red potatoes
2 Tbsp olive oil
1 large onion (we like the sweet onion variety)
3 colored peppers (whatever color you want)
3 lbs beef kielbasa
1 tbs dried basil
1 tbs rosemary
1 tbs minced garlic (or garlic powder)
Recipe Variations
Peppers – Green peppers are normally what are used for this recipe, but you can use sweet Italian peppers or the tri colored stop light bell peppers.
Heat – You can add crushed red pepper or a cajun seasoning if your family likes spicier food items. This will give it a nice medium heat flavor.
Potatoes – We used red potatoes for this recipe. You can use baby potatoes or yellow potatoes like yukon gold as well. Russet potatoes are not recommended as they get dry and crumbly.
Onions – sweet yellow onions are our favorite, but you could use red or purple onions for a fun variety.
What to Serve With This Kielbasa and Potatoes Meal
You can make this a really hearty meal by adding some extra side dishes to it. Macaroni and cheese, marinated cucumber salad, sauerkraut, and applesauce are a great addition to serve along side this for a complete meal.
Since you don't have to prepare this meal, while it is cooking you can easily have the kids set the table and prepare one or two sides to go with it. It is that easy and convenient!
How to Store Leftover Kielbasa and Potatoes
If you are have leftover kielbasa and potatoes you can store your leftovers in an airtight container in the fridge. This will make a great easy lunch the next day and should last up to 3 days refrigerated.
Looking for More Slow Cooker Tasty Recipes?
Low Carb Broccoli Cheddar Soup – Looking for a hearty soup the whole family will enjoy? Everyone will love this low carb broccoli cheddar soup made in the crock pot.
Slow Cooker Italian Chicken Recipe – This is such an easy recipe that is truly a dump and go meal.
Sausage Baked Ziti in the Slow Cooker – Another hearty dish that is easy to throw together in the slow cooker.
Freezer Meals For the Slow Cooker – Find out how to make tons of meals for the slow cooker to make your busy life even easier.
100+ Cheap Crockpot Meals For Large Families – Huge list of affordable crockpot meals to feed your large family on a budget.
🎉 Use Coupon Code HELLO20 to take 20% off the SUPER MEGA EXTRAVAGANZA BUNDLE which includes 50+ meal-time sanity-saving products like Big Batch Freezer Meal Guides 1-18!!! 🎉
Slow cooker meals are so easy. Most of them are dump-and-go recipes that you spend ten minutes preparing and a few hours later dinners ready. Yay for convenience! You'll find lots more easy slow cooker meals in my Large Family Slow Cooker Dinners and Meal Plans Vol 1, 2, 3 Bundle. It includes 60 meals and 12 weeks of meal plans!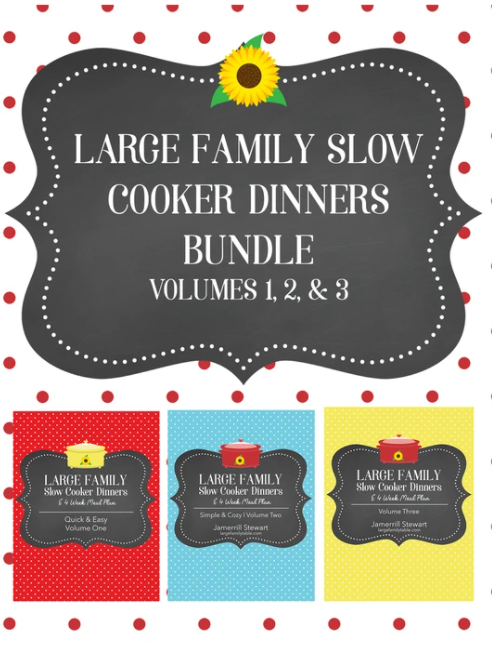 Print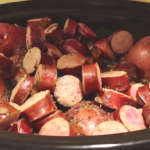 Kielbasa and Potato Slow Cooker Meal
Author:

Prep Time:

10 minutes

Cook Time:

up to 8 hours on low

Total Time:

8 hours 10 minutes

Category:

Dinner

Method:

Slow Cooker
---
Description
This recipe is the easiest crock pot dinner you will ever make for your family. Delicious, easy, and hearty for your growing people.
---
Ingredients
5 lb bag of red potatoes
2 Tbsp oil
1 onion
3 colored peppers (whatever color you want)
3 lbs beef kielbasa
1 tbs dried basil
1 tbs rosemary
1 tbs minced garlic (or garlic powder)
---
Instructions
Wash whole potatoes
Add oil to bottom of crockpot
Place whole potatoes into crockpot
Mince onion and peppers
Add to crockpot
Slice kielbasa 
Place in crockpot
Shake seasonings on top of kielbasa
Put lid on crockpot and turn on low for 6-8 hours
Serve and enjoy!
---
Notes
This will feed all your people with 4 or 5 potatoes leftover for the next day.
Keywords: kielbasa and potatoes slow cooker meal