Large Family Make Ahead Breakfast Sandwiches
My large family crew has found make ahead breakfast sandwiches helpful for busy mornings. With a whole herd of homeschooling children and my husband and I working together to run the business and household, having frozen breakfast sandwiches ready to go is a simple solution for real life.
As a *doing all the things* mom I also love making breakfast freezer meals in bulk. I'll take an afternoon or evening every few weeks and cook in bulk 20-30 breakfasts to use as needed. That's just what I did on my latest freezer cooking day where I made 25+ Make Ahead Breakfast Freezer Meals.
When I recently had to travel to California for 6 days (took our oldest sons – yay!) the six kiddos at home with daddy loved these make ahead breakfast sandwiches. When they'd want to have freezer breakfast sandwiches for breakfast they'd just set a bag of frozen sandwiches from the freezer to refrigerator the day before. I had left them with a freezer full of pre-made goodness so they were in the routine of setting out the next day's food while I was gone.
On breakfast morning they'd unwrap the plastic and heat each breakfast bagel in the microwave for 30-45 seconds. If the middle was still a little cold they'd open up the sandwich to lay both sides open and heat for about 15 more seconds. They were breakfast bagel experts by the time I got home!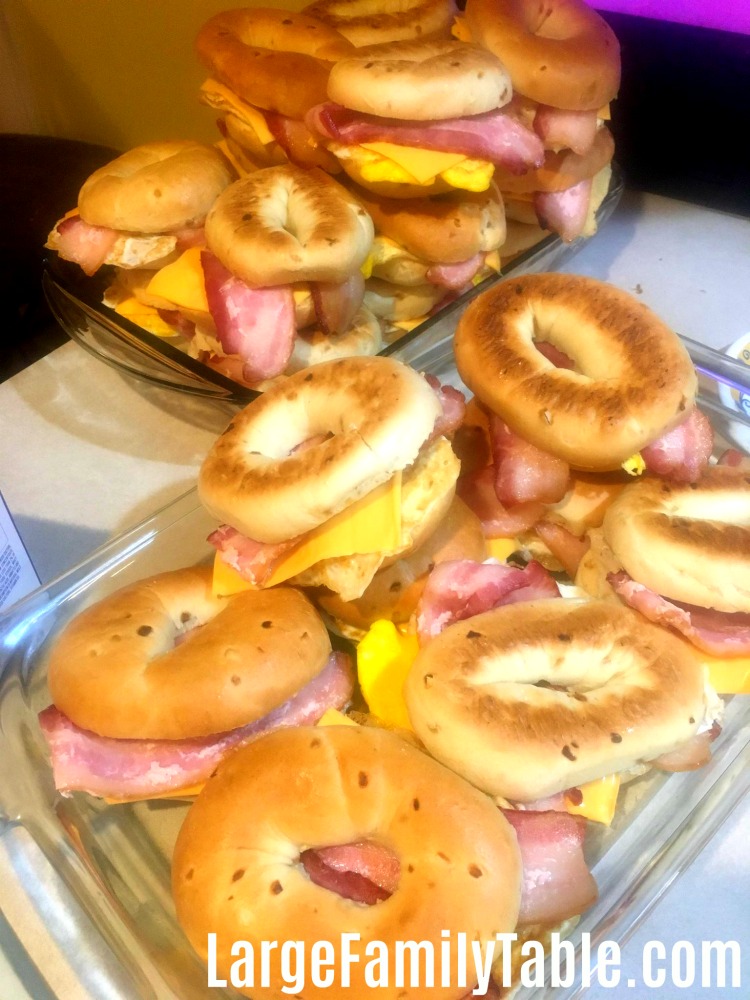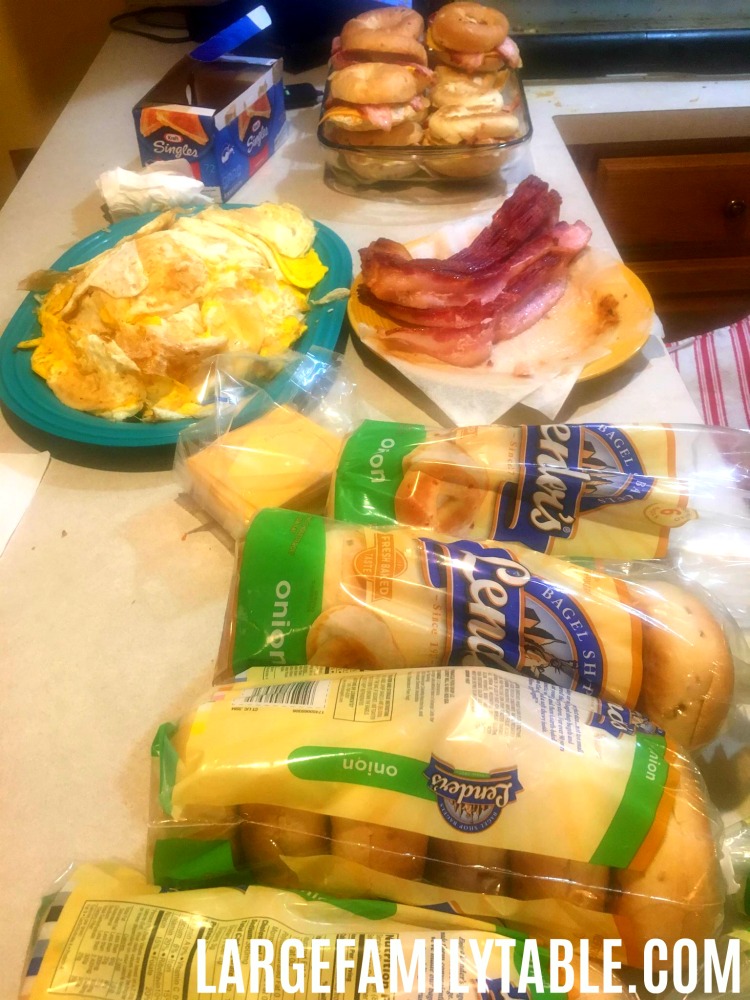 Print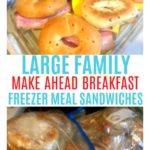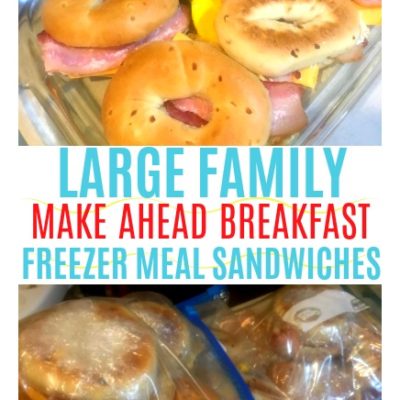 Large Family Make Ahead Breakfast Sandwiches | Bacon, Egg, and Cheese Breakfast Bagels
---
Description
These large family make ahead breakfast sandwiches are perfect for busy families. Our kid's love Bacon, Egg, and Cheese Breakfast Bagels and I bet your family will, too!
---
---
Instructions
On each opened bagel place one fried egg, 1 slice of bacon (you can double it over to fit it inside the bagel), and one slice of cheese.
Wrap each breakfast bagel in plastic wrap.
Place as many bagels as you can in a labeled gallon freezer bag. I can usually fit 6-8 bagels at a time.
Place in freezer for 3-6 months.
---
Notes
FREEZER MEAL DIRECTIONS
The easiest method I have found for using make ahead breakfast bagels as a family meal is to set out a frozen bag of breakfast bagels the day before you need them.
The following day you unwrap each bagel and heat it in the microwave for 30-45 seconds. If the middle of your bagel is cold (this can happen depending on how close to fully defrost your bagel is beforehand) you can open your bagel to lay the middle exposed. Reheat for up to 15 seconds.
Micowave temps and times can vary. Starting with defrost bagels is easiest though. xoxo
Keywords: Make Ahead Breakfast Freezer Meals, Make Ahead Breakfast Sandwiches, Large Family Recipes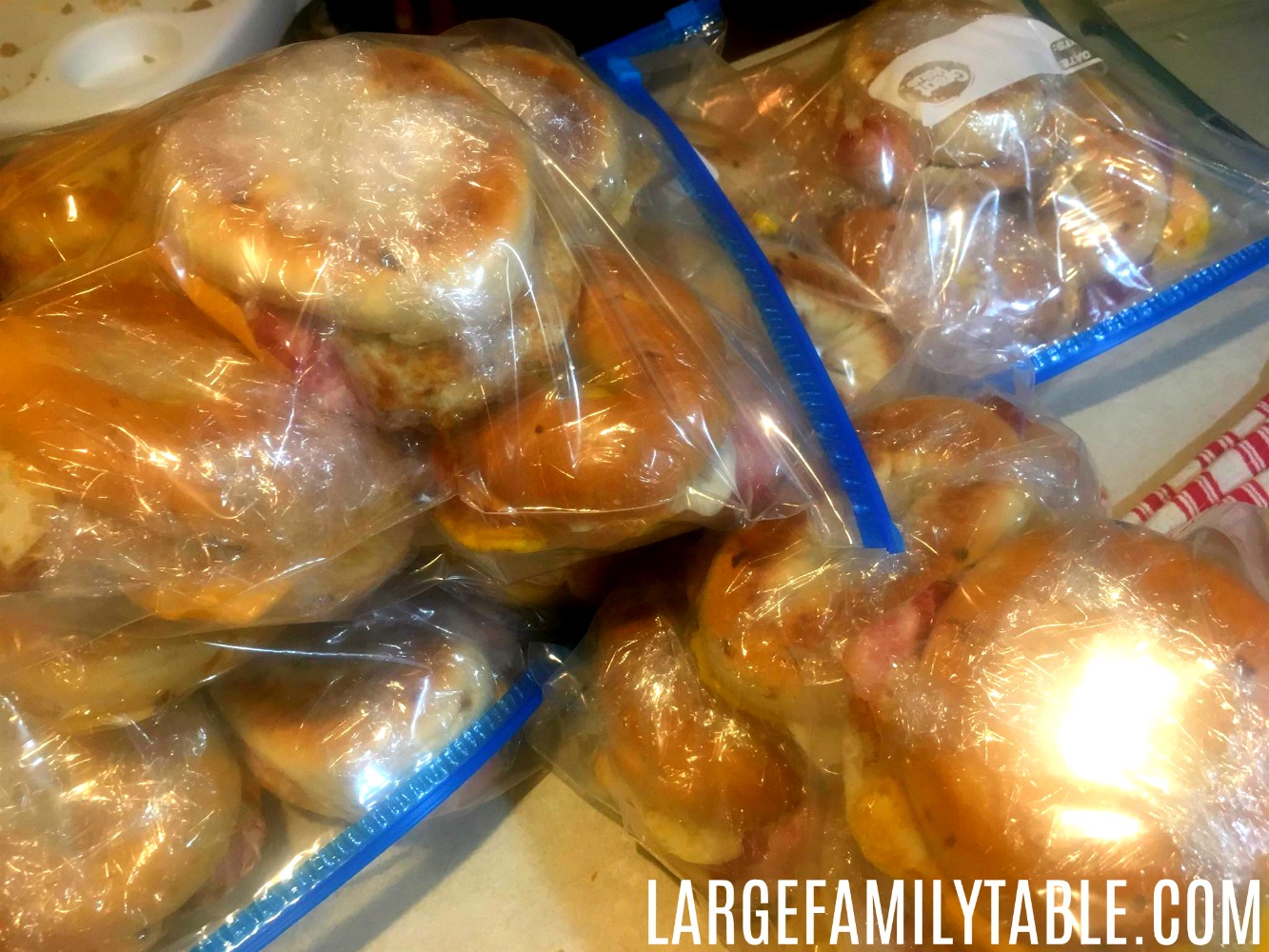 Here are more large family breakfast recipes that your family will enjoy! Be sure to let me know your favorites. xoxo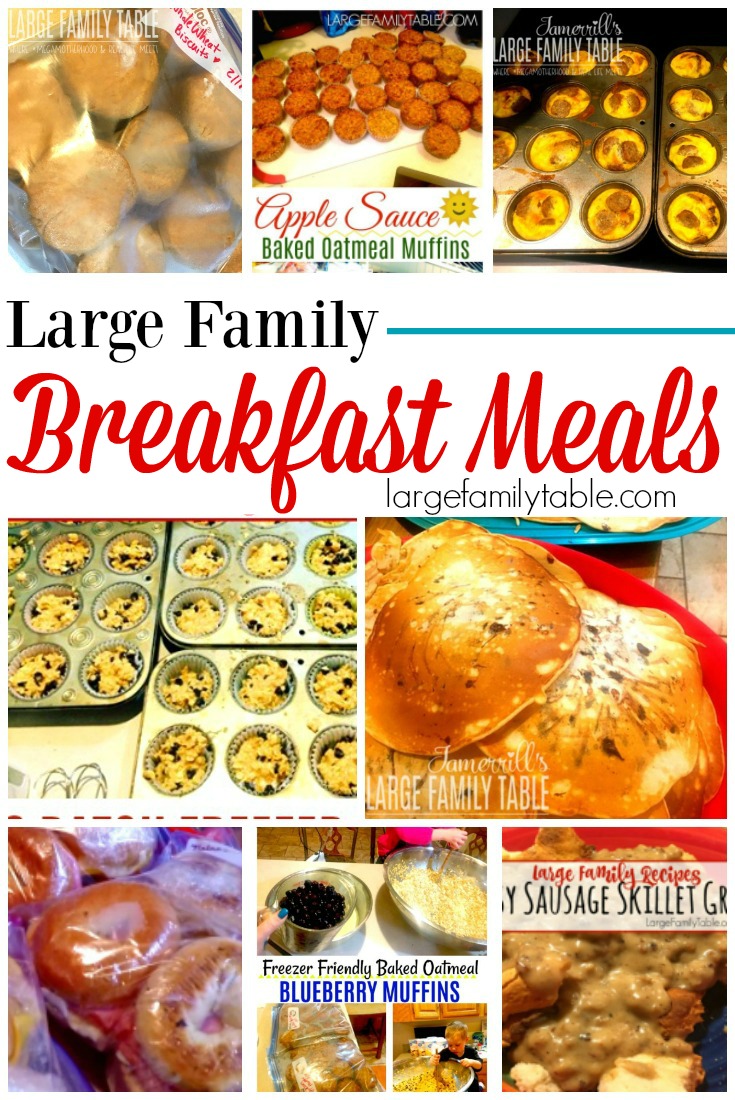 And while you're at it don't miss the FREE Large Family Food Collection!