Get the Best-Selling Large Family Freezer Meals Collection here! Use promo code HELLO20 to take 20% off your first order!
Before we head out the lake for the day, I thought it would be a great idea to start some homemade applesauce and apple butter in the slow cooker. We're going to throw on 2 slow cookers so we have enough for both recipes. This large family mama needs to feed all her people.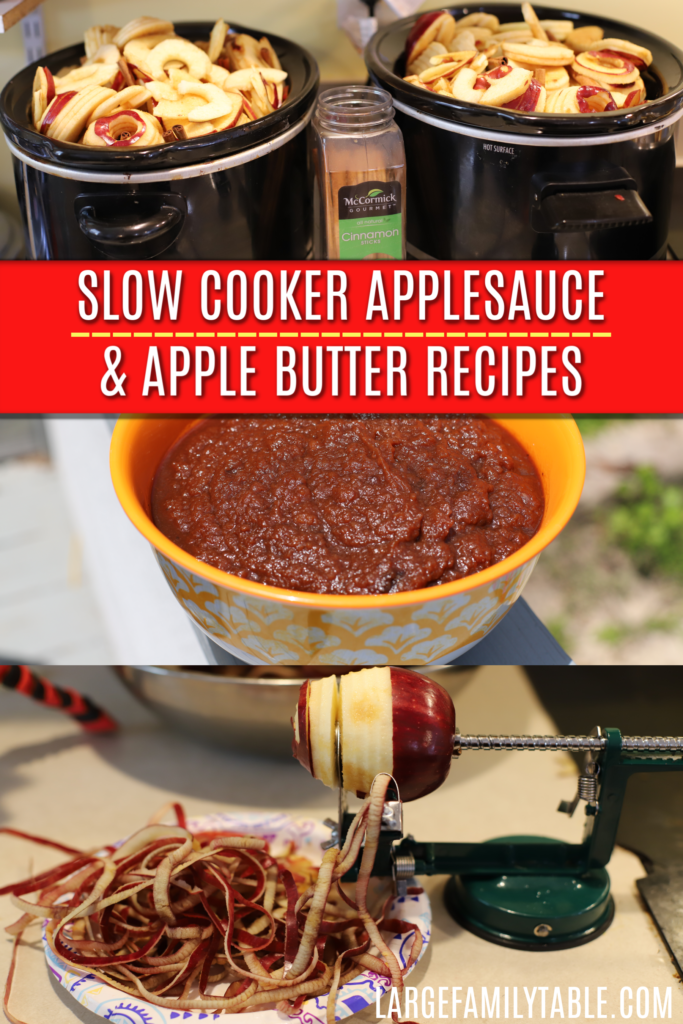 I hopped over to Bed, Bath, and Beyond for an apple peeler/corer because I couldn't get my hands on mine at the moment. This large family mama needs all the help she can get making recipes fast and easy. You can, of course, peel and slice them the old fashioned way. Work smarter not harder is my large family mama motto. Bonus that the kids think it's super fun to do so I get lots of little helpers. Use this handy dandy gadget to peel and core 20 lbs of apples. Yes, 20 lbs. This mama only knows mega and large to get all her people fed.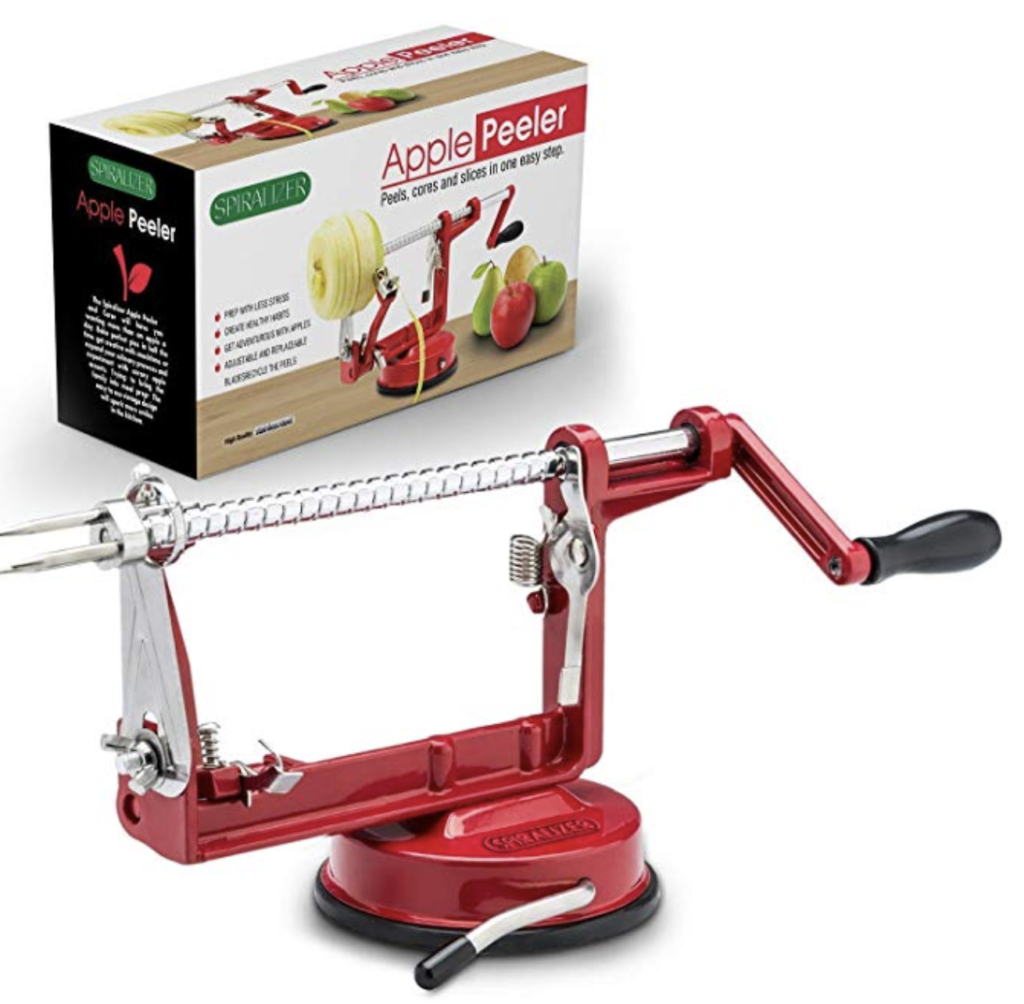 Here's my Amazon affiliate link for a very similar Apple Peeler, Slicer, and Corer as to the one I bought while I was out.
Is no sugar applesauce healthy?
Any applesauce is full of fiber, vitamins, and minerals. No sugar applesauce will be tart but edible. I use a cup of sugar in each slow cooker which makes it sweet but not over the top. You could leave out the sugar or add in any sweetener of your choice like stevia or honey.
What apples are best for making applesauce?
I'm sure there are people out there who will cringe at my next statement. This frugal mama uses whatever apples she can get cheap. Remember I'm a mama chef not a gourmet one. For this recipe, apples are apples. In the video, I use plain old red ones.
How long does fresh applesauce last?
In this house, no more than a couple of days. If you don't have a large family, you could keep it for 10 – 14 days in the fridge. Like yogurt, I would not keep it past 2 weeks. Alternately, you could pop it in the freezer for up to 2 months. Just thaw and eat when an applesauce craving hits.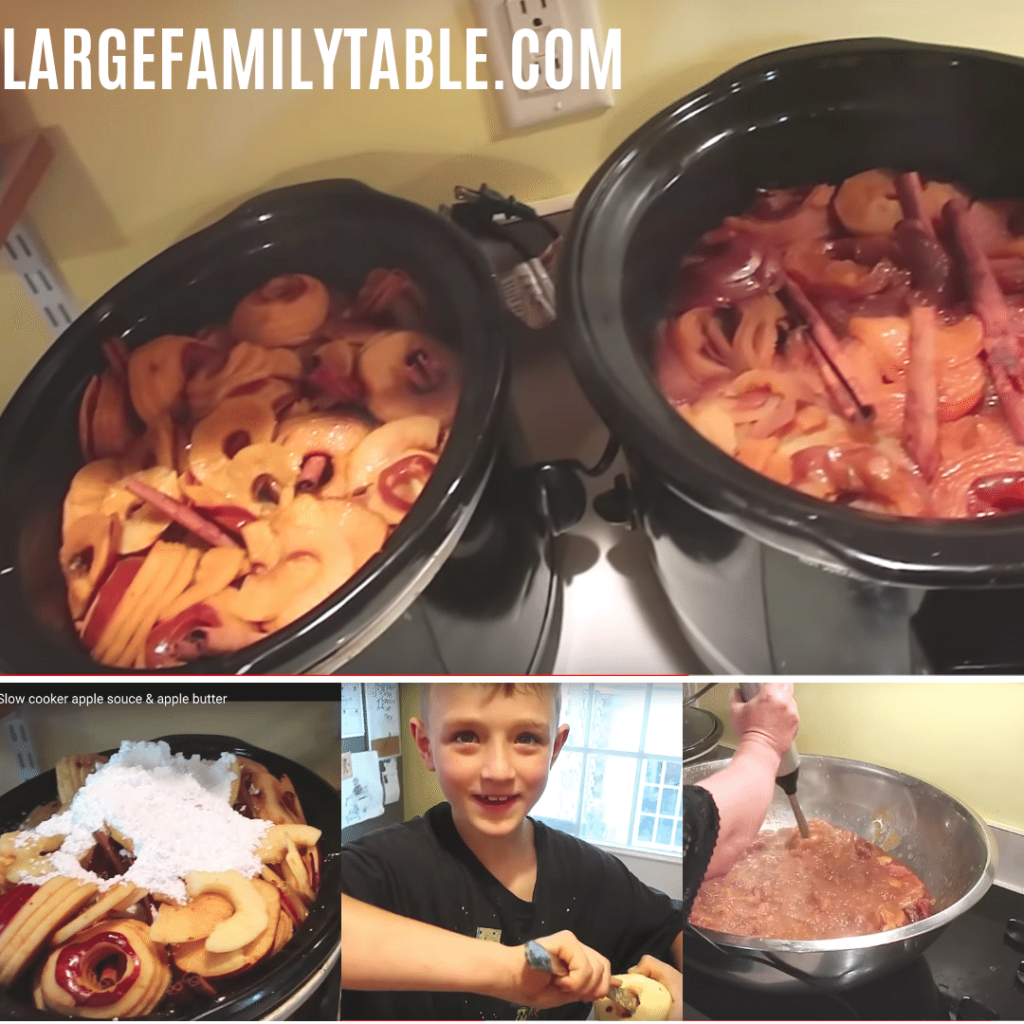 Is homemade applesauce worth the effort?
In this frugal, large family mama opinion, the answer is a hands down yes. It's really not hard to whip together and so tasty. The apple peeler/corer gadget does most of the work. The rest is dump and go. Let me show you how easy it really is to make homemade applesauce/apple butter in the slow cooker.
Divide the ingredients in half then add to separate slow cookers. They will look like they are overflowing. Let them bubble and brew for 8 hours on low or 4 hours on high. When you return, everything will be soft and ready for the immersion blender. Turn off slow cookers. You will have slow cooker applesauce in minutes although apple butter is still hours away.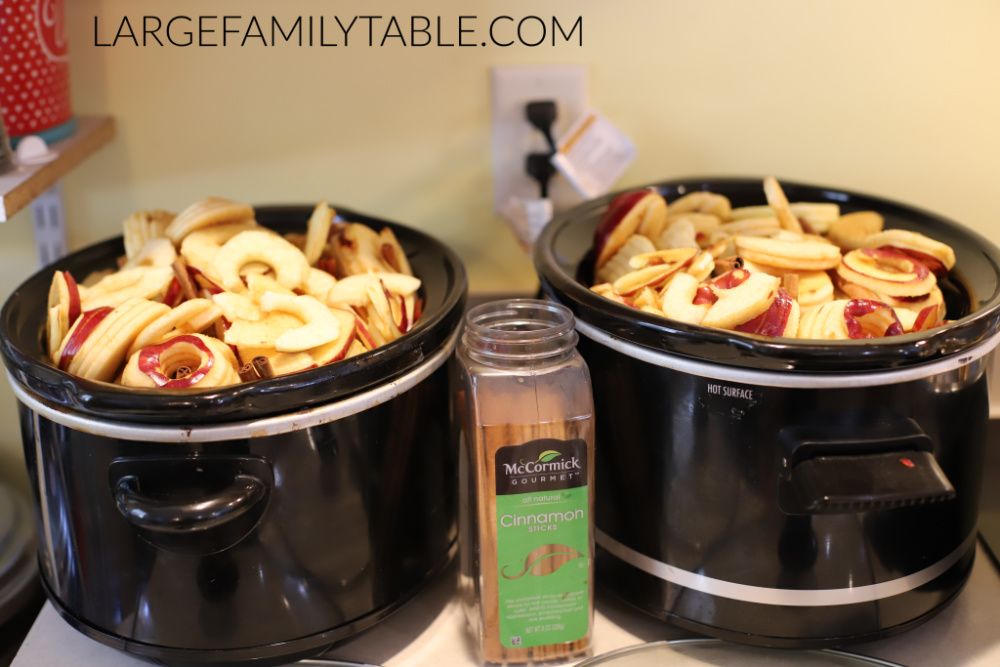 Immersion blend both slow cookers full of soft apples. Fill one of the slow cookers back up halfway with blended apples. Save the rest for applesauce. You could add nutmeg, more cinnamon, or brown sugar to the applesauce if you wish. It's ready to eat as is with nothing else added in case, like me, you need to make a grocery run.
In the half full slow cooker, add 1 teaspoon cloves. Put the lid on and turn it back on low for 8 hours. After 8 hours, remove the lid for an hour or two to thicken it up. You now have super yummy apple butter for toast!
Slow Cooker Applesauce and Apple Butter
Print
Slow Cooker Applesauce and Apple Butter Recipes
Author:

Cook Time:

4-8 hours

Total Time:

4-8 hours

Yield:

6 qts

Category:

Snack

Method:

slow cooker

Cuisine:

American
---
Description
Need a frugal snack for your large family? Slow cooker applesauce and apple butter is easy, tasty and frugal. 
---
Ingredients
20 lbs apples
8 cinnamon sticks
8 TBsp Lemon Juice
2 cup sugar or sweetener of your choice
2 slow cookers
Apple Butter: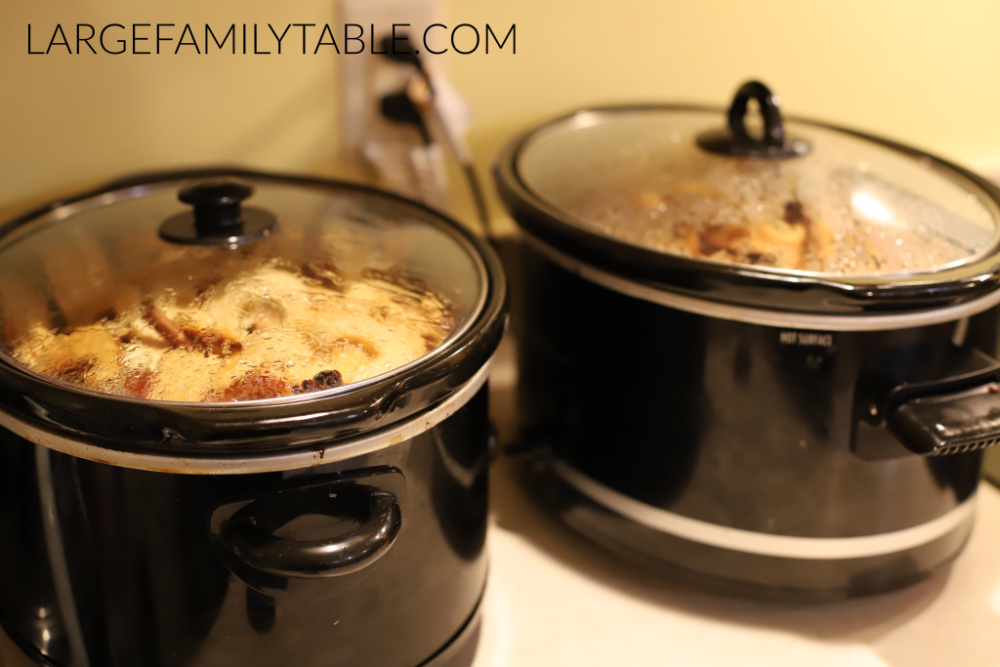 ---
Instructions
Peel, core, and slice apples
Divide apples in half and place in individual slow cookers
Divide & add remaining ingredients to each slow cooker
Cook for 8 hours on low or 4 hours on high
Turn off slow cooker
Remove cinnamon sticks
Using immersion blender, blend well
Extra Steps for Apple Butter:
Fill slow cooker halfway with blended apples
Add 1 tsp cloves
Put on low for 8 hours
Remove lid and continue to cook for another hour or two to let thicken
Spread on toast and enjoy.
Keywords: slow cooker applesauce apple butter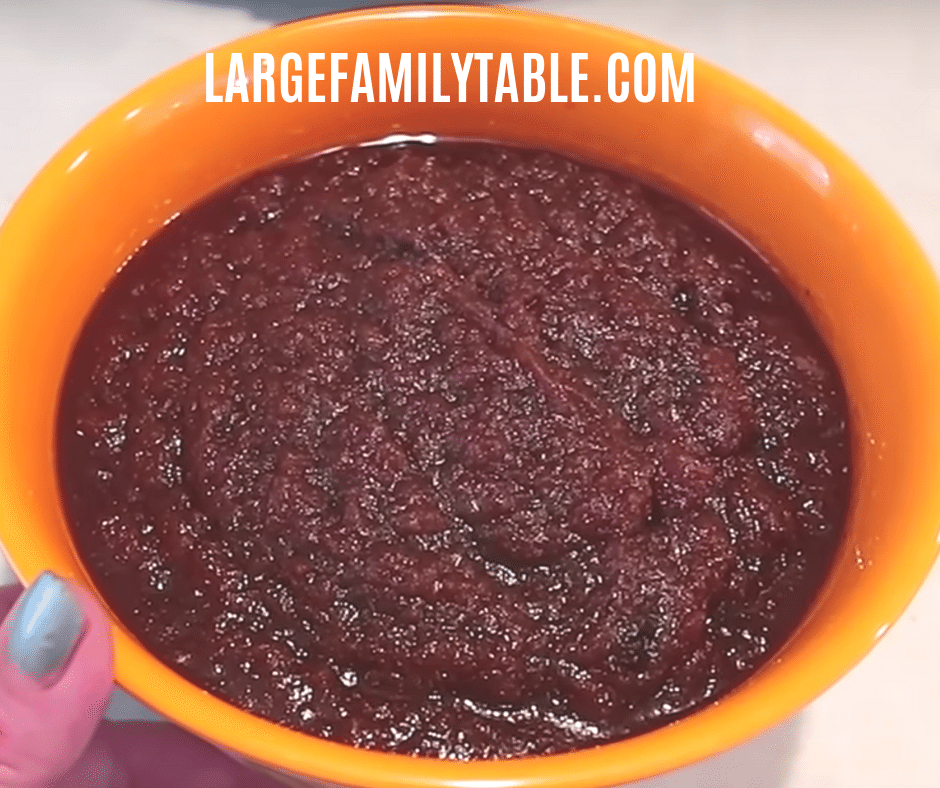 Keeping your large family fed between meals is no small feat. This tasty applesauce is easy, cheap, and guaranteed to be a hit with the kids. This large family mama only knows mega and lots so this is perfect!
Want some more snack ideas?
Large Family Snacks | How To Keep Fresh Carrot Sticks For Days
Large Family Meal Plan: 4 Weeks, 90 Meals, 60 Snacks, Recipes, and Helps