Is your Instant Pot just sitting there staring at you? If you want to use that Instant Pot and make something amazing, then it's time to make THE BEST Instant Pot Cheesecake. This will be the best cheesecake you've ever had and it'll be the easiest. I am going to walk you through how to make this and then you'll have this recipe for many years to come! Are you excited to learn how to make cheesecake? If you love cheesecake then you should try our Instant Pot Turtle Pumpkin Cheesecake, our Instant Pot Low Carb Pumpkin Cheesecake, or our ultimate low carb instant pot cheesecake .
*Use special promo code HELLO20 to take 20% off your first order in the shop including the SUPER MEGA ULTIMATE Large Family Freezer Meals Bundle here!**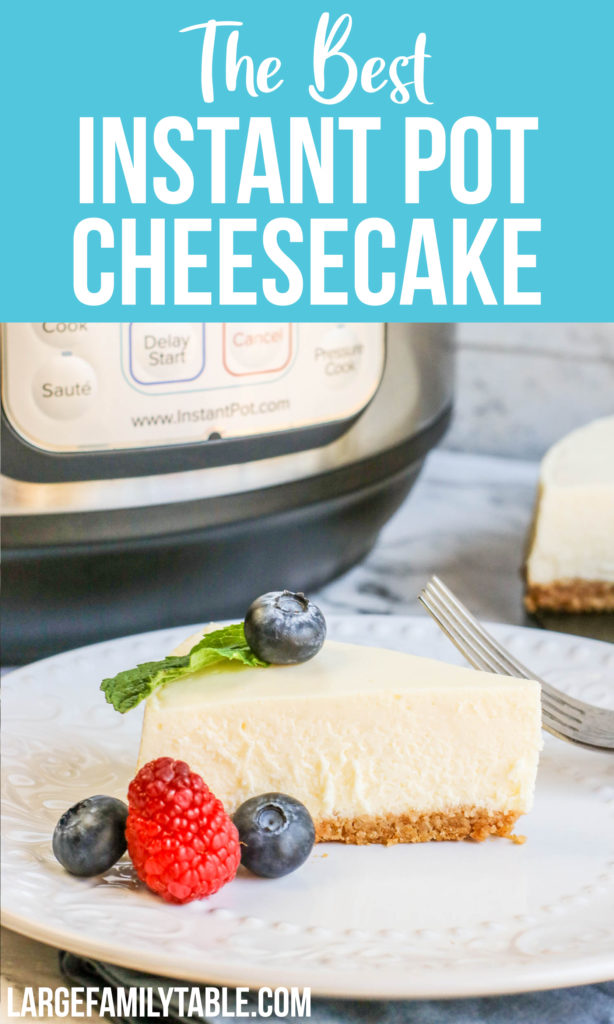 THE BEST Instant Pot Cheesecake
What is cheesecake? Well, if we're being honest, it's one of the best inventions in the world! Cheesecake is actually a dessert that is several layers deep. The very top layer is a very thick layer that is usually cream based. While there are crustless cheesecakes, most of the time, a cheesecake has a crust on it.
Ingredients in Instant Pot Cheesecake
Whenever I'm making a new recipe, I ALWAYS love trying new ingredients and playing with them. I have found the best ingredients for this cheesecake and the way I make it will leave your mouth watering.
Graham cracker crumbs – These are really easy to make. I just put them in the food processor until they are fine. Graham crackers honestly make the best crust. The best part is that they aren't very expensive.
Butter – You can't make an awesome crust without butter. I always use real butter in this type of recipe because it turns out so much better.
Cream cheese – You can't have an awesome cheesecake without cream cheese. I can't get over how creamy this cheesecake is thanks to the proper use of cream cheese.
Vanilla extract – If you've never used homemade vanilla extract in your cheesecake before, you need to try it. You can also use store bought vanilla and it will be equally amazing.
All purpose flour – Another important ingredient recipe is this all purpose flour. You'll need this to make this cheesecake!
Check out the fill ingredient list in the recipe card. Once you make this recipe, this will be one of your favorite cheesecake recipes ever.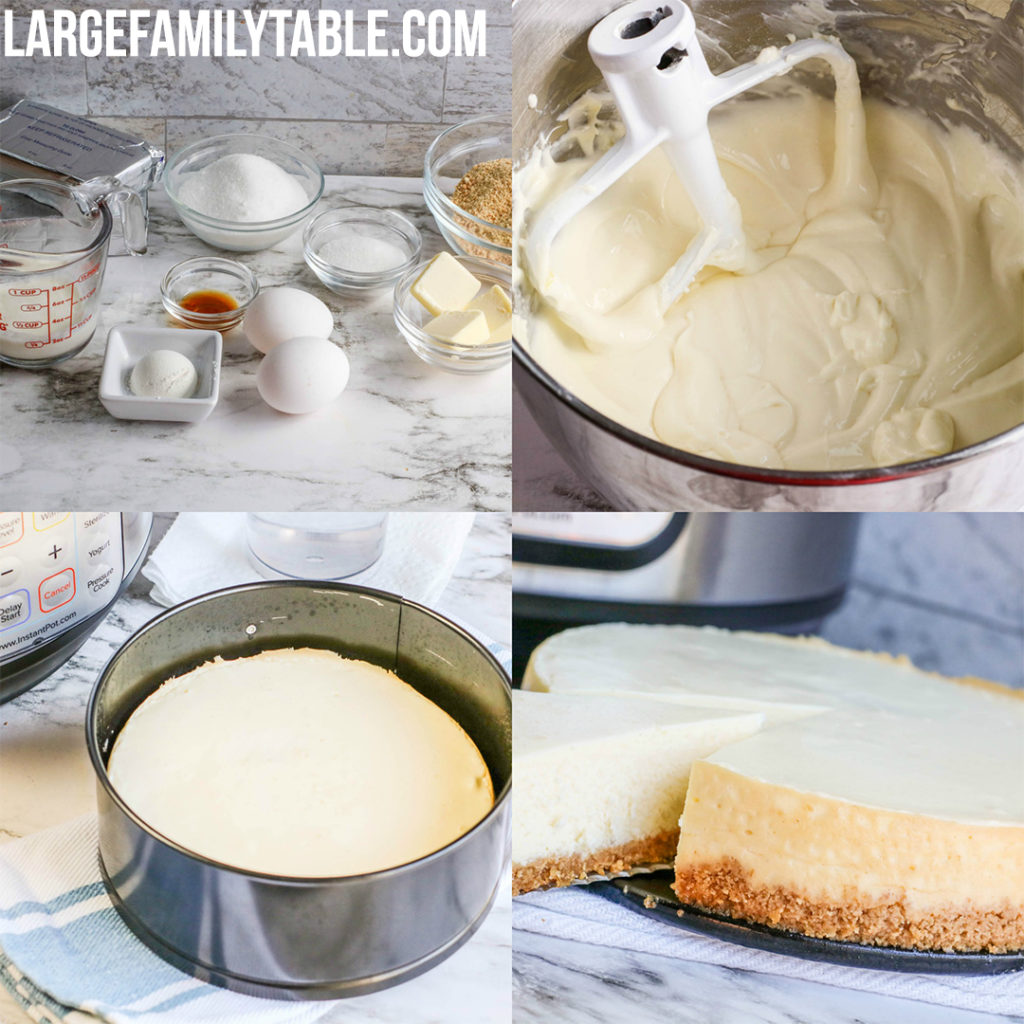 How to Store Instant Pot Cheesecake
If you make this cheesecake and want to store it, you may be wondering how that is possible. You need to cover this cheesecake, so that it does not go bad in the fridge. If air gets to it, it may dry out the cheesecake and leave you with something that's less than desirable to consume.
Can You Freeze Cheesecake?
The good news is that you can freeze cheesecake! You can actually freeze the whole cheesecake in an airtight container or you can freeze it individually. I love it when I freeze cheesecake individually because then I can pull it out whenever I want and have a treat. This works great for big families too because then my kids can pull out what they want when they want.
The next time you want to make cheesecake, make sure you try this Instant Pot Cheesecake. It's delicious, creamy, and can serve a crowd!
Do you have more Instant Pot recipes?
Do you love using your Instant Pot? You can make anything in it! Breakfast, lunch, dinner, and dessert!! I have a ton more recipes in my shop! Check out my Large Family Delightful and Abundant 4-Week Electric Pressure Cooker Meal Plan Pack One, and the Large Family Filling and Wholesome 4-Week Electric Pressure Cooker Pack Two.Or make it easy on your budget and time and grab the DOUBLE BUNDLE that includes both Electric Pressure Cooker Packs packs one and two!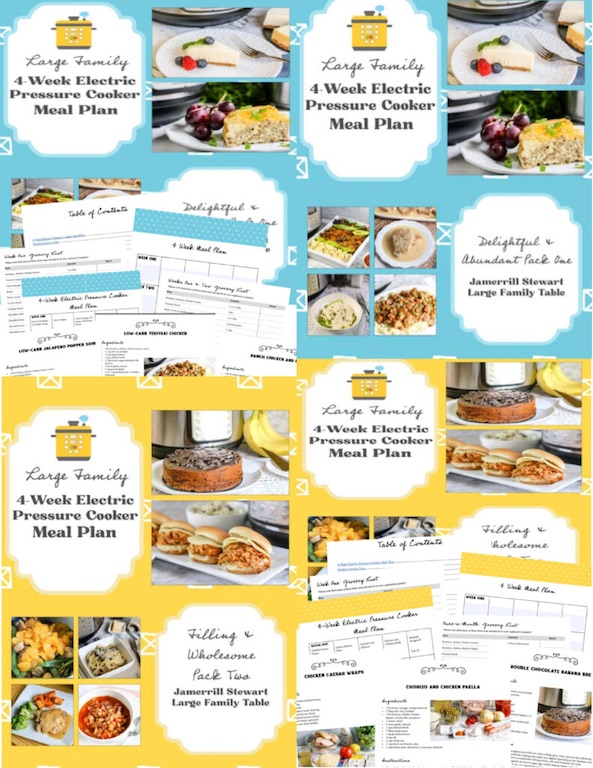 Here are more yummy desserts to try!
The Best Instant Pot Cheesecake
Print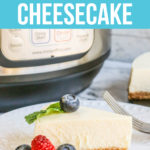 THE BEST Instant Pot Cheesecake
Author:

Prep Time:

25 Minutes

Cook Time:

40 Minutes

Total Time:

1 hour 5 minutes

Yield:

12 Slices

Category:

Dessert

Method:

Instant Pot
---
Description
For the crust:
1 cup graham cracker crumbs (processed in a food processor until fine)

2 tablespoons sugar

3 tablespoons butter, melted
For the cheesecake:
2 (8 ounce) packages cream cheese, room temperature

½ cup sugar

¼ cup heavy cream

1 tablespoon all-purpose flour

1 teaspoon vanilla extract

2 eggs, room temperature
---
Ingredients
Prepare a 7.5 inch springform pan with non-stick cooking spray.

Stir together the graham cracker crumbs, sugar, and melted butter for the crust. Press into the springform pan. Place in the freezer for 10 minutes while the batter is prepared. 

Place trivet in the bottom of the electric pressure cooker liner. Add the minimum required amount of water according to the manufacturer's instructions.

Prepare a 7.5 inch springform pan by wrapping aluminum foil around the bottom to protect from water seepage. 

In a medium bowl, beat cream cheese until soft and creamy. Add the sugar and continue beating until fluffy, about 2 minutes. 

Add the eggs, heavy cream, flour, and vanilla and beat just until combined.

Transfer the mixture to the springform pan and spread evenly. Cover the springform pan to avoid water dripping onto the cheesecake.

Cover the electric pressure cooker and set the valve to sealing. Program for manual or "pressure cook" for 20 minutes.

When the cooking cycle is complete, allow the electric pressure cooker to naturally release the pressure until the pressure pin drops. Remove the lid and allow the cheesecake to continue cooling inside the pressure cooker for 20 minutes before removing.

Replace the aluminum foil with plastic wrap and refrigerate the cheesecake for at least 2 hours prior to serving.
---
Keywords: The Best Instant Pot Cheesecake
Try this delicious cheesecake and you'll never go back to anything else! This really is the BEST cheesecake. Easy to make and so good to eat!
FREE Emergency Pantry Planning Pack!
Don't forget to sign up for the emergency pantry planning pack for free to help you plan your pantry meals! The free Emergency Pantry Planning Pack will help you plan your needed pantry items! Printable pages include pantry inventory, grocery lists, meal planners, list of pantry staple items, and more.