Hey friend, I'm back again, here to help you with this new meal plan for large families to take the stress out of menu planning! Yay! No worries, I'm here to help you feed your growing family. This week in my Large Family Table meal plan series, I have Week 23 Large Family Meal Plan + FREE Downloadable Menu Plan with Grocery List and clickable planning printables. Each week I serve up a fresh big family meal plan with seven nights of dinners to feed a crowd. PLUS, because I *only know mega & lots,* each large family meal plan will guide you through making a little extra to help fill your freezer, yay! You'll also want to grab all my other weekly meal plans for large families, too!
Meal Plan for Large Families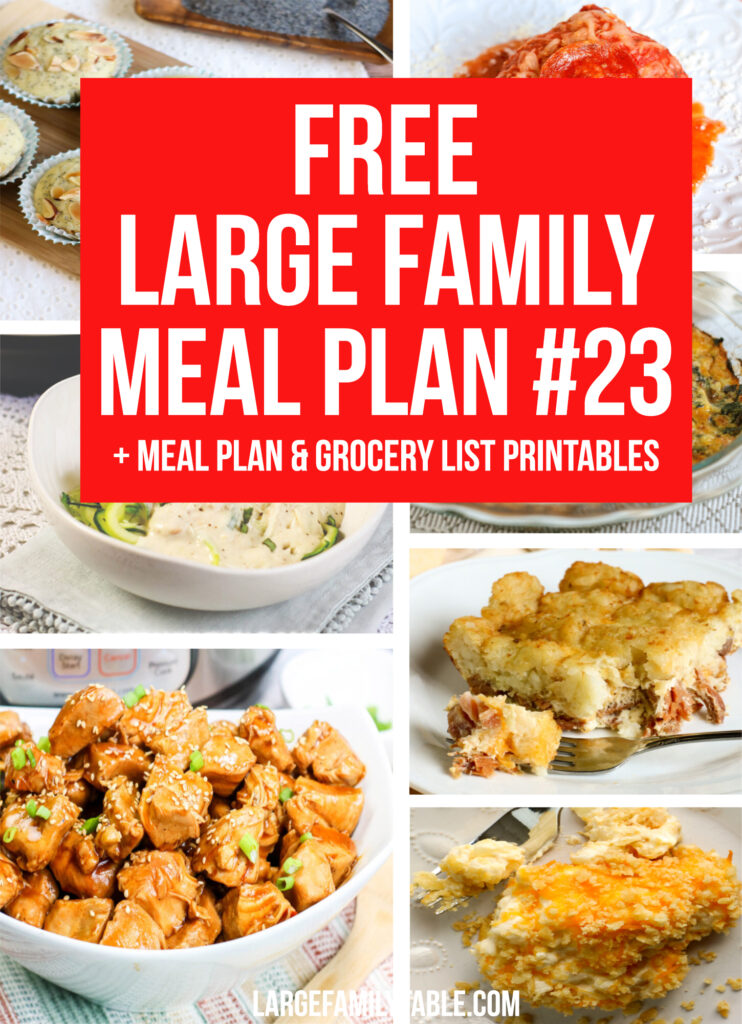 This large family Week 23 Meal Plan + grocery list printables includes Homemade meatballs and spaghetti, General Tso's, Breakfast Tater Tot Casserole, Low Carb Pizza Stuffed Chicken, and more easy family meals! Plus a few kid-friendly snacks and big breakfast ideas, too!
>>> CLICK HERE TO SIGN UP FOR YOUR FREE ONE WEEK MEAL PLAN, GROCERY LIST PACK & PLANNING PAGES!!!<<<
Do You Have To Be A Large Family?
If you are a large family you may find you'll get 7 dinners, plus some extra meals prepped ahead. If you are heading up a smaller family you will have plenty of leftovers for lunches and lots of extra to build your freezer stash. Don't forget to sign up for the FREE Week 22 Large Family Meal Plan + Free Grocery List Printables set HERE!
FREE Week 23 Meal Plan + Grocery List for Large Families
Each week I give you a FREE COMPLETE Downloadable Meal Plan with a detailed GROCERY LIST. Just SIGN UP HERE FOR THE Week 23 LARGE FAMILY MEAL PLAN + GROCERY LIST! You'll receive a thought-out grocery list to guide you through buying everything on this week's large family meal plan, plus bonus meal planning pages – yay!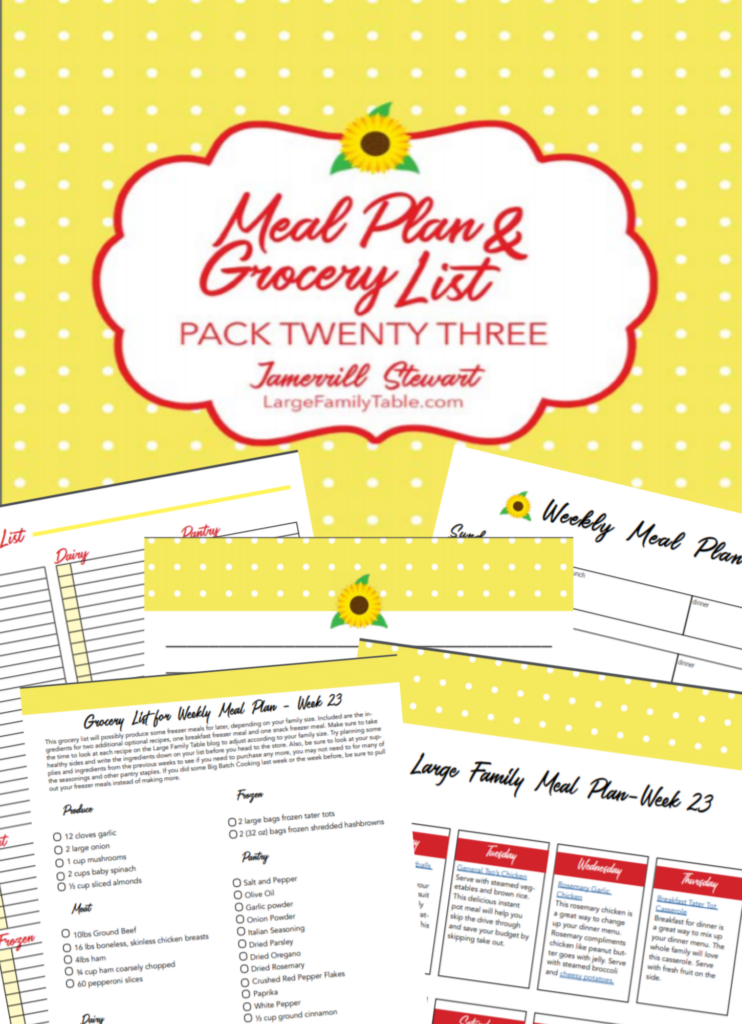 If you plan ahead, you can do some big batch cooking to add some meals to your freezer for later. Serve up these delicious recipes at your own Large Family Table. Check out this post if you would like to know my Must Have Large Family Freezer Meal Supplies.
>>> CLICK HERE TO SIGN UP FOR YOUR FREE ONE WEEK MEAL PLAN, GROCERY LIST PACK & PLANNING PAGES!!!<<<
More Large Family Meal Plans
Week 23 Meal Plan for a Large Family
Scale up or down your spaghetti needs to suit your family. My family loves homemade meatballs and spaghetti. This meal pairs well with a tossed salad.
Serve with steamed vegetables and brown rice. This delicious instant pot meal will help you skip the drive through and save your budget by skipping take out.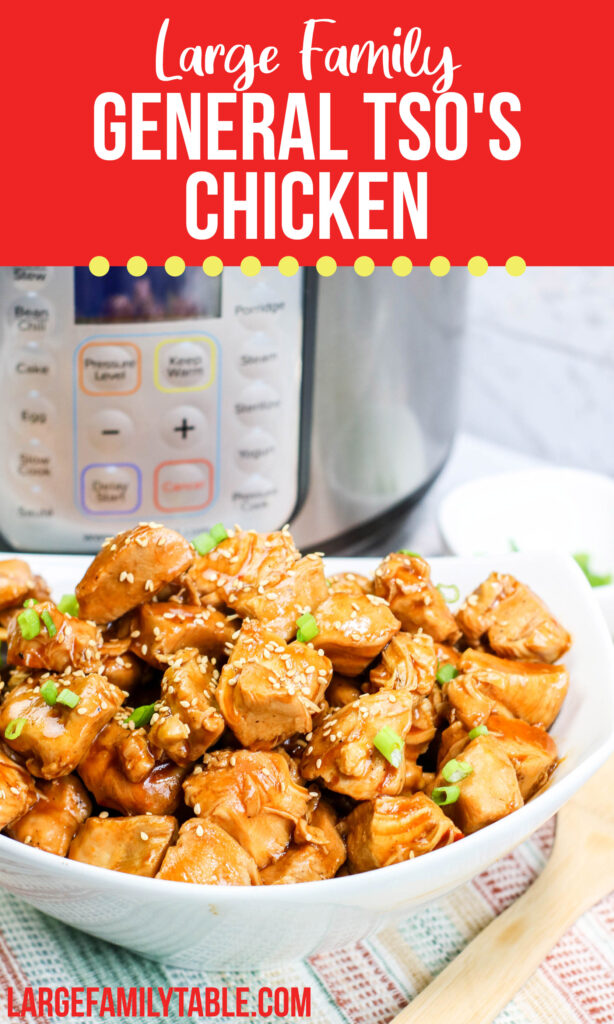 This rosemary chicken is a great way to change up your dinner menu. Rosemary compliments chicken like peanut butter goes with jelly. Serve with steamed broccoli and cheesy potatoes.
Breakfast for dinner is a great way to mix up your dinner menu. The whole family will love this casserole. Serve with fresh fruit on the side.
You have so many side options with this parmesan chicken. You can make mashed potatoes, homemade fries, corn, peas, or whatever else you're craving.
This low carb quiche can be served with fruit on the side or if you're not low-carb, you could do oven fries or hash brown potatoes.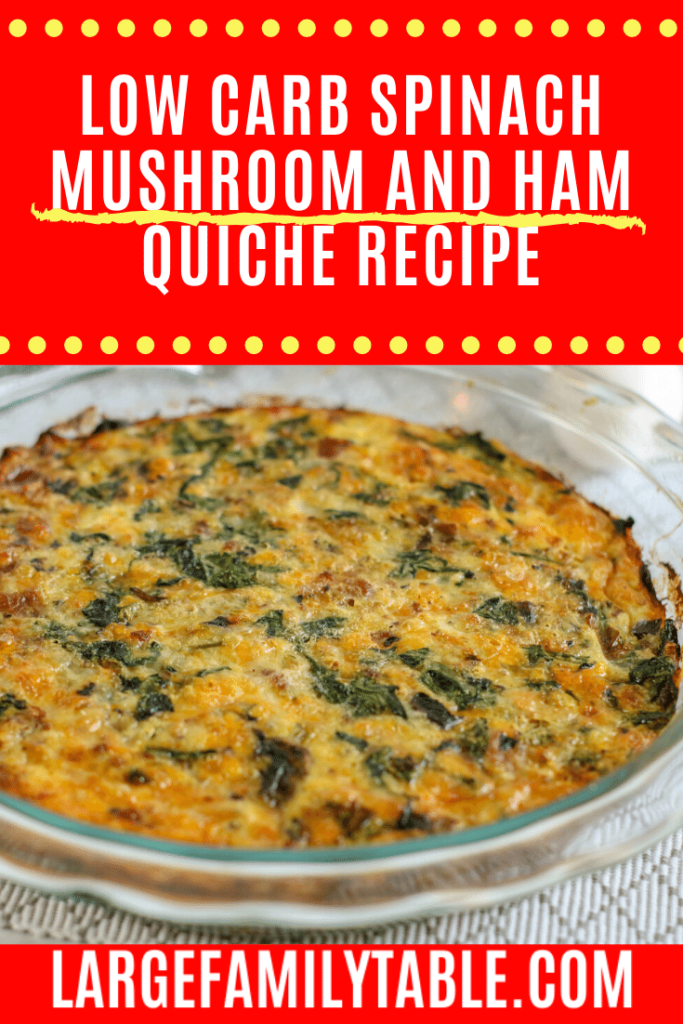 Serve this low carb pizza stuffed chicken with a super hearty chopped salad.
Bonus Breakfast Recipe Idea: French Toast Freezer Meal
Bonus Snack Recipe Idea: Almond and Poppyseed Muffins
>>> CLICK HERE TO SIGN UP FOR YOUR FREE ONE WEEK MEAL PLAN, GROCERY LIST PACK & PLANNING PAGES!!!<<<
Large Family Menu Planning
Making a meal plan is a great way to make sure you're eating at home and with only a small amount of extra effort, you can also add food to your freezer to make later meals more convenient. For more meal planning ideas, check out Large Family Menu Planning. 
FREE Grocery List Planning Pack For Week 23 Meal Plan for Large Families!
SIGN UP NOW to receive the free meal plan, grocery list, and planning pack for week 23 that goes with this meal plan! You'll have everything you'll need to shop delivered right to your inbox including a detailed grocery list, meal planning pages, and more!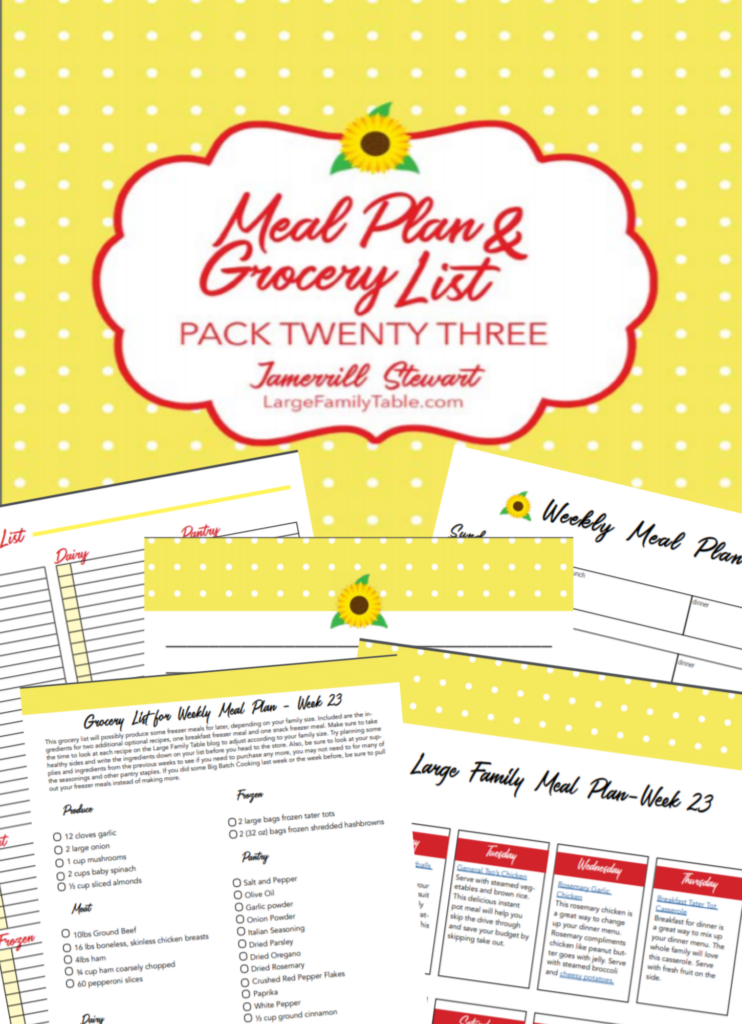 >>> CLICK HERE TO SIGN UP FOR YOUR FREE ONE WEEK MEAL PLAN, GROCERY LIST PACK & PLANNING PAGES!!!<<<