Today, we have another meal plan ready for you! We're all about saving you time and feeding your family! This week in our meal plan series, we have Large Family Weekly Meal Plan #21 all ready for you below. Each week I serve up a fresh meal plan with seven nights of dinners. PLUS, because I *only know mega & lots,* each large family meal plan will guide you through making a little extra to help fill your freezer, yay! You'll also want to grab all my other weekly meal plans, too!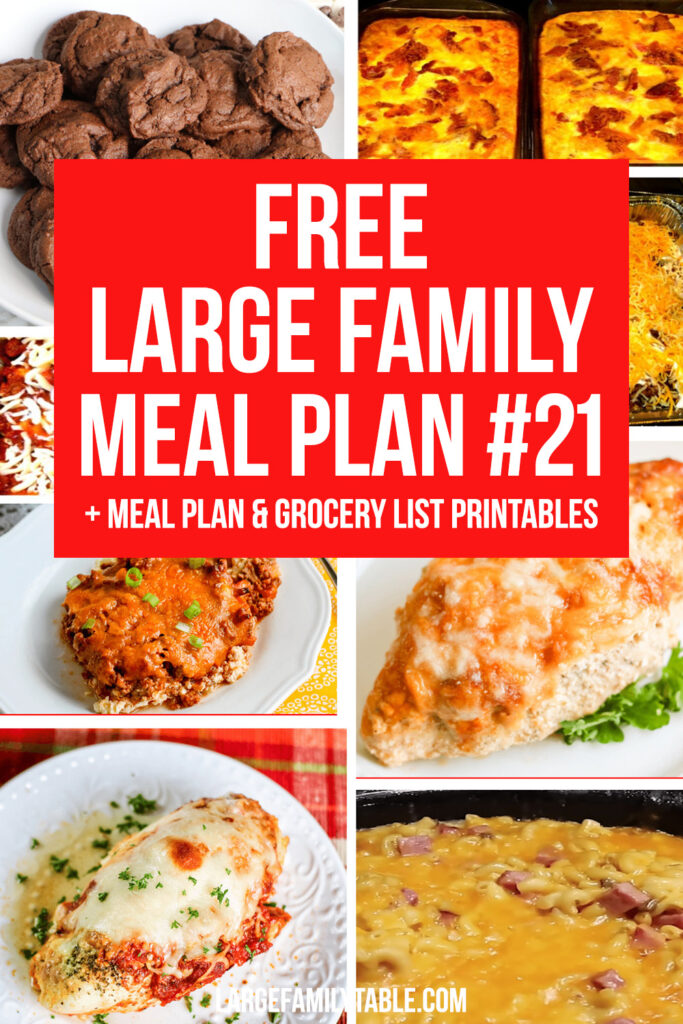 This week's Large Family Weekly Meal Plan #21 includes Ground Beef Casserole, Ham and Cheese Potato Bake, Taco Bake, and many more meal ideas for you. Plus a few snack and breakfast ideas, too!
If you are a large family you may find you'll get 7 dinners, plus some extra meals prepped ahead. If you are heading up a smaller family you will have plenty of leftovers for lunches and lots of extra to build your freezer stash. Don't forget to sign up for the FREE Large Family Weekly Meal Plan #21 Grocery List printable set HERE!
FREE Large Family Weekly Meal Plan #21 Grocery List
Each week I give you a FREE MEAL PLAN & COMPLETE GROCERY LIST to go with each unique budget large family meal plan. Just SIGN UP HERE FOR THE LARGE FAMILY MEAL PLAN WEEK 21+ GROCERY LIST! You'll receive a detailed grocery list to guide you through buying everything on this week's large family meal plan, plus bonus meal planning pages – yay!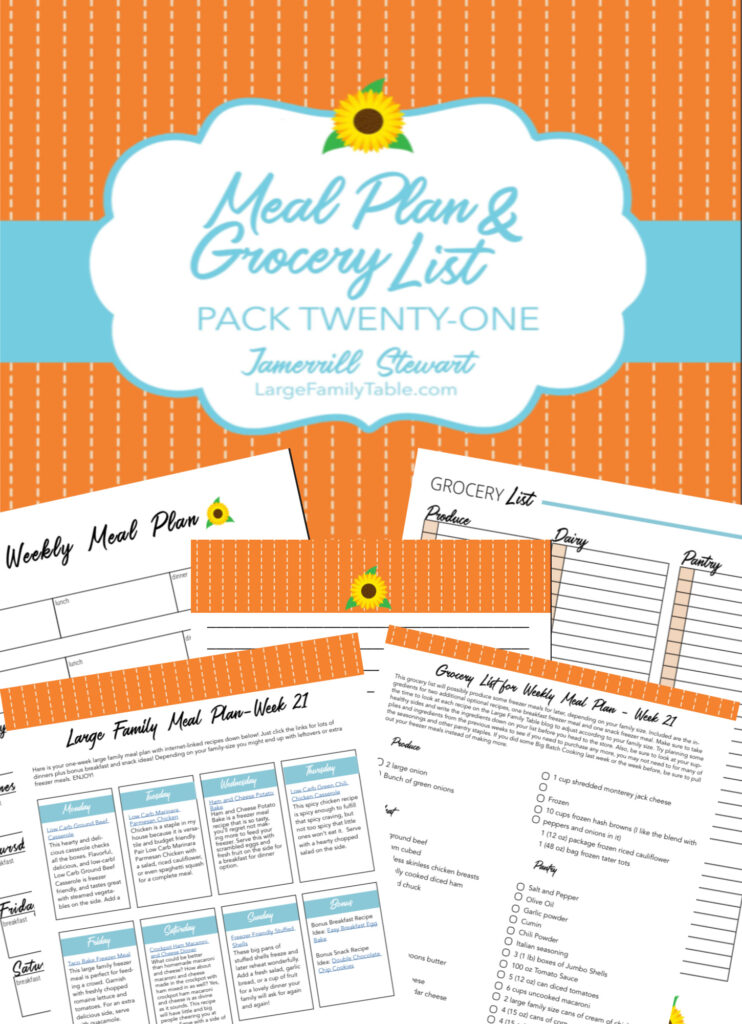 If you plan ahead, you can do some big batch cooking to add some meals to your freezer for later. Serve up these delicious recipes at your own Large Family Table. Check out this post if you would like to know my Must Have Large Family Freezer Meal Supplies.
More Large Family Meal Plans
Large Family Weekly Meal Plan #21
This hearty and delicious casserole checks all the boxes. Flavorful, delicious, and low-carb! Low Carb Ground Beef Casserole is freezer friendly, and tastes great with steamed vegetables on the side. Add a side of brown rice with butter for those who are not watching their carbohydrates.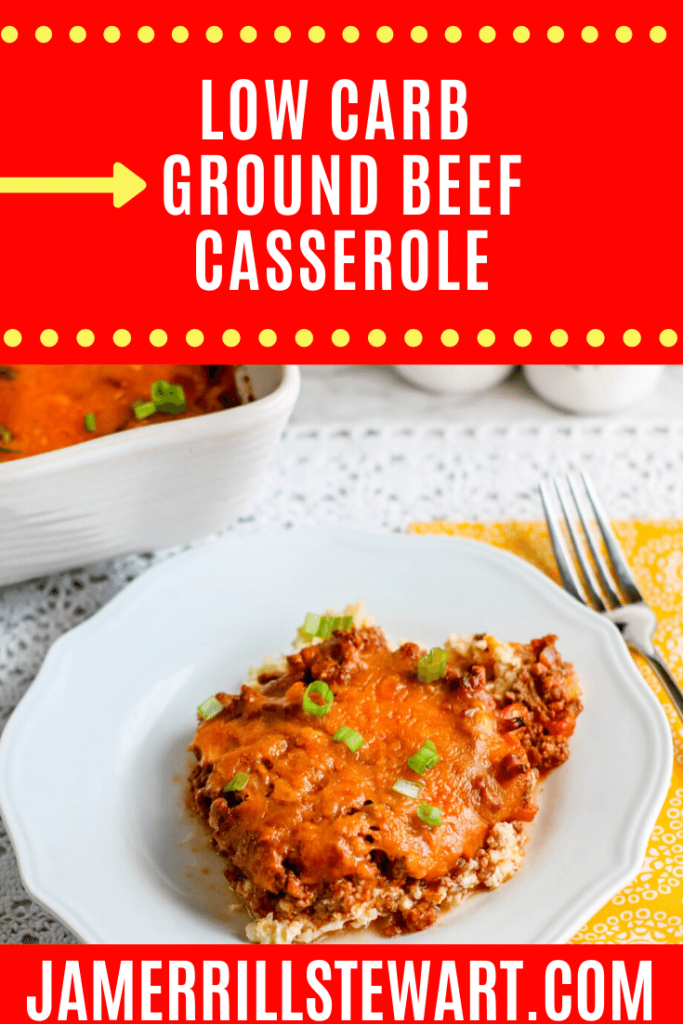 Chicken is a staple in my house because it is versatile and budget friendly. Pair Low Carb Marinara Parmesan Chicken with a salad, riced cauliflower, or even spaghetti squash for a complete meal.
Ham and Cheese Potato Bake is a freezer meal recipe that is so tasty, you'll regret not making more to feed your freezer. Serve this with scrambled eggs and fresh fruit on the side for a breakfast for dinner option.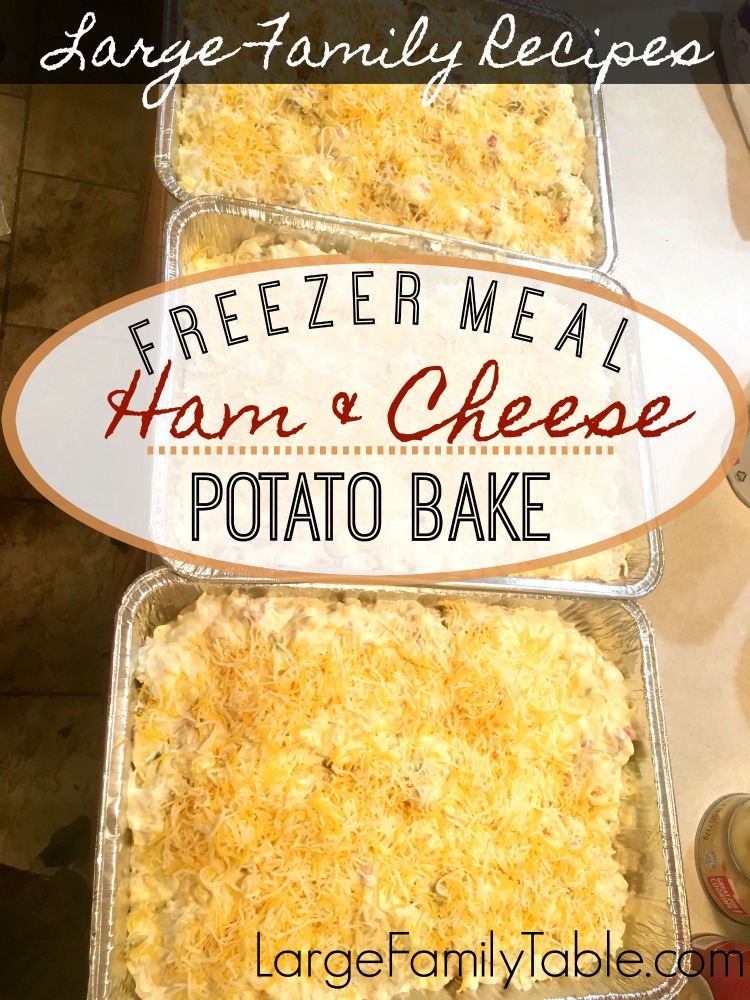 This spicy chicken recipe is spicy enough to fulfill that spicy craving, but not too spicy that little ones won't eat it. Serve with a hearty chopped salad on the side.
This large family freezer meal is perfect for feeding a crowd. Garnish with freshly chopped romaine lettuce and tomatoes. For an extra delicious side, serve with guacamole.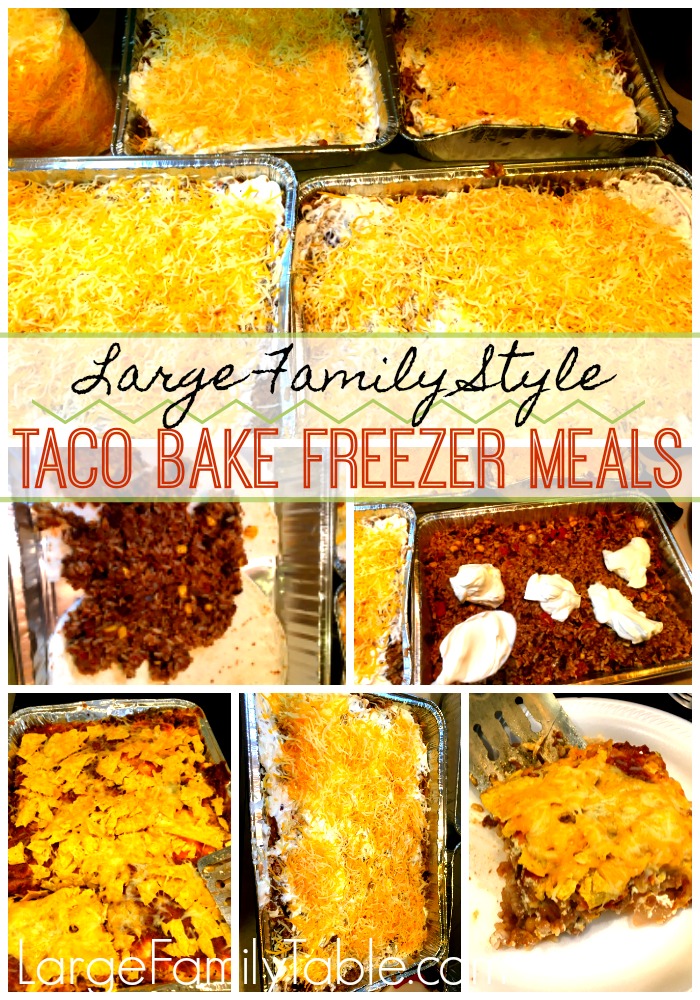 What could be better than homemade macaroni and cheese? How about macaroni and cheese made in the crockpot with ham mixed in as well? Yes, crockpot ham macaroni and cheese is as divine as it sounds. This recipe will have little and big people cheering you at dinner. Serve with a side of steamed vegetables.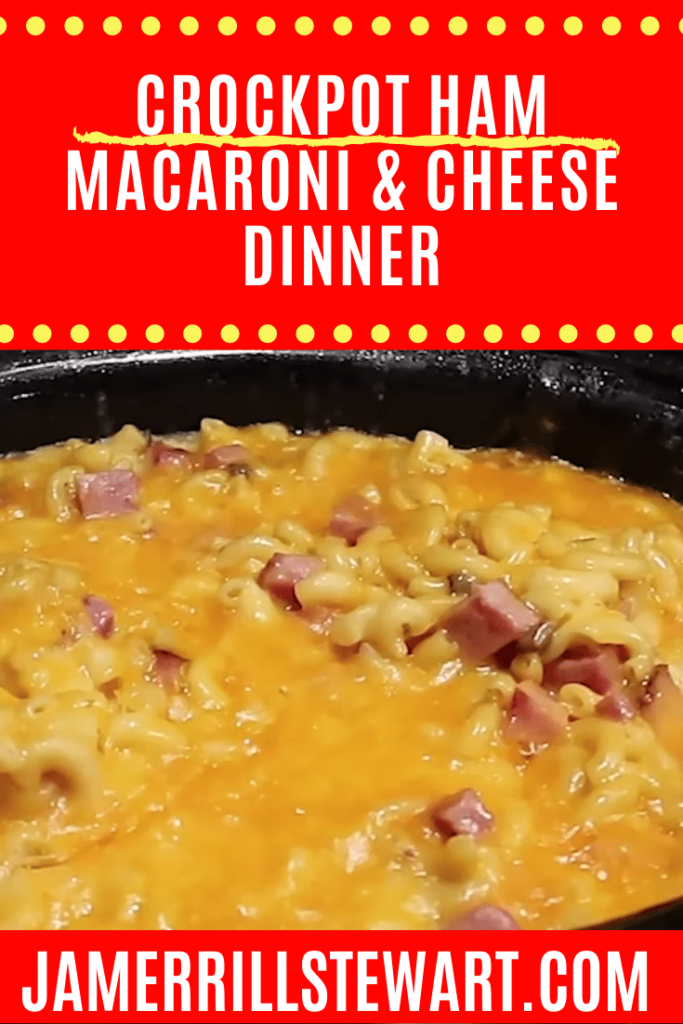 These big pans of stuffed shells freeze and later reheat wonderfully. Add a fresh salad, garlic bread, or a cup of fruit for a lovely dinner your family will ask for again and again!
Bonus Breakfast Recipe Idea: Easy Breakfast Egg Bake
Bonus Snack Recipe Idea: Double Chocolate Chip Cookies
Large Family Meal Planning
Making a meal plan is a great way to make sure you're eating at home and with only a small amount of extra effort, you can also add food to your freezer to make later meals more convenient. For more meal planning ideas, check out Large Family Meal Planning.
FREE Grocery List Planning Pack For Large Family Meal Plan Week 21!
SIGN UP NOW to receive the free grocery list and planning pack for week 20 that goes with this meal plan! You'll have everything you'll need to shop delivered right to your inbox including a detailed grocery list, meal planning pages, and more!