Chicken is one of those things that goes on sale all the time. It's also a staple I grab when I go on my Costco runs. You really can make so many tasty low carb recipes with it including this low carb marinara parmesan chicken. Pair it with a salad, riced cauliflower, or even spaghetti squash for a complete meal.
*Use special promo code HELLO20 to take 20% off your first order in the shop including the SUPER MEGA ULTIMATE Large Family Freezer Meals Bundle here!**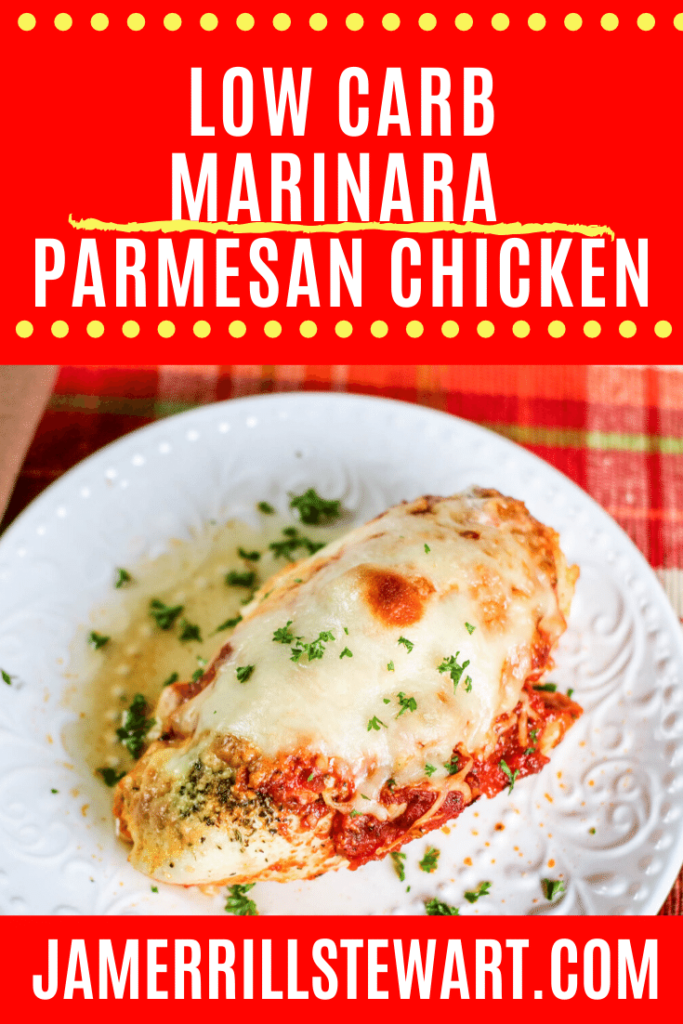 Get your sheet pans out. You will need two of them to make enough for all your people. Spray them with non stick spray or lay parchment paper down for easy clean up. We are all about easy clean up here in the Stewart household. Divide up your chicken between pans and season with garlic powder and Italian seasoning.
Pour marinara sauce over the top of all the chicken. Get it all over each piece. Sprinkle some parmesan on each. All you got is the green can aka "shakey cheese"? Use that and don't worry about it one bit.
Top with mozzarella then pop it into a 400 degree oven for 30 to 45 minutes or until the internal temperature of the chicken is 165 degrees. Take out the pan on the top shelf and move the bottom pan up to finish cooking. You absolutely could cover and freeze rather than bake at this point as well.
Print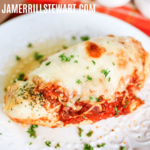 Low Carb Marinara Parmesan Chicken
Author:

Category:

Chicken

Method:

Oven

Cuisine:

Low Carb
---
Description
This low carb marinara parmesan chicken is easy to prepare and frugal. It will be sure to become a family favorite.
---
Ingredients
12 boneless skinless chicken breasts

3 teaspoons Italian seasoning

1½ teaspoons garlic powder

6 cups marinara sauce

3 cups shredded mozzarella cheese

1 ½ cups grated parmesan cheese
---
Instructions
Preheat oven to 400 degrees. Prepare 2 sheet pans with non-stick cooking spray.

Season chicken breast with garlic and Italian seasonings and divide between sheet pans

Pour marinara over chicken. Top with parmesan and mozzarella.

Bake for 30 to 45 minutes (depending on the thickness of the chicken breast) or until the chicken reaches an internal temperature of 165 degrees. If the cheese begins to brown too quickly, tent the casserole dish with aluminum foil and continue to bake until done.
Keywords: low carb, chicken,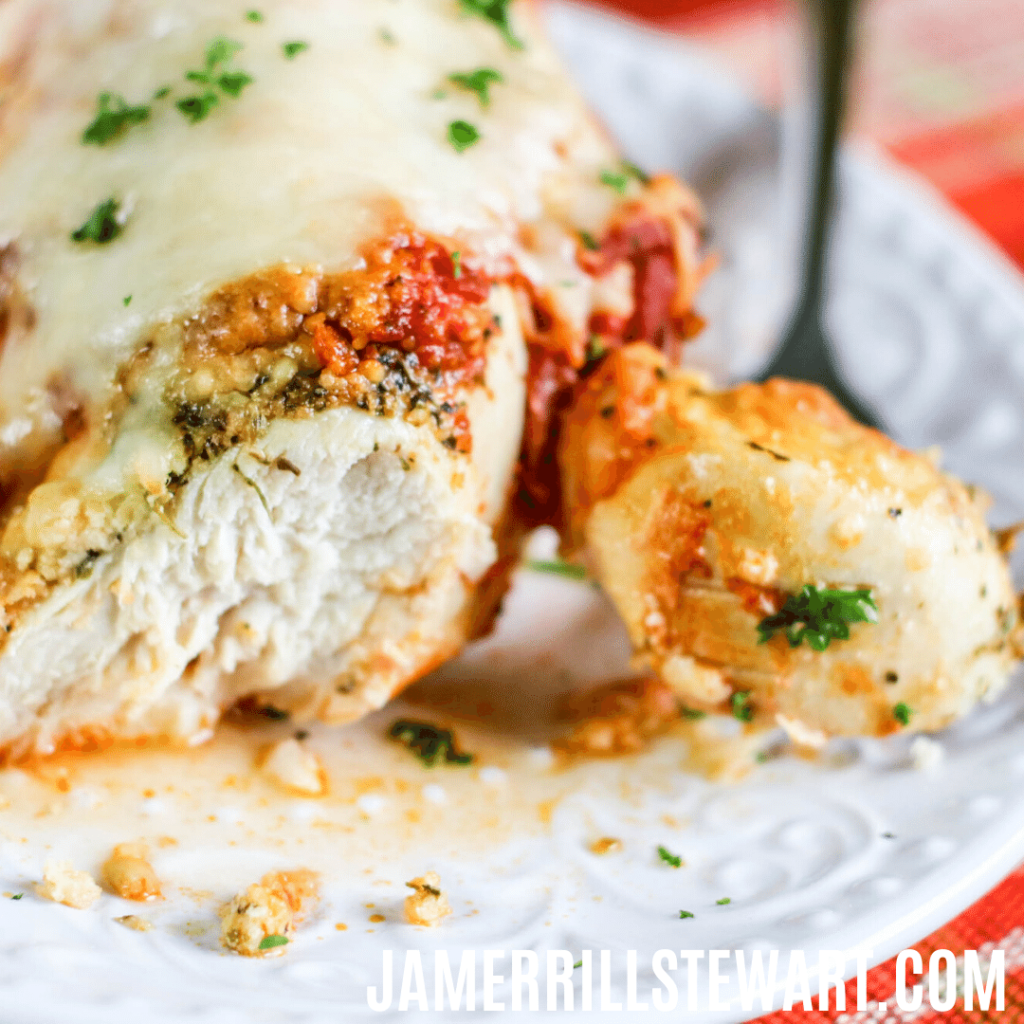 The trick to moist chicken is to let it rest for 5- 10 minutes after it comes out of the oven. By the time the second pan is done, you can easily serve up the first pan. By the time you finish that, the second pan is all set to serve up too. Everyone will rave over low carb marinara parmesan chicken and ask for it to be added to the meal plan! #momwin
Watch me meal prep by making the marinara sauce in the slow cooker!
Want more low carb recipes?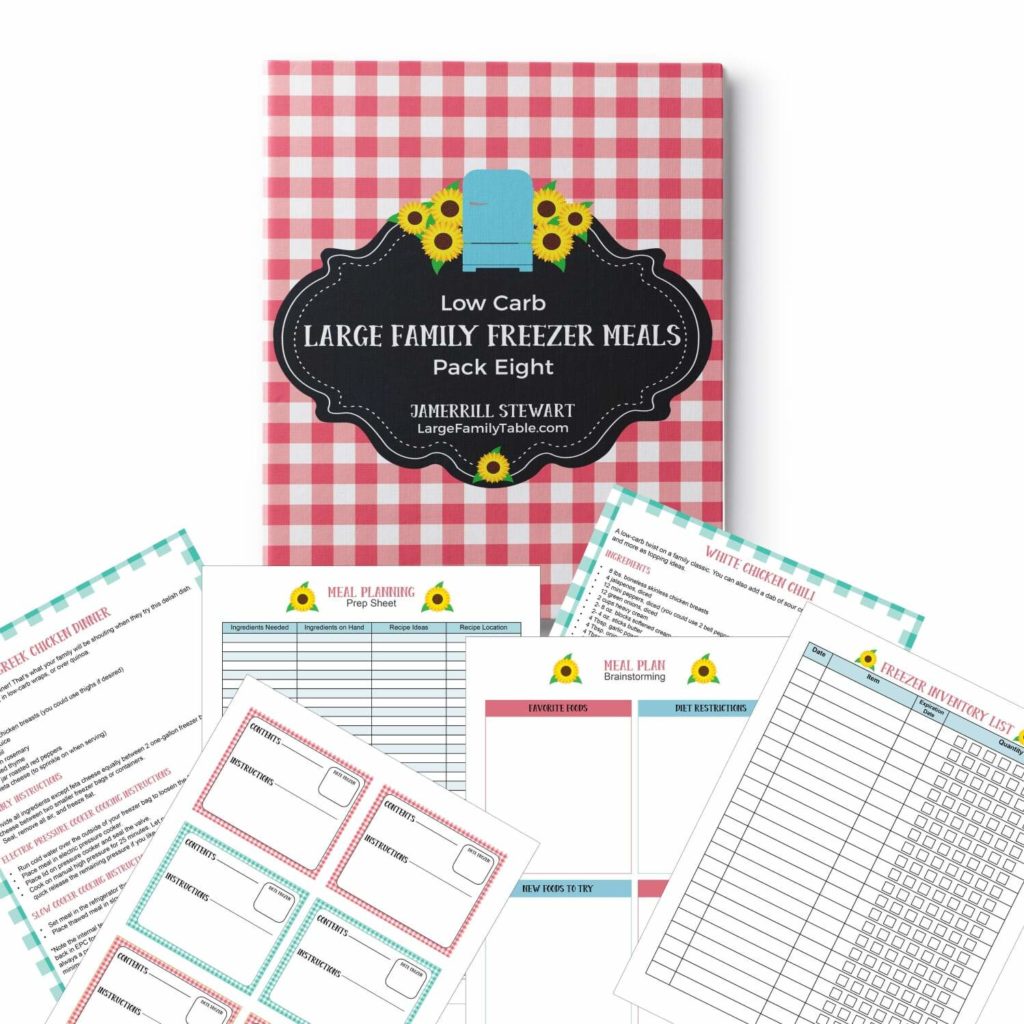 My Large Family Freezer Meal Packs have freezer cooking grocery shopping lists, batch cooking guides, prepping, freezing and baking directions. I give you loads of freezer meal recipes plus instructions on how to break them down if you don't have a gazillion people to feed like I do. Gluten free, dairy free, low carb? All no problem. We have freezer meal packs for those too!