This easy breakfast egg bake is a hearty meal for a growing family. I like to cook up this easy breakfast bake on a Sunday morning to keep everyone happy and full during church. We have an hour drive there and back so a good breakfast is required. No one wants hangry babies or mamas because breakfast was not enough.
**Use special promo code HELLO20 to take 20% off your first order in the shop including the SUPER MEGA ULTIMATE Large Family Freezer Meals Bundle here!**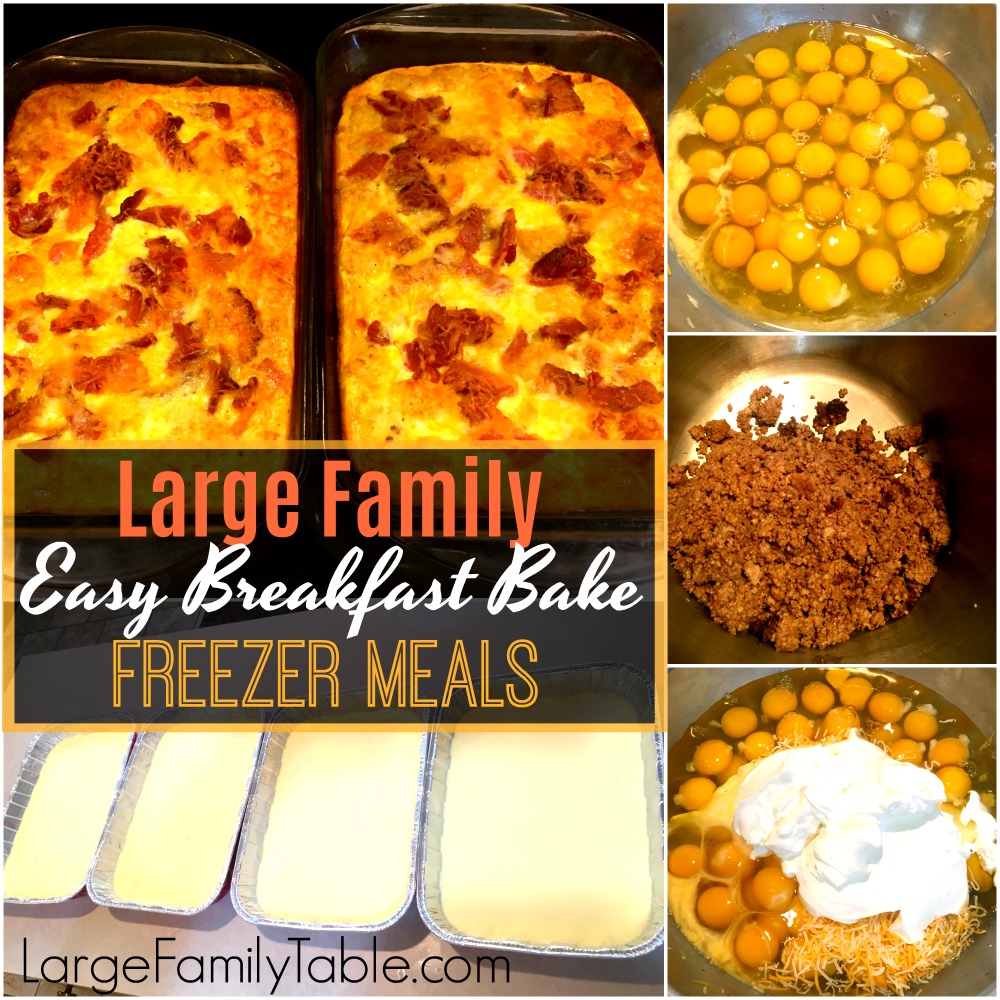 Can you freeze eggs?
Yes, you sure can. That's why I like to get these breakfast bakes prepared as much as possible and get them frozen. Then the egg and meat cooking mess are done ahead of time. All I need to do is pull the pan from the freezer the night before I need it and shove it in the oven with slight prep work the falling morning.
You can even freeze individual egg portions if you want to have them handy in the freezer. Maybe your chickens are laying at maximum capacity and you want to preserve your bounty. I love these egg dishes because they are so easy to make and freeze exceptionally well. I also love individual egg portions for grabbing and going. Eggs can keep up to a year in the freezer.
Let's get this recipe started, shall we? First, put your bacon in the oven to get all nice and crispy while you work on the rest of the easy breakfast egg bake. Bonus that it will make your house smell amazing while it cooks!
Mix together eggs, milk, and sour cream. This is the part where you could add the seasonings that your family likes. I like to add onion powder, garlic powder, salt and pepper. Sometimes I add fresh garlic or cilantro if I have it floating around. You really can't go wrong as long as your family likes it.
Chop up the bacon after it comes out of the oven and add it to the above mixture. Pour evenly into four 9×13 pans. Top with tater tots or shredded hash browns. Finally add a cup of cheese to the top of each casserole.
For freezing: Wrap twice with aluminum foil and write the name of the dish along with date. Wrap again with 2 layers of plastic wrap. I've never had a freezer meal go freezer burnt on my using this method. Never, not once. Remove from freezer 24 hours in advance of cooking.
Print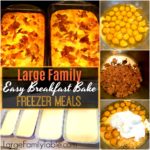 Easy Breakfast Egg Bake | Freezer Meal Breakfast Recipe
---
Description
Make up a big batch of easy breakfast egg bakes for your family's freezer! 
---
Ingredients
4 dozen eggs

4 cups shredded cheese

4 cups sour cream

1-2 lbs bacon, precooked
1 48 oz large family size tater tots or hashbrowns
3 cups milk

 
---
Instructions
Mix eggs, precooked and chopped bacon, sour cream, milk, salt/pepper per family taste.

Pour in four 9×13 pans.

Cover in tater tots or shredded hash browns.

Layer with shredded cheese.

Wrap and label for freezer or cook at 350 degrees until eggs are set and cheese is brown and bubbly.
To cook : Place thawed casserole in 350 degree oven for about 30 minutes. When the edges are bubbly and the cheese is brown, then it's done. If you have a long skewer, you can poke it in to verify the doneness of the egg. Serve with fruit.