GRILLED CHEESE IN THE OVEN RECIPE – LARGE FAMILY STYLE!
One of the easiest and yummiest sandwiches has got to be the old-fashioned grilled cheese. Melted, gooey cheese; hot toasted bread; lots and lots of butter…what could be wrong about that?? Grilled cheese sandwiches are always a hit around here with my large crew, but making enough sandwiches for all of us with my electric skillet takes quite a while.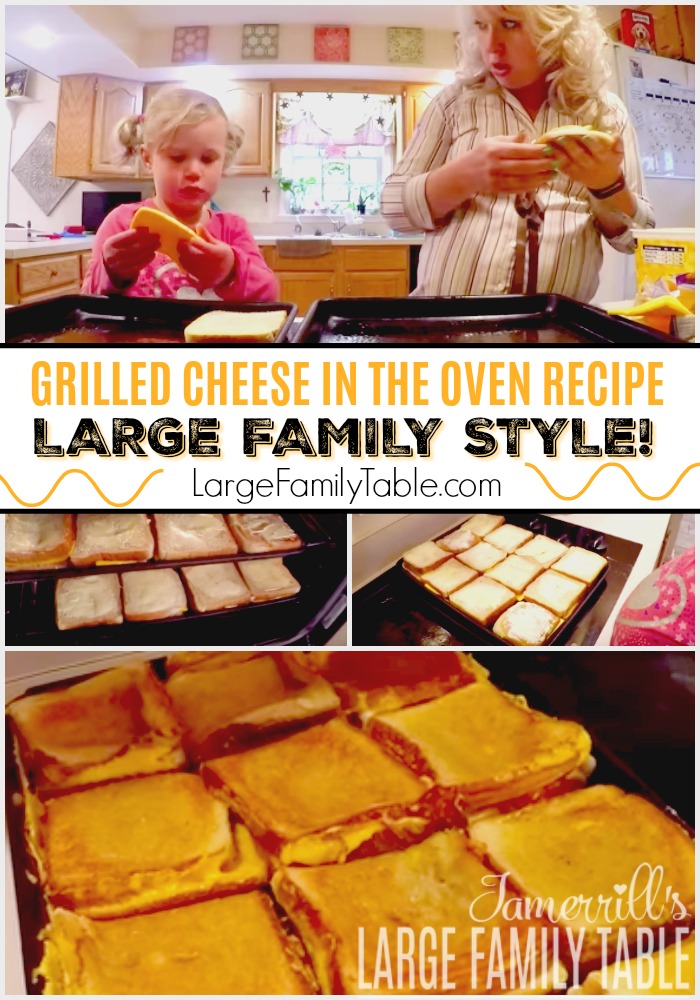 I can typically make around 8 at a time on there, so somebody is always waiting for theirs to get done. So a while back, I started making my grilled cheeses in my oven. And it's so easy, I'll never go back! They get just as crispy and yummy in the oven as they do on the stove-top or skillet. And you can prep these ahead of time for the freezer.
Miss Amelia and I share how we do our grilled cheese in the oven recipe as part of our collaboration with Frugal Family Food! We made two loaves worth and had about 8 sandwiches left over for the following day. I don't know how to function without leftovers 🙂 Amelia is especially cute and helpful in this video.
Now, I am going to tell you a secret that I said in the video, and it's either gonna gross you out or make you want to fist bump me. My dad always put mayonnaise on the bread when he cooked grilled cheese for me as a kid. And I still love it that way!! (Some of my kids do, and some don't. And Travis…well, he definitely does NOT.)
So when I make them now, I make a few with mayo and a few without. Just biting into that hot, gooey, cheesy goodness with that slather of mayo inside takes me right back and makes me want some tomato soup to go with. Yum.
Okay, lets talk about how to make grilled cheese sandwiches in your oven…
Print Oven Style Grilled Cheese Sandwiches
---
Description
Hot, crispy, and gooey deliciousness straight out of the oven.
---
Ingredients
2 loaves bread
sliced cheese
butter or margarine
cooking spray
---
Instructions
Preheat your oven to 450*.
Spray pans with cooking spray.
Butter one side of bread and place butter side down on pan.
Layer cheese on top of bread.
Butter one side on another piece of bread and place butter side up on top of cheese.
Bake for 6-8 minutes.
Turn sandwiches over to bake other side.
Remove when done and serve.
---
Notes
You know your oven best, so watch the sandwiches and turn when they are brown and crisp.
Use whatever kind of bread your family prefers (I used wheat bread from WalMart), and however many slices you need to make the appropriate amount of sandwiches for your crew.
I like to use 2 slices of cheese per sandwich; do what suits your family.
And don't forget the mayo!!
---
Nutrition
Serving Size:

24

Calories:

157

Sugar:

3

Sodium:

282

Fat:

3

Saturated Fat:

1

Unsaturated Fat:

2

Trans Fat:

0

Carbohydrates:

27

Protein:

5

Cholesterol:

3
See how easy?! This is a perfect recipe to have one of your little ones help with. I loved having Miss Amelia by my side to help me put these together. This would be a great recipe to start your beginning cooks out with as well. You might need to do the hot oven part, but they can put them together all by themselves.
Large Family Recipes
Click here to watch the full GRILLED CHEESE IN THE OVEN RECIPE – LARGE FAMILY STYLE!
I served these up on this day with applesauce, but they are perfect with a bowl of soup, or some fresh veggies or fruit.  You really can't go wrong with grilled cheese…with mayo or without. 🙂
Tell me your preference in the comments!