Does your family run through white bread rather quickly? Learn how to make your own in larger batches using this Large Family Bread Machine White Bread recipe.
You may have noticed that by feeding your large family you go through a lot of bread each week. If you find yourself buying several loaves within a short period, you are probably wondering what you can do to cut down on costs. Instead of buying bread at the grocery store, make it yourself in the bread machine. If you have a bread machine, preparing homemade bread is easier than it sounds. Follow this Large Family Bread Machine White Bread recipe to make delicious dairy-free bread that you can eat with lunchmeat, delicious apple butter, peach butter, and more.
It is important to note that this recipe is for one loaf of bread. You can double it if your bread machine is a large bread maker to make enough for a large family. If you have a standard size machine, then you will want to make two rounds of bread. You will also want to make multiple loaves if you are having a baking day to stock your freezer with bread.
****Use special promo code HELLO20 to take 20% off the entire MEGA DEAL get-it-all Bundle including the best-selling Large Family Freezer Meal Packs 1-12 + so much more!!****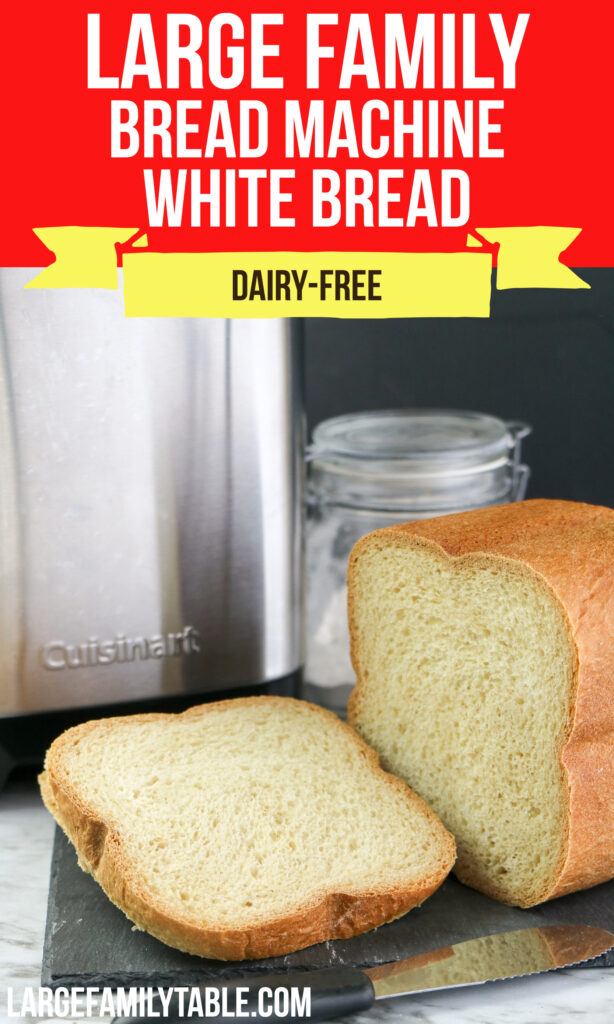 Ingredients Needed to Make the Bread Machine White Bread
Bread makes an excellent addition to any large family meal. Since this recipe is so easy to make, you can add it to your large family menu every night. Before you start preparing the Large Family Bread Machine White Bread, purchase these ingredients to add to the bread machine:
Water. You will need to heat the water to 110 degrees before you put it into the bread machine.
Olive Oil. Add three tablespoons of olive oil to your bread machine. If you do not have olive oil, you can use vegetable oil as a substitute.
Sugar. The sugar gives the bread the perfect balance of flavors and does not make it too sweet.
Bread Flour. If you want to make bread, bread flour is one of the most important ingredients to use!
Active Dry Yeast. You can also use bread machine yeast to ensure that your bread rises to its fullest potential.
The only other ingredient needed to make the bread in your bread machine is salt. You may also want to check my must-have kitchen tools to stock your kitchen.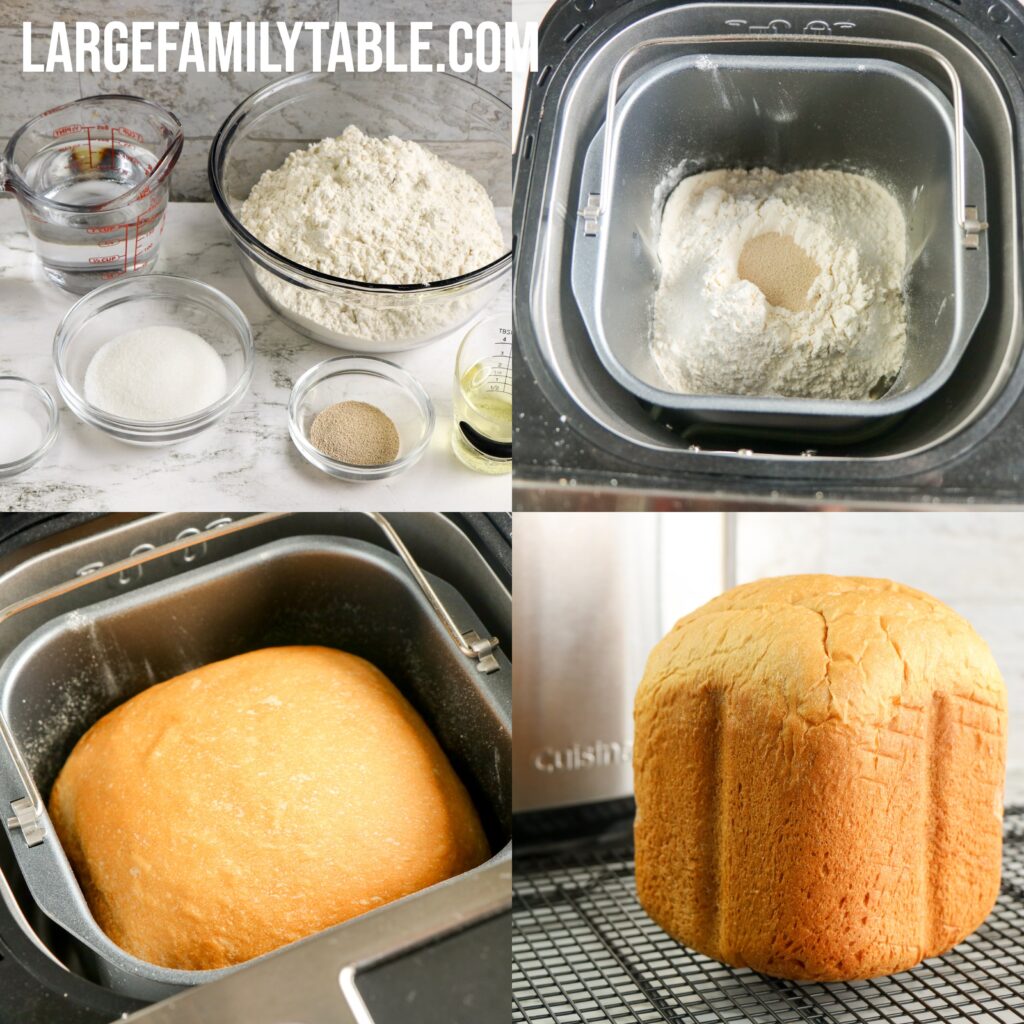 How Freeze or Store White Bread
After you make the Bread Machine White Bread, you need to know how to keep it fresh. Bread is best when stored in a paper bag instead of plastic. You can put it in a large paper bread bag and seal the bag shut with a piece of tape. If you do not have a paper bag, you can use plastic wrap. It is best to slice the bread down into individual pieces before wrapping the loaf.
If you want to prepare several loaves and store them in the freezer to avoid running out of bread mid-week, slice them into individual pieces and place the loaf in a freezer bag, removing as much air as possible. It will keep in the freezer for up to three months.
The Extra Ingredients and Recipes to Use Your Fresh Made Bread
Once you've made this bread, there are lots of ways to use it in recipes. I have tons of breakfast recipes that use bread. Try my french toast Sticks, Mixed Berry French Toast, Spinach and Cheese Strata, Apple Challa French Toast, Pecan Overnight French Toast, and Apple French Toast.
For making lunch try my Homemade Uncrustables, Grilled Cheese in the Oven, or Freeze some PB & J for later.
You can follow this recipe and add a few extra ingredients to the bread machine. Consider adding a packet of the ranch into the mix to prepare a ranch-style bread. If you want something sweeter, add raisins, cinnamon powder, and a bit of cinnamon sugar into the mix with your yeast and water. Some of the other ingredients you can add to the bread machine include minced garlic, shredded cheddar cheese, and diced pieces of your favorite fruit.
Here are more bread recipes to try!
I have tons of bread and muffin recipes!
Do you have more baking recipes to save me money?
Baking is a great way to save money on groceries. Buying prepackaged bread, rolls, muffins, baking mixes, and sweet treats can get expensive fast. Baking ahead and freezing it in the freezer means it's ready for you when you need it and you can make it when you have the time. Try my Frugal from Scratch Baking Recipes and Staples Book One for lots of money-saving recipes like Depression Era Chocolate Cake plus three other sweet treats, four delicious versions of bread recipes, plus baking staples like cake mixes, baking mix, baking powder, and more. My Frugal From scratch Baking Book Two expands into ten new recipes. Grab them both in the DOUBLE BUNDLE!! Frugal From Scratch Baking Recipes & Baking Staples to save even more!
Large Family Bread Machine White Bread
Print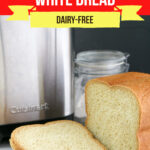 Large Family Bread Machine White Bread, Dairy-free
Author:

Prep Time:

5 Minutes

Cook Time:

30 Minutes

Total Time:

35 minutes

Yield:

1 Loaf

Category:

Baked Goods

Method:

Bread Machine
---
Description
Enjoying fresh bread every single day comes down to learning how to make it in your own bread machine. This recipe makes super soft and delicious bread each time. 
---
Ingredients
1 cup water, heated to 110 degrees

3 tablespoons olive oil or vegetable oil

3 tablespoons sugar

1 ½ teaspoon salt

3 cups bread flour

2 ¼ teaspoons active dry yeast (I used bread machine yeast.)

 
---
Instructions
Place ingredients in the bread machine in the order listed or as directed by the manufacturer.

Program the bread machine for the white bread cycle with your desired crust color.

Remove the bread pan from the bread machine and allow to cool for 5 minutes before removing the bread from the pan. Place on a wired rack and allow to cool prior to slicing and serving.
---
Notes
This recipe is for one loaf of bread. You can double it if your bread machine is a large one to make enough for a large family. If you have a standard size machine, then you will want to make two rounds of bread. 
Keywords: Large Family Bread Machine White Bread
Once you make your first loaf of this easy bread you won't go back to store-bought. It comes together quickly and tastes great!
FREE Emergency Pantry Planning Pack!
Don't forget to sign up for the emergency pantry planning pack for free to help you plan your pantry meals! The free Emergency Pantry Planning Pack will help you plan your needed pantry items! Printable pages include pantry inventory, grocery lists, meal planners, list of pantry staple items, and more.