Any morning where I can drink my coffee while breakfast bakes is a good start to my day. If I can use leftovers in the recipe, my frugal mama heart is bursting. This super tasty pecan overnight french toast casserole can be prepped the night before and uses any leftover stand mixer french bread. It's like a double #momwin first thing in the morning.
Get the Best-Selling Large Family Freezer Meals Collection here! Use promo code HELLO20 to take 20% off your first order!
The best part of making this casserole is that all your little people can help. From tearing up the french bread into chunks to whisking the eggs together for pouring on top, there is a job for everyone. This recipe is easy enough for you to let older kids lose in the kitchen to make it solo too.
Tear up the bread, whisk the eggs, milk, and heavy cream together, pour over the top, then make the pecan topping. Seriously, it's that simple. You put the pecan overnight french toast casserole in the fridge covered with aluminum foil to rest and marry all those wonderful flavors together. I would even make the pecan topping and store it in the fridge for morning.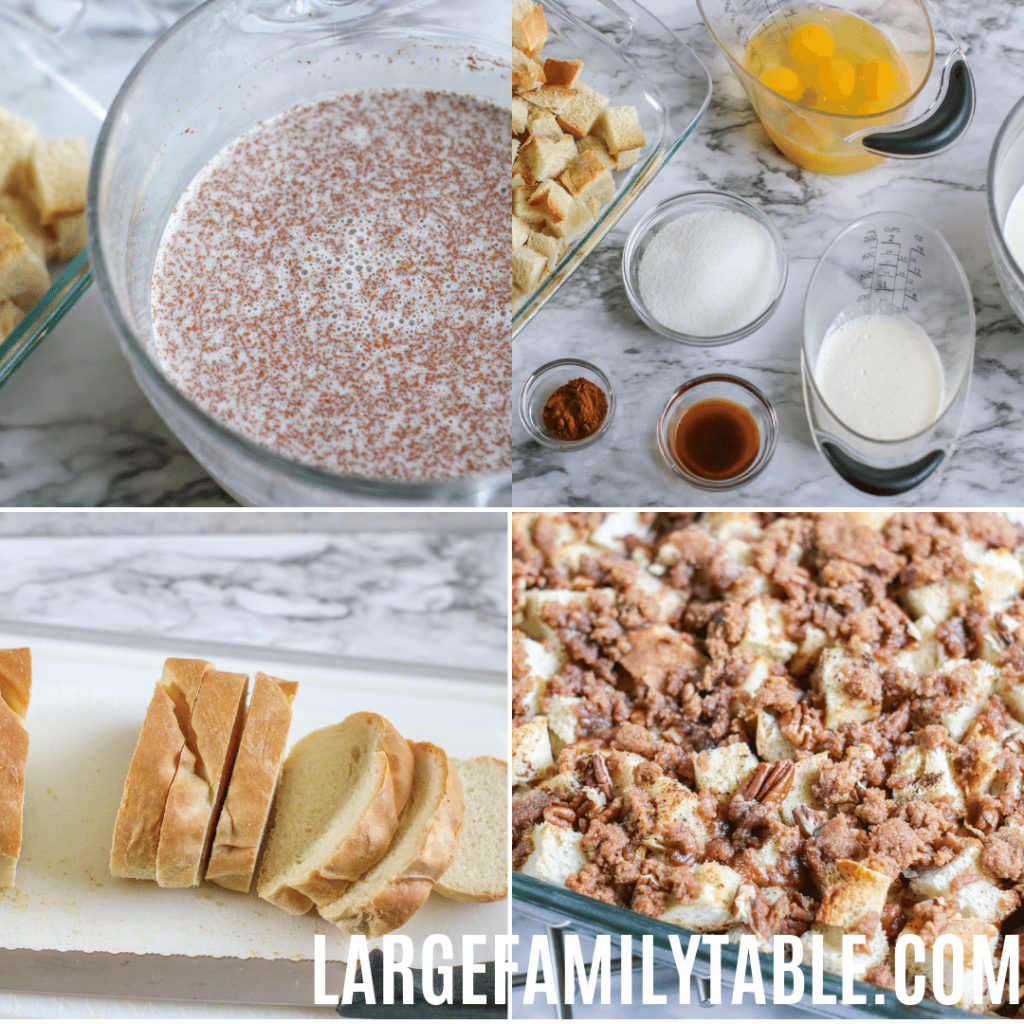 Once you emerge from dreamland, uncover the casserole to add the pecan topping. After all, you can't have pecan overnight french toast casserole without the pecan topping. Recover the casserole and pop it in the oven at 350 degrees for 25 minutes. Uncover and bake for another 20-25 minutes or until the egg is set. Remove and serve with fresh fruit. You can even add syrup or fruit topping to individual plates. Sit back and revel in the accolades from your people about how awesome you are! #Momwn
Print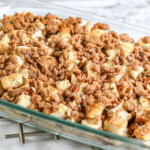 Pecan Overnight French Toast Casserole
Author:

Prep Time:

overnight

Cook Time:

25 mins

Category:

breakfast

Method:

Oven

Cuisine:

American
---
Description
Prep for breakfast the night before with this easy and tasty overnight casserole,
---
Ingredients
1 loaf day old French bread, cubed
6 eggs
1/2 cup heavy cream
2 1/2 cups milk
2 teaspoons ground cinnamon
1 tablespoon vanilla extract
1 cup sugar
For pecan topping:
1 cup pecans, roughly chopped
1/2 cup packed brown sugar
1/4 cup all purpose flour
1 teaspoon cinnamon
3 Tablespoons butter
---
Instructions
Spray a 9×13 inch baking dish with non-stick cooking spray. 
Place french bread in baking dish.
In a mixing bowl, whisk together eggs, cream, milk, cinnamon, vanilla, and sugar until combined. Pour over french bread.
Cover casserole with aluminum foil and place in refrigerator overnight.
When ready to bake, preheat the oven to 350 degrees.
For the pecan topping, drop pecans over the top of the casserole. In a food processor, cut together the brown sugar, flour, cinnamon, and butter until combined. Sprinkle over casserole. Recover with aluminum foil.
Bake the covered casserole for 25 minutes. Remove the foil and continue baking for another 20 to 25 minutes or until the casserole is cooked through and the eggs are completely set.
Serve with your favorite syrup, powdered sugar, and/or fresh fruit.
Keywords: pecan overnight french toast casserole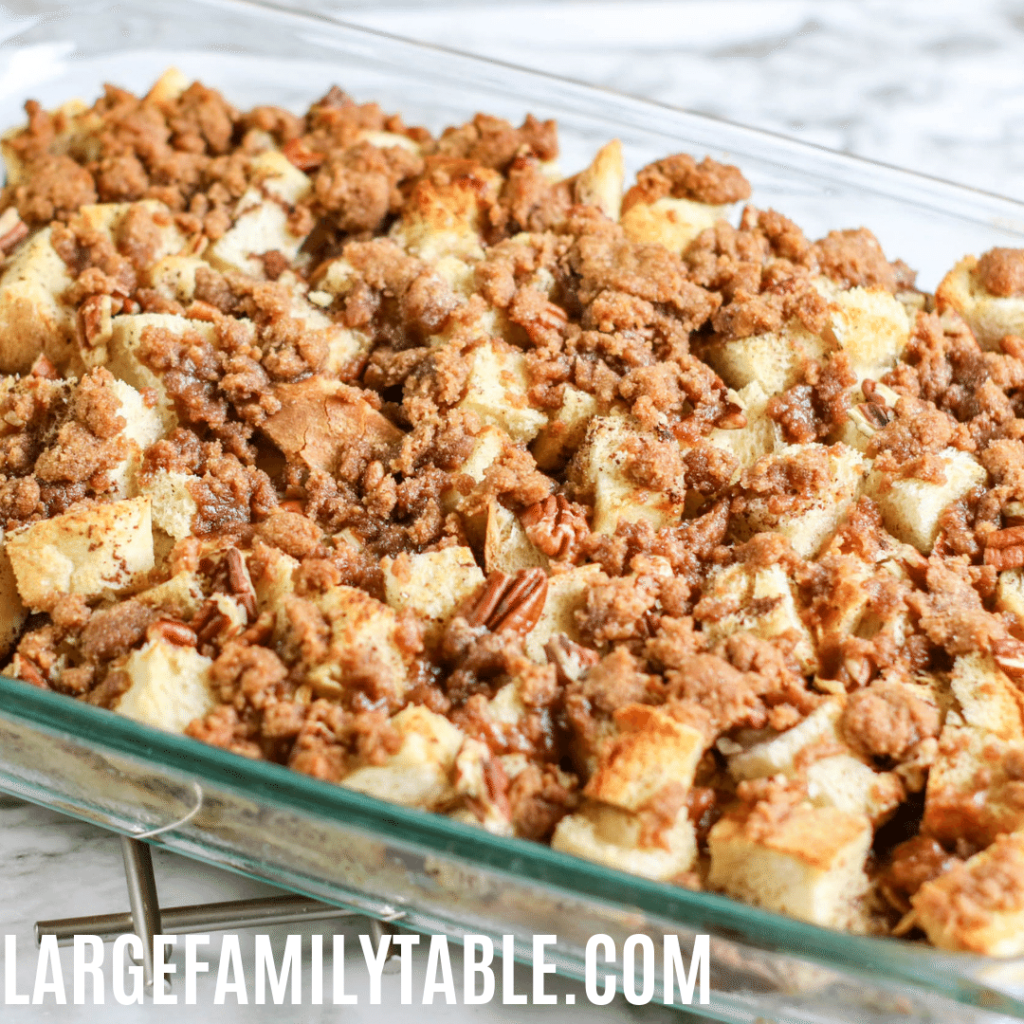 Nothing will bring your people to the table faster than the aroma of this coming out of the oven. Everyone will have full bellies and happy hearts. You don't even have to remind them that it was super easy to put together the night before or that is a frugal meal. No one needs to know. 😉 It's also a great meal to bring a new mama so she can eat a hot breakfast after a long night.
Looking for some more breakfast freezer recipes?