Prepare the perfect treat for a special day with loved ones with this Large Family Valentine's Day Pop-Tart House. It is fun to make and delicious to eat with your husband and your children.
Do you want to make something similar to a gingerbread house with your children for Valentine's Day? If so, try this Large Family Valentine's Day Pop-Tart House. It is as sweet as you can expect, but lots of fun to make and eat with the family. You can get the children involved in lending helping hands to put this house together that will look great as a centerpiece on your kitchen table while also giving you something sweet to eat when you have a craving for it. You do not need many ingredients to put the pop-tart house together.
Bonus Valentines Day treat idea: try our Large Family Red Velvet Donuts! They're so pretty and taste so good!
****Use special promo code HELLO20 to take 20% off the entire MEGA DEAL get-it-all Bundle including the best-selling Large Family Freezer Meal Packs 1-12 + so much more!!****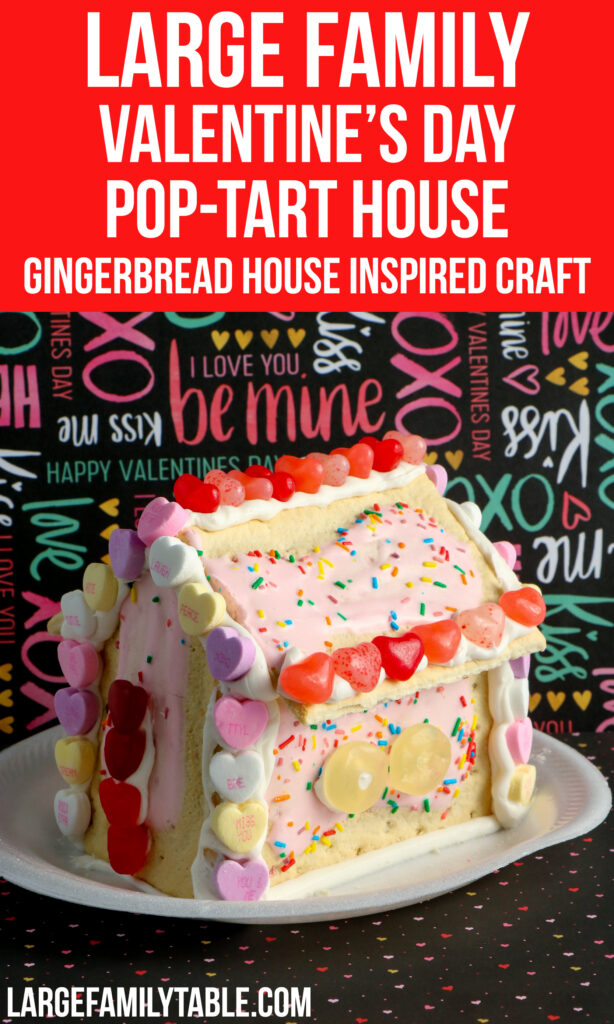 What You Will Need to Make the Large Family Valentine's Day Pop-Tart House
When making the Large Family Valentine's Day Pop-Tart House, these are the ingredients you will need to have:
Strawberry Milkshake Pop-Tarts. Not only do these Pop-Tarts taste great, but they are also coated in a pink frosting that goes great with the Valentine's Day theme. Of course, you can always try using strawberry, frosted cherry, and raspberry Pop-Tarts, too. You will need 6 pop-tarts – or three sleeves – for each house.
White Frosting. You can use frosting from a can or make some from scratch, depending on what you like. Here is my favorite Royal Icing recipe. If you purchase the cans you will need about half a can for each house.
Valentine's Day Candy. Choose any of your favorite Valentine's Day candies to add to the pop-tart house you will make. You may want to choose candy hearts, chocolate hearts, and other sweet treats.
A Piping bag for the frosting – A cheap way to substitute piping bags is to place the icing in a plastic baggie or zipper style bag, then cut off the tip. This will make a tiny hole in the corner that you can pipe icing out of.
A Knife to cut your pop-tarts. – If you have littles you might want to cut the Pop-Tarts ahead of time to keep the knife off the table.
If you have the right ingredients and supplies, you can start making this Large Family Valentine's Day Pop-Tart House. Make sure you have a flat surface when getting started, such as a kitchen table or dining room table.
How to Assemble the Valentines Day Pop-Tart House
On one end of a pop-tart, use a knife to cut off both corners to create a point. Place that pop-tart over a second pop-tart. Cut the second pop-tart to match the shape of the first.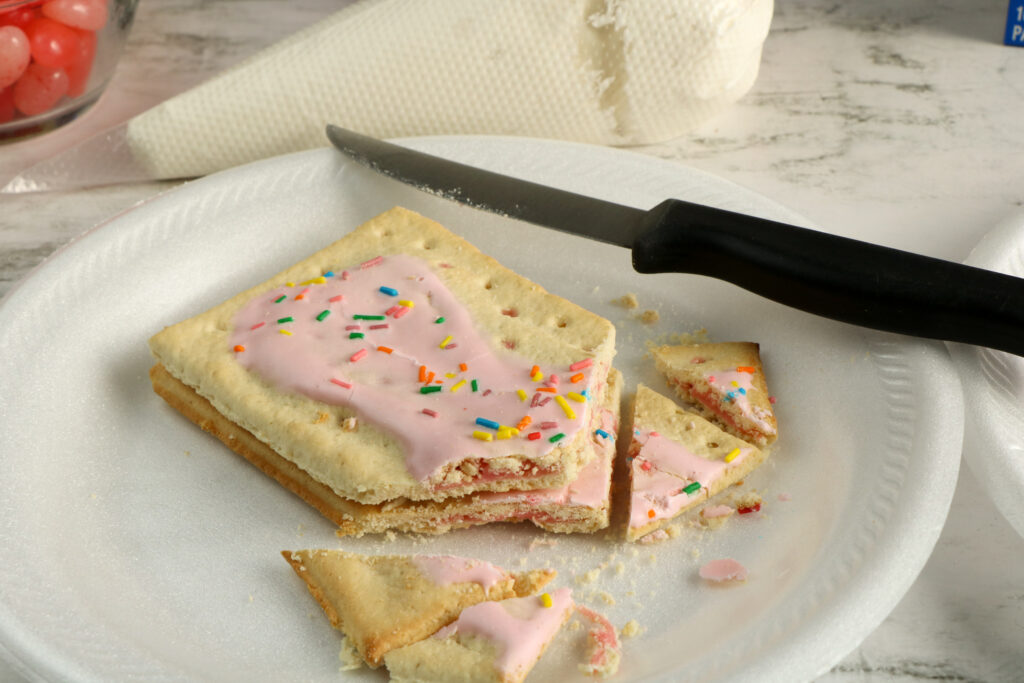 Place frosting in a piping bag and snip off the end. A plastic zipper bag will work, too. Just place the icing in the bag and push it to one corner. Then snip off that corner.
Using the frosting, attach the cut pop-tarts to two uncut pop-tarts to create a house shape.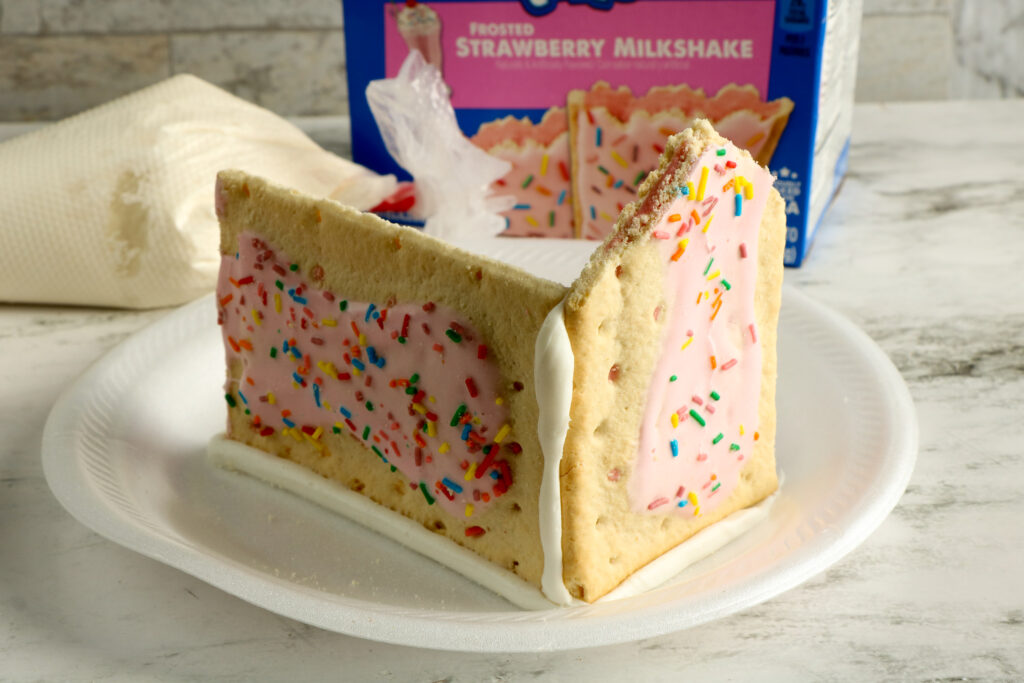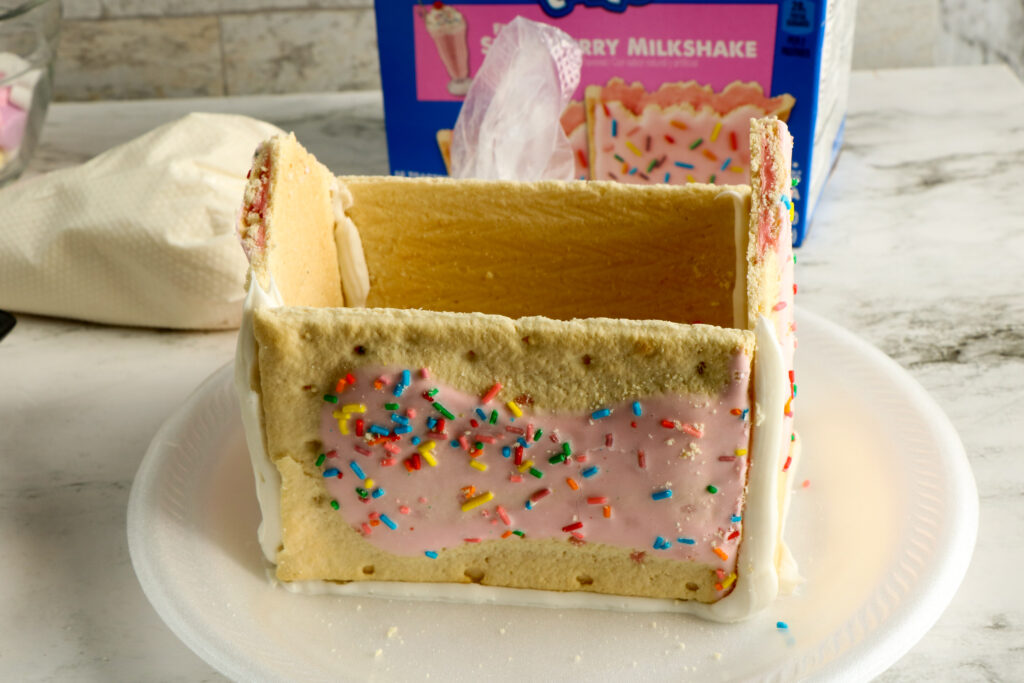 Then, use the frosting to attach two pop-tarts to the top of the house as a roof.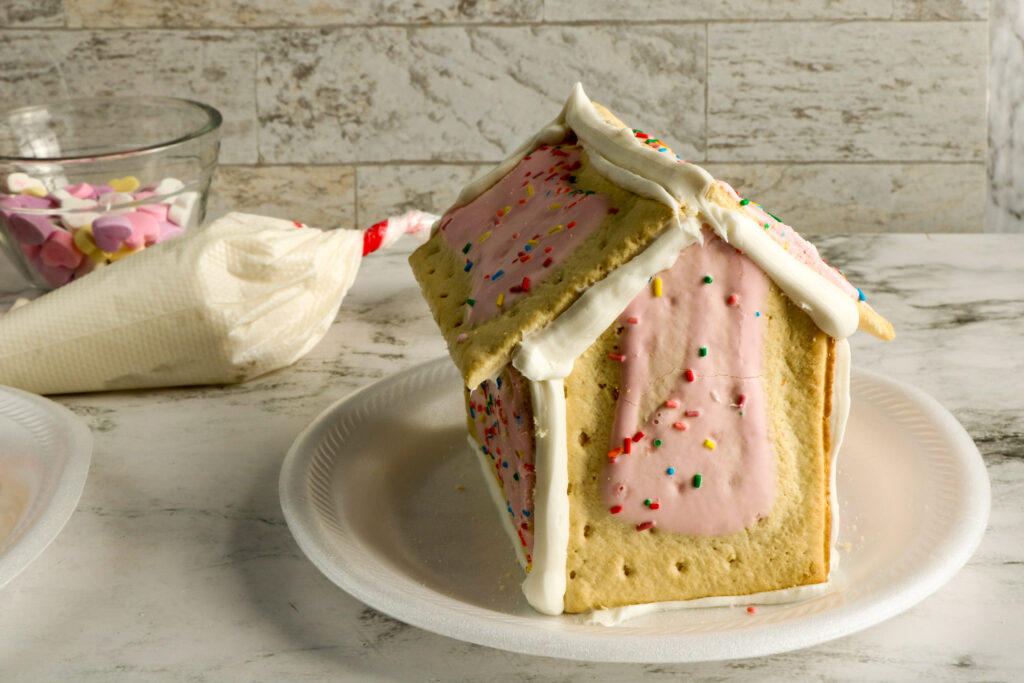 With additional frosting, attach candy to the house.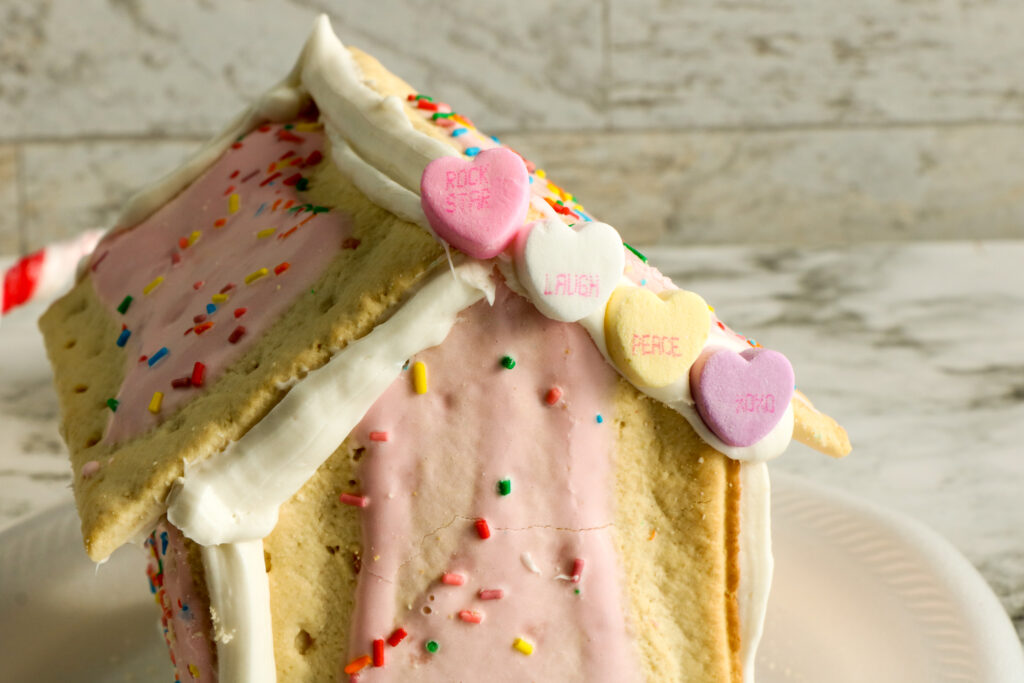 Allow the frosting to dry or nibble away!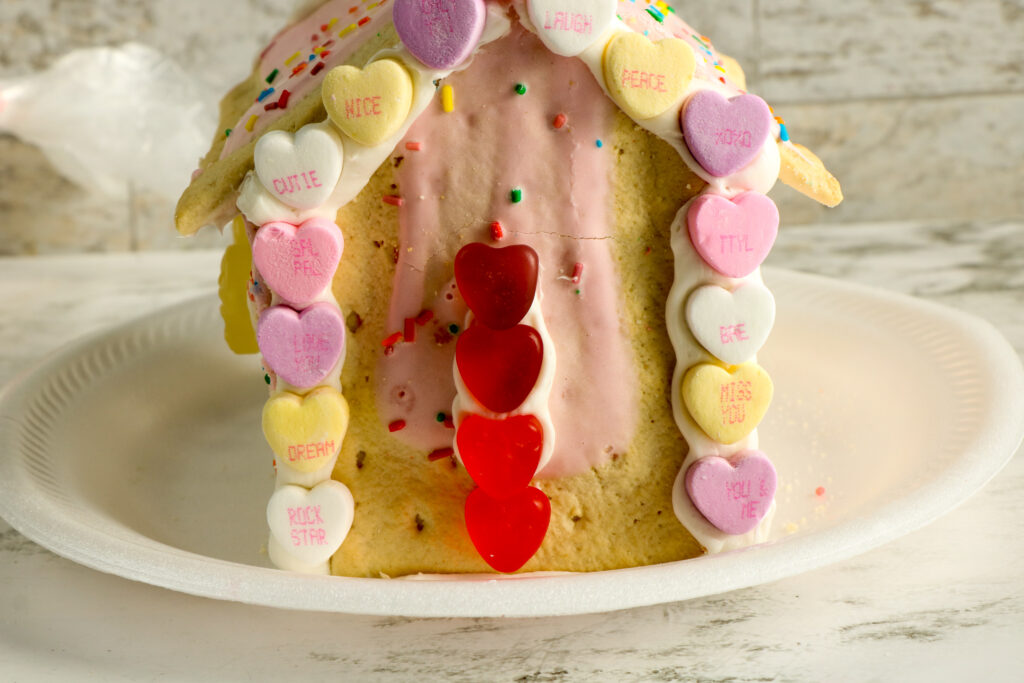 How to Store the Valentine's Day Pop-Tart House
After taking the time to carefully put the Large Family Valentine's Day Pop-Tart House together, you may want to keep it fresh so that you can grab pieces of it and eat it when you feel like it. If so, you can leave it in a cool, dry place in the kitchen. You can carefully cover the pop-tart house in plastic wrap to keep the air from hitting it and drying it out. Keeping it covered is a great way to prevent anything from getting on the pop-tart house.
Make it a Party!
Now that you have a craft idea that's not too crazy, maybe you want to make it a party! Add our Wookie paper bag craft puppet for any Star Wars fans. Here are 20+ Make Ahead cookie recipes to keep things simple. Try these fun Oreo Cookie Balls, these Peanut Butter Cup Blossoms, use red and white M&M's in these M&M Cookies. If you're feeling fancy or want a special treat for Mama, then make a cup of tea and add these Almond Poppyseed Tea Muffins. We even have Keto Chocolate chip Cookies and Keto Thin Mints for those of you trying to stay low carb or Keto.
Here are more Valentines Day Party foods and gift Ideas!
Here are more dessert and snack ideas. We also have lots of meal plans to keep you sane and help you make dinner on busy days of making memories.
This fun Pop-tart house is just the beginning of family fun! Plan this with your children, invite friends, and make it a party. The memories you make you will have forever.
Where can I find Recipes to Feed my Large Family?
You can get all my recipes in my 2021 SUPER MEGA DEAL!!***Get it all 30+ Products Bundle. It includes everything in my shop through 2021!! You will get so many recipes, make-ahead and freezer meals, lots of sheet pan meals, planning packs to help you organize all your meals (breakfast, lunch, and dinner) and so much more. That's why I call it the super-mega deal! 
FREE Emergency Pantry Planning Pack!
Don't forget to sign up for the emergency pantry planning pack for free to help you plan your pantry meals! The free Emergency Pantry Planning Pack will help you plan your needed pantry items! Printable pages include pantry inventory, grocery lists, meal planners, list of pantry staple items, and more.