With the holidays just around the corner, you might wonder how you will make all those cookies in time. I have great news- cookie dough can be frozen and used at a later time. Even better? I have compiled lots of cookie dough recipes that you can freeze and make ahead. Keep reading to snag them all for yourself.
****Use special promo code HELLO20 to take 20% off the entire MEGA DEAL get-it-all Bundle including the best-selling Large Family Freezer Meal Packs 1-12 + so much more!!****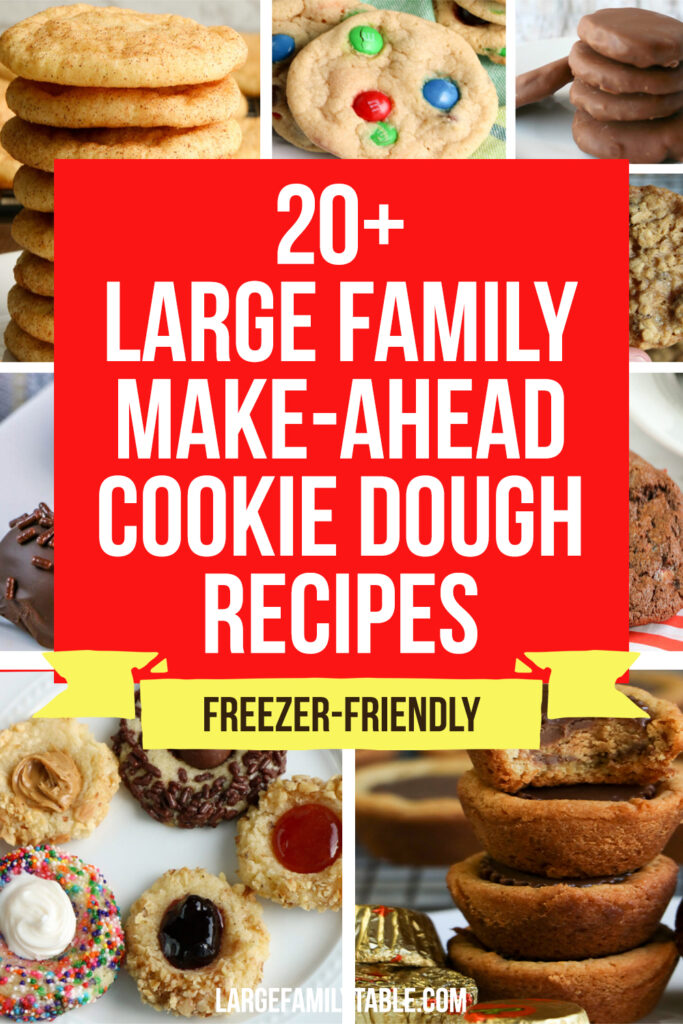 Can I make cookie dough ahead of time and freeze it?
Yes! Storing a variety of make-ahead cookie dough recipes in your freezer will make your holiday baking a breeze. Most cookie dough can be made ahead and frozen. We usually recommend that you make the dough and drop it onto a cookie sheet and into the freezer. After it freezes, place it into a ziplock bag and store it until you are ready to bake it. Don't forget to label your cookies so you know what you have and how long they are good for. Most dough will keep for up to six months, but be sure to check the recipes.
What Cookie Dough can be Made in Advance?
There are lots of cookie doughs that you can make in advance! Most recipes tell you to chill your dough thoroughly in the fridge before baking, freezing it works just the same. Just place your frozen cookie dough balls right on your prepared cookie sheet and place them in your preheated oven as directed by your recipe when you are ready to make them. You may have to increase the cooking time slightly, just watch them! The convenience of baking frozen cookie dough can't be beaten.
Make-Ahead Cookie Dough Holiday Recipes that are Freezable
Now here's what you've been waiting for! Our list of make-ahead cookie dough recipes that freeze well.
Peanut Butter Cup Blossoms are a decadent twist on the classic peanut butter Hershey kiss cookie but stepped up a notch. These delicious and soft peanut butter cookies have a peanut butter cup pressed into them. Melty, creamy, and delicious is the only words to describe this cookie.
Large Family Snickerdoodles is another one of those classic Christmas cookie recipes.
Peppermint and chocolate go together at Christmas time almost better than peanut butter and chocolate if you can believe it. Big Family Chocolate Peppermint Cookies are a perfect combination. And what goes better with chocolate than that? More chocolate. Try the Large Family Double Chocolate Chip Cookies.
EASY & FRUGAL Make Ahead & FREEZE Cookie Baking Book!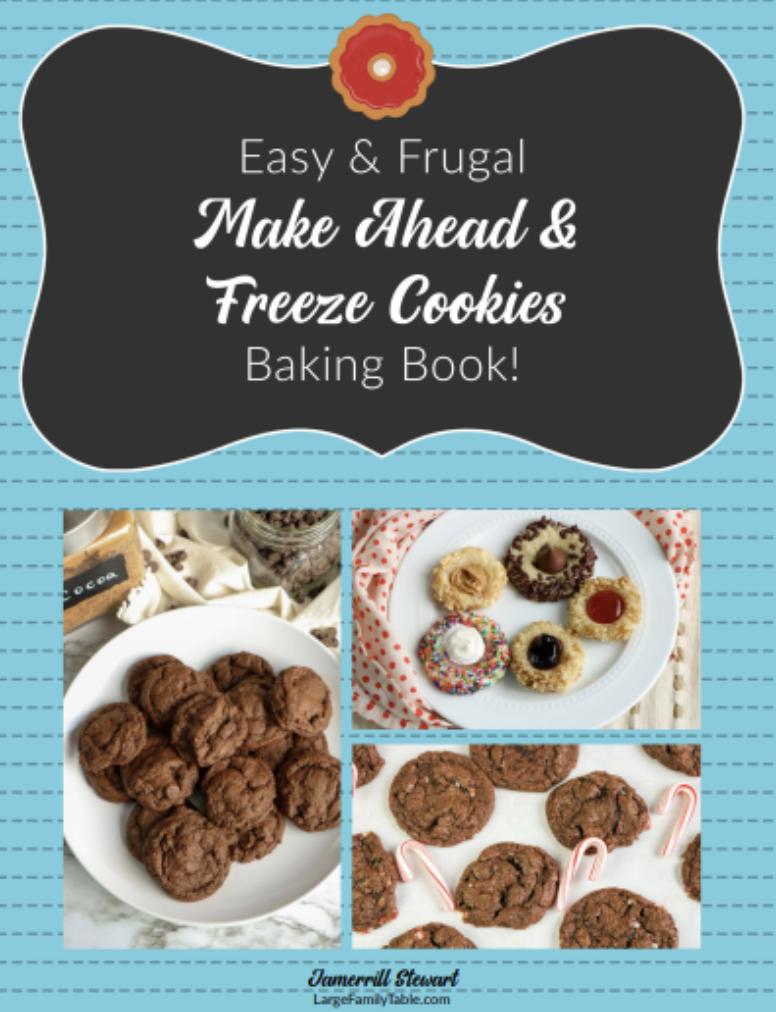 DON'T MISS using coupon code HELLO20 to take 20% off the EASY & FRUGAL Make Ahead & FREEZE Cookie Baking Book!
Oatmeal Raisin Cookies almost pass for healthy with the hearty oats, right? These Chewy Molasses Cookies are a different option if you are looking for something new.
White Chocolate Cranberry Walnut Cookies are out of this world. The creamy white chocolate flavor with the sweet and chewy cranberries and the baked walnuts are divine. These make-ahead holiday cookies are even beautifully colorful and festive.
If you're looking for a make-ahead cookie dough recipe to make with your children, Make-Ahead Thumbprint Cookies would be the perfect recipe. Customizable for every person, this recipe makes the most fun and colorful variety of cookies. Another decorative cookie is the Stained Glass Sugar Cookies from Food Network.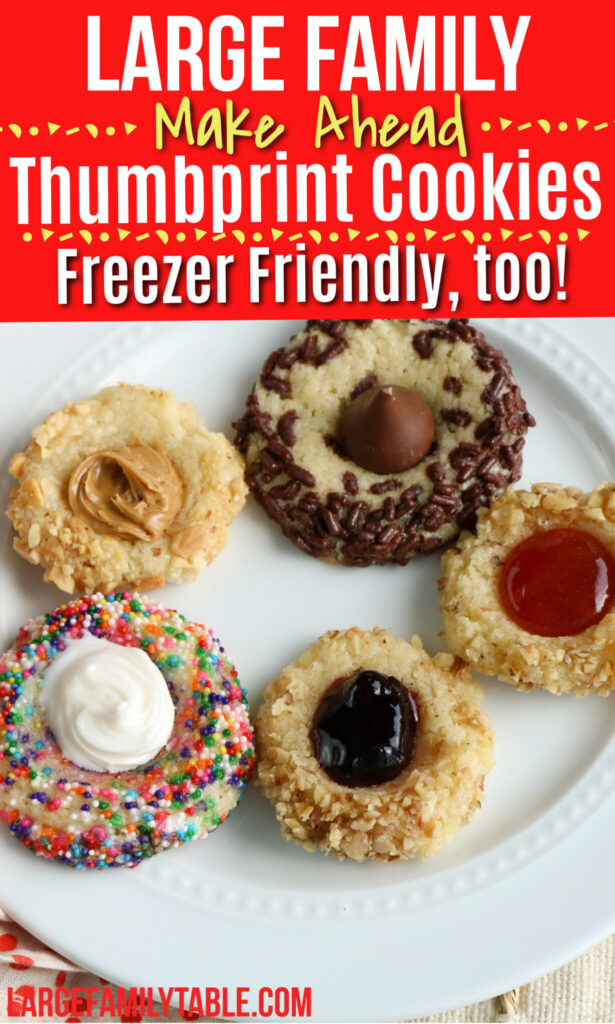 What Homemade Cookies Freeze Well?
All the cookies that we have in this list freeze well. Cookies that are already decorated with frosting or coated in chocolate or powdered sugar should not be frozen. If you dip a cookie in chocolate or put the icing on it the icing and chocolate will crack in the freezer. Most of the time we recommend freezing the dough before cooking to save time and achieve that fresh-made cookie taste. However, you can still make the cookies first then freeze them. Just follow our guidelines listed above concerning what not to freeze. Here are more cookies to make that are safe to freeze.
The ultimate of Holiday Make-Ahead Cookies is The Best Oreo Cookie Balls. This freezable cookie recipe requires only a handful of ingredients and are a breeze to prepare.
For an old fashioned goodie try our Large Family Fruitcake Cookies.
Treat yourself to some homemade M&M Cookies. Kids love the candy-coated chocolates decorating these M&M Cookies.
Who could skip Gingerbread cookies? But better yet, the Large Family Gingerbread Cookie Cups consist of a decadent cheesecake filling that will make you feel like you are biting into an authentic slice of fresh cheesecake.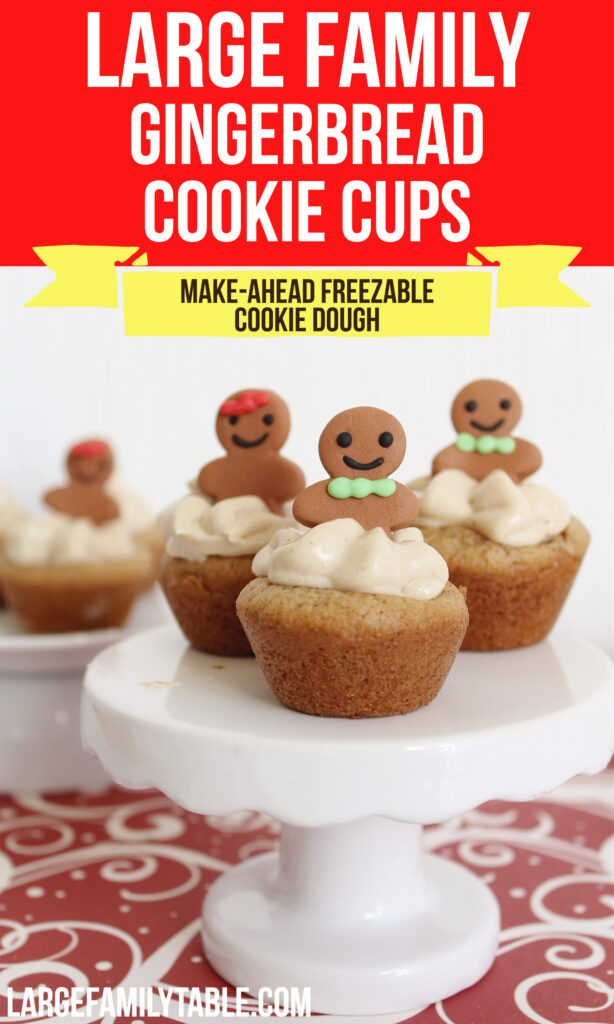 Keto Thin Mint Cookies are a Keto-friendly make-ahead freezer-friendly cookie recipe. Try these and other low carb desserts for your Trim Healthy Mama friends and family or for those on a low-carb diet.
Homemade Chocolate Chip Peanut Butter Cookies for the mom on the go who loves homemade cookies. Mix this fabulous make-ahead cookie dough and store it in your freezer for Ooey-gooey fresh baked homemade cookies any time.
Last but not least, we have quite a few donut recipes that you will definitely want to try! These can also be made ahead and the batter stored in the fridge for a few days or make these in advance and freeze them after baking them. I highly recommend waiting to put on any decorations or icing until you are ready to eat them as those types of things do not freeze well.
Finally, we have our classic Large Family Panettone Christmas Bread recipe. It's sure to become a holiday tradition!
How Far in Advance can you freeze Christmas Cookies?
Most recipes can be made months in advance. You can start your cookie dough in July and store them in the freezer. If you make extra, then you get the bonus of being able to throw some in the oven from time to time and enjoy cookies all year around.
Don't let the holidays stress you out this year! Make your cookies ahead of time and enjoy your holiday with your family.
FREEZER COOKING! How to Cook MASSIVE COOKIES and MAKE FREEZABLE COOKIE DOUGH!
FREE Emergency Pantry Planning Pack!
Don't forget to sign up for the emergency pantry planning pack for free to help you plan your pantry meals! The free Emergency Pantry Planning Pack will help you plan your needed pantry items! Printable pages include pantry inventory, grocery lists, meal planners, list of pantry staple items, and more.