Turn your favorite holiday beverage into a classic breakfast treat with these Large Family Egg Nog Donuts. These donuts are perfectly moist and soft with just the right touch of sweetness and the perfect glaze.
When you have a large family, making treats like donuts is ideal because you can prepare the dough, cook them, and have plenty to offer for all the hungry children and adults living in the household. Suppose you often prepare eggnog for the family to drink throughout the holiday season, and it has become a family favorite. In that case, your loved ones are going to enjoy the Large Family Egg Nog Donuts.
These donuts are sweet, moist, and full of flavor. With just a few ingredients, including flour, rum extract, and eggnog, you can make these fresh donuts that taste better than anything you could get at a bakery or grocery store. Eat them fresh out of the oven when ready, or store them and serve them later! No matter when you decide to have them, you can rest assured that these donuts will impress everyone. If you're not a fan of Egg Nog or donuts, then try our Make-Ahead Freezable Peanut Butter Cup Blossoms, our Make-Ahead Freezable Cookie Dough M&M Cookies, or our Make-Ahead Freezable Thumbprint Cookies.
****Use special promo code HELLO20 to take 20% off the entire MEGA DEAL get-it-all Bundle including the best-selling Large Family Freezer Meal Packs 1-12 + so much more!!****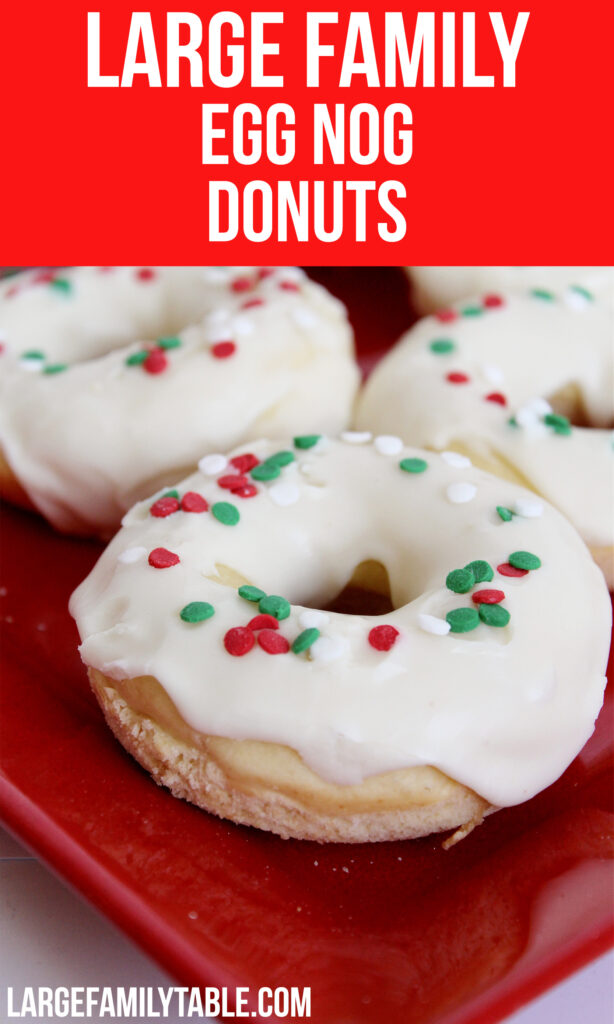 Your Essential Ingredient List to Make Large Family Egg Nog Donuts
Gather your ingredients before getting started. You will need the following ingredients to make Large Family Egg Nog Donuts from scratch:
All-Purpose Flour. Use the flour to create a donut dough that you will add several other ingredients to for more flavor.
Eggnog. You will need to mix the eggnog with the flour to give your donuts the classic holiday taste.
Rum Extract. Just a small amount of rum extract is all you will need to add a slight kick to these donuts that everyone should like.
Baking Powder. When you want the donuts to cook perfectly, you need to add some baking powder into the flour mix.
You will also need salt, sugar, an egg, and vegetable oil. To prepare the glaze for these donuts, combine a cup of powdered sugar with three tablespoons of eggnog and a ¼ teaspoon of rum extract. The glaze is easy to prepare and is the finishing touch to add to these donuts before serving them.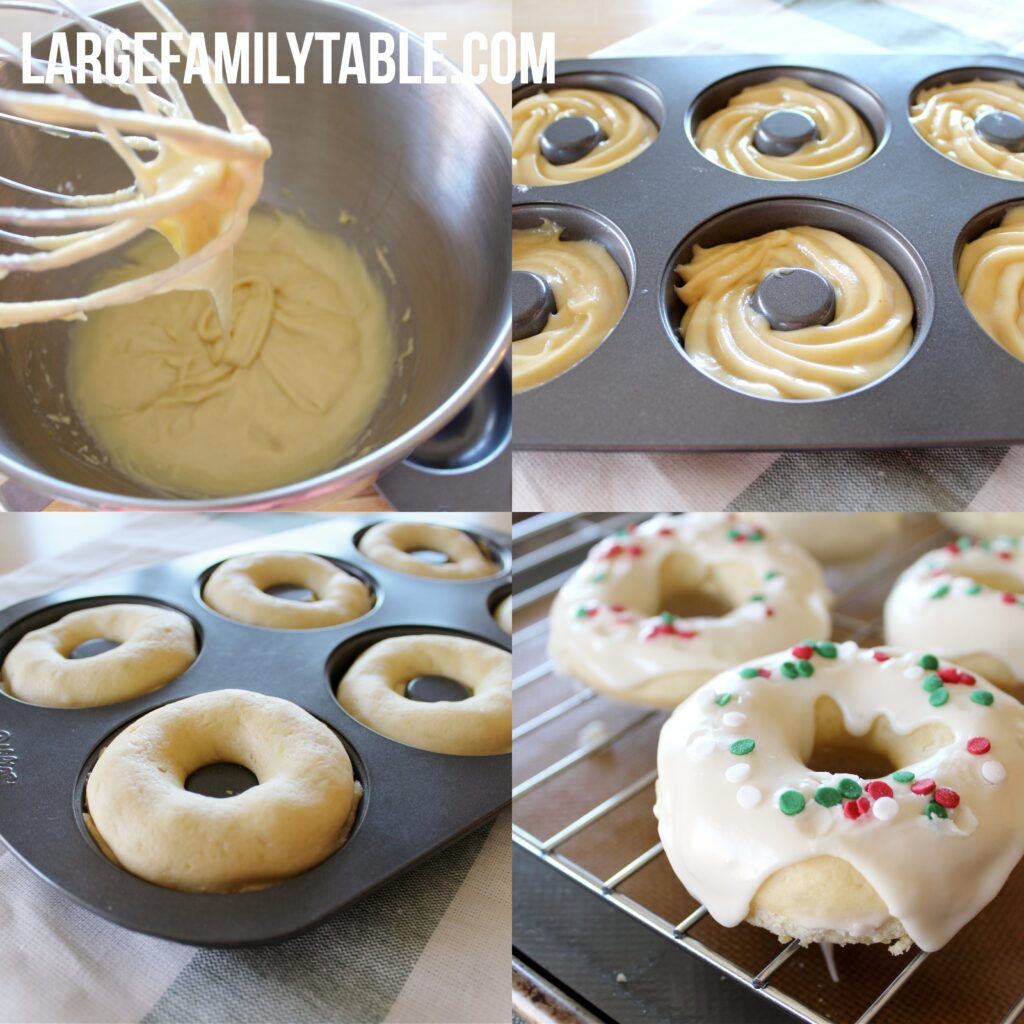 How to Make Ahead and Store the Egg Nog Donuts
Did you know that you can make your Large Family Egg Nog Donuts in advance and then serve them when you want to? The donuts are easy to store and will still taste good, whether you have put them in the refrigerator or the freezer. There are two different ways to keep the donuts. You might want to prepare the batter and then store it in a container with a lid in the fridge for a few days until you are ready to bake them.
If you would prefer to bake them before storing them, you can do that. You would need to put them in a container with parchment paper and an airtight lid before placing them in your fridge for up to seven days or your freezer for roughly six months. It all comes down to what works best for you and your large family.
Need more Baking Recipes?
Baking is a great way to save money on groceries. Buying prepackaged bread, rolls, muffins, baking mixes, and sweet treats can get expensive fast. Baking ahead and freezing it in the freezer means it's ready for you when you need it and you can make it when you have the time. Try my Frugal from Scratch Baking Recipes and Staples Book One for lots of money-saving recipes like Depression Era Chocolate Cake plus three other sweet treats, four delicious versions of bread recipes, plus baking staples like cake mixes, baking mix, baking powder, and more. My Frugal From scratch Baking Book Two expands into ten new recipes. Grab them both in the DOUBLE BUNDLE!! Frugal From Scratch Baking Recipes & Baking Staples to save even more!
Here are more Christmas desserts your family will enjoy!
Large Family Egg Nog Donuts
Print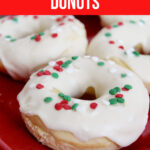 Large Family Egg Nog Donuts | Big Family Holiday Ideas!
Author:

Prep Time:

15 Minutes

Cook Time:

12 Minutes

Total Time:

27 minutes

Yield:

12 Donuts

Category:

Dessert

Method:

Oven
---
Description
Turn your favorite holiday beverage into a classic breakfast treat with these Large Family Egg Nog Donuts. These donuts are perfectly moist and soft with just the right touch of sweetness and the perfect glaze.
---
Ingredients
2 cup all-purpose flour
6 Tablespoon granulated sugar
2 teaspoon baking powder
1 teaspoon salt
12 Tablespoons eggnog
2 teaspoon rum extract
2 egg
6 Tablespoons vegetable oil
Eggnog White Glaze
2 cup powdered sugar
4 to 6 Tbsp. eggnog (depending on thickness of glaze)
1/2 teaspoon rum extract
---
Instructions
Preheat oven to 325 degrees F and prepare a donut pan
In a large bowl, mix together eggnog, rum extract, egg, oil, and sugar. Once combined, add the flour, baking powder, and salt.
Place batter into a piping bag and cut off a small corner. Pipe dough into your prepared donut pan.
Bake for 10 to 13 minutes until toothpick comes out clean
Prepare the glaze by mixing together the powdered sugar with 2 Tbsp. eggnog; you can add more to reach your desired thickness for the glaze. However be sure, as you don't want it too thick.
While the donuts are still warm, dip donuts into glaze and place on a wire rack.
Feel free to add sprinkles to make them more festive!
Enjoy! 
These Egg Nog Donuts are a special Christmas treat that your family will enjoy. These are so easy to make, but we'll let them think otherwise because they taste so good!
FREE Emergency Pantry Planning Pack!
Don't forget to sign up for the emergency pantry planning pack for free to help you plan your pantry meals! The free Emergency Pantry Planning Pack will help you plan your needed pantry items! Printable pages include pantry inventory, grocery lists, meal planners, list of pantry staple items, and more.