Make unique and enjoyable Almond Poppyseed Tea Muffins to have with your favorite cup of hot tea. These muffins are a fantastic breakfast treat that is enjoyed by both parents and their children.
The Almond Poppyseed Tea Muffins are a unique treat worth preparing when you want something a little fancier than Chocolate Chip Banana Muffins or Oatmeal Blueberry Muffins. These delectably moist muffins will melt in your mouth with each bite while offering such a savory touch. You can eat them fresh out of the oven just like they are when you remove them from the muffin tin, but you can also slice them in half and add a bit of butter, Apple Butter, or jam to them. The melted butter on the Almond Poppyseed Tea Muffins offers an unforgettable and incredibly pleasant taste that you will enjoy.
****Use special promo code HELLO20 to take 20% off the entire MEGA DEAL get-it-all Bundle including the best-selling Large Family Freezer Meal Packs 1-12 + so much more!!****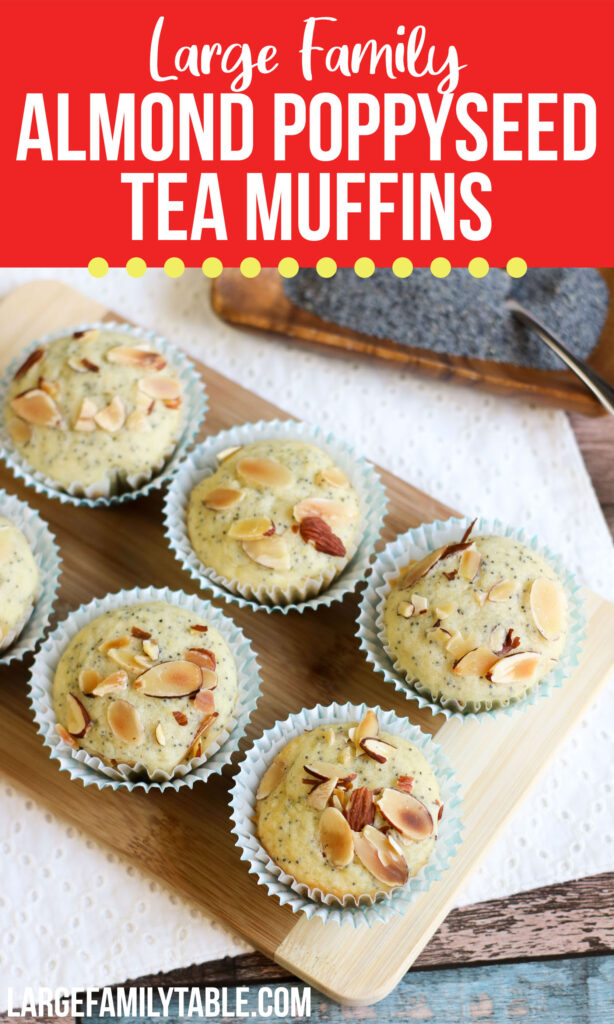 Almond Poppyseed Tea Muffins
Almond Poppyseed Tea Muffins are great for all occasions. Make them while eating dinner and have them fresh and hot for a quick and simple dessert. You can make them at night, store them, and then grab a few of these muffins to have for breakfast. They are great for large families because the recipe makes plenty of them, which means you will have more than enough to go around. With plenty of muffins available for your children to eat, you can stress less about preparing a big breakfast for several children at one time.
Ingredients to Make Almond Poppyseed Tea Muffins
You must have the following ingredient to prepare these delicious Almond Poppyseed Tea Muffins from scratch:
Flour. You will need the flour to mix with baking soda and baking powder to create that perfect muffin texture.
Poppyseeds. You cannot make your poppyseed muffins without the essential ingredient, poppyseeds.
Sliced Almonds. Purchase sliced almonds to add to these muffins to give your muffins a slightly crunchy texture.
Almond Extract. Enhance the almond taste that you will experience with each bite by adding almond extract to your mixture.
Butter. The butter is a much-needed ingredient that gives these muffins their perfect taste and texture.
Sour Cream. A touch of sour cream keeps these muffins light and fluffy.
In addition to these essentials, you will need to have sugar and an egg ready to make these muffins.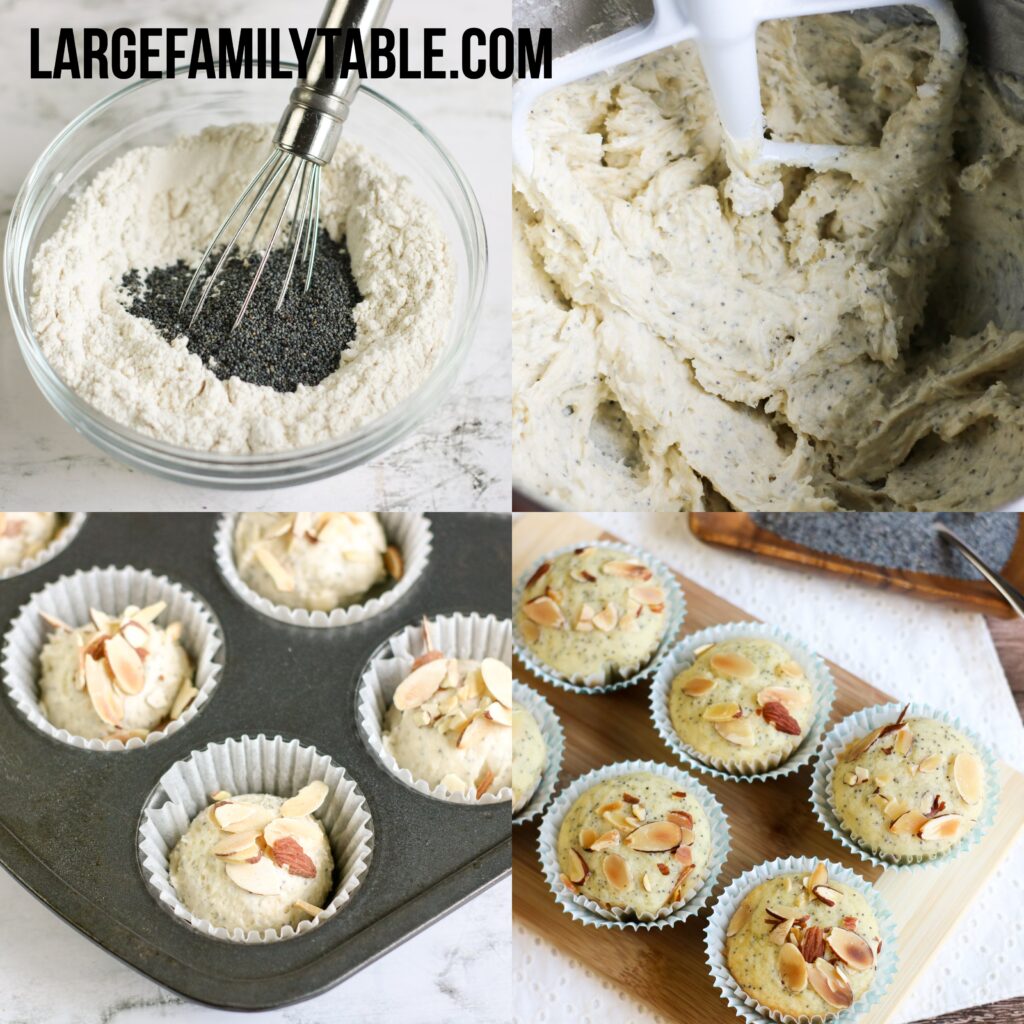 How to Keep Your Almond Muffins Fresh
Want to keep those muffins fresh for your children to eat? If so, there are a few ways to maximize freshness and extend the life of these muffins. You might not need to store them for too long because your children will love the taste of these Almond Poppyseed Tea Muffins, but storing them is simple enough.
Use a large food storage container. Place the muffins in a row on the bottom of the box, but make sure the muffins are not touching one another too much. Place a sheet of parchment paper on top of the muffins and place another row of muffins on top. You can store them in a cabinet, on the kitchen table, or in the fridge. Some people like to eat these muffins when they are cold, but it is also easy to heat them back up in the microwave for just a few seconds.
Here are more muffin recipes your family will enjoy!
Almond Poppyseed Tea Muffins
Print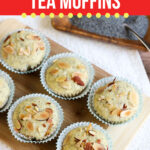 Almond Poppyseed Tea Muffins | Large Family Muffins
Author:

Prep Time:

20 minutes

Cook Time:

20 Minutes

Total Time:

40 minutes

Yield:

24 Muffins

Category:

Dinner/Lunch

Method:

Oven
---
Description
Make unique and enjoyable Almond Poppyseed Tea Muffins to have with your favorite cup of hot tea. These muffins are a fantastic breakfast treat that is enjoyed by both parents and their children.
This recipe makes 2 muffin pans or 24 muffins.
---
Ingredients
2 cup AND 4 tablespoons flour

1 teaspoon baking soda

1 teaspoon baking powder

1/2 teaspoon salt

2 tablespoon poppy seeds

1 cup butter, softened

1 cup sugar

2 teaspoon almond extract

2 eggs

1 cup sour cream

1/2 cup sliced almonds
---
Instructions
Preheat the oven to 350 degrees. Prepare a muffin tin with liners and nonstick cooking spray.

In a medium bowl, whisk together the flour, baking soda, baking powder, salt, and poppy seeds. 

Cream together the butter and sugar until light and fluffy. Add the almond extract and egg, beating until completely incorporated. 

Add the dry ingredients to the mixing bowl. Blend just until mixed. Add the sour cream and beat until completely mixed.

Using a large scoop, divide the batter into about ¼ cup portions and scoop into the muffin liners. Sprinkle the top with sliced almonds. 

Bake at 350 degrees for 15 to 20 minutes or until a toothpick inserted in the center returns clean.
Keywords: Almond Poppyseed Tea Muffins
This recipe is so delicious! It the perfect muffin to make for a special occasion like a bridal shower, a birthday tea party, or a holiday meal.
FREE Emergency Pantry Planning Pack!
Don't forget to sign up for the emergency pantry planning pack for free to help you plan your pantry meals! The free Emergency Pantry Planning Pack will help you plan your needed pantry items! Printable pages include pantry inventory, grocery lists, meal planners, list of pantry staple items, and more.