Having a stash of muffins in your freezer is a lifesaver on hectic mornings when you need to get out the door fast! These homemade pear pecan muffins are sure to be a hit when added to the rotation. Muffins are a hearty breakfast and are easily portable which makes them a winner in my book.
**Use special promo code HELLO20 to take 20% off your first order in the shop including the SUPER MEGA ULTIMATE Large Family Freezer Meals Bundle here!**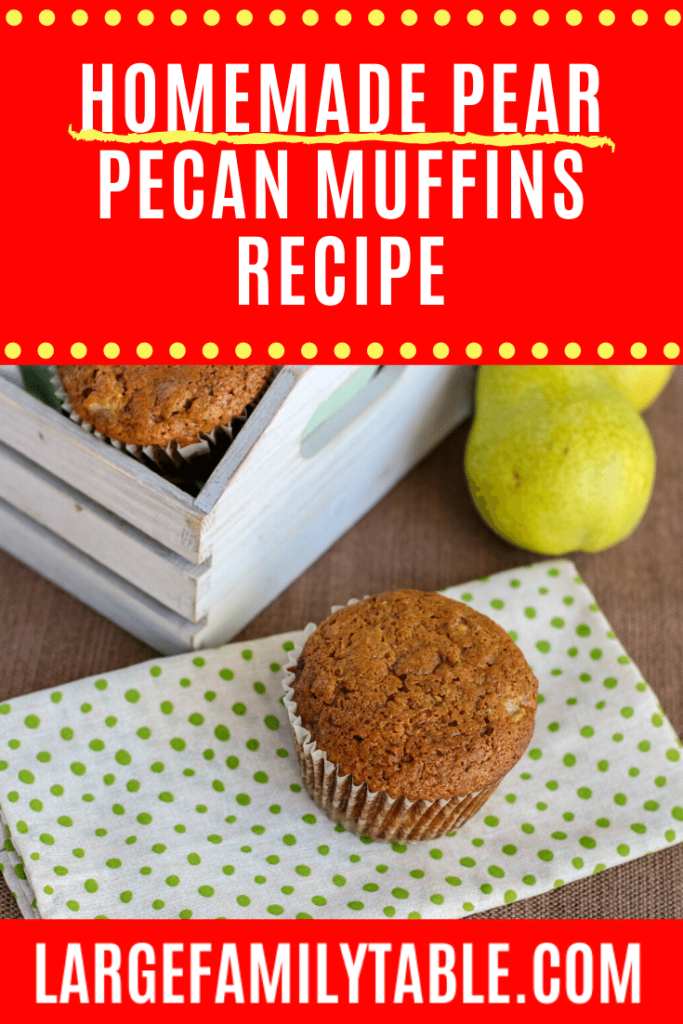 Preheat your oven to 375 degrees. Throw some cupcake liners in your 12 cup muffin pan and spritz them with non stick cooking spray. Grab a bowl to mix your dry ingredients together. Grab your large mixing bowl to whisk together the wet ingredients. Combine the dry ingredients with the wet ingredients until well mixed. Fold in the pears and pecans. Now you're ready for baking.
Divide the batter into the 12 muffin cups. Pop into the preheated oven for 18-20 minutes. After you take them out, leave them in the muffin tin for another 5 minutes before moving them to a cooling rack.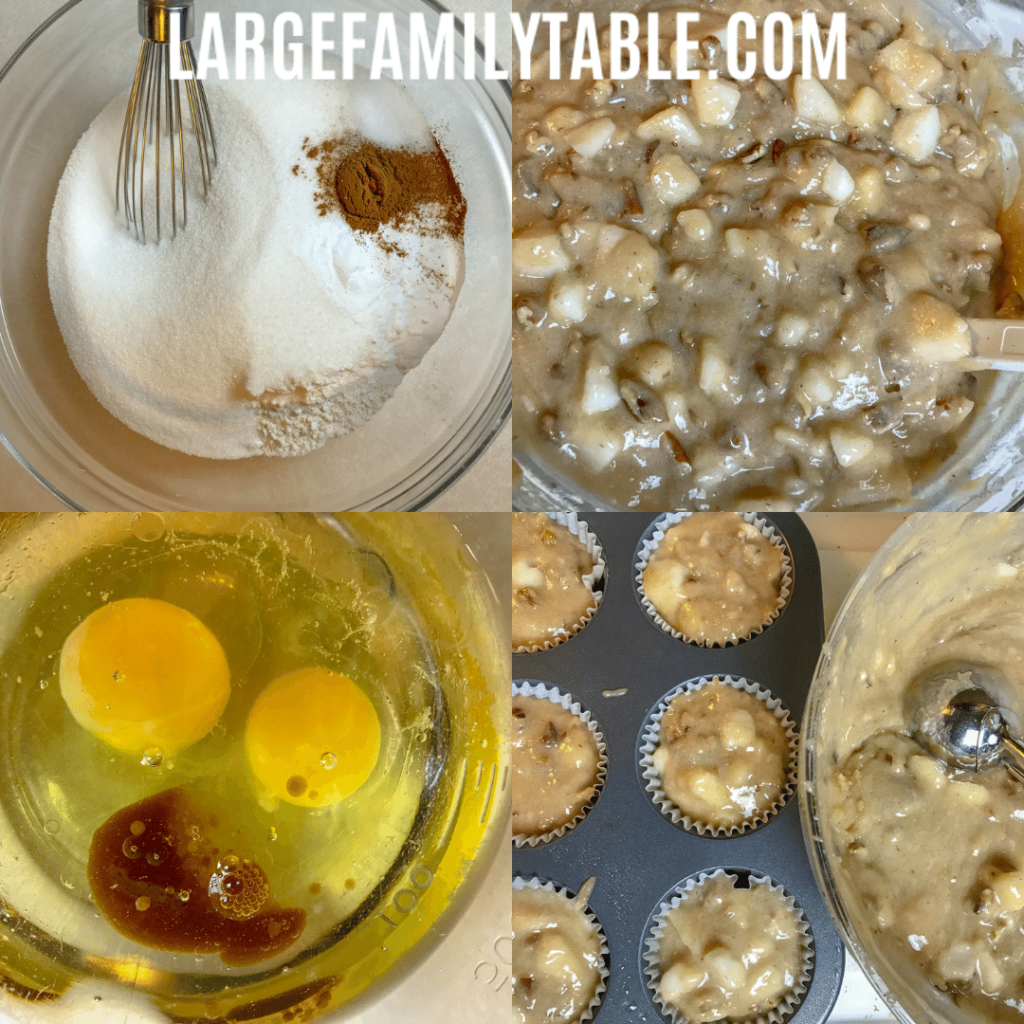 What's the difference between a muffin and a cupcake?
Besides the obvious fact that a cupcake has frosting and a muffin does not, there is an unfrosted way to tell them apart. A cupcake doesn't usually have a rounded above the liner top. Cupcakes are baked to be level with the top of the liner. This is because you are going to frost it. A muffin, however, is filled with batter to the top of the liner to get a nice rounded top. Now you have a fun fact to share with all your people.
Print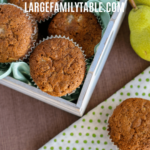 Homemade Pear Pecan Muffins Recipe!
Author:

Prep Time:

5 minutes

Cook Time:

20 minutes

Total Time:

25 minutes

Yield:

12 muffins

Category:

Muffins

Method:

Baking

Cuisine:

Breakfast
---
Description
This homemade pear pecan muffins recipe is sure to be a hit among your muffin loving kids! Bonus that they are portable so you can eat them on the go!
---
Ingredients
1 1/2  cups flour
1 tsp baking soda
1/4 tsp salt
1/2 tsp ground cinnamon
1 cup sugar
1 egg
1/2 cup vegetable oil
1/2 tsp vanilla
2 cups peeled, chopped, ripe pears ( about 3 pears)
1/2 cups pecans, chopped
---
Instructions
Preheat oven to 375 degrees.
Prepare a 12 cup muffin pan with cupcake liners. Spritz liners with non stick cooking spray.
In a medium bowl, whisk together flour, sugar, salt, and baking soda.
In a large mixing bowl. whisk together eggs, vegetable oil, and vanilla.
Stir together wet and dry ingredients until completely combined.
Fold pears and pecans into the batter.
Divide the batter into the 12 muffin cups.
Bake for 18 to 20 minutes. Allow to rest in baking pan 5 minutes before moving to cooling rack.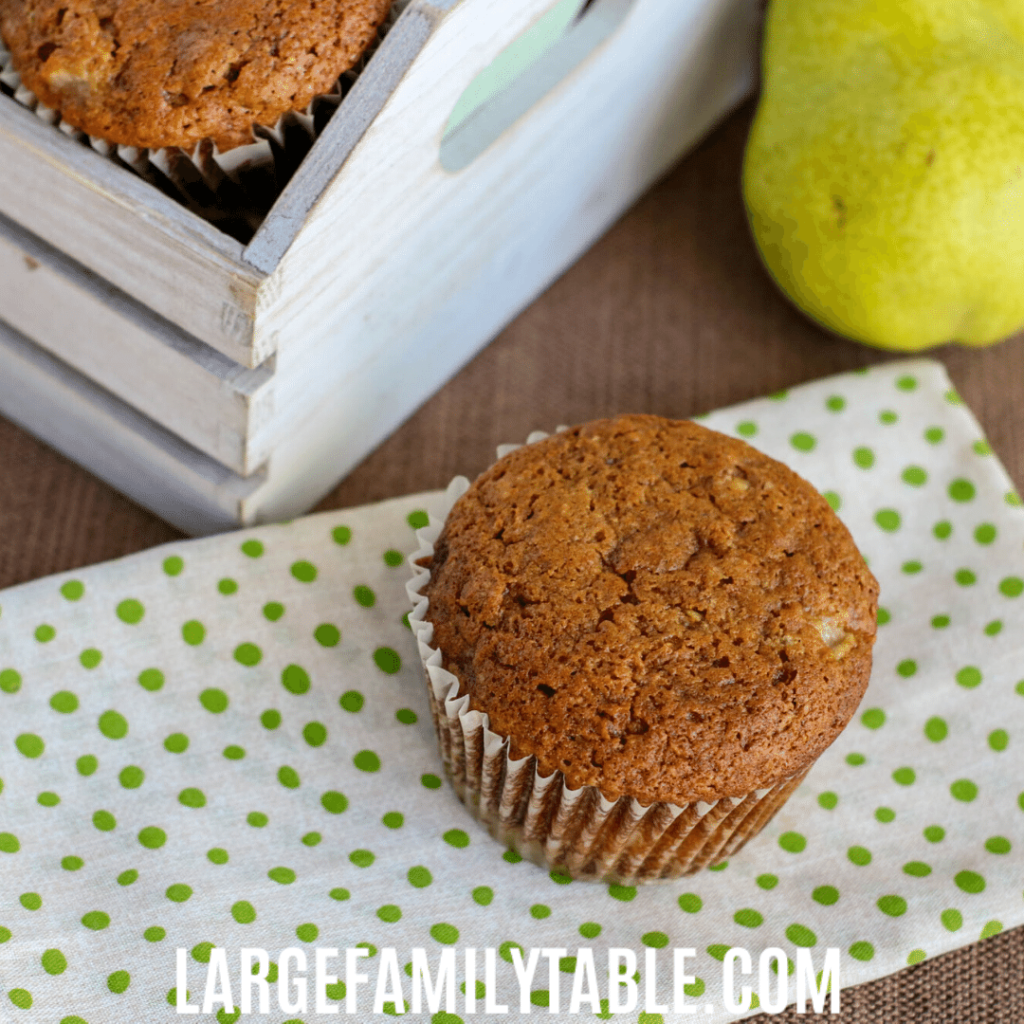 Bake several batches of homemade pear pecan muffins so you have some to eat right then and some to put away. This is a really convenient way to feed your freezer without needing to set aside a whole afternoon or day for a freezer cooking session. There's no shame in not having the time to do a marathon cooking session. There is a time and a season for everything. Do what works for your family! Yes and amen!
More Muffin Recipes You Will Love!
Chocolate Chip Banana Muffins
Pumpkin Banana Muffins
Oatmeal Blueberry Muffins
Applesauce Muffins
Pumpkin Nut Muffins
Baked Oatmeal Chocolate Chip Muffins
Apple/Blueberry Muffins
5-Day Freezer Cooking Challenge with Jamerrill!
FREE Freezer Cooking Quick Start Guide 17-page PDF with grocery list, recipes, full freezer cooking plan, cheat sheets, More!
I WILL HELP YOU fill your freezer with 10+ freezer meals including breakfast, lunches, & dinners!
Any family size or dietary needs can easily accommodate and follow along!