?Get the Best-Selling Large Family Freezer Meals Collection here! Use promo code HELLO20 to take 20% off your first order. 🙂
This Roasted Chicken Legs and Red Potatoes Sheet Pan Dinner Recipe is the stuff of busy mamas' dreams – healthy whole food ingredients and so quick and easy to throw together and pop in the oven, all in one package!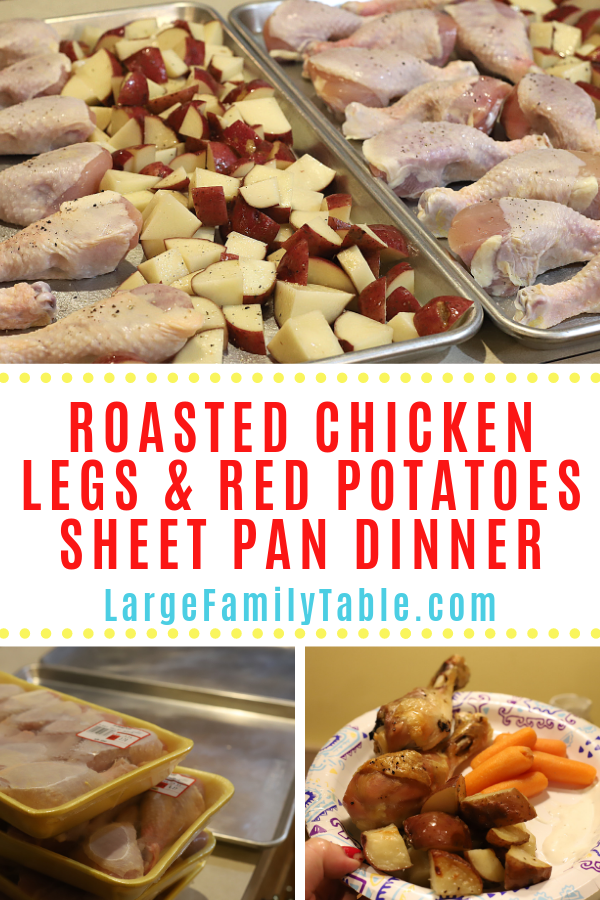 This recipe makes two sheet pans. The Big Sheet (21″ x 15″ x 1″) and/or the Half Sheet (17.9″ x 12.9″ x 1.1″) by Nordic Ware both work wonderfully for all of my sheet pan recipes!
Sheet Pan Dinner Recipe
Up first, chicken!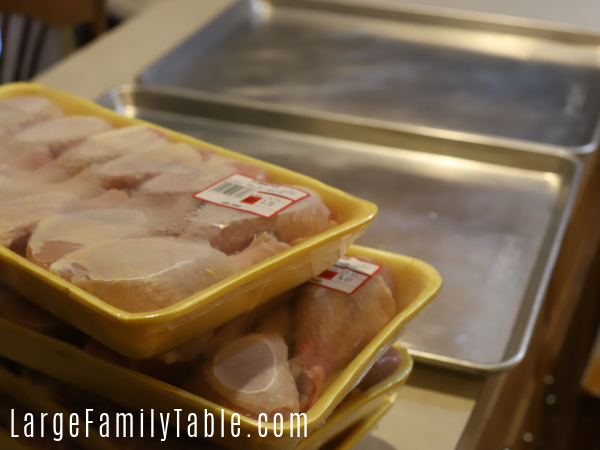 Start by preheating your oven to 450. Now that we've got that out of the way, set out your pans and spray with non-stick cooking spray. If you want to save yourself some cleanup hassle (and who doesn't want that, am I right?), put down a layer of aluminum foil first, and then spray that. After dinner, toss the foil, and the pans will be a breeze to clean!
Arrange the chicken evenly across the two pans and season with salt & pepper to taste. Feel free to add any of your favorite poultry seasonings here for an extra flavor boost.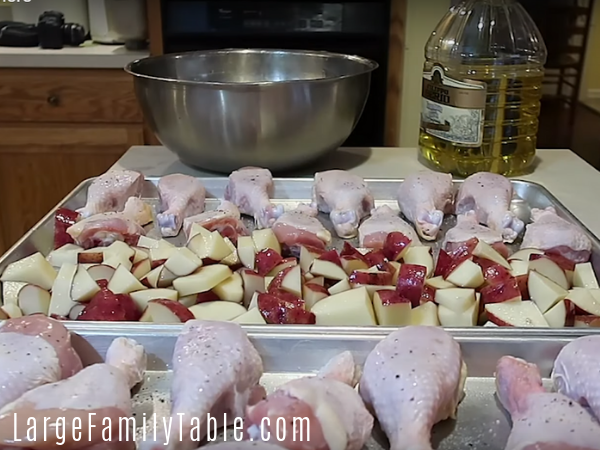 Up next, potatoes!
Wash a 5 lb bag of red potatoes and slice and dice them into chunks about 1-2 inches big. Next, in a large bowl, drizzle olive oil (approximately 1/4 cup) over potatoes, and stir & toss until evenly coated. Spread potatoes across the spaces left open on your sheet pans, and salt & pepper to taste.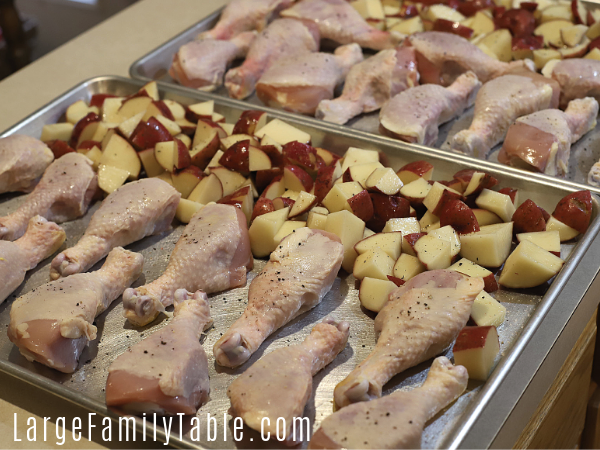 Into the oven!
I told you this one would be fast and easy! All of the hard work is already over, now it's up to your oven and time. Check it right around 40 minutes. You want the internal temp of the chicken to reach 165 degrees, being sure to take the temp in the thickest part of the leg. Remember to switch your pans partway through, so the bottom one can spend some time at the top to get some of that scrumptious golden browning.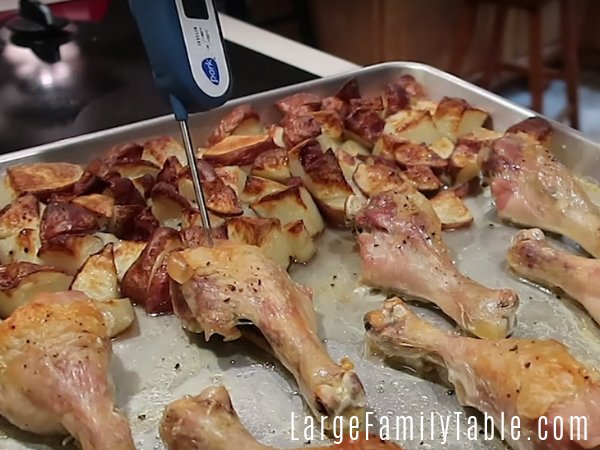 Enjoy Your Sheet Pan Dinner!
Pair this Roasted Chicken Leg and Red Potatoes Sheet Pan Dinner with some fresh veggies and dip or a lovely side salad, and enjoy!
Watch me prepare this recipe and 4 more Sheet Pan Dinners!
More Sheet Pan Dinner Recipes
Print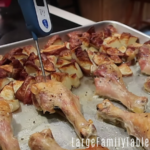 Roasted Chicken Legs and Red Potatoes Sheet Pan Dinner Recipe
---
Description
Enjoy this easy to throw together healthy sheet pan dinner!
---
Ingredients
8 lbs chicken legs
5 lbs red potatoes, cubed
1/4 cup olive oil
Salt & pepper to taste
---
Instructions
Preheat oven to 450 degrees.
Spray two sheet pans with non-stick cooking spray.
Arrange chicken legs evenly on sheet pans. Salt & pepper to taste.
Wash and cube potatoes. In a large mixing bowl, toss potatoes with olive oil until evenly coated.
Arrange potatoes on sheet pans with chicken legs. Salt & pepper to taste.
Bake for approximately 40 minutes, until internal temperature of chicken reaches 165 degrees.
---
Notes
Serve with fresh veggies or salad. Enjoy!
Check out more favorite chicken recipes!