My kids scarfed down these large family corndog muffins last time I made them as a make ahead freezer meal! I piled their plates with their choice of fresh veggies and dip, but the corndog muffins were the real winners.
**Use special promo code HELLO20 to take 20% off your first order in the shop including the SUPER MEGA ULTIMATE Large Family Freezer Meals Bundle here!**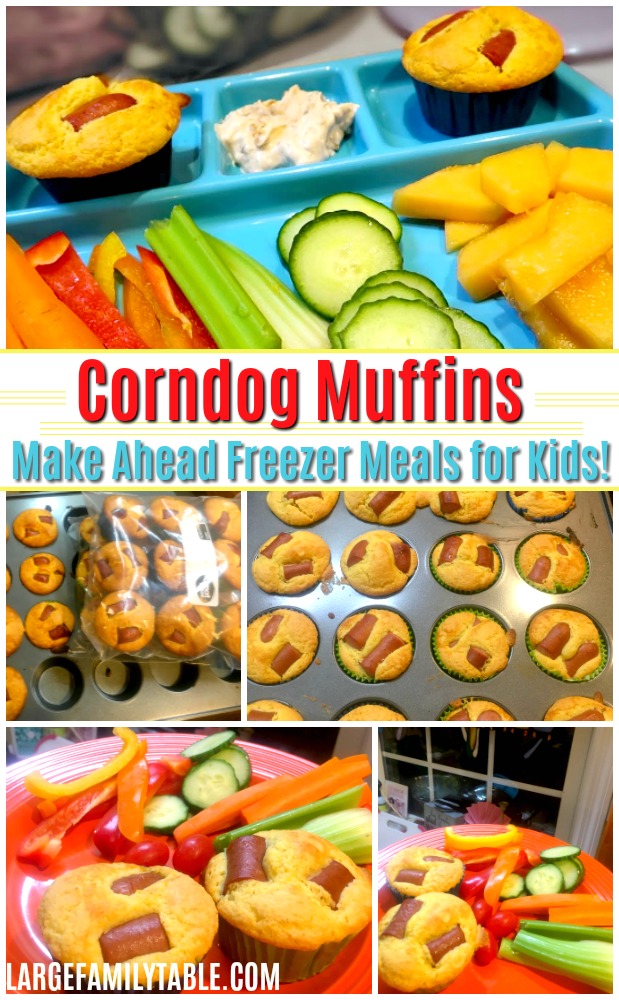 There are all kinds of make ahead freezer meals for kids out there. I like to cook in bulk various muffins for the freezer to make meals that my herd of kiddos will love. I made these corndog muffins as a quick homeschool lunch option when I had a trip out of town a few weeks ago and my husband was home running the house.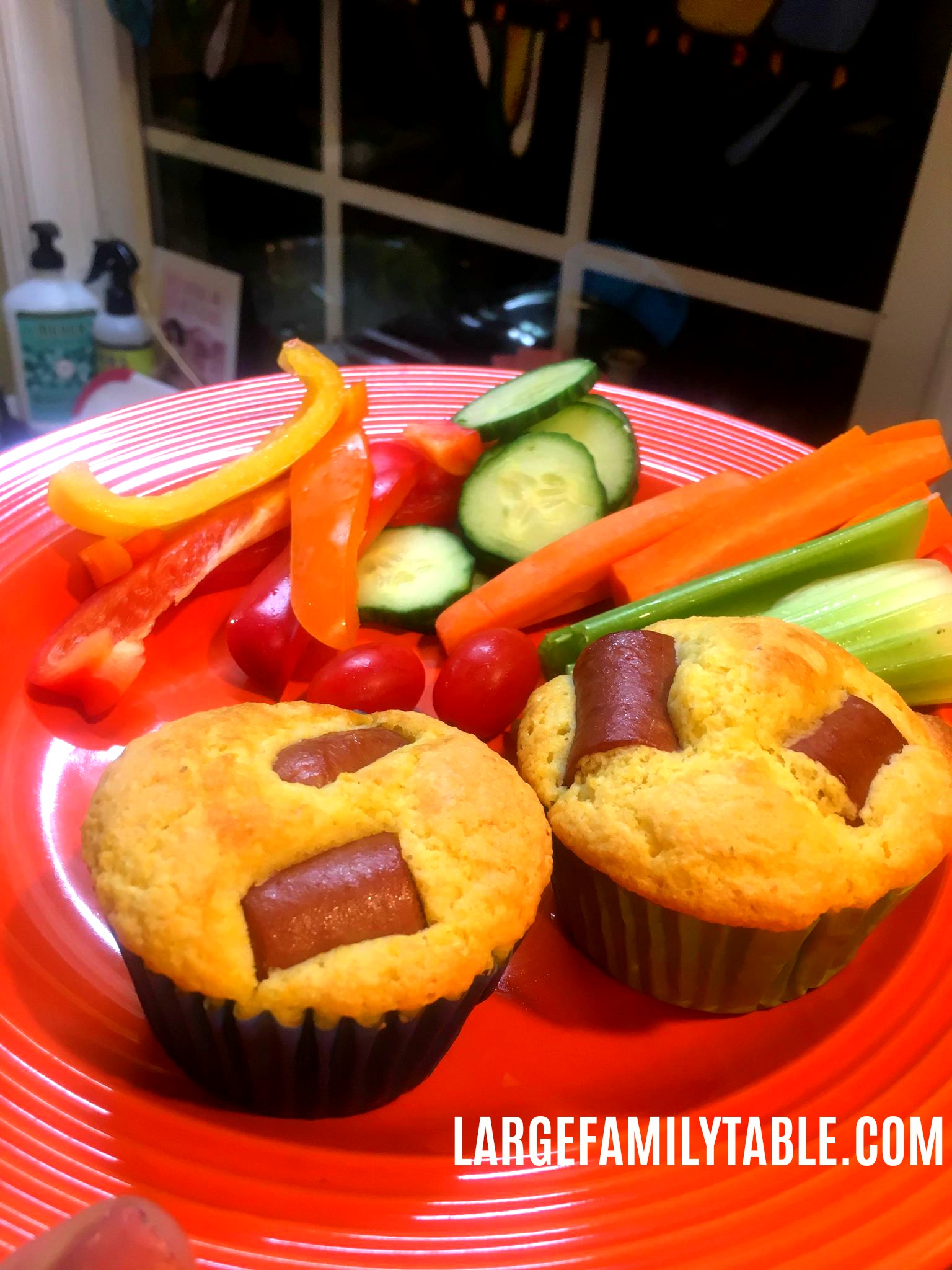 During my last
freezer cooking day
I made 4 dozen (no, not nearly enough, lol!) Corndog Muffins. We also made two types of freezer sandwiches and burritos for the freezer. You can see the full
lunch freezer cooking day
here with
make ahead freezer meals for kids
for more ideas to feed your people if that's helpful.
When I made these muffins I used up 8 boxes of Jiffy cornbread mix I had in my pantry. I was also out of milk and used almond milk since it was what I had on hand. I've also had times where I've had to use water and they still turned out well.
Print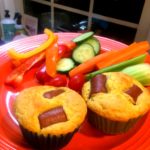 Corndog Muffins | Make Ahead Freezer Meals for Kids!
---
Description
Make these Corndog Muffins as a quick make ahead freezer meal for your kids! Eat them now or add them to your stash of freezer meals for later. xoxo
---
Ingredients
8 boxes of corn bread mix (I used the Jiffy brand I had in my pantry)
3 cups of milk (I was out of milk on this freezer cooking day and used almond milk instead. Water will work, too!)
8 eggs
12 hotdogs
---
Instructions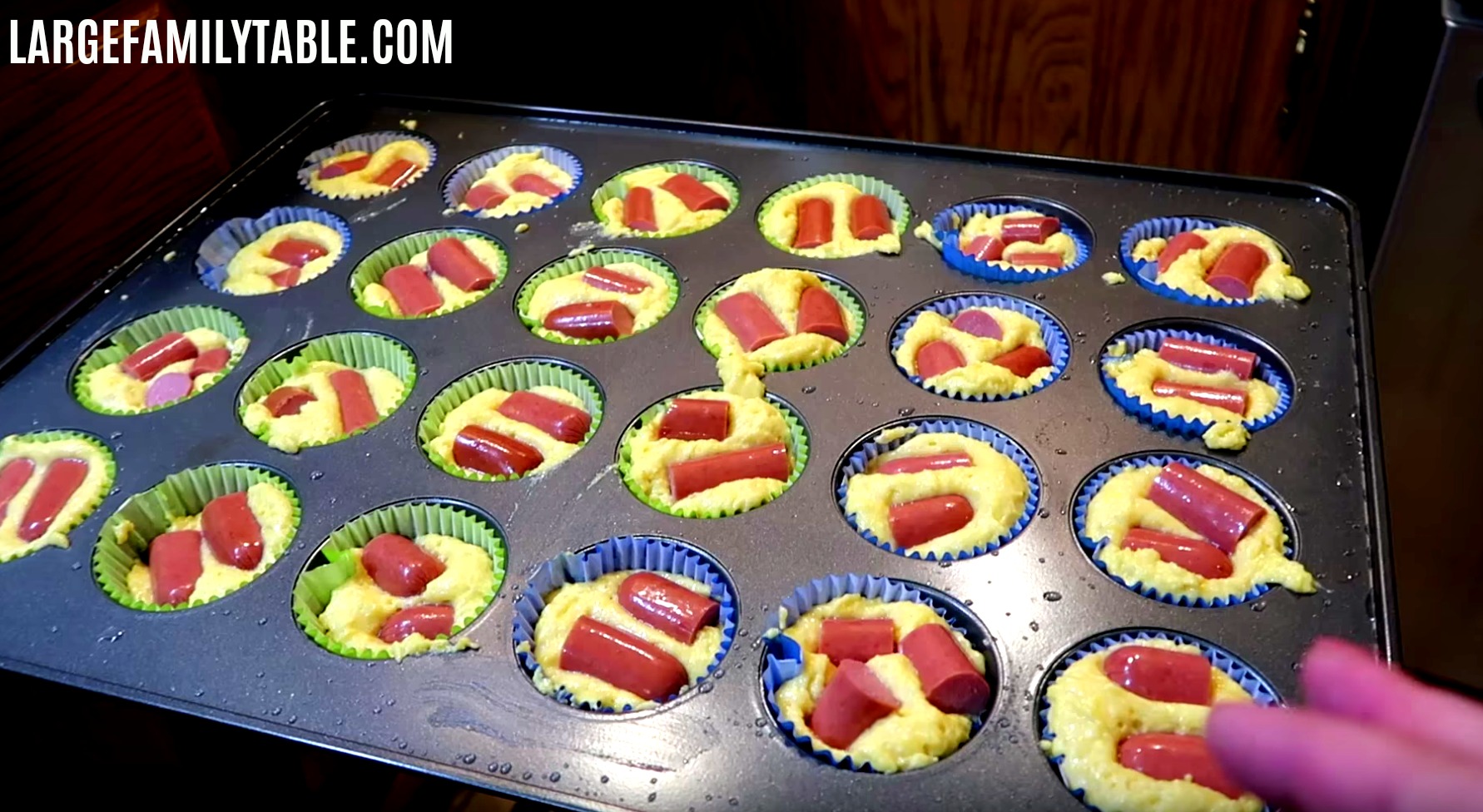 *Mix corn muffin mix well in large metal mixing bowl.
*Fill muffin wrappers 3/4 full with corn muffin mix.
*Slice 12 hotdogs into 4 slices each – you'll have 48 mini hotdog pieces.
*Place two mini hotdog pieces in the middle of each corn muffin.
*Bake at 400 for 12-15 minutes
*Let corndog muffins cool
*Eat now and bag rest for freezer in labeled freezer bag
---
Notes
FOR FREEZER MEAL
*Set out frozen bag of Corndog Muffins from the freezer into the refrigerator the night before you need them.
*Warm muffins in microwave when serving.
Keywords: Corn Muffins, Make Ahead Meals, Make Ahead Freezer Meals, Freezer Meals for Kids, Lunches, Freezer Meal Lunches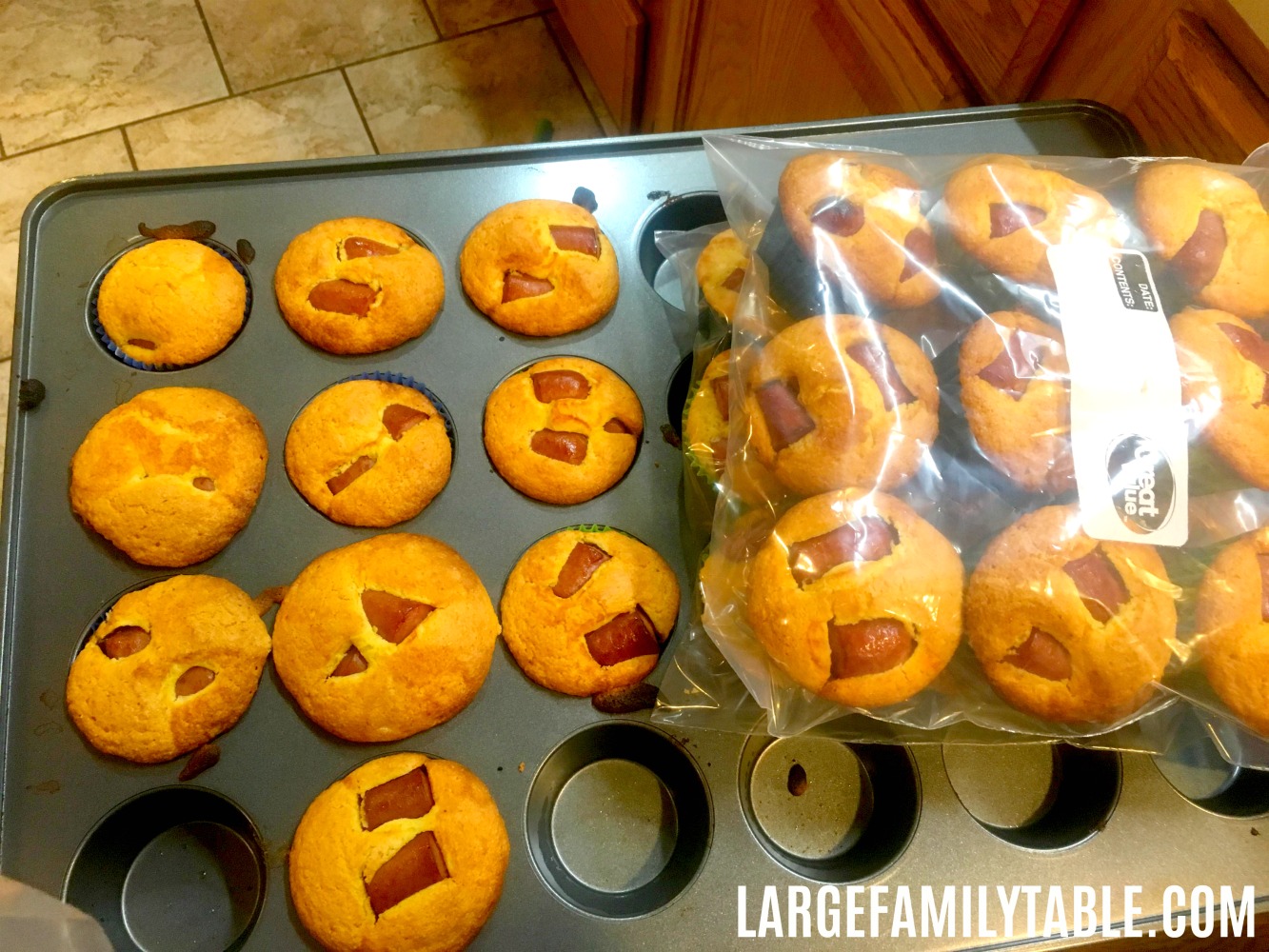 I hope you enjoy these corndog muffins as a make ahead freezer meal for your kids. These are so helpful for homeschool lunches! Let me know if you try them and if your kids love them. xoxo
This Cornbread Muffins Recipe was featured in Large Family Meal Plan #1. You can find more large family meal plans here.
Check out my large family freezer packs!
You need this huge large family freezer meals collection because you have a lot of people to feed every. single. day. They always seem to want breakfast, lunch, and dinner (don't forget the snacks!) and they always look to you for all this food.