Make this Cheeseburger Casserole for a fun take on a traditional cheeseburger. It is meaty, cheesy, and absolutely delicious— the perfect meal for the entire family to have together.
My kids were getting tired of eating the same meals for dinner all the time, so I decided to try something new that we never had before— the Cheeseburger Casserole. I was pleasantly surprised at how good the dish tastes the first time I prepared it for the family. It is similar to my Bacon Cheeseburger Casserole, and it was so good that we did not have any leftovers!
****Use special promo code HELLO20 to take 20% off the entire MEGA DEAL get-it-all Bundle including the best-selling Large Family Freezer Meal Packs 1-12 + so much more!!****
Cheeseburger Casserole
If you like cheeseburgers, you will love Cheeseburger Casserole. It consists of meat, cheese, chopped onions, and other great ingredients that will make your meal taste a lot like your favorite burger. You can add some extra ingredients to it, too. While it depends on the mood that I am in, I will occasionally add relish or diced pickles to this Cheeseburger Casserole. I cannot say enough good things about it. Be sure that you have all you need to make it by checking my favorite supplies list.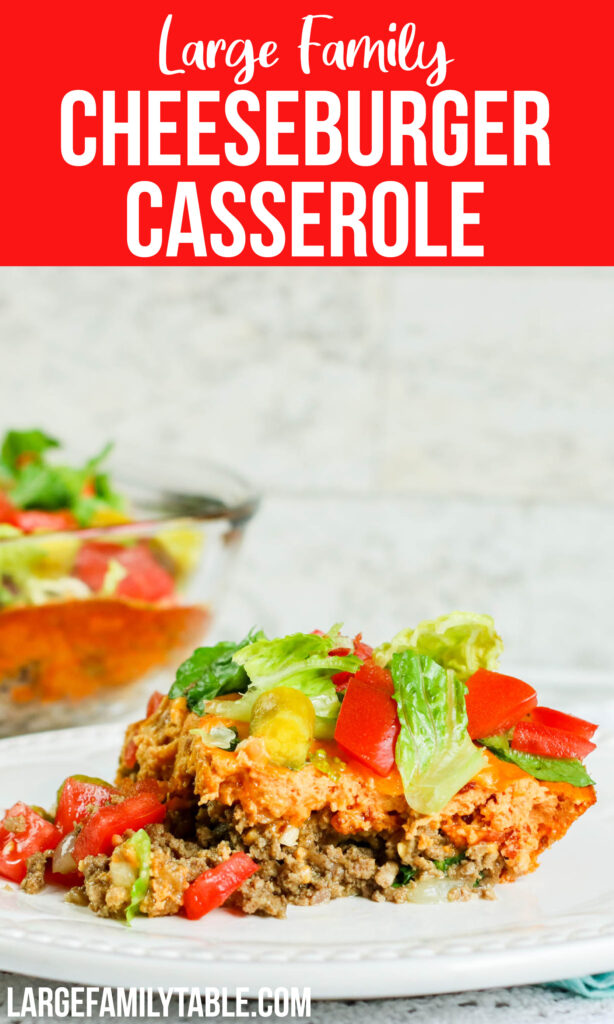 Different Variations of the Cheeseburger Casserole
Follow this recipe to a T or make modifications when needed. Here are some suggestions to make your meal your own.
The recipe calls for ground beef, which is what I like using when making the Cheeseburger Casserole. If you are looking for a leaner option, you can choose ground turkey or ground chicken. You might want to select a leaner version of the ground beef, such as 95% lean, to give the dish fewer calories.
You will also need cheddar cheese to prepare the Cheeseburger Casserole. If you do not like cheddar cheese, feel free to substitute it with a cheese that you do like, such as provolone or American. I have experimented with different cheeses and enjoyed all of them, so you simply cannot go wrong with any cheese that you decide to use.
You can also add different toppings to the meal when it's complete. Try adding lettuce, tomato, onion, or pickles. There's also lots of sauces you might try like ketchup, mustard, BBQ sauce, or ranch.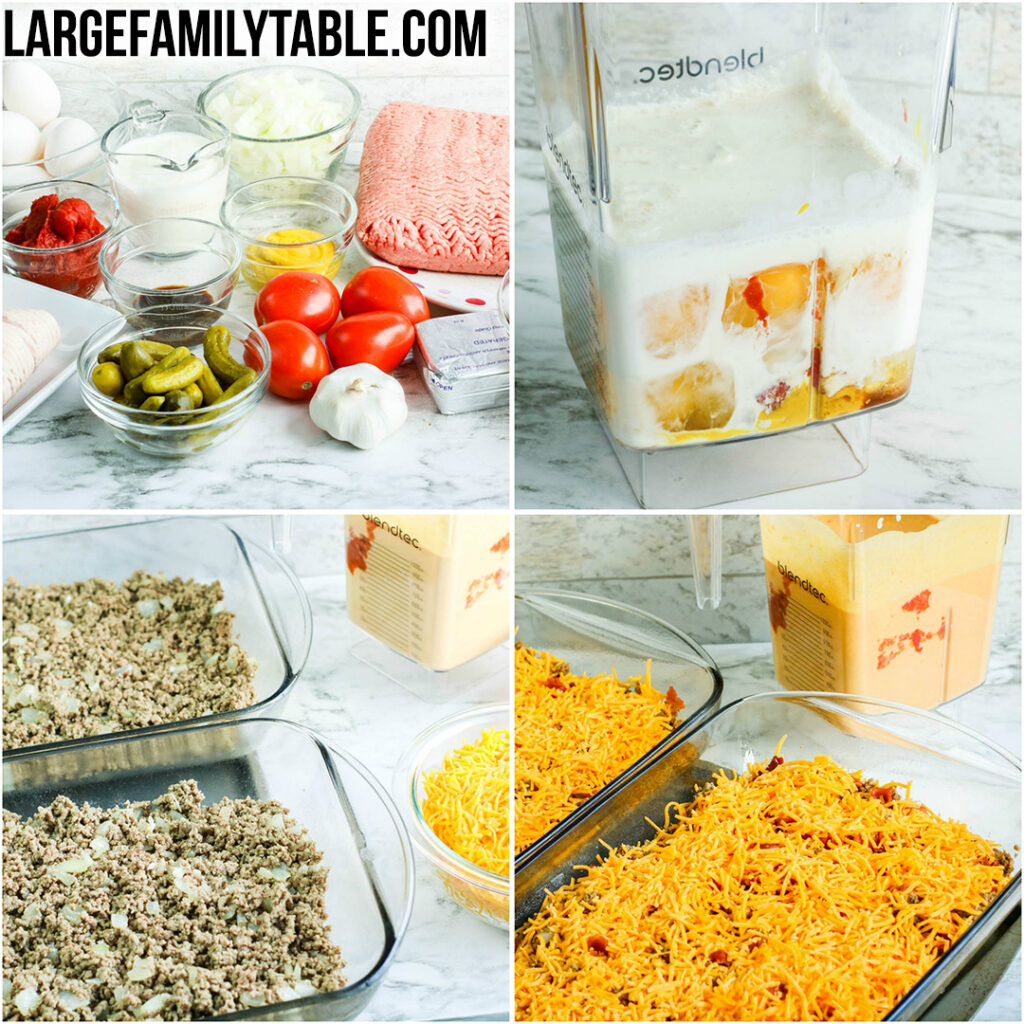 What to Eat With Your Cheeseburger Casserole
The Cheeseburger Casserole is enough on its own because it contains everything you could want in a dish, such as meat, pasta, and cheese.
However, you might want to serve the casserole with crescent rolls, biscuits, or dinner rolls. I usually make this meal with buttered dinner rolls because they are so soft, and I can dip them right into the casserole.
Cheeseburger Casserole Storage Tips
Leave your Cheeseburger Casserole in the casserole dish with a lid on top and put it in your fridge if you plan to eat the leftovers within the next day or two.
If not, put it in a food storage container with an airtight lid and keep it refrigerated for up to five days to keep it fresh. If you are freezing the casserole to eat later, put it in a gallon food storage bag, remove all the excess air from the bag, and place it in your freezer for up to three months.
Do you have more casserole recipes?
Yes! If you love this recipe for Cheeseburger Casserole, you'll love the tons of casseroles found in my shop. Check out my Classic Casserole Dinners & Freezer Meals Cookbook One for Now, One for Later! It includes 10 delicious, classic casserole recipes that will make two 9×13 casseroles each–one to eat right away, and one to put in your freezer for a later date. It's an easy and quick way to build a freezer stash.
More casserole recipes your family will love!
Cheeseburger Casserole
Print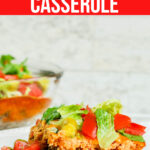 Cheeseburger Casserole | Large Family Dinner Recipes
Author:

Prep Time:

25 Minutes

Cook Time:

50 Minutes

Total Time:

1 hour 15 minutes

Yield:

2 9×13 Casserole Dishes

Category:

Dinner

Method:

Oven
---
Description
Make this Cheeseburger Casserole for a fun take on a traditional cheeseburger. It is meaty, cheesy, and absolutely delicious— the perfect meal for the entire family to have together.
---
Ingredients
4 pounds ground chuck

2 small onions, diced

1 teaspoon salt

½ teaspoon black pepper

2 cloves garlic, minced

4 ounces cream cheese

1 cup heavy cream

10 eggs

¼ cup prepared mustard

1 (10 ounce) can tomato paste

2 tablespoons worcestershire sauce

4 cups shredded cheddar cheese

4 roma tomatoes, seeded and diced (for garnish)

2 cups chopped romaine lettuce (for garnish)

1 cup petite dill pickles, sliced (for garnish)

 
---
Instructions
Preheat oven to 350 degrees. Prepare two 9×13 casserole dishes with nonstick cooking spray.

In a large skillet over medium-high heat, brown the ground chuck with the onions, salt, and pepper until the meat is crumbled and no longer pink. Drain well. Transfer the meat to the casserole dishes.

In a blender, combine the cream cheese, heavy cream, eggs, mustard, tomato paste, and Worcestershire sauce. Pour over the beef.

Cover the casseroles with cheese.

Bake for 45 to 60 minutes or until the center is set and the cheese is melted.

Garnish the casseroles with lettuce, tomatoes, pickles, and any toppings you choose.
Keywords: Cheeseburger Casserole
This recipes will be a family favorite for sure due to it's familiar taste. Kids love it so there's less waste which mama's love too.
FREE Emergency Pantry Planning Pack!
Don't forget to sign up for the emergency pantry planning pack for free to help you plan your pantry meals! The free Emergency Pantry Planning Pack will help you plan your needed pantry items! Printable pages include pantry inventory, grocery lists, meal planners, list of pantry staple items, and more.