How many of you are in the mood for something delicious? This new casserole is going to be the ultimate comfort food. Chicken Spinach and Artichoke Dip Casserole is literally so delicious and the flavor is unlike any other dish you've ever had!
*Use special promo code HELLO20 to take 20% off your first order in the shop including the SUPER MEGA ULTIMATE Large Family Freezer Meals Bundle here!**
Chicken Spinach Artichoke Dip Casserole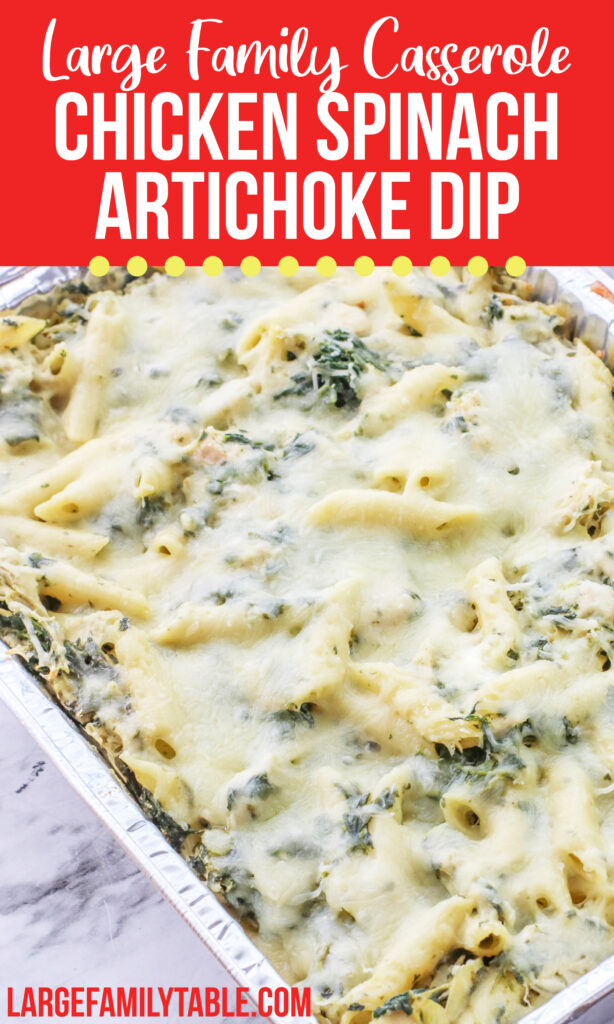 I know you've had the famous Chicken Spinach Artichoke Dip. I mean, who doesn't love dipping this dip into chips. However, I've created this yummy dip into a casserole and it turned out amazing. If you're tired of eating the same thing over and over again. Let's get started with learning how to make this casserole in the oven.
I don't know about you, but my family LOVES trying new foods. When you don't want to eat the same thing you've been eating, this is a dish that will change things up in the kitchen. It's a pasta casserole that uses chicken as the protein and it calls for lots of spices, so it's very flavorful.
Ingredients for Chicken Spinach Artichoke Dip Casserole
The ingredients in this dish are fairly basic, when they are mixed together, you will thoroughly enjoy it. Using penne pasta, chicken, and ranch seasoning as some of the main ingredients, you will love how it tastes. Here are some of the ingredients you'll need:
Box of penne pasta – I know many of you already have a box of penne pasta in your pantry. You can put it to work, using this recipe!
Chicken breasts – I love using chicken breasts in my recipes. It's such a filling protein to feed a large family too.
Sour cream – If you have a container of sour cream in your fridge, this is an excellent way to use it up.
Ranch seasoning – One of my favorite seasonings to use in my dishes is ranch seasoning. You can't even begin to imagine the FLAVOR ranch seasoning brings to any dish, especially this one.
Grated Parmesan – When you think of parmesan cheese, you should picture this meal because it tastes fantastic in here.
Don't forget to check out the recipe card for a full list of ingredients and directions.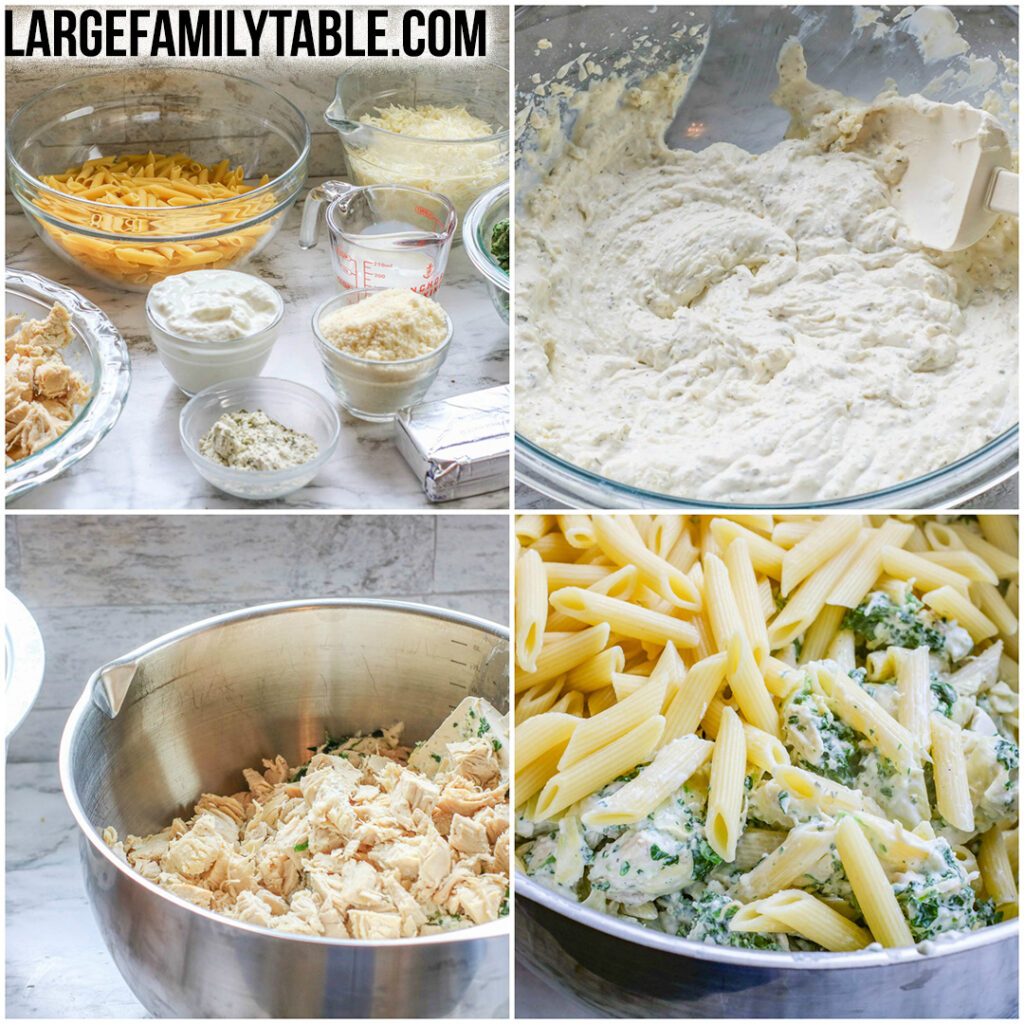 How to Freeze This Casserole
The next time you make this dish and want to make an extra to freeze, here are the directions:
Cover tightly with plastic wrap or aluminum foil.
Freeze for up to 6 months. Thaw in the refrigerator before baking.
You can make an extra casserole for a friend or an extra one for your family. I love to make a freezer meal on Friday nights, after spending the week cooking. All you have to do is pull it out of the freezer and bake it. You've already done the hard work.
Chicken Spinach and Artichoke Dip Casserole is truly one of the best casseroles you can make out there. It has so much flavor and it's a very freezable dish! The next time you're looking for an easy casserole to make, go for this one!
What's your favorite part of this dish? I'd love to hear what you think about this dish in the comment section.
Do you have more casserole recipes?
I have so many more casseroles that you will love in my shop. Check out my Classic Casserole Dinners & Freezer Meals Cookbook One for Now, One for Later! It includes 10 delicious, classic casserole recipes that will make two 9×13 casseroles each–one to eat right away, and one to put in your freezer for a later date. It's an easy and quick way to build a freezer stash.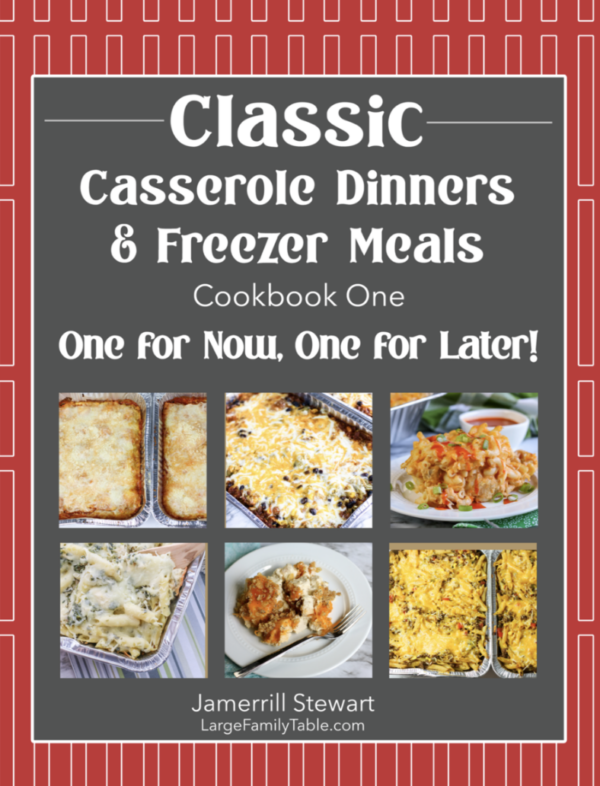 Here are more casseroles and meals your family will enjoy!
Chicken Spinach and Artichoke Dip Casserole
Print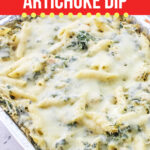 Chicken Spinach and Artichoke Dip Casserole | Large Family Table Casseroles
Author:

Prep Time:

25 Minutes

Cook Time:

30 Minutes

Total Time:

55 minutes

Category:

Dinner

Method:

Oven
---
Description
Chicken Spinach and Artichoke Dip Casserole is the recipe you will want to make this fall and winter. You can take it to all of the potlucks and family meals. 
---
Ingredients
1 (16 ounce) box penne pasta

4 chicken breasts, cooked and cut into bite-size pieces

1 (8 ounce) package cream cheese, softened

1 cup sour cream or greek yogurt

2 packages ranch seasoning mix

½ cup half and half

1 cup grated parmesan

1 (24 ounce) package frozen spinach

2 (15 ounce) cans artichoke hearts, drained and coarsely chopped

3 cups shredded mozzarella cheese
---
Instructions
Preheat oven to 350 degrees. Prepare two 9×13 casserole dishes with nonstick cooking spray.

Prepare pasta according to package directions for al dente pasta.

In a large mixing bowl, beat together cream cheese, sour cream (or greek yogurt), ranch seasoning, half and half, and grated parmesan. 

Stir the chicken, spinach, artichoke hearts, and cooked pasta into the creamy sauce.

Transfer to casserole dishes and top with mozzarella cheese.

Bake for 30 minutes or until the cheese has melted and the edges bubble.
---
Notes
To freeze: Cover tightly with plastic wrap or aluminum foil. Freeze for up to 6 months. Thaw in the refrigerator before baking.
Keywords: Chicken, Spinach and Artichoke Dip Casserole
This delicious recipe is easy to double and freeze some or later, which is what I like to do. With it's creamy goodness and great nutritional value it will be a hit with your whole family!
FREE Emergency Pantry Planning Pack!
Don't forget to sign up for the emergency pantry planning pack for free to help you plan your pantry meals! The free Emergency Pantry Planning Pack will help you plan your needed pantry items! Printable pages include pantry inventory, grocery lists, meal planners, list of pantry staple items, and more.