Low Carb Bacon Cheeseburger Casserole Bake – Large Family Freezer Meals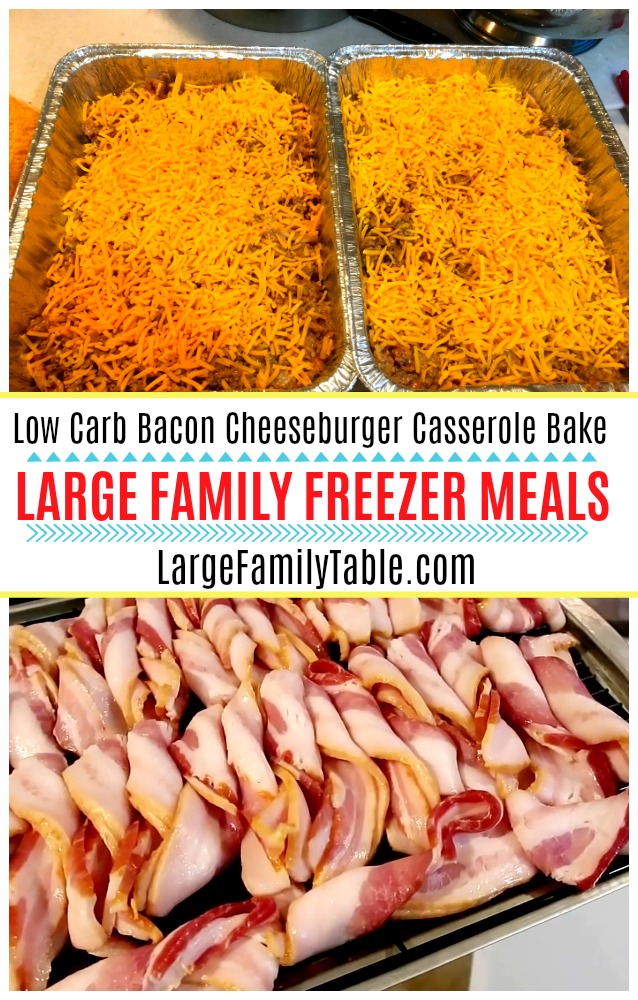 I made two big pans of this low carb bacon cheeseburger casserole bake on my recent large family freezer cooking day where I made 50 Keto low carb freezer meals for the Instant Pot and oven. I made two deep dish baking pans, which will equal 3-4 9×13 pans for other mommas who'd like to make this freezer meal!
All About the Bacon
I've shared about the near life saving hack of cooking bacon in the oven before. With a large family it's so helpful to be able to easily cook several pounds of bacon at once and have easy clean up! A few months ago I upped my bulk bacon cooking game by adding two of these, and this is my Amazon affiliate link, bacon cooking pans with wire racks to my large family cooking collection. I need to write an entire post about these wonderful pans. Just know you can cook bacon in the oven either way and make the best with what you have available.
This low carb bacon cheeseburger casserole is rich with healthy fats and protein that keep you feeling full longer. I like to eat mine with a big salad and I'm about to bust. This is a great meal for momma to feel full when doing low carb meals, but also feed a big family, too! The family can have fun topping their "bacon cheeseburger" however they'd like. I eat mine with added lettuce, onions, and sometimes mustard. Fix it you however you'd like!
Print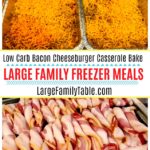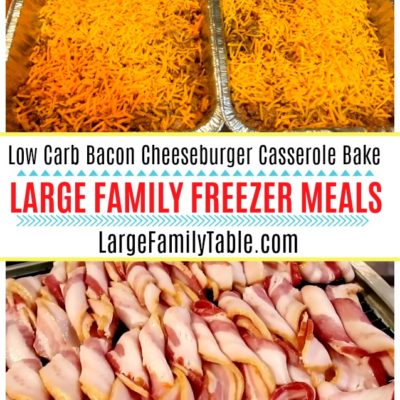 Low Carb Bacon Cheeseburger Casserole Bake – Large Family Freezer Meals
---
Description
Make two DEEP DISH or 3 to 4 9×13 pans full of this low carb bacon cheeseburger casserole bake!
---
Ingredients
What you'll need to make these large family meals:
10 lbs ground beef cooked & drained

3 lbs cooked, drained, and crumbled bacon

5 eggs

2 Tbs onion powder

2 Tbs garlic powder

1 cup mayo

1 cup heavy cream

4 cups shredded cheddar cheese (for meat mix)

Top with 4 cups shredded cheese

2 cans tomato paste

salt/pepper
---
Instructions
Mix together pre-cooked ground beef, bacon, eggs, onion powder, garlic powder, mayo, heavy cream, shredded cheese (setting an additional 4 cups aside for topping), tomato paste and salt/pepper in large mixing bowl.
Fill three to four 9×13 pans full of the low carb bacon cheeseburger casserole mix. OR fill two dish dish baking pans. Anyway you fill it, you'll have enough made for LOTS!
Top each pan with 2 cups of shredded cheddar cheese.
---
Notes
TO COOK IMMEDIATELY 
To bake a low carb bacon cheeseburger casserole bake now place in preheated oven at 375 degrees for 30 minutes or until heated through and hot and bubbly.
FREEZER MEAL STORAGE DIRECTIONS
Wrap each 9×11 pan with two layers of foil.
Label the top of each pan with recipe name and date.
Wrap each 9×13 pan with a layer of plastic wrap.
Set each pan to freeze in the freezer. Do not stack the pans on top of one another until each pan is individually frozen.
FREEZER COOKING DIRECTIONS
Set the desired pans of low carb bacon cheeseburger casserole bake out in the refrigerator the evening before you'd like to serve to your family.
Preheat your oven to 375 (oven times may vary).
Remove plastic wrap and one layer of foil.
Place in preheated oven for up to 1 hour or until heated through and hot and bubbly.
If cooking from completely frozen you'll need to double the cooking time.
ENJOY!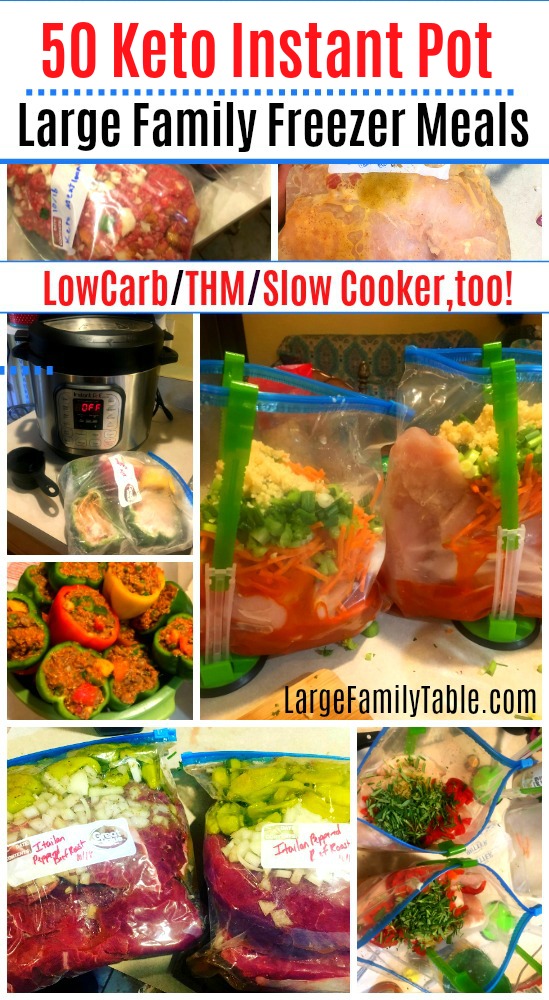 If you love this easy large family freezer meal recipe you are sure to love these 50 Large Family Keto Instant Pot Freezer Meal Recipes here!
FREE LARGE FAMILY FOOD COLLECTION!

Don't miss the *super mega* 🙂 Large Family Food Collection includes everything you need to plan, organize, and feed your family well! The entire collection includes:
Free Mega Freezer Meals Planning Pack (8+ Pages!)

Free 10 Large Family Table Recipes eBook

Free Family Favorite Recipes Binder Creation Kit

Free Family Meal Planner Collection (with weekly, bi-weekly, and monthly planning pages, grocery lists, and more!)

Sweet "Mommy & Me" Baking Printables

NEW Free Happy Family Holiday Meal & Household Planner Set (Including Thanksgiving, Christmas, New Years, and Easter) – over 30 pages!!!
Click here to get the Free Large Family Food Collection!