Everyone wants to make those cute personal ornaments but they take so much time. Some can get pricey too! In this week of Christmas ornaments for kids, I bring you the Christmas Tree Handprint Ornament. This is a super easy and frugal craft that is sure to become a treasured family heirloom. You will want to do this with all your children every year.
**Use special promo code HELLO20 to take 20% off your first order in the shop including the SUPER MEGA ULTIMATE Large Family Freezer Meals Bundle here!**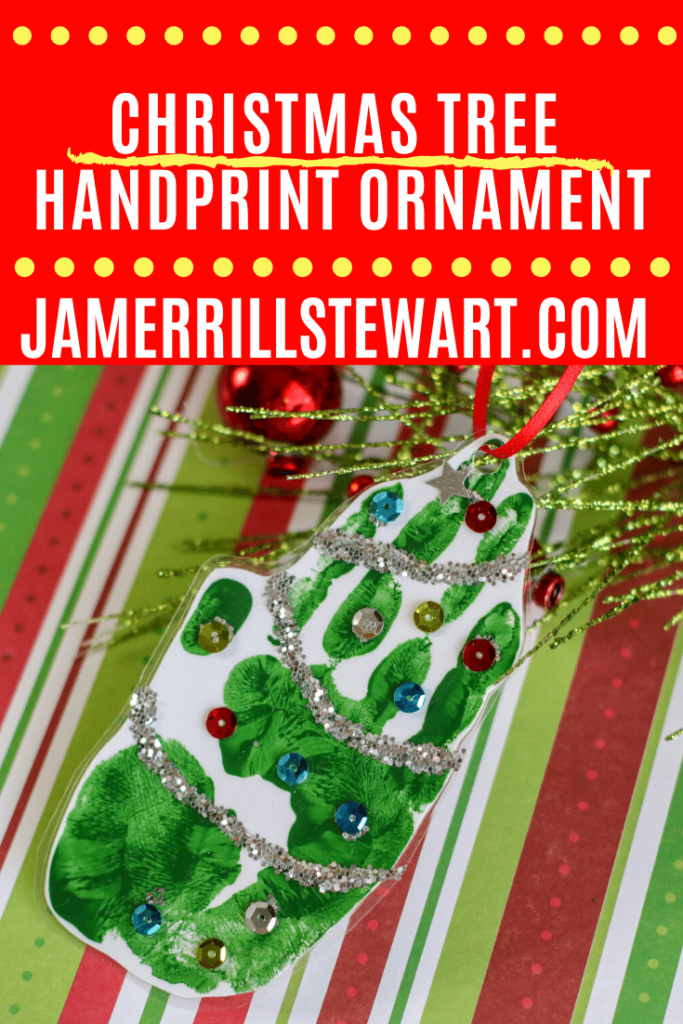 Prepared to be amazed at how quick and easy this craft is to complete. Paint the palm of your child's hand with the green tempera paint. Press the hand onto the cardstock to make the most wondrous handprint. Allow it to dry completely. After it's dry, cut out around it and laminate it. Break out the glue, sequins and glitter. Take a deep breath then let your child decorate the tree. Clean up all the glitter while it dries. Don't worry, you will be cleaning up glitter for months after this craft. You can thank me every time you clean up some you missed. 😉
After it's all dry, punch a small hole in the top of the middle finger. Thread the ribbon through and tie a knot in it. Make sure it's completely dry before you do this part or glitter and sequins will fly everywhere. Don't say I didn't warn you.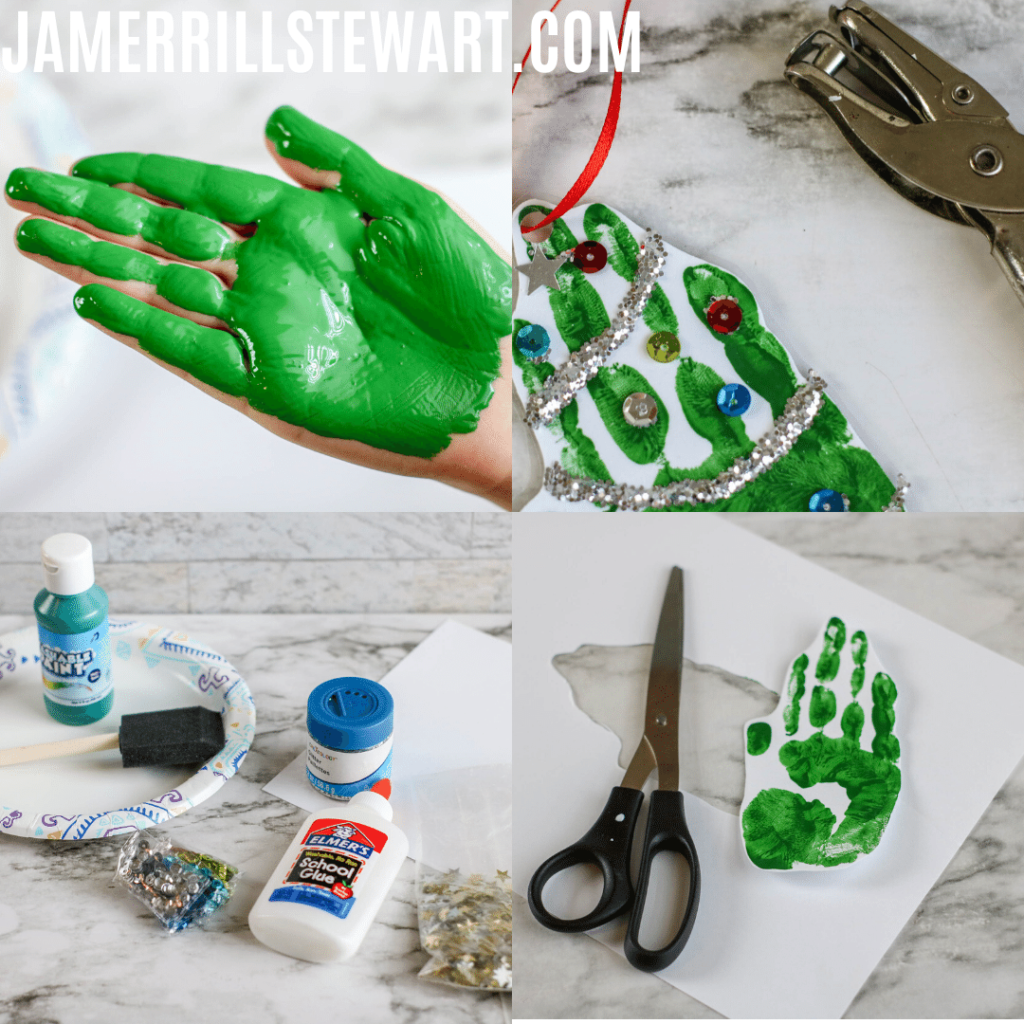 Print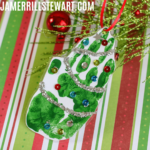 Christmas Tree Handprint Ornament
---
Description
Make this fun and easy handprint Christmas tree ornament that is sure to become a treasured family heirloom.
---
Ingredients
cardstock
green tempera paint
paint brush 
laminating sheets
laminator
glue
assorted sequins and glitter
hole punch
ribbon
---
Instructions
Paint the palm of the child's hand and press against the cardstock. 
Allow to dry completely.
Cut the dry handprint from cardstock.
Laminate the handprint.
Allow the child to decorate the handprint with the glitter and sequins.
Allow the ornament to dry completely.
Punch a small hole in the tip of the middle finger and attach a ribbon for hanging.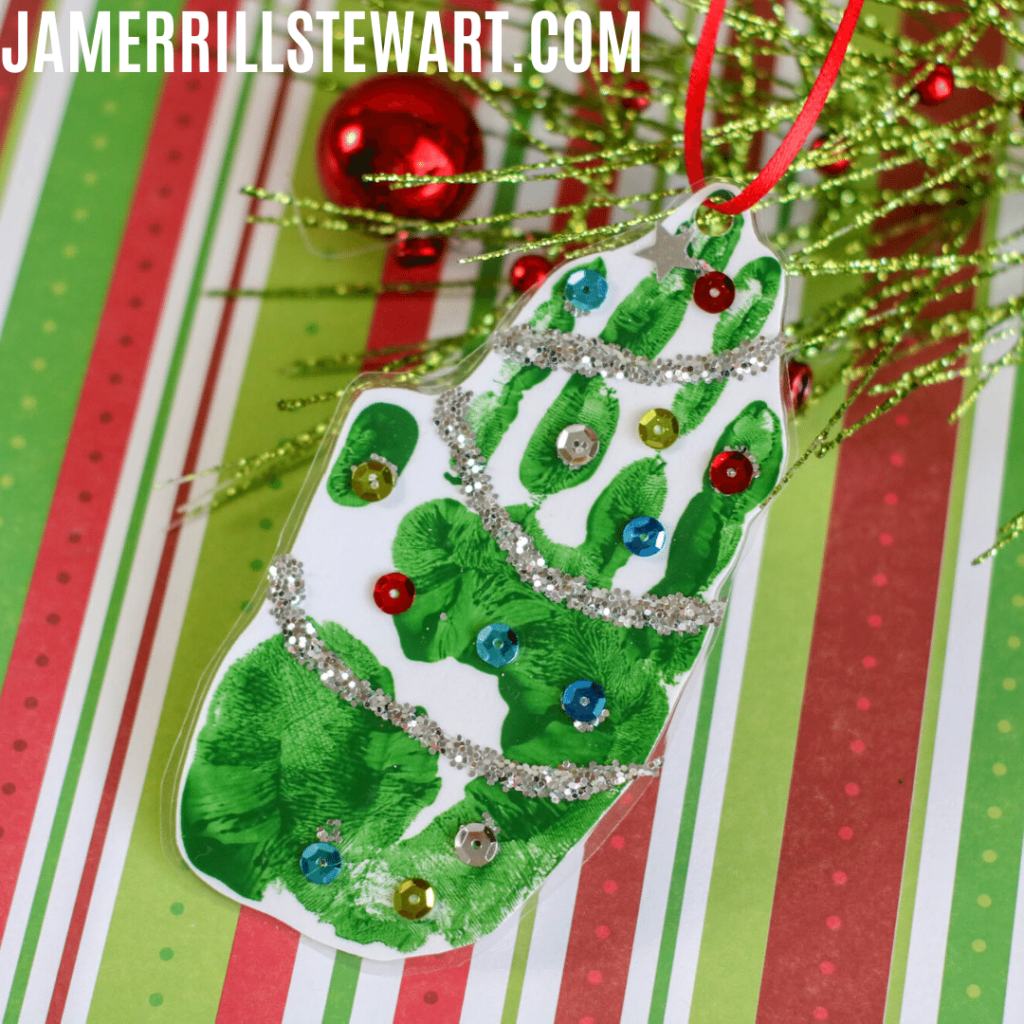 Once you have the ribbon attached, have the child attach it to the Christmas tree. It will become a treasured family memory that you can pass along to your child when they grow up and get a home of their own. It's a great craft to do with other children like nieces and nephews to gift to their parents. A frugal yet personal gift for grandparents too!
Check out the whole series!
Looking for more homemade Christmas gifts?
Homeschool Christmas crafts: Tile Picture Frames
Homeschool Christmas crafts: Cinnamon Ornaments
Peppermint brownies gift in a jar
White chocolate macadamia nut cookies gift in a jar
Toffee pecan cookies gift in a jar