Muffins are a staple in a large family freezer. They are easy to make, easy to freeze, and easy to reheat and eat on the go. Muffins are like a mom's best breakfast friend. These apple muffins with applesauce are so appley it makes your taste buds scream in excitement. This is a fantastic use of apples during apple season.
**Use special promo code HELLO20 to take 20% off your first order in the shop including the SUPER MEGA ULTIMATE Large Family Freezer Meals Bundle here! Get packs 1, 2, 3, 4, 5, 6, 7, 8 & 9!**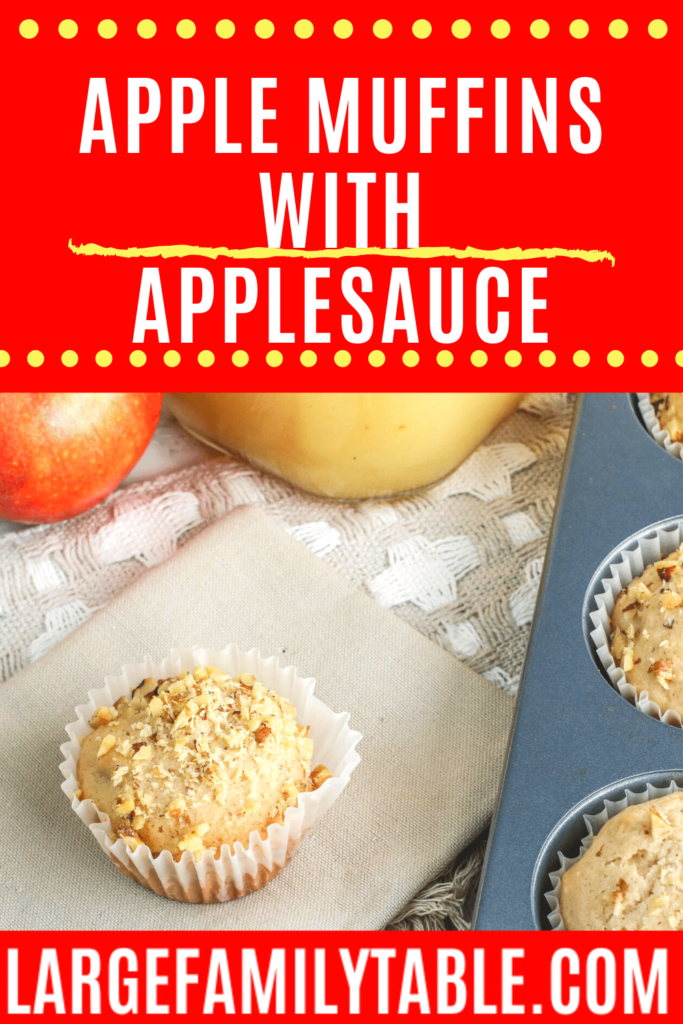 What are the health benefits of apples?
Apples are really good for you! They are full of fiber and nutrients. They are good for people with heart disease, diabetes, and asthma. Apples are full of prebiotic and help with good gut bacteria. There's a reason the saying is "An apple a day keeps the doctor away."
How many varieties of apples are there?
Believe it or not, there are over 7,500 varieties of apples grown throughout the world. Only about 100 of them are grown commercially in the United States. There's your fun fact for the day!
This recipe calls for applesauce which you can certainly buy in bulk at Costco. It's super easy to make in the slow cooker or instant pot. I love to do that when I have a bunch of apples. It also like to make it so I know what my people are eating. We don't always eat the healthiest but I do what I can when I can.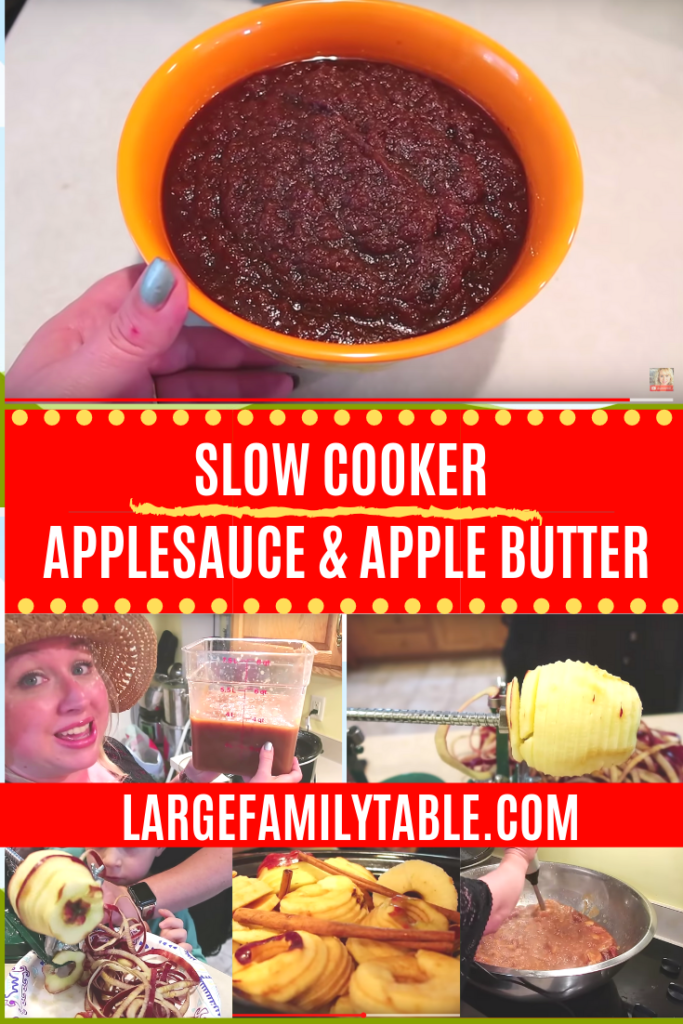 Now that you're ready to bake, grab your butter out of the fridge. It will work so much better in this recipe if it's soft. Trust me here. Preheat your oven to 350 degrees. Grab your muffin tins, throw some liners in then spritz the liners to make them easier to peel off. Nothing worse than half your apple muffins with applesauce being stuck in your liner.
Whisk together the flour, sugar, and cinnamon. Break out the electric mixer to beat butter and sugar into the flour mixture until fluffy. It takes about 3 minutes to do that if the butter is soft. Add in eggs and vanilla and mix until blended with the mixer.
Stir in applesauce and walnuts (if desired) into the mixture. Do this by hand and just until the applesauce is blended in and smooth. Scoop batter into muffin tins until 3/4 full. Don't overfill or you will have muffin everywhere. Bake for 20 minutes or so. They're done when a toothpick inserted in the middle comes out clean.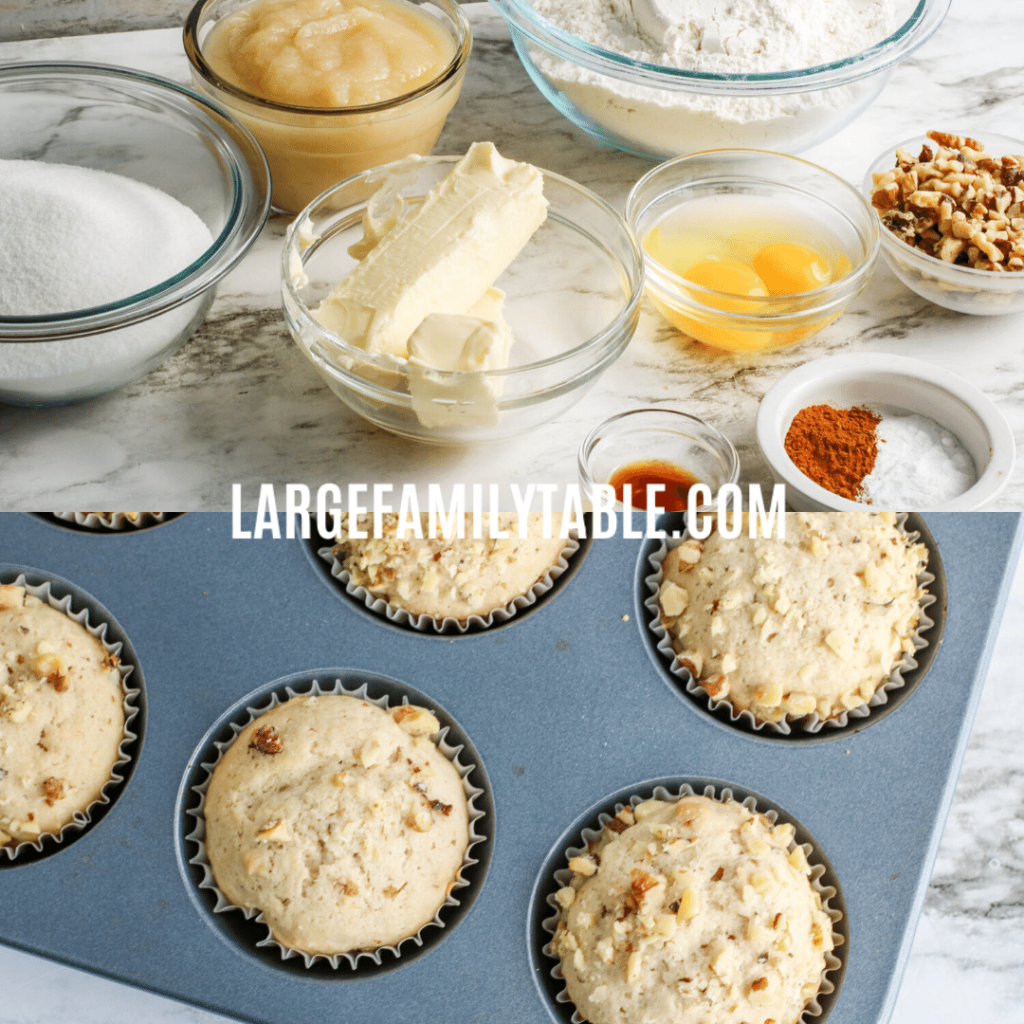 Print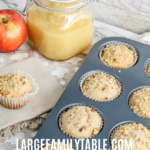 Large Family Apple Muffins with Applesauce Recipe
Author:

Prep Time:

10 mins

Cook Time:

20 mins

Total Time:

30 minutes

Category:

Muffins

Method:

Oven

Cuisine:

Breakfast
---
Description
Got a plethora of apples and need to make something delicious? These apple muffins are made all the more delicious with the addition of applesauce.
---
Ingredients
8 cups all-purpose flour

2 teaspoons baking soda

2 teaspoons cinnamon

2 cups (4 sticks) butter, softened

4 cups sugar

4 eggs

2 teaspoons vanilla extract

4 cups applesauce

2 cup walnuts, chopped (more for topping if desired)
---
Instructions
Preheat the oven to 350 degrees.

Prepare two muffin tins with liners. Spritz liners with nonstick cooking spray.

Whisk together the flour, baking soda, and cinnamon.

With an electric mixer, beat together the butter and sugar until fluffy, about 3 minutes. Add the eggs and vanilla and mix just until blended.

Stir in the applesauce and walnuts (if desired.)

Scoop batter into muffin liners about ¾ full.

Bake for 20 to 25 minutes or until a toothpick inserted in the center comes out clean.
---
Notes
These muffins freeze really well so I like to double or even triple the recipe for a quick breakfast on busy mornings.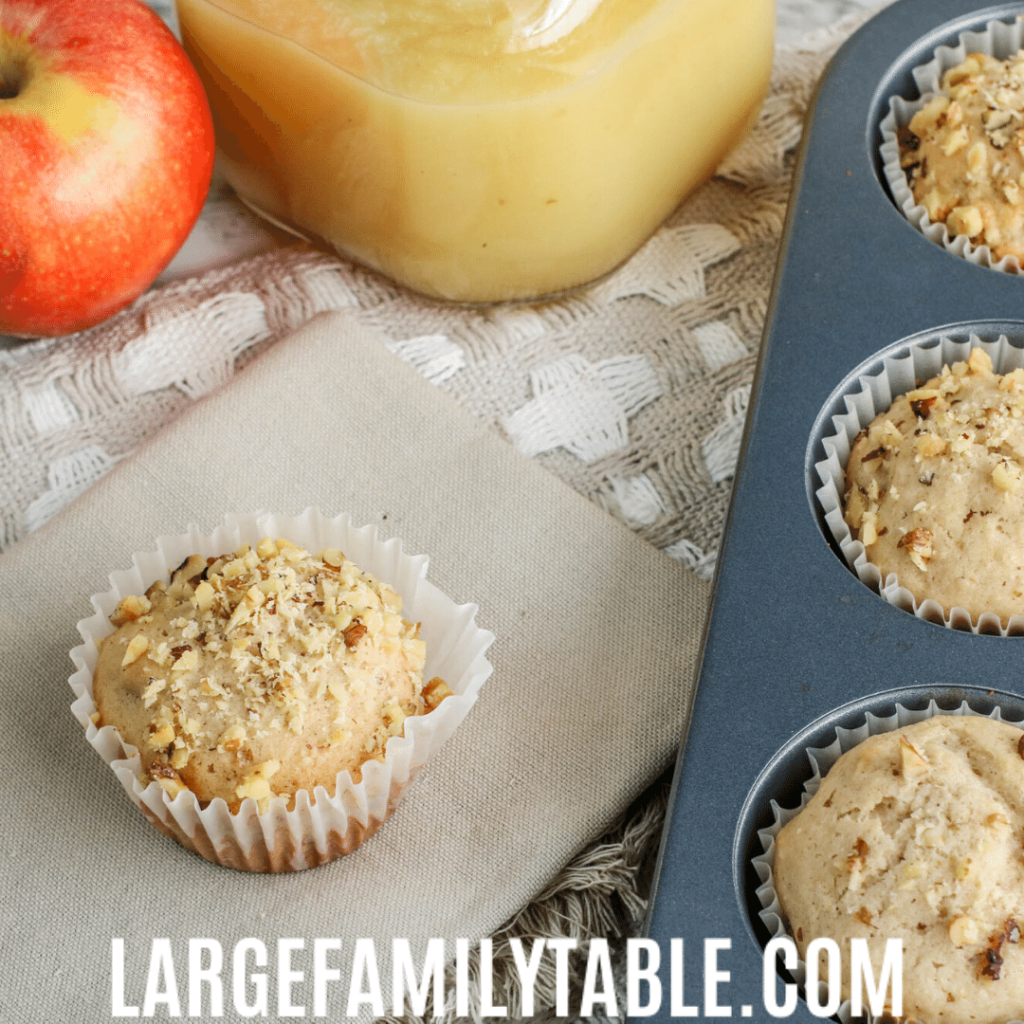 Make extra if you want to freeze them because this batch will be gone in no time as soon as they come out of the oven. Your house will smell delicious and people will appear out of nowhere looking for a muffin. You will get high fives and thanks all around.
Looking for more breakfast ideas?